A great pair of black jeans is one of the wardrobe's most adaptable items. Any season can easily accommodate them. From wearing heels and a pretty top to run errands at night to just wearing sneakers and a graphic tee. Additionally, there are cardigan brunch dates with friends and other activities. It is imperative that you spend money on a quality pair of black jeans that you adore. But are black jeans business casual?
Black jeans, on the other hand, can be a useful addition to a man's business-casual wardrobe. Pick the right pair of black jeans and the appropriate complementing attire to make them appropriate for the workplace.
I offer several styling options for this wardrobe mainstay. If you can wear jeans to work, you should save this article for when you're stuck in a fashion rut. If you don't already own a pair, let's start with some of my favorite black jeans.
Related Reading:
Choose The Right Black Jeans
There are various types of black jeans. The following should be taken into consideration when selecting a pair of black jeans for a workplace where the dress is more casual.
The Perfect Fit
If you're going to wear black jeans to work, they need to fit properly. Look for the following when finding your fit:
Length
A clean appearance requires that black jeans be hemmed to the appropriate length. At its shortest, the hem should be close to the ankle, and at its longest, it should be on top of the shoes. The pant leg shouldn't break at all or hardly at all.
Sizing
When you move or bend your knees, the fabric shouldn't feel too tight in the legs or pull at you. The fabric in the seat should be loose enough to be comfortable when you sit in it but not too baggy that it is uncomfortable when you stand up.
To get the ideal fit in the legs and seat of the pants, you might occasionally need to have them tailored.
Waist
The waist shouldn't fall below the mid- to upper-waist region. When wearing dress pants, this is a little lower than what is normal. It shouldn't be necessary to wear a belt to keep the pants up; they should fit around the waist comfortably.
The Cut
There are a variety of key cuts available when selecting black jeans to wear to a business casual office. Find a look that suits your personal style by following the tips below.
Skinny Black Jeans
The most casual type of black jeans are tight jeans, but they can work well for more laid-back workplaces if dressed up with the right shirt and shoes.
Slim Fit Black Jeans
Black jeans with a slim fit are frequently worn at work because they offer the most contemporary appearance. They can easily be dressed up for work and also dressed down on the weekends. They are an excellent addition to any man's wardrobe due to their versatility.
Straight Black Jeans
Black jeans with a straight cut offer a more conventional appearance that may be useful in workplaces with stricter dress codes.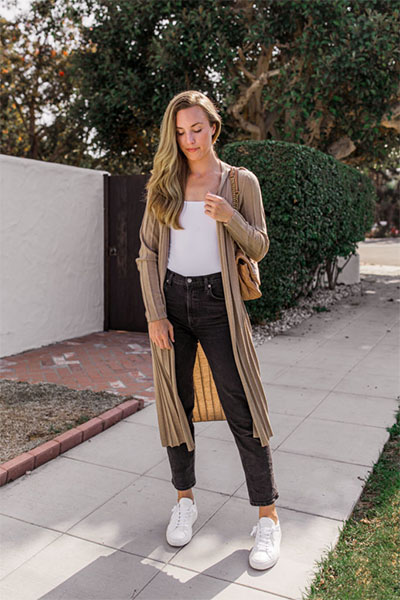 How To Wear Black Jeans Business Casual?
You should definitely keep a few things in mind when styling black jeans for the office. Here are some of my suggestions to make sure you're still following the dress code and not raising any red flags with HR regarding your appearance. And I've broken a few dress codes, so you can believe me on that.
Avoid Any Rips And Tears
Keep any ripped jeans at home when considering how to dress for a work environment, even if it's business casual. Frayed hems are something I would even try to avoid, but if you can't really tell if they are, you probably won't get caught.
Add Business Basics
Try to include very business-appropriate pieces when creating business casual ensembles with a pair of black jeans. everything from sweatshirts and tops to blazers and shoes To balance things out, you should take these all from your typical 9–5 closet. From my perspective, this is always a smart-casual ensemble. Dress pants are too formal, so it's a great balance to wear tailored pieces with more relaxed denim.
When Dressing Down
You can easily match your black jeans with a great white tee and blazer if you're dressing down your black jeans and can get away with a more relaxed look. Or perhaps just a plain white button-down shirt. Black and white clothing is a timeless, chic combination that always looks great. Additionally, consider the shoes you choose. Stick to a sleek boot, loafer, or ballet flat if you're dressing down in your black jeans for business casual. Except if you work in the fashion industry, avoid wearing sneakers with business casual attire.
Consider Wash
When dressing in business casual, the idea is to look professional while still maintaining a relaxed vibe. I would bear in mind how your jeans were washed. Steer clear of super light or whiskering washes. To be safe, I might even stick with a dark wash.
Choose An Office-Appropriate Fit
I attempt to reenact my 9–5 looks when I consider wearing black jeans to the office. Typically, I favored cigarette pants or trouser silhouettes. With your black jeans, try to replicate that as well. Excellent leg shapes include skinny, straight, bootcut, and wide. I'd stay away from overly trendy clothing and boyfriend fits that are too lax.
Business Casual Outfits Ideas With Black Jeans
Black Jeans With A Long Cardigan
Choosing a camel and black color scheme and a great cardigan will give you a very timeless appearance. A fitted black top and a long camel cardigan look great with black jeans. Although you can mix and match the prints and hues, black and camel are so timeless and never go out of style. Pair with a low, pointed-toe heel.
Black Jeans With A Pretty Blouse
I adore how the colors rust, black, and brown complement each other. In the ideal business-casual outfit with black jeans, Ahn of 9 to 5 chic, who is constantly fashionable, is shown here. Although adding a high heel definitely dresses up jeans, this would also look great with ballet flats to bring the look down a notch.
Black Jeans With A Trendy Blazer And Leopard Heels
It's true that pairing a white shirt with black jeans isn't particularly fashionable or anything, but it is incredibly simple to do. Put on a great blazer for structure and professionalism, then put on some fun low heels like these leopard ones. A splash of print is always a smart move!
Utility Jacket + A Kitten Heel
My favorite item of clothing is a utility jacket. And wearing it in place of a blazer is a great way to dress down an all-black outfit. Keep the jeans a true black color and add a kitten heel, like these color-blocked ones, to balance out the outfit's casual vibe.
Black Jeans With A Crisp White Button Down And Leather Jacket
A true classic that works for daytime, evening, and all times in between. I believe the entire ensemble is flawless. These are my straight, slightly more relaxed-fit Everlane jeans. But they can still be worn for business casual with the right tailoring.
Black Jeans With A Classic Grey Blazer And Loafers
I feel most professional in this outfit. If you wanted to return to the corporate 9 to 5 dress code, you could easily replace these black jeans with a pair of black trousers. black blouse, loafers, and a structured grey blazer. A neat and understated appearance that can be quickly changed out for heels and taken out for happy hour cocktails.
Mom Jeans With A Sweater Tank And Blazer
These Madewell black-washed mom jeans are ideal for a business casual look because they are one of the hottest trends right now. For an effortless business casual look, I paired these with a sweater tank, and blazer. Wear a pretty heeled sandal if the weather is warm this fall; otherwise, a chic pump will do just fine. In order to look more fashionable, these would also look great with a chunky loafer.
Black Kick-crop Jeans And A Blazer
There are other types of denim that look good here besides plain black skinny jeans. For a trendy look, try a black kick crop. I adore these worn with a stylish blazer and a heel. but also looks good with a pair of loafers or a flat.
What Is Business Casual?
Business casual is a relatively new dress code that has gained popularity nationwide in settings with a casual work environment. A business casual outfit has elements of a more everyday outfit while still looking professional. An everyday essential like a sweater, cardigan, pair of jeans, or khakis serves as the foundation of a business casual outfit. Then, that casual outfit is paired with a fancier ensemble, such as a blazer, button-down shirt, or pair of dress shoes. A great look for a relaxed office environment or an event that doesn't call for a ball gown or tuxedo is created by combining a dressier item with more casual elements.
Business casual attire is frequently worn in offices and is accepted by many employers at both large and small businesses. But keep in mind that what is acceptable in one office might not be acceptable in another, so before arriving in an outfit that is inappropriate for your job, make sure to check to see if your coworkers are also wearing black jeans.
Why Are Black Jeans Popular?
Because they are so comfortable, black jeans are frequently chosen over other business-casual outfit possibilities. To make sure you're comfortable all day, buy a pair of black jeans that suit your needs. You can even find a pair with a little stretch. In the end, formal attire like stiff dress pants and skirts isn't as comfortable. Black jeans' versatility is another benefit. They not only match almost everything in your closet, but they are also comfortable to wear anywhere—from the office to a romantic dinner with your spouse to your child's sporting event. Additionally, they can be worn while relaxing at home in an oversized sweatshirt with a pair of black jeggings.
For your office or any upcoming event that falls under the business casual umbrella, black jeans are a great business casual option. You'll look great if you accessorize your jeans with the appropriate shoes, top, and jewelry.
Final Words
A business casual office is frequently a great place to wear black jeans. The right shirt, good shoes, and the ideal pair of black jeans will help you look professional while still expressing your individual sense of style.