Leggings are everyone's favorite comfortable trousers. We would wear them all the time if we could because they are so comfortable and versatile. But are leggings appropriate for work?
Wearing leggings to work is becoming more and more common. So, if you're allowed to wear leggings to the office, how can you make sure they're smart casual?
We'll dive into when to wear these comfortable bottoms to work and how to style them professionally.
What Is Not Business Casual Attire?
Business casual is a delicate balance between relaxed and formal. The term business casual can vary from company to company. For example, business casual in an art gallery may be more casual than in finance. Generally speaking, there are some things that should not be considered business casual. These include:
ripped jeans
wrinkled or stained clothing
flip flops
sports shoes
backless shirt
shorts
Clothing with bold logos
Too many bright or conflicting colors
Top and bottom do not fit
sundress
Also Read: Are Sneakers Business Casual?
Are Leggings Appropriate For Work?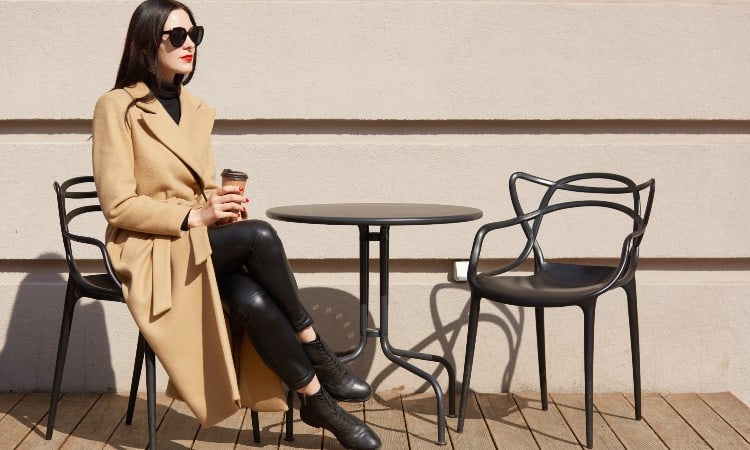 At the end of the day, whether leggings are smart casual or not depends on the company you work for. Some companies are more forgiving than others, and some don't consider leggings to be business attire.
However, it also depends on your particular role at work. For example, if you're someone who has to interact a lot with the public, you probably won't get away with wearing leggings. But if you're in the office all day, leggings may be acceptable.
Before you wear leggings to work, the most important thing is to know the company's dress code. Even if leggings are allowed in the workplace, they may have rules about what styles and colors of leggings you can wear, or what you can wear with them.
Some places may only allow leggings on special occasions. For example, leggings might work for casual Fridays, but not for the rest of the week. Companies often also host holiday parties where you can wear leggings as long as you follow certain rules.
It's also important to note that even if your company allows leggings without specific wearing laws, that doesn't mean leggings are business casual. There are several tops, shoes, and accessories that can be paired with leggings to make it smart casual.
Related Post:
When Can Wear Leggings To Work?
Businesses often have their own dress codes, some of which may explicitly prohibit leggings. However, many workplaces are moving in the direction of casual attire, so if your office is more relaxed, you can certainly wear a pair of leggings during the workday.
The key to work attire is to dress in a way that makes you feel confident and comfortable so you can be productive in the office without being distracted by tight clothes. Working from home in sweatpants is no problem because the zoom camera only captures your upper body.
However, if you're going to the office in person, your favorite pair of undershirts won't fit well. Leggings can be the perfect compromise between casual and smart casual.
Is It Appropriate to Wear Leggings to an Interview?
If leggings are suitable for work in certain situations, are they ok to wear them to interviews? To be honest, probably not. It may be in your best interest to look for a job without leggings.
Job interviews are all about making a lasting first impression, and as the saying goes, dress to impress. It's acceptable to wear leggings once you've landed the job, but be sure to be a little formal when meeting potential future employers.
Remember that interviews are often the first impression your prospective employer will have of you, so you want to make sure that this impression is a good one.
If you don't know the company's leggings policy, it's best not to wear leggings. Instead, wear a nice pair of pants or dresses. Shirts and blazers are safe options, as are heels and flats. Save the leggings until you get a job and are more familiar with the company's dress code.
Dos And Don'ts Of Wearing Leggings At Work
Dos:
Always wear a solid color print. Black is the best color choice because it matches everything in your wardrobe. Avoiding busy patterns and bright colors will provide a more professional look.
Be sure to wear a long, fluffy top. Pairing with a long top at or below the hips is ideal with leggings.
Be sure to wear it under a skirt or skirt. Leggings look great under a knee-length dress or skirt.
Be sure to wear the right shoes. Sneakers with leggings at work are a no-no. Instead, let your outfit sparkle with heels, ballet flats, or boots.
Be sure to wear a suit, jacket or cardigan. Wear a sleeveless top with leggings for the right cover-up.
Understand the difference between tight pants, yoga pants, and tight pants. Yoga pants are designed for going to the gym. Tight pants can also be worn under a dress or skirt, but they are usually made of thinner materials and are transparent.
Decoration. A long, layered necklace, dangling earrings, or a fashionable scarf will add a touch of elegance to your dress.
Don'ts:
Do not wear crop tops or other short tops. These clothes can be worn to the gym, but not in the workplace.
Avoid wearing t-shirts, even long ones. But especially avoid wearing t-shirts that look old or worn. It's okay to wear it to run errands but might look lazy in a work environment.
Choose your leggings carefully. Do not wear frayed or see-through tights. Bright colors and prints may or may not be acceptable, depending on your company's policy regarding dress codes.
Avoid sneakers and tennis shoes unless you can wear them to work on certain occasions or on casual Fridays. If you are not sure, just ask.
Don't choose the wrong material. Before leaving the house, make sure your leggings are not seen through. Opaque leggings are more suitable for the workplace.
Do not reveal excess skin. It's best to save your top for your morning run. When paired with leggings, the shirt should always cover the upper abdomen and back.
How To Style Leggings for Work?
Shirtdress And Ankle Booties
Mixing a breezy shirt dress in a bright red color contrasts nicely with black leggings and brown ankle booties.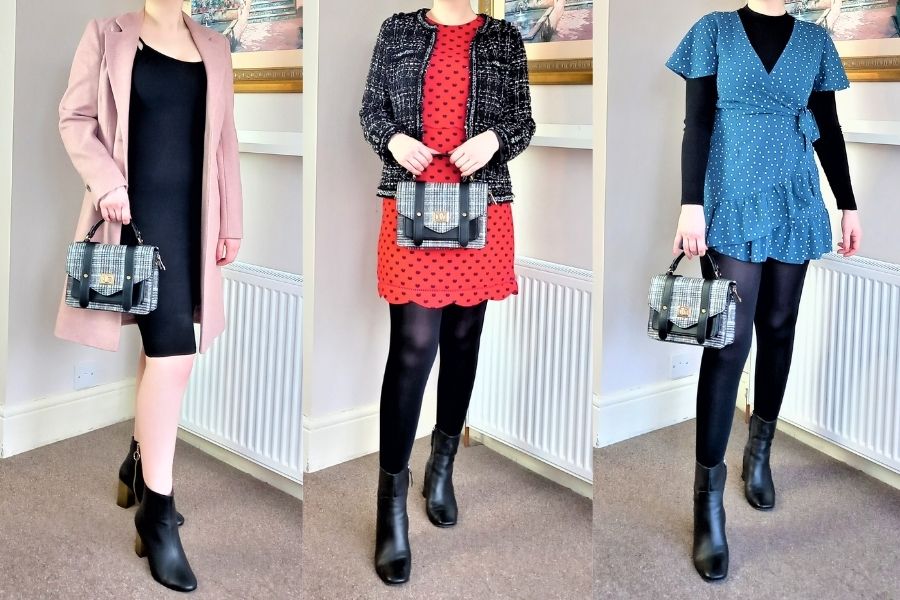 Open Cardigan And Fun Print Shoes
Fun leopard print high heels accentuate this outfit's neutral brown, black, and white hues. The long, gold necklace is the perfect accessory for this look.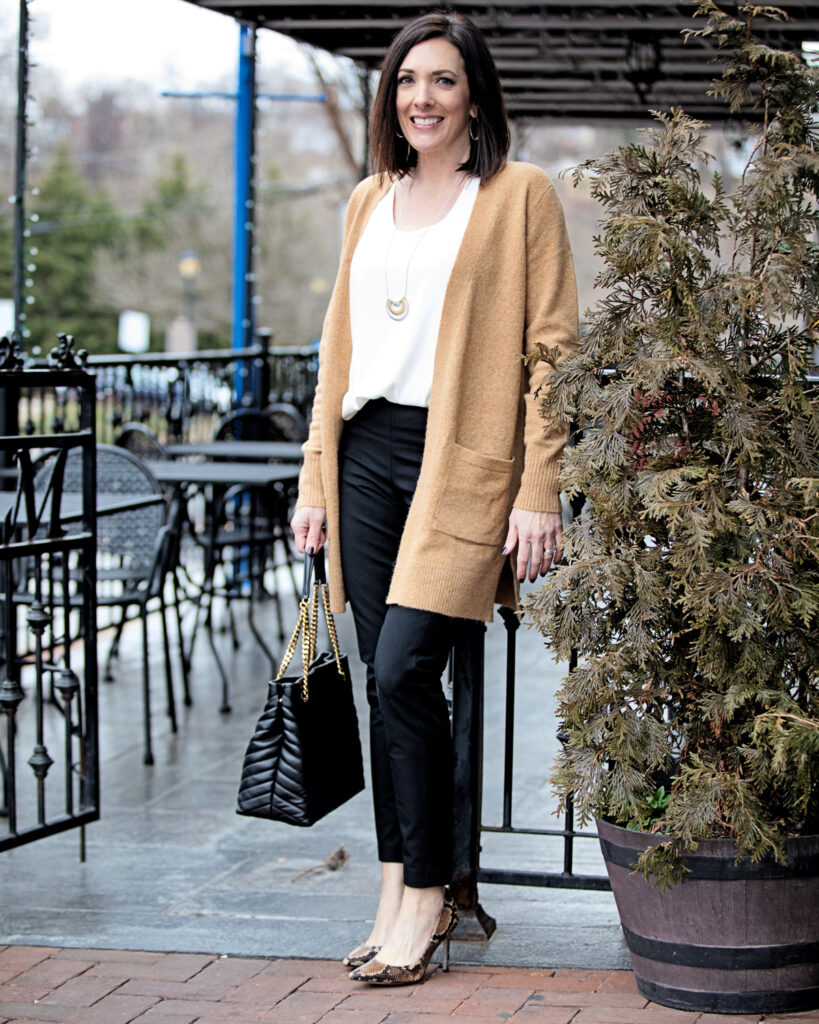 Faux Leather Leggings And Sweaterdress
Sweater dresses are an excellent addition to your winter wardrobe. Pair them with faux leather leggings, black boots, and a wide belt for a warm and fashionable outfit.
Navy Blazer And Eye-Catching Necklace
The layered silver necklace is the focal point of this look. Adding a navy blazer adds professionalism to the white shirt and ruched leg leggings.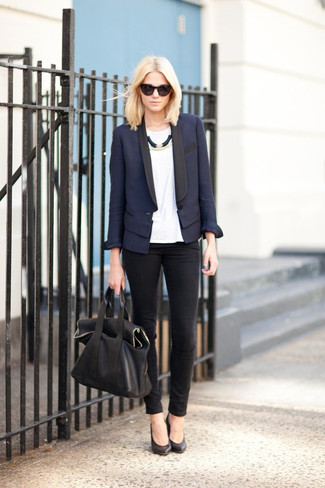 You can't go wrong with classic black and white plaid. This look is completed with a long, open cardigan and ballet flats.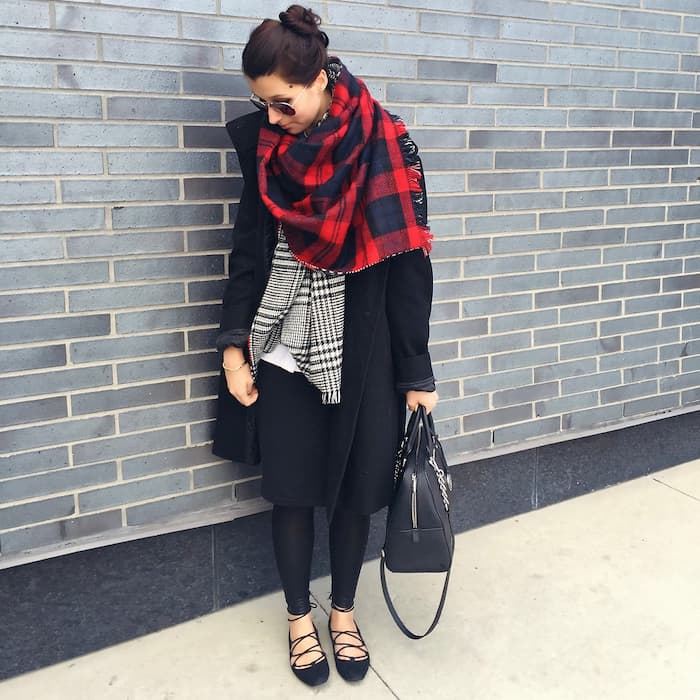 This look is simple yet classy. The bell sleeves on the blouse add femininity, while the loafers add a fun pop of color to the overall outfit.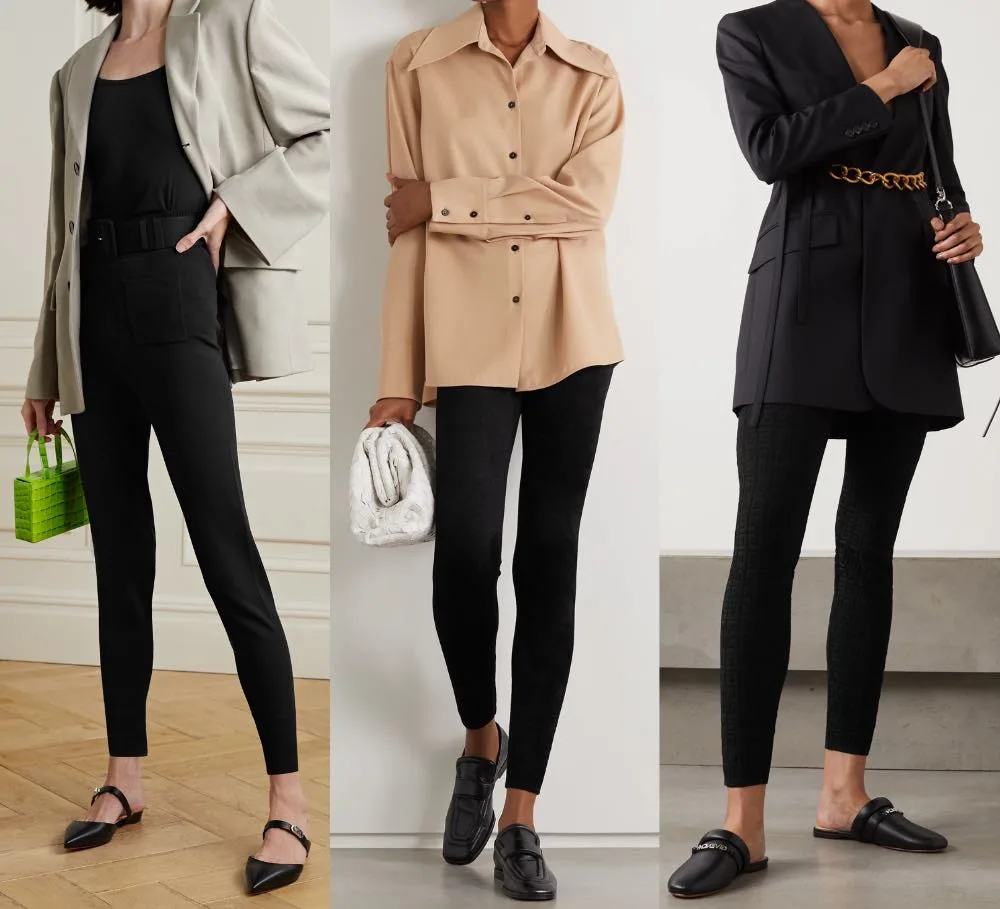 Can You Wear a Dress With Leggings?
Yes, it's fine to wear a skirt with leggings. One of the original purposes of leggings was to wear under skirts, especially when it was colder outside. Leggings are especially common inside skirts when the skirt length is shorter.
Depending on your dressing style, a dress paired with leggings can be considered business casual. This is appropriate for the workplace, and according to many dress codes, it is considered acceptable to wear leggings under a skirt, even if you cannot wear leggings under any other circumstances.
Can You Wear Leggings As Pants?
Leggings are technically pants, but they are not considered pants, nor are they considered business attire. Nonetheless, leggings can also be worn as pants on certain occasions.
For example, leggings can be worn as pants when going to the gym or working out. But if you're going to work, wearing leggings as pants may not be appropriate or considered business casual.
When you wear leggings as pants, what matters most is the type of top you wear with them. The top should be longer than usual. If you don't wear long tops, at least wear a longer sweater or cardigan.
Takeaway: Are Leggings Appropriate For Work
In the end, whether or not leggings are appropriate for business casual simply depends on the organization you work for. While some businesses don't view leggings as appropriate business attire, others are more tolerant.
The key to making leggings work in the office is to pair them with beautiful shirts, footwear, outerwear, and accessories. So, next time you're ready for a workday outfit, grab a pair of leggings and wear it with confidence!
Read More: