Even now, you might be wondering, "Are riding boots still in style in 2023?". Fortunately, the answer to this one is clear-cut: yes, without a doubt. And they will continue to be! We will introduce riding boots outfit ideas, to help you become a charming star on the street.
Boots are undoubtedly one of the best things about winter. Particularly tall boots that keep you warm and comfortable, and even more so ones that are stylish and elegant.
A riding boot is a boot style that has been around for decades, initially designed for horse riders.
Keep reading, and find out more fashion ideas about riding boots!
What Are Riding Boots?
To protect the rider's feet and legs from the saddle and to stop the foot from sliding through the stirrup, old-fashioned riding boots had to be at least knee-high and have a low heel and a sturdy toe.
To avoid the boot catching in the stirrup and endangering the riders' lives in the event that they fell off the horse, the outer sole was also only very faintly, if at all, textured.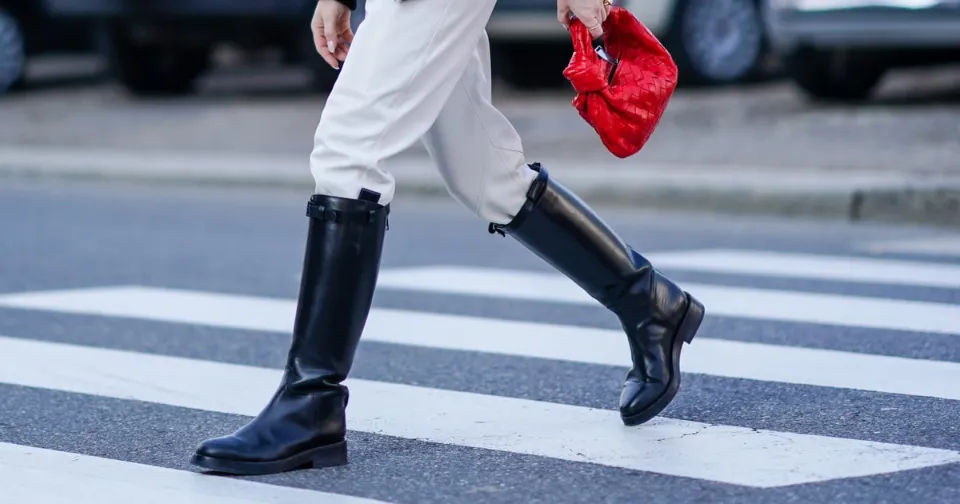 Today, however, fashionable riding boots designed for everyday wear feature a variety of toe shapes, heels that can reach 2-2.5 inches, and outer soles that are textured or even ridged.
While the toe and heel are more of a fashion statement, the outer sole texture prevents slipping on icy or wet surfaces.
The high shaft, however, is one aspect that hasn't changed.
You May Also Like:
Are Riding Boots Still In Style In 2023?
When you want to choose riding boots to wear, first you may ask yourself are riding boots still in style 2023?
Well, that depends on the style you want to go for.
Absolutely, if you prefer vintage-inspired attire! Consider Nancy Drew, and you're headed in the right direction.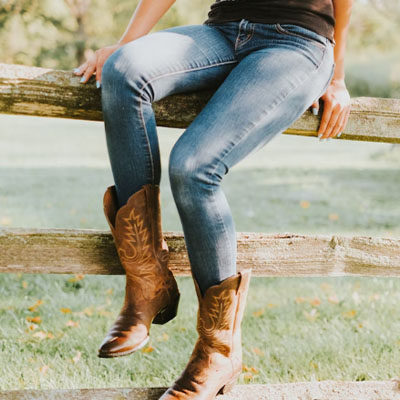 However, we don't advise wearing this style of boot if you're picturing yourself rocking a black leather jacket, ripped jeans, and a rocker haircut.
Yes, riding boots are casual, but they're also quite elegant, so they should be styled as such.
Riding boots are among the simplest and most useful boot styles to wear in the winter with a little finesse and a few accessories.
Related Reading:
6 Riding Boots Outfit Ideas in 2023
Below we list seven outfit ideas for wearing riding boots.
1. Pair Riding Boots With Jeans For A Casual Ensemble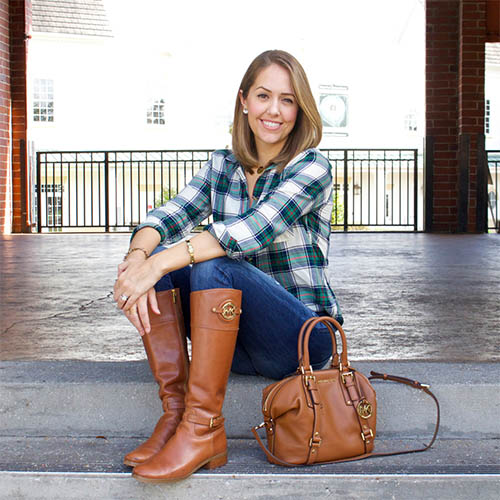 Even though you're feeling casual, why not dress it up?
Simply by wearing skinny jeans and riding boots, you can look stylish in the most basic of outfits.
It is always body-flattering to wear a long shirt or tunic with knee-high boots to visually elongate your figure.
A chambray shirt, black tights, and boots make a chic outfit for a weekend coffee run.
It may be time to pull out your leopard print handle bag for a splash of frivolity if you want to be even sassier.
2. Wear Riding Boots With A Dress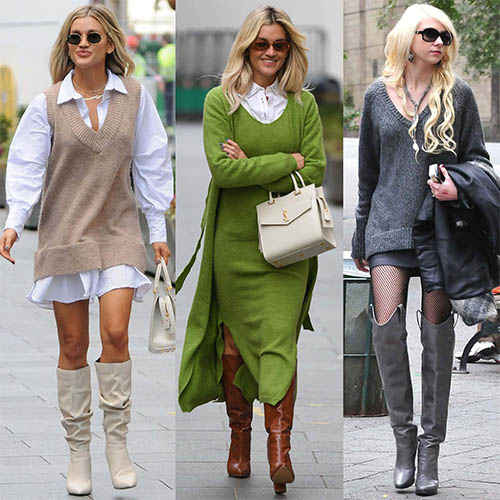 Combining a billowy maxi chiffon dress with a pair of chic brown riding boots couldn't be more autumnal for the light fall season.
Either a longline cardigan or an oversized blazer is equally stylish as a top layer of warmth.
The combinations with riding boots can be truly endless when the days are chilly.
Put on an oversized sweater dress and a pair of retro round sunglasses with riding boots to pull them off in a contemporary way.
The high street look can always benefit from a little retro flair, you know.
Related Reading: How to Wear Boots With Dress?
3. Stay Cool In Riding Boots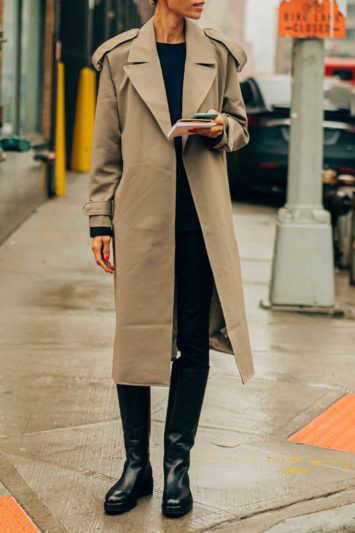 Riding boots are making a comeback this season, and it's not hard to see all these fashion experts wearing them with various stylish twists these days.
The boots themselves just look edgy and boyish in nature with the most recent chunky sole and clean-cut design.
You can wear them with either an oversized trench coat or a faux leather biker jacket, and they just look completely unique.
Black riding boots and a military jacket are my favorite outfit pairing out of all the looks. With a sleek high bun and sunglasses, it just looks so. damn. cool.
4. Go Monochrome When In Doubt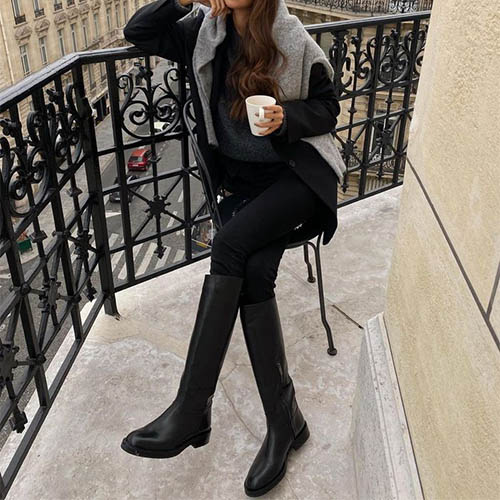 Want to look stylishly unforced with little work? Even though it seems impossible, it is totally possible if you style them in monochrome.
As some of the riding boots can look chunky (especially the one with round toes design), wearing similar hues for the overall outfits can elongate your figure visually and make you look so put-together.
Of course, monotone doesn't mean wearing only one color, but rather one color tone.
Having said that, you can always layer beige and dark brown together for a beige monochrome look. I always choose darker shades for the bottom to avoid looking top-heavy.
5. Pull Off Riding Boots In a Preppy Style
Preppy clothing and riding boots, both with an equestrian theme, are sure to complement one another beautifully.
There is much more to elegant clothing than a long beige trend coat and a vintage Chanel handbag.
With a heavy weave oxford shirt and dress pants for a sculpted silhouette, team the riding boots with a classic posh look.
A sleek blazer and a faux leather belt will add a touch of sophistication to your look and make it more glam.
Otherwise, don a checked beret to evoke the charm of bygone eras.
6. Pair Riding Boots With Thigh High Socks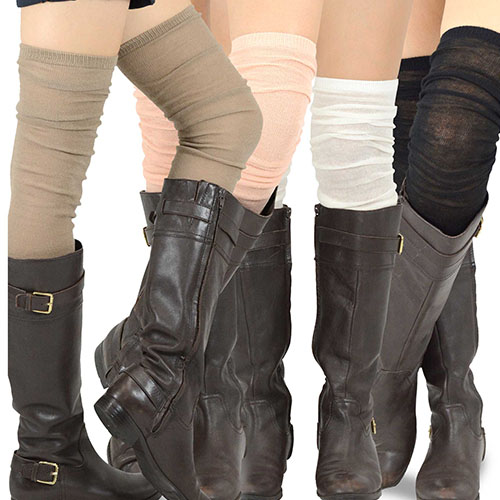 You desire to wear riding boots with personality. It might be time to try out more sock combinations of all kinds.
I don't know about you, but sometimes I think riding boots look too formal to be worn.
To change the style connotation for the better, pair them with a nice pair of white cable knit thigh-high socks. It merely has a softer appearance with a hint of femininity.
Toe-to-knee socks and riding boots are your go-to schoolgirl attire.
Also Read: How to Wear Chelsea Boots for Women?
How to Style Riding Boots 2023?
Boots, in general, are quite simple to incorporate into various outfits because there are so many different designs, heights, and colors that make this process simple.
Riding boots are quite casual in style, so they go very well with an overall casual outfit.
Here is a quick guide on how to wear riding boots 2023 so that you have a better idea:
Skirts
Wearing riding boots with knee-length skirts is stylish.
They perfectly complement the casual and vintage appearance of the riding boot, especially if you're wearing a blazer!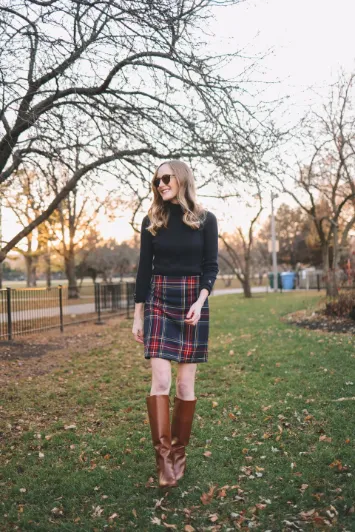 Pants
If you want the boot to show or not when wearing pants and boots, that is the decision to make.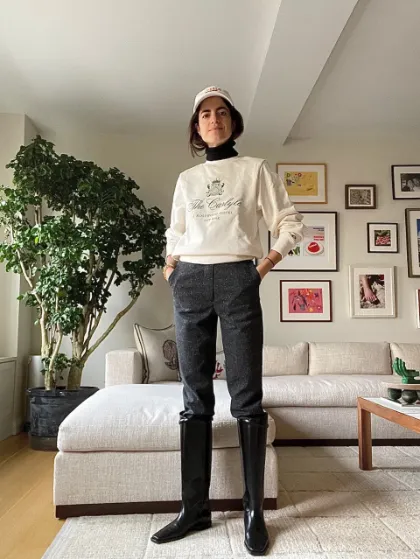 If not, cover the boot with wide or suit-style pants.
If so, wear jeans because they are the only type of pants that go with any pair of shoes. The shaft of the boot can be easily slid over them, and you can quickly leave.
Dresses
If you're going to pair riding boots with dresses, go for flowy, casual dresses that are preferably short so the boot can be seen.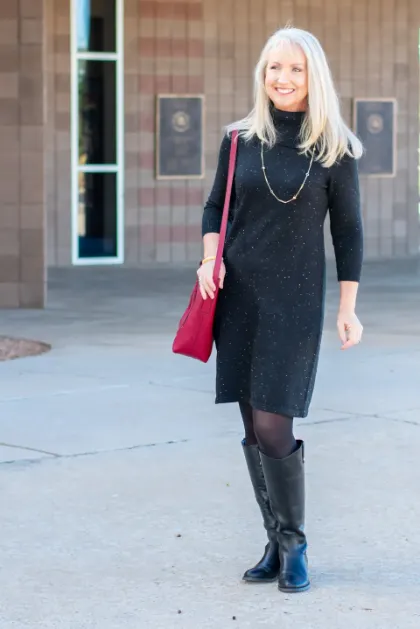 Dresses that are more appropriate for a night out should be avoided because they would look better with high heels.
Riding Boots Tips For Petite Girls
I have to admit that not all riding boots look good on a petite girl.
Here are a few pointers to share because I occasionally feel quite overwhelmed with some pairs.
First things first: always choose pointy-toe designs over round-toe ones because the V-shape can always make your legs appear longer. Trust me, even though it might not seem like much, it can make a difference.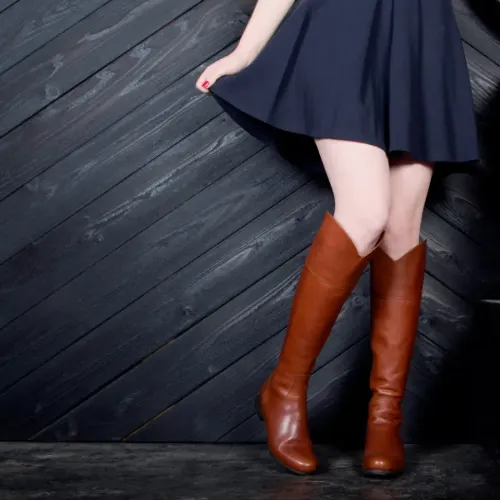 Second, make sure that the colors of your riding boots and pants match. Even if you dislike monochromatic looks, avoid wearing boots and bottoms with contrasting colors because this will make your legs appear shorter and cut off.
Regarding the dresses, make sure to always let your knee area peek out for a flattering effect.
Finally, if you are particularly small and feel like your riding boots are dragging, choose the short boot style instead; it's just as gorgeous!
Related Post: How to Measure for Tall Riding Boots?
Final Thoughts: Are Riding Boots Still In Style 2023?
In conclusion, are riding boots out of style? We can say riding boots are still in style in 2023.
After reading this guide, you should also know how to wear riding boots now.
Remember: since it is ultimately your body, you are free to dress however you want. But if there is one thing you'll take from this article, do not wear riding boots, or any high boot for that matter, with cropped pants. Just don't!
Looking for more boot outfit ideas? Read our posts below:
FAQs about Are Riding Boots Still In Style
Are Riding Boots in Style 2023?
This boot is stylish and a big trend of 2023 boots in the ankle boots category. Because they are so comfortable and versatile, this style of boot is very popular among motorcycle riders.
Are White Boots in Style 2023?
It turns out that the white boot trend stands the test of time, and this fall, It is the shoe you must own this season, in my opinion.
Related: Are White Boots In Style?
Are Knee-high Boots in Style 2023?
Yes, classic knee-high boots are back, whether you prefer flat riding boots or '90s square-toe heels.
Are Boots Still in Style 2023?
In 2023, sleek, heeled, black leather boots will be the most popular shoe on everyone's feet.
Are Tall Boots in Style 2023?
For 2023, knee-high boot looks are nostalgic with lots of square toes and mid-heels paired with long denim or knee-length skirts, which were popular in the early 2000s girlband era.