Have a look at our beach outfit for men 2023 that suit any body type below as a reference so you can enjoy the sunny days in comfort and in style. By putting the right pieces together, you can put together a carefree yet chic look this summer!
It's not as simple as it ought to be to get dressed for the beach. There are many factors to take into account, such as sand that will rip up your loafers, a brisk sea breeze to contend with, the general sogginess of sitting next to lapping ocean waves, as well as the general summer heat.
Depending on the activities you have planned while on vacation, you may need to pack a variety of beachwear. Keep reading to find out more!
Stylish Beach Outfit for Men 2023
Here are the best 15 ideas of beach outfit men in 2023.
1. Linen Shirts With Chinos And Flip Flops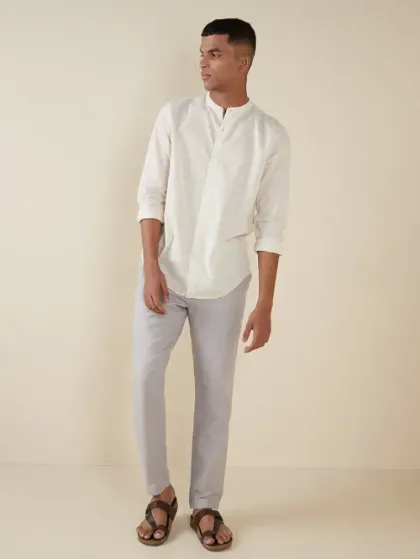 Whether you're hanging out with your BFFs or your BAE, this beach outfit for men is always in style. With this men's casual attire, you must be careful to wear solid-colored chinos with a funky pair of flip-flops when the shirt is floral or printed.
You can, however, add a little funk to your chinos and flip-flops when the men's shirt is plain, striped, or textured.
2. The Classic Chino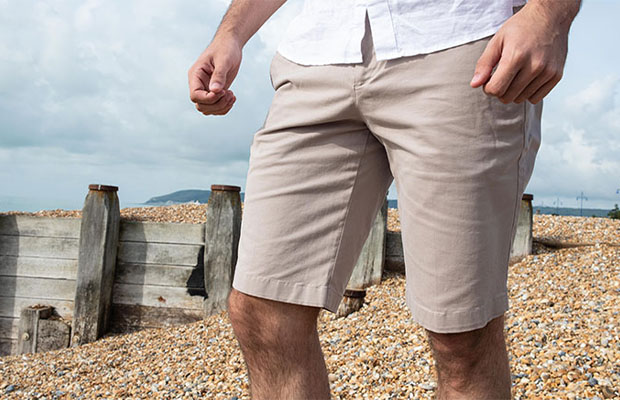 Wear chino pants to keep it simple so you can stroll by the water without getting too hot.
Put them together with your white sneakers, an unbuttoned shirt, and a clean white tank top. Add some sunglasses and accessorize with a necklace with a longer chain.
3. Minimal Prints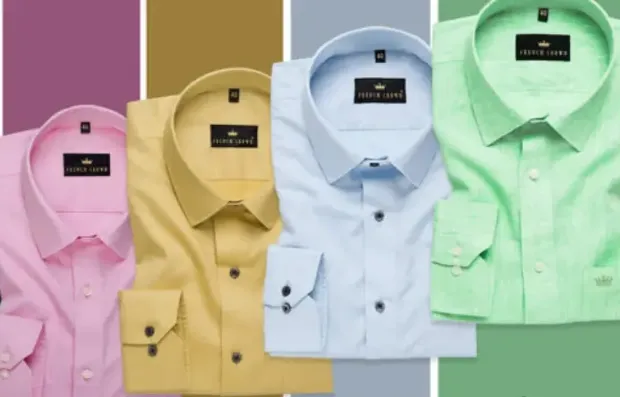 Some people favor wearing shirts with big, vivid prints in the summer. Instead, choose a light-colored shirt with few prints that matches your trousers or jogger pants if you prefer a cleaner appearance. Put on a pair of loafers rather than sneakers.
4. Tank And Trousers Combo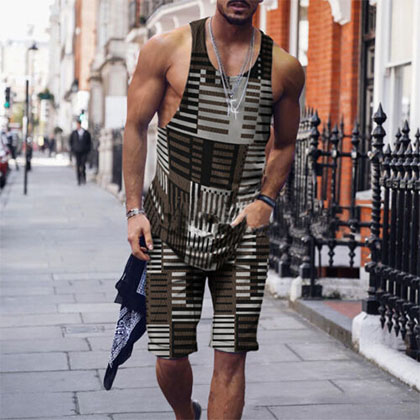 You can always dress in a white tank top during the warmer months. Do not put together a shoddy ensemble. Match the top to dark-colored bottoms like those in gray, dark olive green, and the like.
Wear comfortable shoes, preferably sandals or clogs, for your feet. Don't forget to accessorize; a belt, delicate necklace, and sunglasses will always work.
5. Staple Navy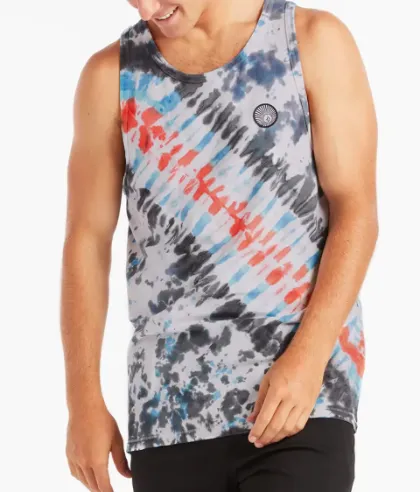 It's undeniable that navy blue is a classy color that complements anything. Underneath a short-sleeved navy shirt, emphasize the color by donning joggers and a grey top.
To complete your laid-back getaway outfit, put on a pair of clogs.
6. Fun Bucket Hats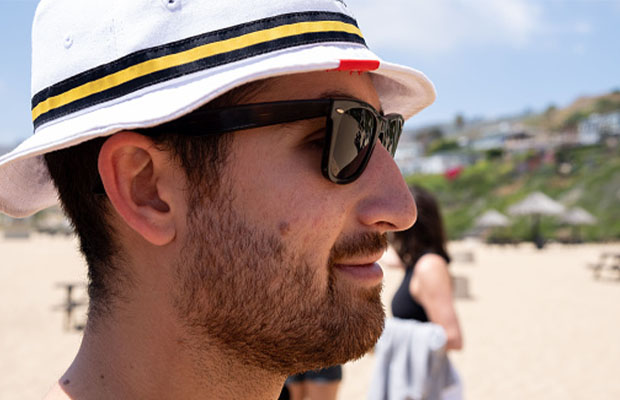 This summer, wear your muscle tee with denim shorts for a laid-back look.
Then, keep it lighthearted by donning a bucket hat that matches your bag and sandals—yes, they're still one of this summer's biggest trends.
The same as always, jewelry or a timepiece can finish off your look for the day.
7. Bold Blue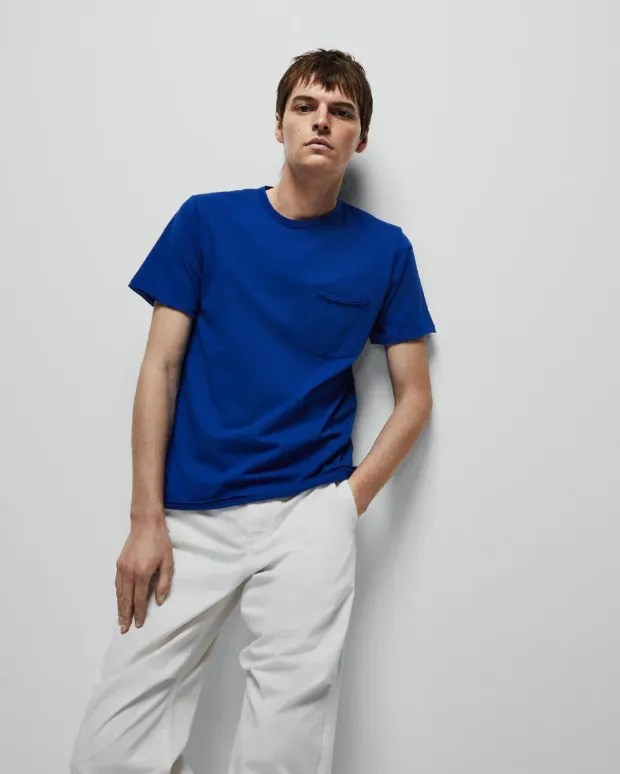 Yes, everyone's favorite color this season is bright. Even so, choose bolder colors like royal blue instead. Put on some sandals to contrast the color, and wear white joggers.
8. Bright Kaftans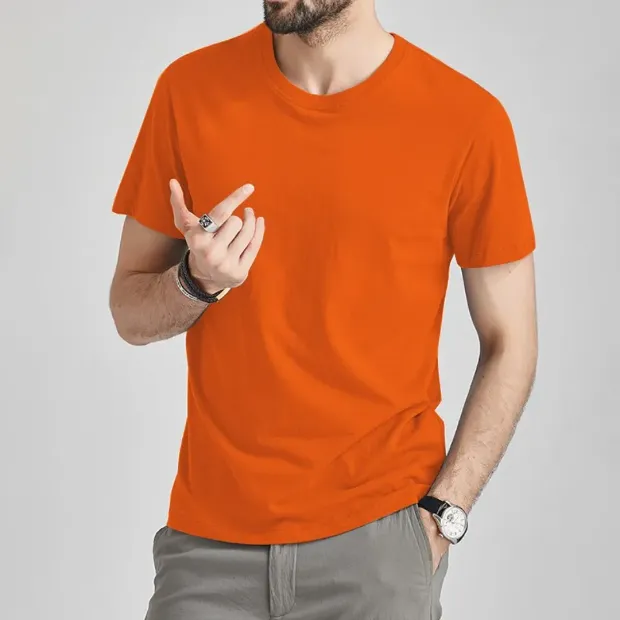 Keep cool and enjoy the summer heat. Put on some hot orange or other vibrant summer colors that are currently in style.
Change things up by donning a light-colored kaftan and matching flowy pants. Add your favorite chains or necklaces on top of orange-tinted sunglasses.
9. Sleeveless Tees And Shorts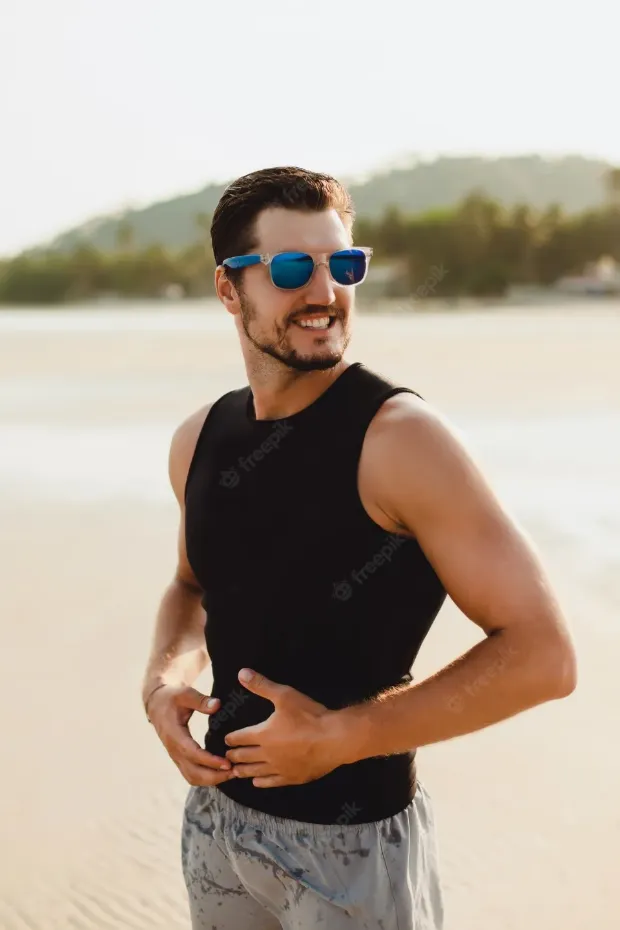 The classic choice, these beachwear outfits for men are the perfect complement to dining or swimming in the ocean.
To add some zing to the day, pair the T-shirts with funky shorts or vice versa.
10. Printed Shorts And T-shirts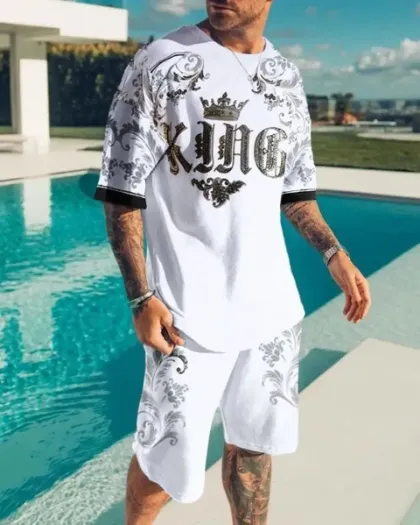 We advise half-sleeved T-shirts in solid, summery, bright colors paired with printed shorts to make you stand out from the crowd for this beach outfit for men.
Stay away from prints on both the upper and lower surfaces to keep the contrast mode on.
11. Swimwear
Purchase them in colors that are closer to those of the ocean, such as blacks and grays, as these are perfect for men's casual beach wear.
In contrast, some floral ones with tiny flowers might also be a good idea. But purchase them in cotton to ensure quick drying.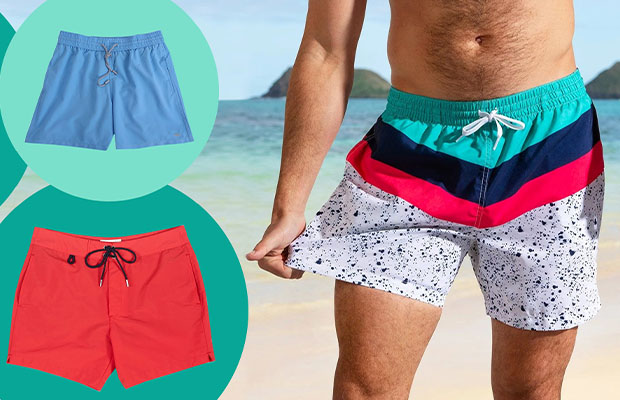 12. Vest With Shorts
When it comes to frequently diving in the salty waters, one of the most cherished men's casual beach attire. Maintain a contrast between the two by keeping one of them simple and the other bright and funky.
Men's shorts should be worn over swimwear so you can enjoy the beach and the water in equal measure the same day. To have a casual, carefree appearance, you can wear any kind of shorts to the beach.
Additionally, the same attire is appropriate for evening snack hours if you are not at your beach hut.
13. Tie-dye T-shirts
When paired with denim shorts, this beach outfit for men is always a hit. For a little extra funk, try pairing these with slightly torn shorts.
To make sure that these men's beach vacation clothes have some zing, pick up some beach shirts and flip flops that match.
14. Striped Shirts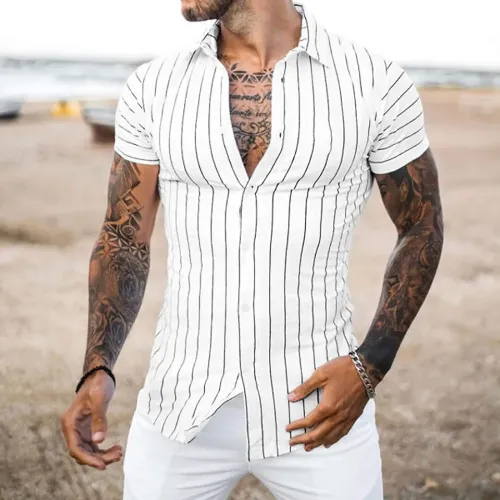 When playing sports with women and needing to look extra dapper, men's striped short-sleeve shirts are always popular as casual beach wear.
Also these look ultra cool with contrasting denim shorts and apair of loafers or beach sandals, when you wish to go out at a beach party.
15. Polo T-shirts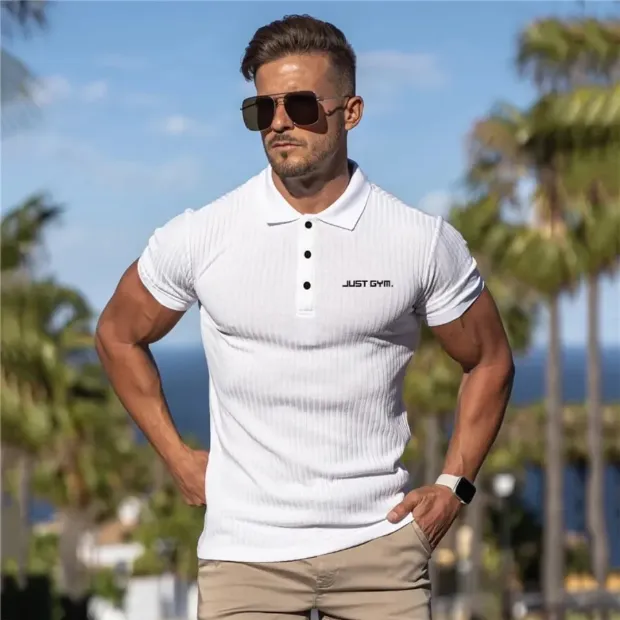 Polo t-shirts in vibrant summer colors are a necessary component of men's casual beachwear.
The best thing about these is that you can pretty much wear them with anything, from shorts to denim jackets to men's lounge pants. You can wear them to a party after leaving the beach.
Related Reading: How to Wear a Polo Shirt?
Tips For A Cool Beach Outfit for Men
Without a few crucial hints, the "what to wear at the beach" conundrum will remain only partially resolved.
So, here are some cool suggestions.
1. Wear Bright Colors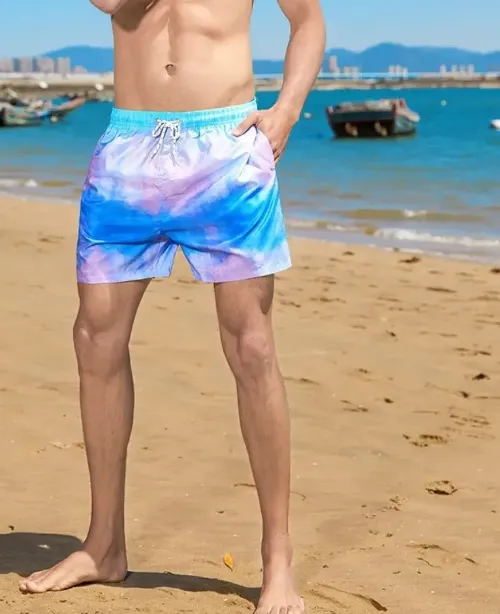 Bright colors not only make for happy visuals and photographs but also a happy mood because the beach is always about the bright sun throughout the day.
To brighten up your beach look, experiment with various vivid shirt colors. So make sure your beachwear for men is colorful.
2. Pack Your Long-sleeves
Normally, people steer clear of wearing long sleeves to the beach, but for those with sun-sensitive skin, we advise flowy, loose-fitting long sleeves made of linen to keep you cool and shield you from the sun's rays.
3. Add Dry Clothes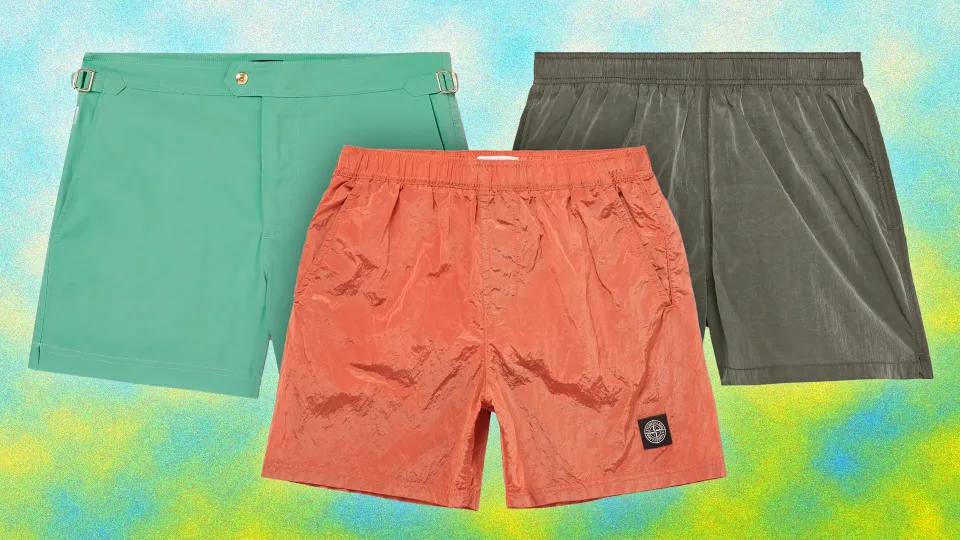 Keep a pair of dry beachwear for men on hand when visiting the beach.
You never know when you might feel the urge to travel farther than the beach. Drying clothes will take less time.
4. Do Layer Your Outfits
Men should cover their vests with loose, open short- or long-sleeve shirts when dressing for the beach. These layers serve as shields when the Sun becomes oppressively hot around midday. As evening approaches, you could also wear the shirt to a beach party.
It's equally important to consider how to dress for the beach as it is what to wear. You always wear appropriate clothing to work because of this. Therefore, to allow the body to breathe easily, keep the men's beach vacation attire loose and flowing.
Additionally, keep in mind that our guides on what to wear for a day at the beach for men are intended to make you happy. Also necessary for that is a general detox, so try to unplug from your smartphone as much as you can and unwind.
Final Words on Beach Outfits Men 2023
That's all about men beach outfit ideas.
When going to the beach, you want to appear well-groomed and relaxed. While maintaining a polished appearance, you should wear clothing that can withstand the heat, sand, and water of the beach.
Your beach outfit can be more dressed up or more dressed down, just like clothes for other occasions. The entire gamut of beachwear formality has been covered in this article.
Read More:
FAQs about Beach Outfit for Men 2023
What Should You Not Wear To The Beach?
Fitted clothing is inappropriate for a beach. They won't assist you in maintaining a calm, comfortable state. Additionally, you ought to refrain from dressing in clothes in muted colors. You should also avoid wearing leather shoes, watches that are not water resistant, or sunglasses without UV protection.
What Do You Wear To The Beach At Night?
For a laid-back, casual look to the beach at night, pair striped shirts with denim shorts and a pair of loafers or sandals. Wear a loose, long- or short-sleeved shirt to a beach party at night.
What Do You Wear On A Beach Date In The Evening?
Wearing a vibrant-colored polo t-shirt will give your appearance on a nighttime beach date a sophisticated yet casual touch. To complete the look, wear it with lounge pants or denim shorts.
What Colors Look Best For Beach Pictures?
For beach photos, bold hues look best. For the best photos on a beach, you should always choose hues that will blend in with the scenery.