You probably know that the butterfly motif is a defining symbol of 1990s and Y2K fashion and beauty unless you've been living under a rock. The latest? Butterfly liner. We'll outline step-by-step instructions on how to create gorgeous butterfly eyeliner!
Drawing a butterfly eyeliner is a great way to be artistic and experiment with your makeup. Butterflies are colorful and fun, so you use multiple colors and rhinestones or add lines to make your look unique
For some great advice, tips, and product suggestions to help you hone your wings, keep reading!
What is Butterfly Eyeliner?
There are two different ways to do butterfly eyeliner. The first is a more traditional look that uses bold, graphic lines and tons of bright colors to create a wing-like effect on the eye. Think "90s" if you're feeling a little lost. When celebrities like Doja Cat and Hailey Bieber rocked this specific style of butterfly eyeliner, it made a comeback on Tik Tok and went insanely viral.
The second form of this trend takes a more literal approach. In this variation of the eyeliner, the wearer literally draws butterfly wings on and around their eyes. The size of these wings can range from tiny colored accents at the outside corners of the eyes to enormous, sweeping wings that enclose half of the face.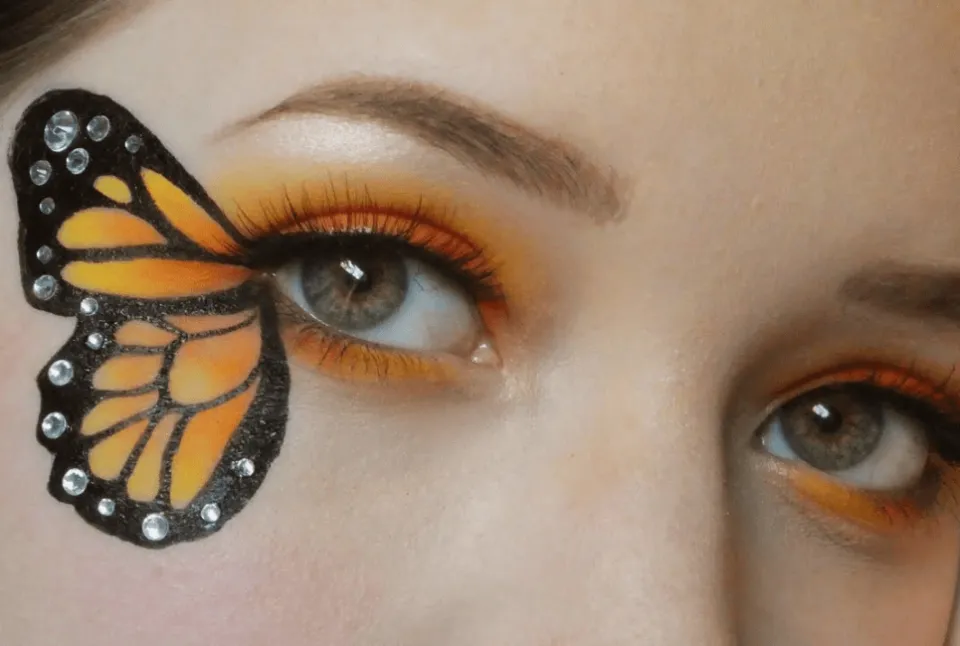 What makes this trend so intriguing is how adaptable it is! Making a decision about which direction to follow this trend in may be difficult. Both of these styles will be covered in this article, along with product recommendations. The butterfly eyeliner look is available to you whether you choose to try both or just one.
The More Traditional Butterfly Eyeliner
Here's a step-by-step tutorial for applying classic butterfly eyeliner.
Step 1: Apply Eyeliner to the Top Lash Line
Choosing your eyeliner's finish is the first step in creating this look. Choose your favorite liquid liner for a clean, graphic look. We advise using a blendable pencil eyeliner if you prefer a softer, more blended appearance. Start by lining the eyes with eyeliner in a line that extends from the inner corner to the wing of the eye, which should be angled upward.
When the conventional wing is finished, personal preference enters the picture!. Either you leave it like that, or you add some drama! Using the liner, you can extend the inner corner of your eye, double line the lid, or add a line over the wing for emphasis. Your desired outcome will determine everything.
If you used a liquid eyeliner, wait until it is completely dry before continuing. You can proceed to the following step after applying pencil eyeliner.
Step 2: Apply Upper Lid Eyeshadow
Here, eyeshadow will be used to create a smoky shadow on the upper lid to go with the winged eyeliner. Use an eyeshadow with a neutral brown tone that is darker than your skin tone for a more subdued butterfly effect. Go ahead and use that color if you want to! Take the eyeshadow and sweep it on or just above your natural crease. Start at the inner corner and move along the crease line until it meets your winged eyeliner. To achieve the desired look, be sure to blend this out!
Step 3: Highlight the Upper Eye
Fill in the eyelid with eyeshadow, either using a light neutral shade or one that is a couple of shades lighter than the color you used on the crease. The eye will gain dimension as a result of this! Once the eyelid is covered, use a clean eyeshadow brush to blend the eyelid and crease colors until they are evenly blended.
Now that you have something that resembles the top half of a smokey eye, let's add the butterfly effect! Apply your preferred glitter or shimmer color to the eyelid area that has been highlighted. The magic starts working here. Reflecting light and enhancing the appearance of the eyes' brightness and boldness will be made possible by the glitter or shimmer.
Step 4: Apply Eyeshadow to the Lower Lash Line
You can use any color you like to create the butterfly effect; simply apply it just below the lower eyelashes. Make sure your color is connected to your winged eyeliner! Smoothly distribute the colored eyeshadow. Think purples, pinks, or even yellows or oranges if you want to get the butterfly eyeliner look that most people are going for!
Now is the time to blend your eye makeup, especially if you used a pencil eyeliner. Make use of a clean brush to blend your eyeliner into the eyeshadow on your upper eyelid. Additionally, make sure there is no visible separation between it and your lower eyeshadow after blending. A single, unified eye look that makes your heart skip a beat ought to be the end result of this!
Focus on fusing the lower lash eyeshadow into the liquid eyeliner wing if you have one.
Step 5: Lashes, Lashes, Lashes
Light, airy, fluffy lashes that fan out like butterfly wings serve as the finishing touch to this butterfly eyeliner look. You can either use your own lashes or fake ones to achieve this! When picking false eyelashes, choose those with smaller lashes on the inside corner of the band that gradually get bigger as the lash strip goes on. You can get that fan look the best by doing this.
Apply mascara to the lashes to draw attention to your own lashes. Applying makeup to the inner lashes should be done in stages, starting with a light layer and gradually building in intensity. The winged effect of your eyeliner and shadow should be complemented by your eyelashes once you're done!
Read More: How to Use White Eyeliner?
The Winged Edition of Butterfly Eyeliner
Although it takes a little more work to create this butterfly eyeliner, we believe you can do it with the aid of this tutorial!
Step 1: Apply Eyeliner to Upper Lash Line
We advise utilizing only liquid eyeliner with a pen-tipped applicator for this particular butterfly eyeliner look! This is because pencil eyeliner works best for blending and smudging because the look calls for fine lines. Plan out the location of the wing before you start drawing. Do you want a butterfly wing to be applied where you would normally use an eyeliner with wings? Or would you prefer sweeping, broad butterfly wings that cover your eyelid or fall down your face?
Make your decision, then start drawing! Draw on the wings with caution. No matter which eyeliner style you select, we advise beginning at the inner corner of your upper eyelid. Working your way down and across from there is possible.
Step 2: Add Some Color
Utilize eyeshadow to add a splash of color to complete the look! Either take creative control and create your own color scheme, or choose a specific species of butterfly as your model. You're almost finished if you just fill in the butterfly wings as you like!
Pro tip: Consider matching your blush for an extra pop of color if you really want to emphasize the color you use on your eyelids! Try an orange blush on your cheeks, for instance, if you're trying to imitate the pattern of a monarch butterfly wing.
Step 3: Highlight the Upper Eyelid
To emphasize your upper eyelid and the eyes themselves, apply a lovely, light shimmer shade of eyeshadow there. Your eye makeup will look more finished because of the depth that the reflected light will add. You can add this hint of brightness to the inside corner of your eye if the butterfly eyeliner wing is in the way!
Step 4: Lash is Out
The final step is extremely crucial, just like in the previous look. The volume and drama of the butterfly eyeliner trend are brought to the eye, completing the look! Whether you want to use false eyelashes or your natural lashes is entirely a matter of personal preference. Either way, your lashes should have the appearance of having wings. Focus the majority of the mascara on the outer lashes to achieve a wing effect, and gradually apply less mascara as you move in. When choosing false lashes, choose one that imitates this effect!
Final Words: Will You Give Butterfly Eyeliner a Try?
Drawing a perfect butterfly eyeliner is art itself- trust me. It can be challenging enough to get both eyes to appear evenly matched, but some people want to add even more spice.
Inspiration can be found everywhere! There are countless ways to make this trend your own; look to Tik Tok, Pinterest, Instagram, and more. The winged version might just require a little more practice and perseverance, but anyone can do it.
Just keep in mind that mastering the perfect lines is not something you should give up on after your first attempt.
This explanation of the butterfly wing, we hope, has persuaded you to try the style.
Read More: Brown Vs Black Eyeliner
FAQs
Is Pencil Or Liquid Eyeliner Better?
The right answer is that liquid eyeliner makes it easier to draw precise, thicker, and thinner lines. However, beginners with shaky hands should stick to pencil eyeliner because it is less likely to budge.
What Do Butterflies Symbolize?
The answer is that since butterflies stand for change and hope, your makeup can convey more than just aesthetic value.
Is It OK to Wear Winged Eyeliner?
Winged eyeliner is something anyone and everyone can sport because it has the ability to define your eyes like no other.