I'm sharing a few cute outfits with jeans to help you dress up your favorite basic jeans. There is no reason to assume that you can't wear your favorite jeans to a night out, brunch with the girls, or even a date!
Everybody has a pair of well-fitting, seemingly-universally-flattering jeans in their closet. No matter the cut or quality, a good pair of blue jeans can be the ideal item in your wardrobe. However, there are times when it can be challenging to dress up a trusted pair of casual jeans.
Never be afraid to take a risk, try something different, or change things up. Wear those jeans however you please. Continue reading to see every adorable outfit.
5 Cute Outfits With Jeans
Here are five cute outfits with jeans.
1. Add Some Edge
Adding some edge is always enjoyable and simpler than you might think, regardless of the style type you favor. I included a few edgy elements in this look, but if adding multiple edgy pieces feels uncomfortable for you, just add one. For example, instead of wearing the cool, layered button-down shirt and the edgy combat boots, just wear the boots.
By the way, these AG jeans are SOOOOO good. They have a very flattering slim fit but a straighter leg, making them ideal for those of you who adore skinny jeans but are seeking a more modern denim look. The moderately light wash is gorgeous. I advise going down a size because they tend to run a little large. I'm wearing a size 25, but my normal size is 26.
My Maje top is definitely not your typical button-down shirt. It has an integrated tank that makes the layered look super easy, um, effortless! Grab it if you see your size because there are only a few sizes left. My go-to combat boots from See by Chloe are the ones I'm wearing. I've had these for a while and enjoy wearing them in the fall and winter with jeans, dresses, and skirts.
2. Add Leather
If edgy tops or combat boots aren't your thing, try adding leather instead! Your look will be instantly elevated and feel new if you wear your favorite pair of jeans with a simple white t-shirt and a leather blazer or jacket. I'm dressed in the same AG jeans, a white Nation LTD tee, black mules, and an Alice + Olivia blazer in black vegan leather. This blazer fits beautifully and is unbelievably soft. Change your open-toe mules out for booties, pumps, or sneakers for the fall.
3. Upgrade Your Outerwear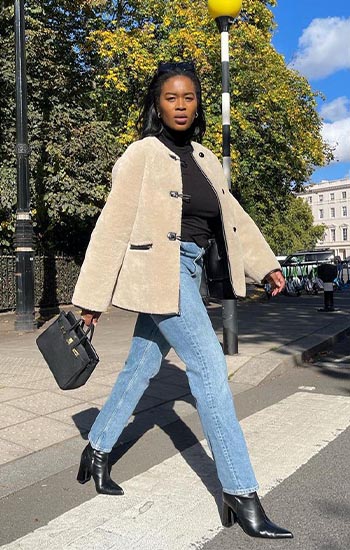 In the same vein, add some new fall/winter outerwear to your cute jeans outfits to give them a new feel. Adding a new outerwear piece, whether it's a statement coat, stylish cardigan, or edgy jacket, can elevate your jeans look. You might recall this lovely Sam Edelman trench from the NSale. The contrast between the leather and wool blend, along with the green and black color scheme, is gorgeous. Just a truly contemporary piece!
Also Read: Can You Wear A Blue Shirt With Blue Jeans?
4. Add Texture
By switching up your tops, you can give your jeans-and-t-shirt ensembles some texture. I'm wearing a silk cami in this outfit, but you could also wear a flirty lace top or a super-fuzzy sweater.
This camisole has a seductive, silky fabric and a striking, gold chain detail that really makes it stand out. I adore how it appears tucked into this stylish pair of Mother jeans. The jeans have a super high rise (11.25″) and a straight-leg silhouette. The straight legs feel more contemporary than a pair of skinny jeans, in addition to lengthening the appearance of my legs.
5. Pop of Color
With a striking color pop, your jeans will shine like never before! If you want to add a pop of vibrant, on-trend freshness to your wardrobe this fall/winter, this L'Agance top is the ideal addition! Pink is one of the hottest trends! Your adorable jeans ensemble is now perfectly elevated. Finish the look with a pair of sleek booties.
Related Post:
Final Words on Cute Outfits With Jeans
Perhaps the most functional and durable piece of clothing in any wardrobe is a pair of jeans. They are available in a wide variety of colors, shapes, sizes, and styles. And while it's simple to style your favorite pair of jeans with a graphic t-shirt for a laid-back look, coming up with ways to dress up jeans to make them appropriate for any occasion requires a little more ingenuity.
We have shared five ideas of cute outfits with jeans in this post. Please leave a comment below if you have any additional ideas for jeans outfits.
You May Also Like:
FAQs
How Should I Dress With a Cute Stomach?
Go big on top, narrow on bottom. If you like the concept of belly camouflage but also want to show some shape, let opposites attract.
Is It OK to Wear Sneakers With Jeans?
Universally flattering, straight-leg jeans pair well with low-top sneakers of any kind. For a classic look, we prefer medium-wash blue jeans with black and white accessories.