Eyebrow tinting is an easy way to frame and transform your face in a long-lasting way, making your daily beauty routine quicker and hassle-free. It's an easy beauty tip that doesn't cost much money or effort but has a big impact.
When you dye your eyebrows, you can make them as dark or as light as you like, or you can combine different eyebrow colors or tones to produce a unique shade or any style you like.
Do you have any questions regarding the durability of eyebrow coloring? Are you unsure if it's appropriate for you? To find what you're looking for, continue reading.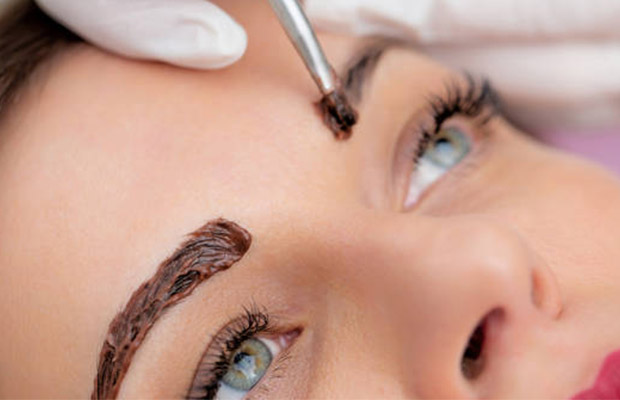 Eyebrow Tinting: What Is It?
An eyebrow tint is a semi-permanent dye that darkens and defines your brow hairs (even those tiny, hard-to-see hairs that you might not even know are there) that can last up to six weeks before fading. Your brow technician will mix the dye to match your coloring after you and they have discussed your preferences. This usually results in a tint shade that is either the same shade as your natural hair color or half a shade to a full shade darker. The technician (or you at home) wipes the dye off after five to ten minutes, giving you immediately bolder, fuller-looking brows.
How Long Does Eyebrow Tinting Last?
Do you have any idea how long it will last? You may be surprised to learn that your favorite new maintenance-free color will last up to four weeks. The best part is that all it takes is one date to reap the benefits.
Your stylist can help you plan a schedule for maintaining your new brows before your first date. The majority of our clients can actually get the brows of their dreams with just one hair color appointment per month!
How Much Does Eyebrow Tinting Typically Cost?
The price of an eyebrow tint depends entirely on your salon and your location, as with any other beauty procedure. In New York City, eyebrow tints will typically cost between $20 to $40, but that price can be higher or lower depending on your area. Just keep in mind that even if the tint is slightly more expensive, this is a treatment for the area around your eyes, so you'll want to go somewhere reputable and well-known.
Is It Beneficial To Brush My Brows?
It can be very satisfying to use a spool to brush your freshly formed eyebrows but proceed with caution. In fact, excessive brushing can make you look fairer and hasten the loss of hair. Because of this, it is advised to brush them into position and use eyebrow gel all day. Opting for a light-colored eyebrow gel when you go on your next date also adds a smooth layer of color. It can be very satisfying to brush your freshly formed brows with a spool but proceed with caution. In fact, excessive brushing can make you look fairer and hasten the loss of hair. Because of this, it is advised to brush them into position and use eyebrow gel all day. Using a light-colored eyebrow gel when you go on your next date will also add smooth color.
Advantages Of Permanent Eyebrow Tinting
Our mission at the Eyelash Lounge is to make every visitor feel good about themselves without having to worry about time-consuming and difficult beauty procedures.
Strong, full brows convey a youthful, healthy appearance! Why wouldn't anyone want that? Once your brows are colored, you will:
There is no requirement to use brow pencils or coloring supplies at home.
You don't need to brush your brows every day, which will save you time.
A brow that draws attention to your features can be beneficial.
Reduce makeup time.
Enjoy brows that match or enhance the color of your hair.
You feel more confident after getting new, lovely brows.
Can I Wash My Face After Getting My Brows Tinted?
While wetting your eyebrows after coloring is not a problem, you can try not washing them for at least 12 hours. In order to avoid irritation, you should also refrain from harsh touching or rubbing for 24 hours. If you regularly swim, use caution because chlorine can also lighten your skin tone. Even though it's okay to wet your brows after coloring them, you might want to try waiting at least 12 hours before washing them. To prevent irritation, you should also refrain from harsh rubbing for 24 hours. If you're a regular swimmer, exercise caution because chlorine can also shorten your skin tone.
Eyebrow Tinting Process
What precisely does our brow tinting procedure entail? It's really quite easy:
First, settle into our comfortable service bed, close your eyes, and unwind. The brow magic will be taken care of by us!
Each brow will receive a coating of our 100% secure dye tinting solution, which is created especially for brows.
Your brows will start to set the tinting solution after a specific amount of time. (Depending on the shade chosen, this time frame will vary.)
Your stylist will carefully clean each of your eyebrows after the dye has had time to be fully set.
After cleansing, your stylist will softly brush each brow with a brow brush to finish the service.
And voilà! You are now prepared to take advantage of the assurance and unique color of naturally gorgeous brows for a full four weeks!
What Skin Care Products May I Use Following Eyebrow Tinting?
Everything that contains a tan or a progressive tan should be avoided as part of your brow care regimen. Your eyebrows will turn a disagreeable shade of green due to the tan's reaction to the tone. For three days on either side of the treatment, we advise against applying fake tan.
Exfoliants and anti-aging products should also be avoided for three days after your coloring treatment if it also involves some hair removal, such as waxing or threading.
How Can You Stop Eyebrows From Fading?
Get a serum for your brows to help lengthen the color if you notice that your brow color fades quickly no matter what you do. In order to preserve color, each eyebrow is covered by an invisible, flexible film created by our Eyebrow Miracle Daily conditioner. As if that weren't enough, it also includes amino acids, which help to rebuild and strengthen hair while toning and caring for your beloved eyebrows.
Consult a professional if you want results that will last.
Home dyes are different, and you also don't benefit from the expert application or color matching. An appointment with a local HD eyebrow stylist includes custom blending tones, tailored to your requirements
Things To Avoid After Eyebrow Tinting
Here are some things to stay away from to preserve your eyebrows for as long as possible:
If you want your results to last, try to avoid swimming because chemicals like chlorine can cause eyebrows to fade faster than you'd like.
On either side of the treatment for three days, anti-aging and exfoliating products should be avoided. After that, to prevent early fading, stay away from applying it near your eyebrows.
Avoid overbrushing your teeth; only do it in the morning, and then refrain from spooling!
Use professional serums, such as our Eyebrow Miracle Daily conditioner, to extend the wear of your color. Be sure to consult a professional brow stylist as they will use high-quality, long-lasting dyes.
Read More: How to Use White Eyeliner?
Summary
Nothing feels better than newly colored eyebrows, but what if you could extend the feeling? Maintaining salon-fresh brows for weeks after the appointment is possible by adhering to the right post-care instructions for eyebrow coloring.
Read More: Are Blond Eyelashes Rare?