There were numerous inquiries about what to pack as we got ready for my tour in Egypt.
Was my hair supposed to be covered? Were long sleeves necessary, or in hotter cities, would t-shirts suffice? Could I wear capris? How to dress in Egypt?
On our trip we found Egypt to be modern, yet conservative. It's fairly simple to dress appropriately in Egypt, but men and women should dress differently.
While other searches turned up nothing useful, it was simple to find the answers to some of these questions online. So I made the decision to create my own guide on what to bring as a woman traveling to Egypt.
Read More: Are Sneakers Business Casual?
When Is The Best Time To Go To Egypt?
Despite the majority of the year having fairly high temperatures, the weather in Egypt is something you should take into account. Winter is the busiest season and the most popular time to travel. Warm daytime temperatures and chilly evenings characterize the months of December through February.
The months of October through November and March through April are considered shoulder seasons. It is best to schedule activities for the morning and evening because it can get quite hot during the day at this time of year.
I don't advise traveling during those months because it can get unbearably hot there from May through September. Check out the list of 10 items below if you're wondering what the best clothes are for traveling to Egypt.
How To Dress In Egypt?
When attempting to decide what to wear in Egypt, people frequently consider two things. The temperature is the first factor. The majority of the items on your packing list will be for warm, dry weather because Egypt is a desert country.
The second, more important factor is the appropriate attire for a conservative nation like Egypt. The good news is that modest attire for Egypt does not necessitate constant full coverage.
Sunscreen and a hat are crucial because the sun can be very strong. When visiting dusty monuments, closed-toe footwear is ideal. You can avoid germs and help with the dust by wearing a mask.
Typically this is a trip where you move around a lot so it will make your life easier if you can pack everything for Egypt in a carry-on suitcase. It will be simple to pack in a smaller bag because all of your clothing will be lightweight. Compression packing cubes can help you fit everything into a smaller suitcase as well.
What Men Should Wear In Egypt?
Men in Egypt dress well. They dress in pants and either a long or short-sleeved shirt. Some women choose to dress in the more conventional abaya, which some people jokingly refer to as Egyptian air conditioning. Although he was told it was acceptable, my husband wore shorts while no Egyptian men did. In general, men in Egypt are free to dress however they please.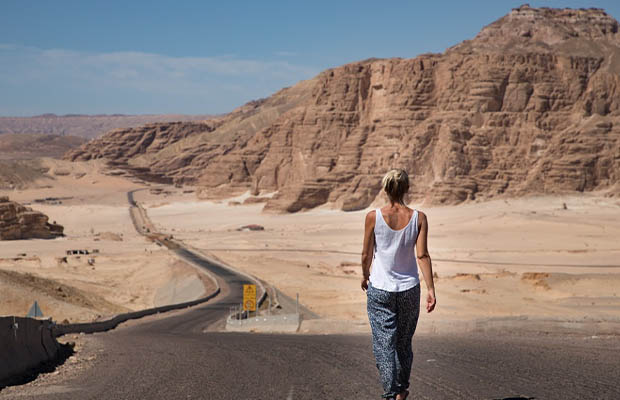 What Women Should Wear In Egypt?
Pick clothing that is breathable and light with minimal skin exposure. Crop tops and anything else that reveals your stomach are strictly prohibited everywhere but beach resorts.
Although shorts are usually reserved for resorts, I did see tourists wearing them in large tour groups. It's probably okay to wear them if you'll be with a lot of people but stay away from short shorts. I would stay away from them if you are NOT traveling in a large group.
I attracted unwanted attention by going to the Luxor train station in shorts, and I nearly passed out from embarrassment. The video that details everything is available here.
Wearing sleeveless midi or maxi dresses is the simplest way to dress. In order to cover up when around other people, carry a long-sleeved button-up shirt. It will be a blessing to be able to remove sleeves because many cabs lack air conditioning. T-shirts go well with long skirts and pants as well. Make sure they don't have low-cut v-necks, though.
The Cairo Dress Code
You might dress differently in Cairo then you would in other locations. Cairo is a sizable city with exciting nightlife. As long as it's conservative, you can dress however you normally would for a night out. Egypt doesn't really have a dress code.
The local women dress similarly to us, including in form-fitting garments like skinny jeans and leggings. They frequently don loose, long-sleeved tops with high necklines (no cleavage showing) and long sleeves. They don't dress in miniskirts, tank tops, or anything that bares their midriff.
You should wear modest, sun-protective clothing when visiting the Pyramids of Giza. In Cairo, women must cover their shoulders, wear long skirts or pants, and cover their heads. Usually, you'll be asked to take off your shoes.
Read More: What to Wear in Italy?
Do I Have To Cover My Hair In Egypt?
Short answer: No, you are not required to cover your face or hair while visiting Egypt as a tourist. It is only necessary to respect the fact that you are entering a place of worship and cover up if you are visiting a mosque. Typically, using a simple scarf to conceal your hair will do.
Nevertheless, some Egyptian women, particularly those who are traveling alone, decide to always cover their hair. It's based on what you feel comfortable with, but it's definitely not necessary!
Is It Required To Wear Long Sleeves In Egypt?
Again, no. Tops that expose too much cleavage, tank tops, and strapless tops are generally not acceptable. But when it comes to arm coverage, the general rule is to make sure your shoulders are covered.
Although it's polite to cover your elbows, wearing a regular t-shirt will not draw too much-unwanted attention. My favorite tops had 3/4-length sleeves.
Can I Wear Capris In Egypt?
Yes, just as long sleeves are not always required to be worn in Egypt, neither are long pants. As long as they cover your knees, capris are acceptable for women. (Though I personally wouldn't wear shorts as a woman, longer shorts are acceptable for men.)
Do All Clothes Have To Be Extremely Baggy?
While skin-tight clothing isn't always regarded as modest, women in Egypt don't have to bring slouchy, formless clothing.
However, I am aware from personal experience that it can be challenging to find clothing that will effectively conceal large boobs and a backside without making you appear to be wearing a sack. Obviously, the more you emphasize your curves, the more attention you may attract. (And I don't know about you, but I wanted to look at least somewhat adorable in my Pyramid selfies!)
The good news is that skinny jeans are very common among local Egyptian women, who generally dress quite formally. I made an effort to match a top that was looser and more flowing if I was wearing slightly more form-fitting bottoms. I had no problems.
Is It Permitted To Carry A Cross-body Bag In Egypt?
Any woman with a larger chest will be aware that wearing a cross-body handbag will result in the strap accentuating The Girls. No matter how heavy the bag is, boobs will still be noticeable when worn across the body.
Naturally, a cross-body bag is my go-to travel accessory (they're much safer because they're harder to steal while you're wearing them), but I wasn't sure I would feel comfortable wearing one in Egypt. Instead, I chose a pickpocket-resistant backpack that gave me more security while I was out sightseeing.
While I didn't need to carry my camera, water bottle, or other bulky items, I did bring a small cross-body bag with me for going out to dinner or other occasions. Even though I frequently wore it with a jacket or scarf, I didn't encounter any harassment while carrying this bag.
I'm not sure how to respond to this, but if you're concerned, I'd advise choosing a theft-proof backpack. (Or how about a cute sling or waist bag, seeing as how they're currently back in vogue?)
Is There A Time To Wear Whatever I Want?
I generally try to follow local customs when I travel. Simply put, it shows respect and improves your overall travel experience. This is not to say that I didn't see tourists in Egypt wearing tank tops or short shorts; I did. Even one woman wearing a short, strapless romper at a temple caught my eye!
But I wouldn't advise going to Egypt dressed in your typical summer attire from the United States or Europe. It's just a little rude.
The only exceptions to this rule are when taking a Nile river cruise or visiting one of Egypt's seaside resorts.
Due to the presence of other tourists, conditions are generally laxer on cruise ships and at resorts (you can, for example, wear your bathing suit on the sun deck and in the pool). But keep in mind that the entire crew on cruises will be Egyptian, and there may also be Egyptian or other Muslim families on board. I thought the topless sunbathing on my cruise ship was a little disrespectful.
Things To Leave Off Your Egypt PL
Shorts – Despite the fact that we frequently wear shorts when it's warm outside, Egypt is very conservative. Unless you are on a specific tour or Nile river cruise where shorts are permitted, it is best to avoid flashing much skin.
Tank tops and crop tops – These should not be worn unless you are near a pool or the beach.
Heavy jackets – you will rarely ever need any heavy clothing. A light cardigan or button-down shirt is ideal for covering up in Egypt.
Valuables – Leave as many priceless items behind as you can. Keep your essential valuables close to you at all times because tourists are very easily targeted, especially in well-known locations.
Drone – we were stopped each time at the airport with our camera equipment. Drones cannot be used, so don't bring them.
Extra Important Items To Bring To Egypt
Hand Sanitizer
In Egypt, it can get quite dirty to go about and engage in normal activities. Finding hand soap nowhere else was another recurring theme. Including some eco-friendly baby wipes and hand sanitizer in your bag is a good idea.
Sunscreen
Skin cancer really does exist! When touring Africa, keep in mind that you are close to the equator and should wear SPF. You will need it while traveling through Africa's hot climate, and finding it in Egyptian grocery stores can be challenging (and expensive when you do). We advise ordering some before you leave the house online.
We strongly advise investing in an environmentally friendly sunscreen that is free of dangerous chemicals. They support ocean preservation and are typically only a few dollars more expensive because they are mineral-based. Simply choose a trusted name brand if you won't be swimming in the ocean.
Electrolyte Tablets
Egypt is a real concern for dehydration. In the event that you become ill, these pills should help your body return to normal. You might not need the entire bottle, so pack a few pills in a bag or pill holder to save space in your luggage.
Safety Situation In Egypt
Many people worry about safety in Egypt, despite the fact that this is not something you would typically find on a packing list. You can make some preparations in advance. Start by looking up the Egypt Travel Advisory to be aware of any current issues. We strongly advise travel protection because conditions around the world are constantly changing. We can defend ourselves in two different ways. We book our tickets with our Chase Sapphire Preferred which has built-in travel protection and we use World Nomads travel insurance. We are completely covered if we ever need to postpone a trip.
Just one more safety-related point: always be aware of your surroundings. You should always be on the lookout wherever you go, even within your own country. A target is always a tourist. Better off appearing less like a tourist. As mentioned above use a secure travel purse or secure backpack to protect yourself from petty theft.
You May Also Like: What to Wear to a Christening?