Leggings are soft clothing that is form-fitting and stretchy for all body types. Leggings can be stylish too.
The easiest way to define your shape without exerting extra effort is to wear something skin-tight and form-fitting. The majority of us overlook the fact that it's related to athleisure, but it really goes unnoticed.
Read our article to learn how to wear leggings and get fashion advice on how to incorporate this wardrobe essential into your looks.
Read MOre: How to Wear Green Pants in Style?
What Are Leggings?
Leggings are pull-on, form-fitting pants that have an elastic waistband to keep them on rather than a zipper or button. They are made of stretchy materials. Leggings come in a variety of designs, from moto leggings made of faux leather for a night out to athletic pairs made of sweat-wicking and flexible materials for yoga or other activities. Leggings are available in luxurious materials like velvet, suede, or leather as well as thick jersey or Ponte. Some leggings imitate traditional pant designs, such as leather leggings or jeggings, which are a hybrid of leggings and denim jeans. The majority of leggings end at the ankle, but some end at the mid-calf or knee.
Various Type Of Leggings
True leggings devotees have numerous pairs of slim-fit sweats in their wardrobes. For myself, I have a few sets that are arranged according to the occasion, such as a pair for relaxing, a pair for work, and a set for working out.
We'll highlight some popular fits for you to take into consideration if you're looking to increase your own legging inventory:
Full-length leggings: You undoubtedly have a pair of full-length leggings in your closet. They are the most popular kind of pants available. They are great for wearing out casually or as workout sweats because they are stylish, form-fitting, and comfortable.
Cropped leggings: Have you moved in for the summer? If so, you're probably searching for a more permeable option. Leggings that are cropped still give off a slim silhouette, but they are shorter. They are fantastic for high-performance activities like wading in water.
Flared leggings: In our "how to wear leggings" guide, we've included a few bell-bottom silhouettes in our picked outfits. If you're in the mood for something different, it's a great switch-up.
Synthetic leather leggings Don't like how constricting leather pants feel, but love the way they look? Wearing faux leather leggings is advised as a more adaptable choice.
vibrant patterns and colors When it comes to clothing, plain black is the most secure choice. It's never a bad idea to choose vibrant colors and prints, though, if you're feeling extra spicy.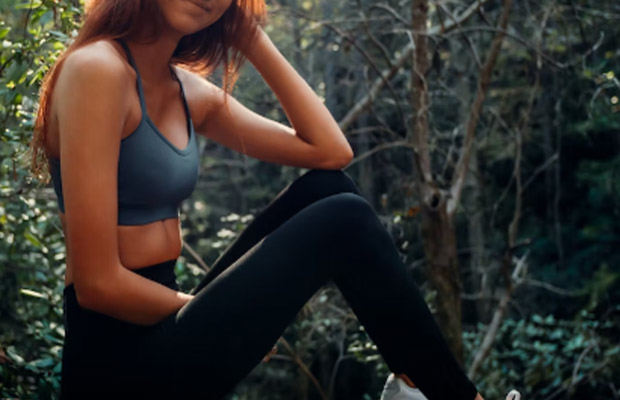 What Is The Time To Wear Leggings?
It's important to address the appropriate occasions for wearing leggings before talking about how to wear them. They're typically worn for casual occasions or as a workout outfit.
Leggings are great for daily errands, informal hangouts, and house lounging.
It doesn't take a genius to understand why most people prefer them over jeans—they're practical, comfortable, and have a flattering silhouette. Leggings are also intended to be seasonless, making them a fantastic wardrobe staple from winter to summer.
When Not To Wear Leggings?
Yes, they are comfortable but resist the urge to give in. Leggings should only be used for workouts and casual events.
The attire you choose should be more carefully considered for formal events like weddings, funerals, anniversaries, and other black-tie affairs.
Leggings, sweatpants, and other athleisure clothing typically project a negative image.
Leggings can be worn all year round, but on particularly warm days, we suggest switching to shorts. Nothing is more regrettable, in my opinion, than to be hot in skin-tight sweatpants.
Outfit Ideas Of How To Dress With Legging
Leggings are suitable for a variety of settings. Make outfits with this adaptable wardrobe essential by using these fashion advice:
Create a casual outfit. Leggings are comfortable loungewear options because of their soft and stretchy fabric. In the spring and summer, wear a solid crop top or T-shirt with printed leggings and a denim jacket; in the fall and winter, wear black leggings with a long cardigan or oversized sweater for a cozy, laid-back look.
Go for an athleisure look. Leggings can be worn in an athleisure outfit for a cozy, active look. Leggings in bold colors or prints are a staple of workout attire; pair a basic white tee or short top with cropped leggings for a casual look, or in the warmer months, pair a high-waist pair with a patterned sports bra. In the winter, combine a full set of leggings with a long sleeve shirt and hoodie.
Style with a long shirt. Dress up a pair of faux-leather leggings by pairing them with a blazer, button-down shirt, and high heels, booties, or loafers. In the winter, you can layer a cardigan over your long top and knee-high boots.
Swap tights for leggings in cold weather. Wear wool or cotton leggings in place of tights during the winter to sport skirts and dresses. Try tight leggings underneath a sweater dress or long tunic top, or pair black leggings with a long sweater or turtleneck skirt. Put on ankle boots or ballet flats to finish the look.
Read More: How to Wear Leather Leggings?
What Should Be Avoided With Leggings?
Leggings are the ultimate in casual clothing for the majority of people. It's a three-day event, a requirement for indoor relaxation, and the go-to outfit.
The majority of people believe that anything looks good with leggings, but we advise you to think twice before making that assumption.
Despite its coziness and usefulness, there are a number of styling sins that can cost you dearly with the fashion police.
Here are some fashion rules to follow when wearing leggings:
Flip flops: The early 2000s aren't happening right now. If you're going to wear leggings, it's best to choose boots and sneakers as a superior alternative.
Belts: Belt loops are absent from leggings. In addition, the absence will make sagging more likely.
Jeggings: Throw your jeggings in the fire for yourself. It fails to do what it should, like 2-in-1 shampoo and conditioner.
ugly colors and patterns You don't want to appear to be an MLM leggings-selling middle-aged boss-babe. We won't disclose the brand, but if you already know, you already know.
Blouses: Leggings' relaxed demeanor contrasts with their romantic, frilly nature. A Bridgerton moment cannot be created by the couch potato aesthetic.
Tips To Take Care Of Leggings
So, have you figured out how to wear leggings? If so, now is the perfect time to perform some basic upkeep and care.
Here are some techniques for cleaning your slim-fit sweats at home so they will last and be worn frequently.
Use a gentle detergent and wash in cold water. Color bleeding will usually occur if you choose hot. 
For high-quality leggings, you may want to refer to sport-specific cleaners instead
Dry on low heat. Leggings can also be left to dry naturally in the air. 
You May Also Like: What to Wear With Black Leggings?