You can wear a cardigan as a versatile knit layer throughout the year. But do you know how to style a cardigan? Discover some styling advice for wearing a cardigan as well as some cardigan outfit suggestions.
Cardigans have graduated from their cozy reputation after serving as our favorite winter clothing item for many years. It can change your outfit regardless of where you're going, from summer to winter. There are numerous ways to wear one of the most classic layers.
This article introduces cardigan wear guidelines and style advice. Keep reading if you're interested!
What Is A Cardigan?
First, let's see what is a cardigan.
A cardigan is a sweater with buttons that can be used to close the garment's front opening. You just tuck your arms into the sleeves of a cardigan instead of pulling it over your head.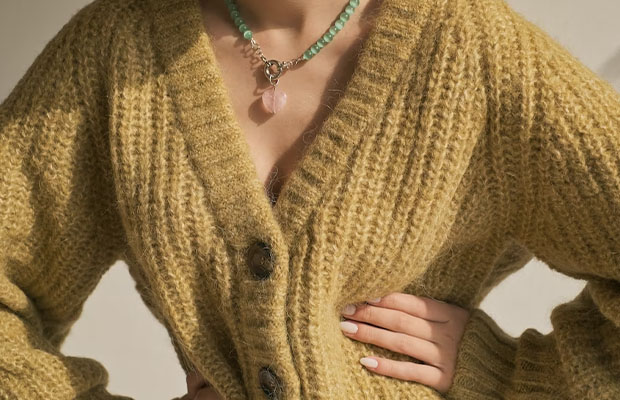 Cardigans frequently have a thin, lightweight feel from the use of very fine knit, which makes them excellent layering garments.
Related Reading:
How To Style A Cardigan?
Here are some styling suggestions for cardigans that work for different situations:
Add to a business casual outfit. For business casual or smart casual outfits, cardigans are a must-have in your wardrobe. The white button-down shirt is tucked into a pair of chinos as you layer a shawl-collar cardigan over it. With loafers, complete the ensemble.
Choose a bold color. Selecting a striking color will help your cardigan stand out. A pair of suede pants or a slim-fitting black midi skirt and tights look great with a colorful, cozy cardigan. To improve and dress up an outfit, you can also put on cardigans with elaborate patterns like beading or embroidery.
Monochromatic Luxe. Your perception is accurate: cardigans can be glamorous. This chic, monochromatic outfit by Melissa Holdbrook-Akposoe features a lightweight cardigan in a neutral tone and a pair of bottoms in the same color. Use your imagination by creating a chic mid-waist knot with the knit hem. You are dressed to command attention at a dinner in the city or an evening engagement when accessorized with simple jewelry, like a gold necklace or bangle.
Pair with a crop top. A thin, loose-fitting cardigan sweater serves as a lightweight outer layer during the warmer months. For a relaxed, casual look, pair a cami or crop top with a brief cardigan. Shorts or high-waisted jeans go well with this ensemble.
Throw a chunky-knit cardigan over casual outfits. With a long-sleeved shirt, a pair of relaxed joggers, or wide-legged pants, cable knit cardigans are cozy and casual sweaters. Ankle boots, mom jeans, and an oversized cardigan can also be worn together to create a fashionable daytime look.
Try an over-the-shoulder look. Tuck a T-shirt into some shorts or a miniskirt for a laid-back summer look, and throw a cotton cardigan over your shoulders. White sneakers will finish off the look.
Read More:
What Should We Wear Under A Cardigan?
You can wear a cardigan in a variety of ways, depending on the season and the event you're attending. Jeans and a T-shirt are a timeless combination, but you can always spice things up by donning a different sweater or piece of knitwear underneath.
Wear a short dress with long outerwear and thigh-high boots to make your legs appear longer than they actually are; belt your waist to accentuate your figure.
There are instances when you can button up the knit's center and wear nothing underneath. Enjoy yourself and try some new things; there are no rules with this layer.
What Is The Time To Wear A Cardigan?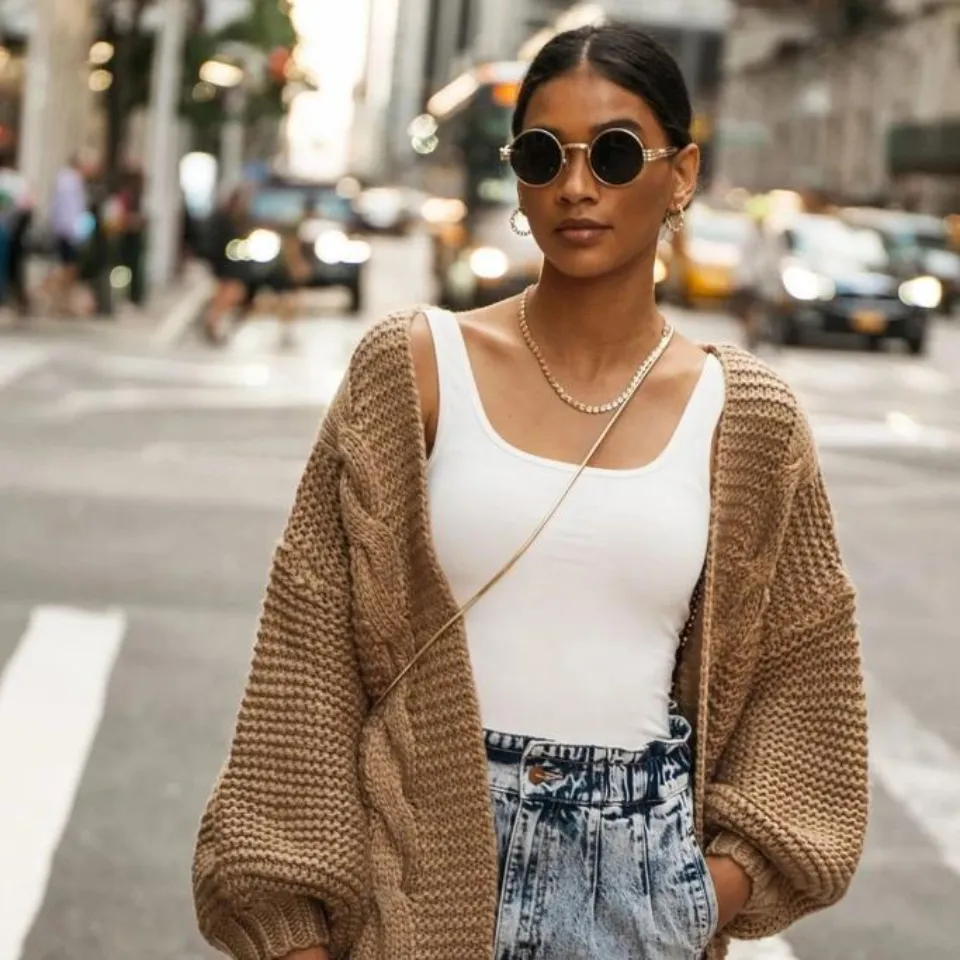 Casual
In a pair of jeans and a cute top, there is no better way to look casual. Add a cardigan that hits or is just below your hips to complete the look.
By doing so, the look is kept fresh and gains a new layer. Choose a monochromatic color scheme, or make a statement with a chunky knit in a striking hue. By rocking one shoulder bare or donning a crop top underneath, you can make it look glam.
Semi-formal
A cardigan makes it simple to transition from day to night for semi-formal occasions. Choose a pencil skirt and a slim-fitting top if you're leaving the office; then, finish the look with a cropped jacket.
Choose a pair of palazzo pants with a high waist in a color like sand or cream, along with a button-down shirt, for a business event.
Business Casual
Wear a cute cardigan to get from the coffee shop to the office. Keep it straightforward with a pair of black pants and a shirt, or switch out your work pants for jeans so you can leave right away for drinks.
Try wearing a long pleated skirt and tightening your waist with a thin belt instead of the customary work bottoms. You can try a new outfit every day with the same knitwear and look like you're ready for a promotion because there are so many different ways to wear this look for work.
Formal
A cardigan is a simple way to complete an outfit, whether you're going to the opera or a wedding. These outerwear pieces, which range from long dusters to bolero styles, are the best way to stay warm in the cooler months.
Go monochromatic for a chic touch or go wild in knitwear with oversized sleeves. This is an additional simple yet elegant way to upgrade semi-formal attire into something appropriate for a fancy event.
Different Types Of Cardigans
Cardigans are knitted in a variety of shapes and fit from merino wool, cashmere, cotton, or synthetic fibers. The following are the four most popular cardigan designs:
Cropped: A cropped cardigan, also referred to as a shrug, is a short cardigan design that hits at the mid-thigh. Cropped cardigans are similar to shawls in that you can wear them over a dress or tank top to keep your arms and shoulders warm.
Hooded: A hood is attached to the back of a hooded cardigan to add extra warmth. They work well as a layer underneath jackets or blazers when worn with fall outfits.
Long: Long cardigans add extra warmth to your legs by falling anywhere from mid-thigh to the ankle. Dusters and longline cardigans fall below the knee, while maxi cardigans extend to the ankles.
V-neck: The necklines of these cardigans are distinctive and descend to form a V shape. The V-neck has a slimming effect that draws attention to the body's natural shape when compared to a rounded or crewneck collar. The majority of V-neck cardigans have a button-down front so you can wear the sweater open or closed.
Conclusion on How to Style a Cardigan
The classic style of cardigans. Additionally, you can be sure that something will always be in style when it has been around for so long.
You can also find zipped cardigans, cardigan sweaters, open cardigans, cardigan vests, and countless other variations in addition to the styles I mentioned today.
Any occasion can be dressed up with the right outfit ideas and a cardigan. To determine which outfits, bottoms, and accessories suit you the best, try out a variety of combinations.
FAQs about Cardigan Outfits
What Attire Pairs Well With Cardigans?
The charm of cardigans is their adaptability; they go well with a variety of outfits. Some examples of how to wear them are with jeans and a T-shirt or with a short dress and thigh-high boots and a longer cardigan. Have fun experimenting with various layering possibilities. Cardigans also work well in a variety of settings, whether you're going for a business-casual look or just need something to cover up while you run errands.
Where Can I Find High-quality Cardigans?
You can probably wear it over almost everything you own if you buy a high-quality cardigan in a neutral color. Choose from a wrap cardigan sweater, a long one, or a cropped version among the various styles and lengths available. It's important to be aware of websites like ASOS, Nordstrom, Net-a-Porter, Boohoo, and Matches Fashion that provide a variety of options.
What Do Women Wear With Cardigans?
One of the most functional types of knitwear you can own is a cardigan, which has an open front. You can wear it with anything, including a formal gown, jeans, a T-shirt, high-waisted pants, or a pencil skirt. The key is to think about proportions and experiment with different lengths.
Are Cardigans Making A Comeback In Fashion?
Especially popular to wear in transitional seasons like spring and fall, cardigans have evolved into a timeless and classic article of outerwear. This item is ideal for layering due to the wide range of options, which include all colors, numerous styles, and different lengths.
Read Next: Are White Boots In Style?