Jumpsuits are essential pieces for any closet when it comes to fashionable alternatives to dresses. Jumpsuits are a common style that, with the right styling, can be dressed up or down and are a wardrobe essential. Finding the right outfit ideas to help you pull off the look can be difficult because there are so many different designs and sizes to take into account.
Almost any occasion is appropriate for a jumpsuit. Naturally, it depends on the type of jumpsuit you have; for example, you wouldn't wear a strapless jumpsuit to work. It's critical to understand how to style a jumpsuit properly and accessorizing techniques for various events and seasons. You will discover precisely that today.
Tips For Styling A Jumpsuit
1. Find The Perfect Fit
A jumpsuit that perfectly fits your body is essential for giving off a polished, put-together appearance. A jumpsuit shouldn't be too tight or too loose.
You might look like Catwoman if your jumpsuit is too tight, and you might also experience discomfort. If you wear a jumpsuit that is too loose, the outfit will be too big for you and you will lose all of your shapes.
In this outfit, I'm wearing a chic white jumpsuit with a halter-style top, a cinched waist, and wide legs. It's not too big or too small, and the halter top and accentuated waist allow me to show off my figure while exposing just the right amount of skin.
Fashionable jumpsuits are always available at Nordstrom. Therefore, that is where I would advise you to begin looking for the ideal jumpsuit.
2. Define Your Waist
I must stress the importance of maintaining your figure. Many jumpsuits come with a fabric belt that matches the jumpsuit's color, or you can easily add your own belt to define your waist. Your jumpsuit can be easily made more feminine and give you a curvier appearance by being belted at the waist.
I double-wrapped the white cloth belt that came with this white jumpsuit to accentuate my waist. In order to add more depth, I could have added a black or gold belt, but I wanted to demonstrate that a jumpsuit doesn't require you to look particularly fashionable.
The majority of the jumpsuits I saved have matching cloth belts, as you can see in the shopping section below.
3. Pair The Jumpsuit With A Blazer
I enjoy giving my outfits depth! Even though the white jumpsuit could stand alone, I wanted to show you how you can easily add a blazer to give it some personality.
If this is the first time you've worn a jumpsuit, adding a blazer will make you feel more at ease than not doing so. It adds a layer and breaks up the outfit to make the jumpsuit appear more understated.
Choose a blazer or jacket that complements the jumpsuit and fits the occasion when making your choice. This look would be appropriate for a formal evening dinner, cocktail party, or a night out for upscale drinks with friends. Choose a blazer that either dresses up or down your jumpsuit depending on where you plan to wear it.
I chose a black tuxedo that has multiple personalities because I wanted to create an elegant look with this white jumpsuit. The garment is a tuxedo blazer in the front but appears to be a cape from the back.
Select hues that contrast with or complement your jumpsuit. I chose a jumpsuit in black and white for this particular occasion, for example. You may want to wear a pale rose blazer with a pretty floral jumpsuit. Just be certain that the two items line up.
4. Wear Heels With Wide Leg Jumpsuit
You should always choose heels if you're unsure of what footwear to pair with a jumpsuit. Unless it's a beach jumpsuit that's extremely casual. You don't want to look short or dowdy, so I adhere to the fashion rule of wearing heels. Avoid having the bottom of the jumpsuit bunch up to give the appearance of being long and lean. The bottom half would appear rather sloppy if I were to pair these wide-leg jumpsuits with sandals or flats. I would appear shorter and like I'm wearing a jumpsuit that doesn't fit.
Wide-leg jumpsuits require skinny shoes, which you should wear with them. Avoid wearing wedges, clogs, or any other footwear with a large heel. This is particularly valid if the material is light and airy, as it is in the white jumpsuit I'm wearing.
5. Wear A Solid Color Jumpsuit
If you're a jumpsuit virgin ease into it and wear a solid black, navy, forest, or dark-colored jumpsuit. If you're feeling particularly daring, choose a jumpsuit with a tiny print, like polka dots, or a bold color!
I wore a polka dot jumpsuit, a bright pink jumpsuit, and a bright yellow polka dot jumpsuit for these summer travel looks. These are some jumpsuit outfit examples that are on the more casual and enjoyable end of the spectrum for summer.
Jumpsuit Outfits
Casual Jumpsuits
Look no further than the casual jumpsuit for a carefree and cozy outfit you can wear out. You should concentrate on light materials, like cotton, and a cut that complements your style when wearing a jumpsuit casually. Particularly, loose-fit jumpsuits with short sleeves, wide-leg pants, a skinny belt or drawstring at the waist, and matching flats, boots, or heels will always look stylish and universally flattering. A denim jumpsuit can also be dressed up for the ultimate vintage look if you want to embrace your inner fashionista. However, a form-fitting black, tan, or white piece can look stunning and sophisticated at any occasion.
Try an eye-catching pattern like stripes, paisley, tie-dye, or animal print if you want to make a bigger statement. Your level of comfort will be maximized by selecting a loose or baggy jumpsuit, which will give you a light summer look. To create a feminine profile that will fit your body shape, just wear a belt. To add even more comfort and versatility, you might want to purchase a jumpsuit in a casual style with pockets. You can wear this out for girl's night or a brunch date, whether you dress it up or down.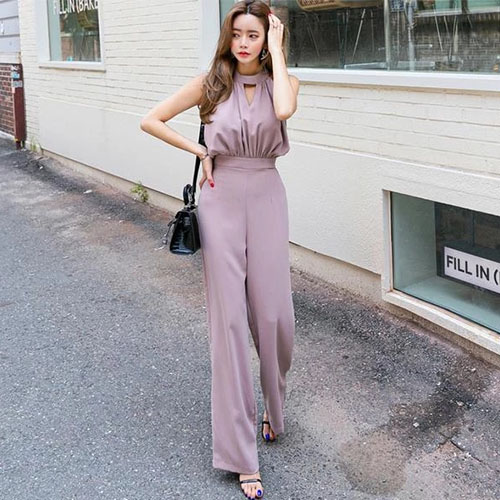 Formal Jumpsuits
A jumpsuit is an uncommon but stylish option for formal settings. With a jumpsuit, you can achieve the ideal balance of fashionable and comfortable clothing. Gowns can be heavy, and pantsuits are better suited for the workplace. You can dress up a jumpsuit to make it look formal and elegant whether you're going to an outdoor wedding or a fancy cocktail party. Figure-flattering black will always be a good choice, but feel free to branch out and try other hues, like vivid jewel tones and neutrals like white and navy. With the right materials, accents, and embellishments, such as glistening sequins, plush velvet, edgy leather, and smooth satin, you can style a jumpsuit to incorporate sophistication and flair. Select a jumpsuit with a sensual plunging neckline and long sleeves that have studs or beads embroidered in the pattern if you want to give your outfit a little extra oomph.
Business Casual Jumpsuits
Professional women who want to look chic and fashionable at work should choose a business casual jumpsuit. You should opt for clothing with more traditional patterns and colors if you want to project a business-professional appearance. Start with a jumpsuit in black or tan that has a high neckline. Next, you can add a work-appropriate jacket and shoes, like a blazer with heels, to dress up your jumpsuit. Add straightforward jewelry and accessories to finish off this elegant look.
Summer Jumpsuits
Consider donning a stylish summer jumpsuit for a versatile look you can wear anywhere, whether you're traveling to Europe or attending a pool party. In order to feel comfortable in warm weather, combine flattering patterns, materials, and sleeve lengths to create a trendy look. We advise you to choose neutral hues for the season, such as ivory, taupe, or olive. Pick a woven bag, a floral jumpsuit, and crisscross sandals for a carefree summer look. Heeled sandals, wedges, espadrilles, and slides can finish the look. Additionally, you can style your hair in a bun and add jewelry to your outfits, such as a necklace or earrings.
Winter Jumpsuits
A winter jumpsuit is a beautiful, stylish option when choosing the ideal clothing for colder weather. Layering is easy with these one-piece outfits, which are also useful for winter. You should layer up with a parka or an asymmetrical wrap coat if you plan to wear a jumpsuit in the winter. For added warmth and comfort, you could even layer a thick knit sweater or a button-up shirt underneath. Layer with long sleeves or leggings as needed, and finish with weather-appropriate boots. If you want to accessorize, don't forget a scarf and some earmuffs to keep warm and fashionable.
Black Jumpsuit
A black jumpsuit is a timeless look appropriate for any situation. It's simple to style a black jumpsuit to adhere to the dress code of a casual, business casual, or semi-formal event. Black jumpsuits are always stylish and sophisticated. You should pair a simple piece with a denim jacket, sneakers, or flats for a casual appearance. A short-sleeved or tank-top jumpsuit paired with stud earrings, sandals, and a leather backpack would make for another effortlessly chic outfit. Choose a fitted style with heels and a textured belt as a statement piece to dress up a black jumpsuit for a posh look. Wear your favorite coat, some red lipstick, and a pair of black pumps if you're going to a formal event. You can add accessories like adorable jewelry, dazzling earrings, or a decorated hair clip.
Blue Jumpsuit
You cannot go wrong wearing a blue jumpsuit given the variety of hues available. You can dress a jumpsuit up or down to achieve your desired styling in any shade of blue, from navy to light blue. Few outfits can compete with a royal blue strapless jumpsuit for a night out on the town, especially when worn with black leather heels and a high ponytail. An easy outfit that will look great for running around the city is a denim jumpsuit paired with sneakers. Others might want to add a cardigan, blazer, or jacket with a belt to cinch the waist, while some women will choose a halter or sleeveless jumpsuit to show off their arms. Include earrings and a necklace made of gold or rose gold to complete the look by accessorizing the outfit.
Jumpsuit With Blazer
With the help of a blazer, you can dress up any business-casual ensemble and put together a polished outfit for the office. Blazers are a popular and multipurpose statement piece. Jumpsuits with blazers are chic and adorable for women of all sizes and shapes and can either soften or accentuate your figure. If you want to dress up your jumpsuit, add a blazer, a stylish handbag, and polished shoes to your look for a polished business look. Choose a neutral-toned jumpsuit, a boyfriend-cut blazer, and your favorite heels for a fashionable formal look you can wear to work. A necklace, a watch, and hoops are appropriate accessories for this outfit.
Jumpsuit Accessories
When wearing a jumpsuit, you don't have to worry about matching your top and bottom, but it can be difficult to choose the right accessories. Plan carefully how you will accessorize your jumpsuit and make sure to pick the right shoes, belt, watch, and jewelry to complete your look if you want to look stylish without being over the top. Despite the fact that a jumpsuit is never boring, you can add flair to your look with accessories.
Belt With Jumpsuit
A belt can be an essential finishing touch for styling the ideal jumpsuit because it is a statement piece. Other loose-fit options have an elastic or drawstring band that cinches the waist, while many jumpsuits have a wrap waist that you can tie into a sweet bow. Wearing a belt is always a fashionable option for jumpsuits that lack these features. Wide belts can make you look shorter, so try to stay away from them unless you're going for a retro look. Consider wearing skinny belts to cinch your waist into an hourglass shape and accentuate your curves. Choose a chain belt if you want to draw attention to your jewelry or other metallic accessories. Try a faux leather or woven belt in a neutral color like beige or brown for something a little more laid-back.
Jewelry With Jumpsuit
With the help of classy jewelry, you can elevate your jumpsuit look. Layer your necklaces by selecting chains of various lengths, and stack your rings or bracelets if you want to stand out. A silver or gold necklace offers the ideal amount of understated style for a straightforward and classic look. If you want to add a splash of color, go for eye-catching gemstone earrings, necklaces, and bracelets that contrast or complement your jumpsuit. If your jumpsuit is heavily embellished, you can go without any jewelry and let the outfit speak for itself.
Jumpsuit With Heels
A trendy look can be achieved by accessorizing a jumpsuit with heels, which can make petite women appear taller. Choose a heel that will blend in if you want your jumpsuit to be the focus of the outfit, such as a pair of neutral peep-toe or pointy pumps. When wearing an ivory, tan, or white jumpsuit, match your shoes to create a seamless look. On the other hand, colorful fashionistas will add a pop of color. Ankle booties with a stacked heel are a great option for the cooler months. You can look stylish in a jumpsuit and high heels even if you're leaning toward a more relaxed summer look. To complete your look, go for wedge sandals, platform slingback pumps, or a stylish pair of slingbacks.
What Hairstyle Suit With Jumpsuit?
When styling a jumpsuit, you don't want your hair to get in the way. You have two options when deciding on a hairstyle to go with a jumpsuit: keep it simple to keep the outfit in the spotlight, or go for a cute look to go with it. While it's fine to literally let your long hair down, a neat bun for a formal event or a loose messy bun for a casual look will make sure your jumpsuit is the star of the show. Try out various hairstyles for updos, such as milk braids or a French twist. Try a simple braid or ponytail that can be swept back if you don't like wearing your hair up.
How To Choose A Jumpsuit?
Jumpsuits come in a wide range of styles, sizes, and designs, just like dresses and other types of clothing. Finding the right fit to flatter your body shape can be difficult when wearing a jumpsuit outfit. While some might believe that jumpsuits only flatter women with model height, nothing could be further from the truth. On petite and plus-size women, jumpsuits can look stylish and elegant. In order to achieve a sexy, feminine look, you should generally look for clothing that is fitted at the waist and loose around the legs. If you want to add height, look for a jumpsuit that is form-fitting, cropped, or cuffed rather than baggy, and wear it with pumps. You'll also need to choose the proper fabric for the season based on your personal preferences and wardrobe.
How To Dress Up A Jumpsuit?
Dressing up in a jumpsuit is very easy, regardless of whether you're wearing a halter, bandeau, short, or long sleeve suit. Deep hues like black, navy, maroon, and emerald are ideal for a seductive look. A maroon jumpsuit, gold earrings, a sparkling clutch, and revealing heels make a stunning evening outfit. Although accessories are necessary for an elegant touch, you shouldn't undervalue the importance of finishing your look with a stylish coat, clutch, and hairdo.
How To Dress Down A Jumpsuit?
A jumpsuit can be easily dressed down while still looking cute and stylish by using minimal makeup, flat shoes, and basic accessories. If you're looking for a comfortable outfit, jumpsuits made of cotton or jersey are the best option. For a relaxed look, we advise choosing neutral hues like black, brown, gray, and white as well as straightforward patterns. Make sure to style your hair in a bun and put on sneakers or sandals for a laid-back look.
How To Layer A Jumpsuit?
You can wear this outfit in any season by layering a jumpsuit to increase both comfort and style. The most well-liked and useful way to layer a jumpsuit is to put a jacket or cardigan on top of it. The camel walker, wrap coat, peacoat, and denim jacket have all been popular styles. Feel free to wear an oversized or chunky knit sweater with a strapless or halter jumpsuit. A silky open blazer or leather jacket will add some major style points whether you're going out on a date or having a girls' night in. A long cardigan or other casual outerwear may be the best choice for going on errands or going for coffee runs.
Jacket With Jumpsuit
A jacket worn over a jumpsuit is a wardrobe essential that can drastically improve your appearance. This clothing addition will always complete your look, whether you're going out or having brunch. Jumpsuits look great when paired with a denim or leather jacket for a cool, casual look. Add a light coat, blazer, or stylish jacket to your look for business casual and semi-formal styling.
Shirt Under Jumpsuit
There are numerous ways to style a shirt underneath a jumpsuit for a new spin on the look. You can easily add a white t-shirt under a patterned top and wear it with sandals, slides, wedges, or boots to make this outfit cute and casual. Select a thick cotton shirt or a black turtleneck if the weather is chilly or cool and you want to add more layers. Jumpsuits are fashionable and versatile, and you can always wear one over a shirt to create the ideal look for the season.
What Shoes To Wear With A Jumpsuit?
How you accessorize your jumpsuit should be determined by the time of year and the environment of the event. Do you know what shoes to wear with jumpsuits? Ankle-length, cuffed, or cropped jumpsuits look great with flats, espadrilles, and gladiator sandals. Pumps in solid colors and strappy heels go great with jumpsuits for a more formal appearance. Choose footwear you would typically wear with leggings or skinny jeans, such as ankle boots, ballerina flats, sandals, leather sneakers, or high heels, if you prefer a sleek silhouette with a fitted jumpsuit. You should wear shoes that can balance out your outfit if you're wearing a jumpsuit with wide legs. Wear shoes like platforms, chunky sandals, heeled wedges, high-heeled pumps, and stilettos to achieve this.
What To Wear With A Jumpsuit?
Wear a bold pattern or material because a jumpsuit is a statement piece in and of itself.
Jumpsuits are best worn with a streamlined silhouette and wide or straight legs to give the appearance of more height.
Wearing high heels for a formal look or flats for a more casual look can dress up or down a black jumpsuit.
Plan your shoes accordingly if you decide on a longer length so that your jumpsuit doesn't bunch up at the bottom.
When accessorizing, use caution. If you're wearing a jumpsuit that makes a strong statement, go with more understated shoes and jewelry so your outfit doesn't look cluttered.
Jumpsuits Can Be Worn To Formal Occasions
Jumpsuits are simple to dress up for a formal occasion. If the jumpsuit's design is appropriate, all you need to do is accessorize it to match the occasion. Consider a formal jumpsuit in either black or white.
I'm wearing a white jumpsuit with a pleated halter in this outfit that is both feminine and elegant. Since it has a more sophisticated look, I dressed it up easily with heels, a black tuxedo blazer, gold jewelry, and a delicate handbag. In order to match the look of the outfit, I also styled my hair in a fancy bun. A braided updo is another option! Because they look elegant, keep your hair in place, and add a little something extra to your outfit, fancy braid hairstyles are one of my personal favorites.