Adding an oversized flannel to your outfit is a fun and cozy way to liven it up. But how to style oversized flannel?
There are countless ways to wear it, including fully open, layered over other outfits, and buttoned up.
Here are some outfit ideas that show how to style an oversized flannel shirt to look your best on your next outing. Learn more by reading on!
How to Style Oversized Flannel?
These following styling tips will allow you to take any oversized flannel shirt and make it fit your personal style and change it up depending on the occasion that you're wearing it for.
Layers on Layers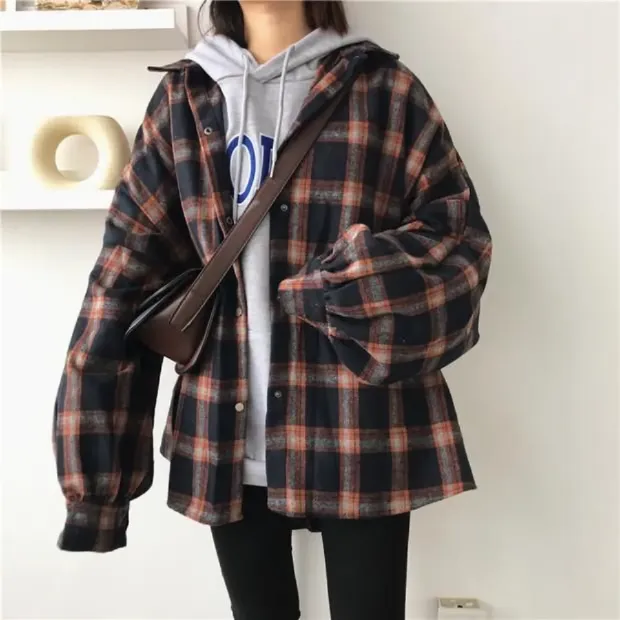 The most straightforward and interesting way to style an oversized flannel top is by layering. A flannel can be made to look different every time by layering other items over or under it.
Layering your oversized flannel top is an option, as is making it the bottom layer and covering it with a vested duster so that the flannel is still visible.
Put on a cute tank top underneath and button it up so that a few buttons are left open at the top.
You Might Also Like: How to Style a Flannel?
Style as a Jacket
Style your oversized flannel top as a jacket or a blazer. I enjoy wearing crop tops and flared or baggy pants for this type of styling.
Wearing your flannel top with a pair of statement pants in a vibrant color that complements your flannel top will make you look even more daring.
And if you don't want to wear it with pants, wearing it over a midi or maxi dress as a blazer or jacket looks amazing too. Then, if you start to get a little warm, depending on where you are and whether your dress has long sleeves, you can tie your oversized flannel around your waist to create a fashionable look.
Read More:
Go Monochromatic
With many flannel tops having a plaid print, creating a monochromatic look makes you stand out more than you may think.
Of course, not all flannels are plaid, but when With my oversized flannel top, which I like to wear with the plaid pattern, I create a monochromatic look.
One of my favorite go-to looks for this style is to wear a black, oversized flannel top with a black bralette, faux leather leggings, and black sneakers or boots.
It creates a stylish grunge look that flatters a variety of body types. Depending on the type of bottoms you want to wear with it and whether you prefer wearing black or not, you can switch up the color.
Every Girl Look With Denim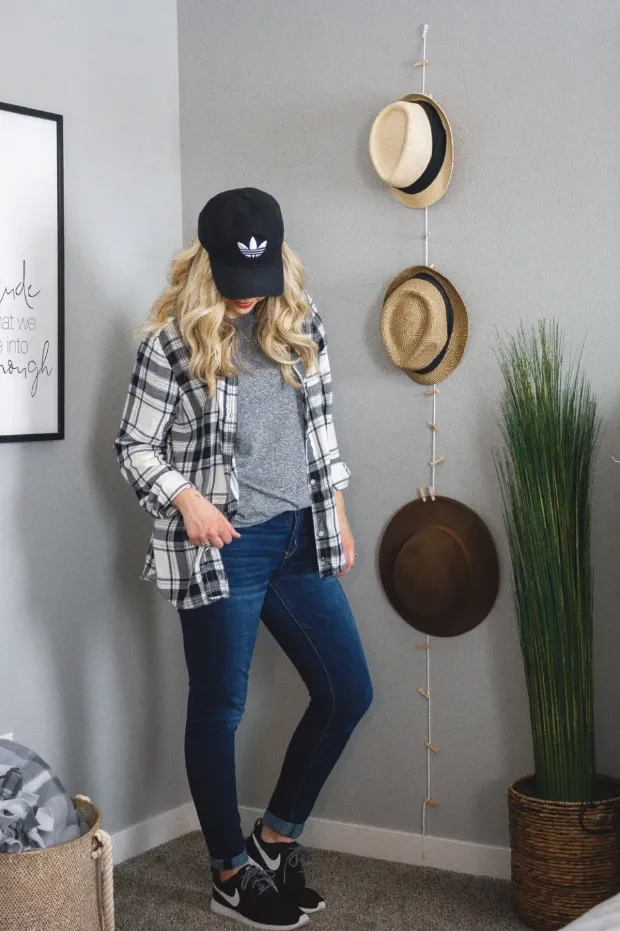 Create your every girl look and wear your oversized flannel top with some denim jeans. Your oversized top can be worn with a loose tee or bodysuit and distressed jeans, depending on the color.
I like to go high-waisted with the jeans when wearing an oversized flannel to create a more dynamic look.
You can create a striking look that highlights your frame while also giving off a relaxed vibe with a pair of jeans that hug your curves and an oversized top.
Make It a Dress
With the oversized flannel being oversized, many of the ones you'll find will actually go down to about mid-thigh or right above your knee – making it a perfect piece to also style as a dress.
Since the top is looser, I advise wearing a bodycon dress or biker shorts underneath before accessorizing with over-the-knee boots. Even include a belt if you want to cinch your waist and add more accessories.
In order to lengthen your legs and appear taller, if you decide to wear a belt, position it directly below your chest.
Style With Leggings
Leggings are a great go-to when styling an oversized flannel shirt. Although you can layer over it and even use it as a belt, the flannel shirt is designed to be the focal point of an ensemble.
However, if you want to look extremely relaxed and comfortable, just grab a pair of your favorite leggings, throw on a tank top, and wear your oversized flannel shirt. Get some boots with long socks underneath and throw on a beanie to finish off the cute Fall look.
You are now prepared to go apple picking at a nearby orchard or even visit a pumpkin patch to select your own pumpkins.
Go Sporty
One way that I have really been loving the oversized flannel top is wearing the top in a sporty look.
Put on a matching sports ensemble and either boots or sneakers with your flannel shirt. I enjoy wearing oversized tops either fully open or partially buttoned up during the colder months, along with high waisted leggings, a coordinating crop top, or sports bra.
Once springtime arrives, you can switch things up by pairing your flannel with a matching pair of bike shorts. This will allow you to wear the top buttoned or unbuttoned, similar to how you would a sweatshirt or jacket.
Conclusion: How to Style Oversized Flannel
And that's all for my post on how to style an oversized flannel shirt.
Given that the oversized flannel top is a classic for cool weather, you'll want to learn a few styling tips so you can wear this kind of top frequently in the Fall and Winter.
I sincerely hope you liked this article. Don't forget to share this outfit roundup with your friends and give this post a rating.
Read More: Are Flannels Business Casual?
FAQs about Oversized Flannel Outfits
How to Style Flannel Jacket?
Are Flannels Supposed to Be Oversized?
As you want to appear stylishly laid-back while wearing one, flannel shirts shouldn't be too tight but also shouldn't be too loose.
Should Flannel Shirts Be Hung Or Folded?
Your shirts, polos, dresses, skirts, flannel shirts, and jackets are the best items to hang. Other options include jewelry and purses.