Looking for how to style oversized sweater in 2023? You have come to the right place!
Sweaters with a loose fit and a larger size are called oversized sweaters. Fashionistas can create a variety of stylish looks by combining this cozy wardrobe staple with a variety of other items.
I've put together a few tips on how to wear oversized sweater properly because they can quickly transition from looking cool to frumpy. Learn how to wear oversized sweaters without a personal stylist by reading on.
How to Style Oversized Sweaters?
Unlike form-fitting sweaters, which cling to your body, oversized sweaters look flowy and slouchy.
Continue reading for some oversized sweater outfit ideas and styling advice.
Add Some Jewelry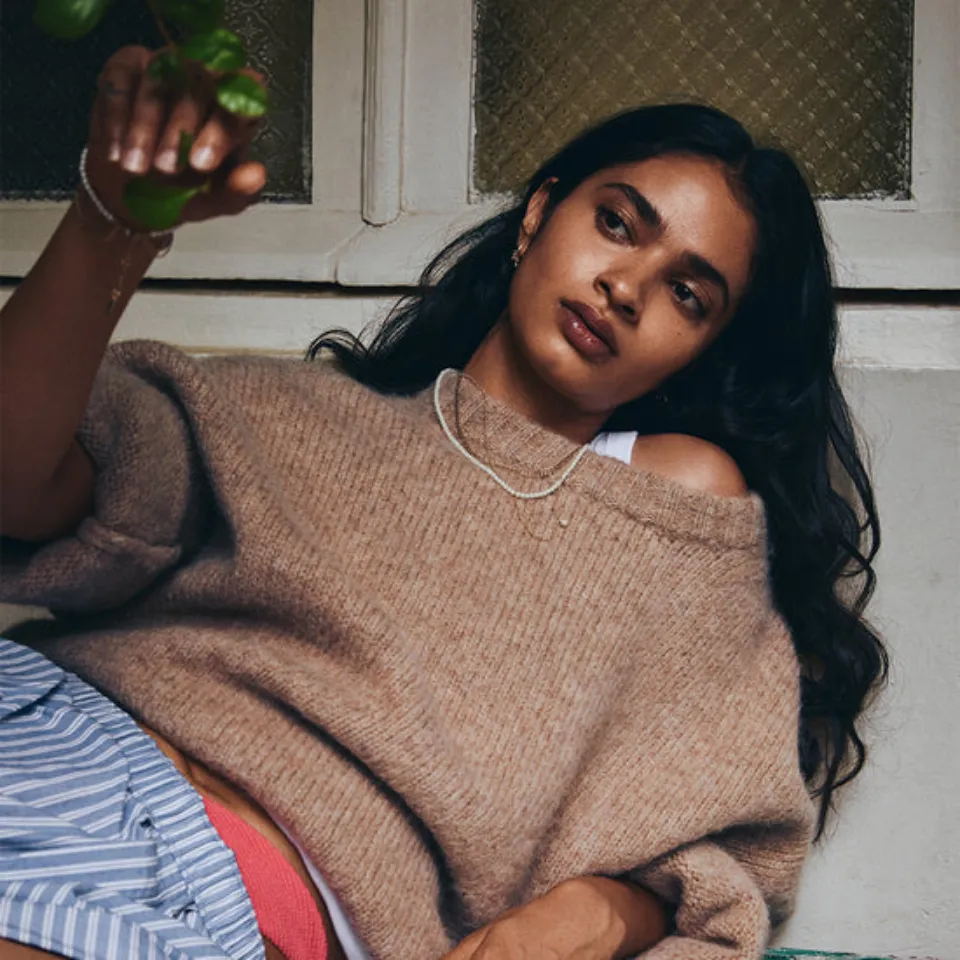 Match a long necklace with a distinctive medallion with a long cashmere turtleneck. Add a touch of luxury to this timeless preppy look by accentuating the neck of a cable-knit sweater with a jeweled bib necklace.
Read More: Are Sweaters Business Casual?
Choose Chic Shoes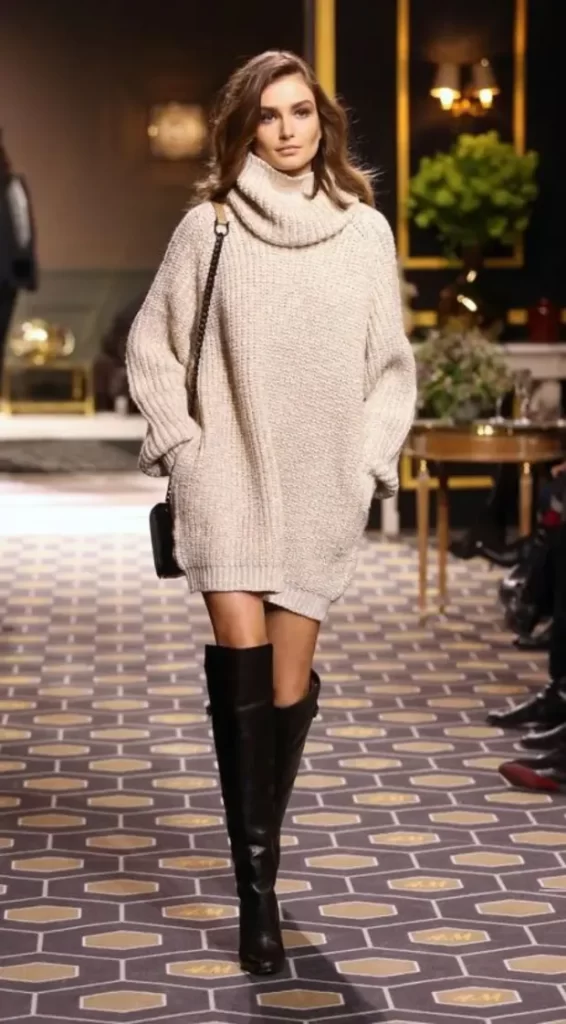 Chunky knits can be made more polished and structured by choosing the right shoes. A relaxed top contrasts with pointed-toe knee-high boots that draw attention to your legs' shape.
Block-heeled ankle boots with attention-grabbing hardware draw the eye downward and balance the bulk of a large sweater. Trainers with a thick platform also balance the look by directing attention downward.
Make it into a Dress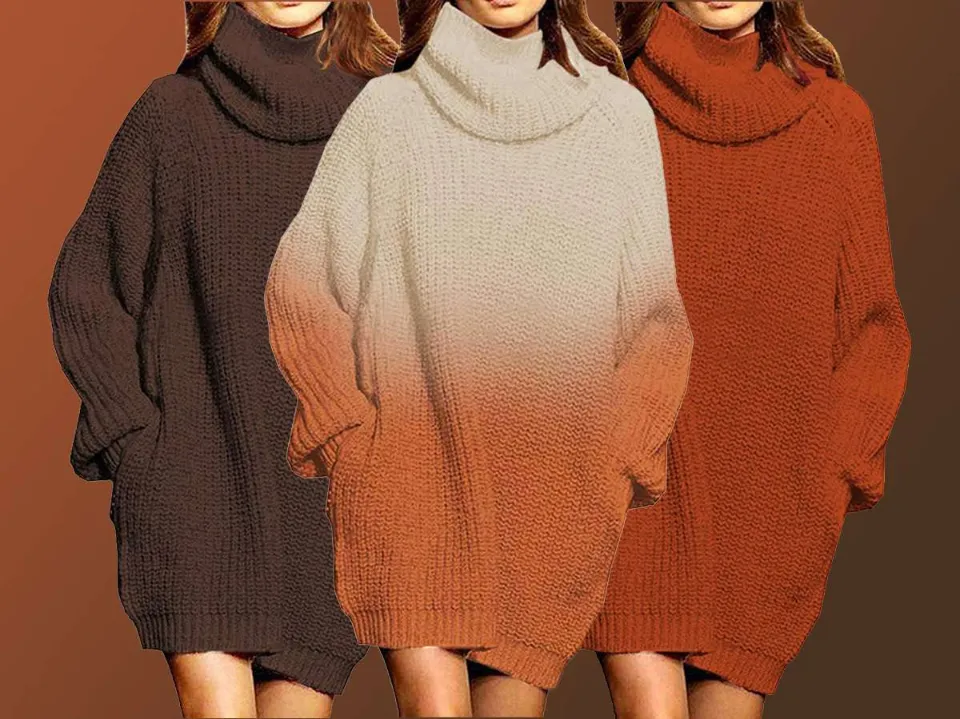 If your oversized sweater is long enough, you can make it into a dress by pulling up a portion of the fabric so that it blouses out slightly over the belt and cinching your waist with a wide belt to give it shape.
An easy, baggy sweater can look put together with the right accessories, particularly a statement necklace or bangles.
Suede over-the-knee boots and opaque tights are a stylish finishing touch for the outfit. For a more comfortable outfit, do without the belt.
Read More:
Mix textures
An oversized knit sweater's weave offers a special textural contrast to many fabrics. Knit sweaters look great with corduroys, wool houndstooth pants, leather pants, denim jeans, and leather jackets.
To give your outfit a varied appearance, mixing textures and patterns is a fantastic way to go when using a monochromatic color scheme. An oversized taupe knit sweater, for instance, looks great with dark-brown leather boots and brown leggings.
Pick the Right Pants
With tailored or fitted pants, you can counteract the slouchy, baggy shape of your chunky sweaters. (You can balance your sweater's lack of shape with your bottoms' shapeliness.)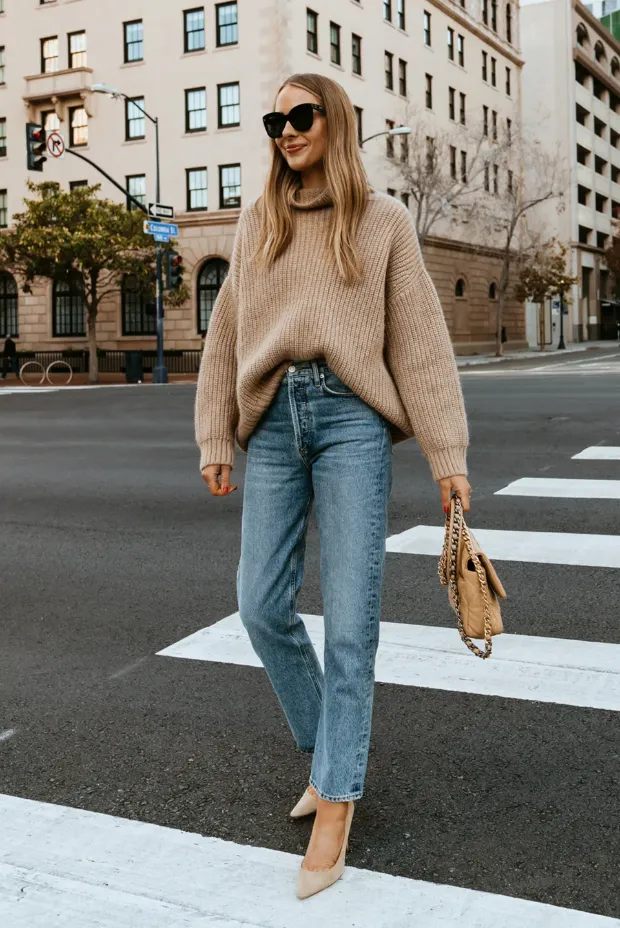 An oversized sweater outfit is made more structured by wearing dress slacks, tuxedo pants, or tailored wide-leg pants. For a casual look with just the right amount of tailoring, front tuck your sweater into a pair of slim-fit boyfriend or straight-leg distressed jeans. Large sweaters look great with faux leather leggings or skinny jeans as well.
Try layering a loose turtleneck sweater over mid-rise skinny jeans, and complete the look with ankle boots or wedges. Tuck your oversized knits into a pair of high-waisted shorts for chilly spring days or cooler summer evenings.
Style with a Skirt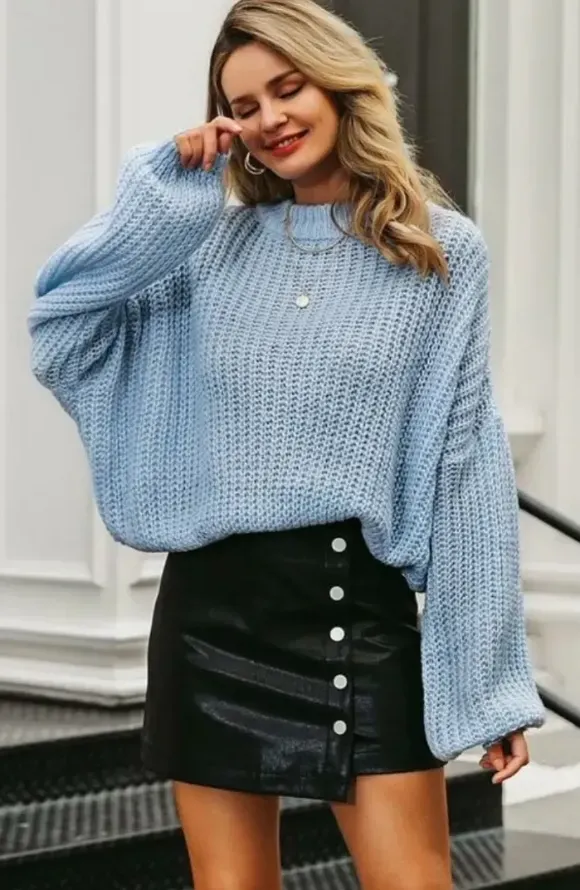 Various types of skirts go well with oversized sweaters as well. A midi skirt looks great with a sweater that falls just above your hips. (To transition your transitional clothing into sweater weather, try layering a knit sweater calf-length slip dress.)
Any style of the oversized sweater—from turtlenecks to V-necks—will look great with the combination because of its lengthening effect.
Layering a soft, baggy sweater over a long maxi skirt will help this look transition to the cooler months. Make sure you can see at least a few inches of the fabric of the mini skirt when wearing a baggy sweater
to complement one. The extra fabric provided by pencil skirts allows you to cover your legs with an oversized sweater and add much-needed structure to an outfit.
Consider Your Height
Two categories of oversized sweaters are common. One of them is a shorter, boxier oversized fit, and the other is a longer, more straight fit—like the one I'm wearing here.
I adore them both but based on your height and body type, you might prefer one over the other. If you're shorter, I'd choose a shorter oversized sweater and then implement tip number three.
Sweaters that are too long can make your legs appear shorter, which may be okay if you're exceptionally tall but isn't ideal if you're short.
Wear Heels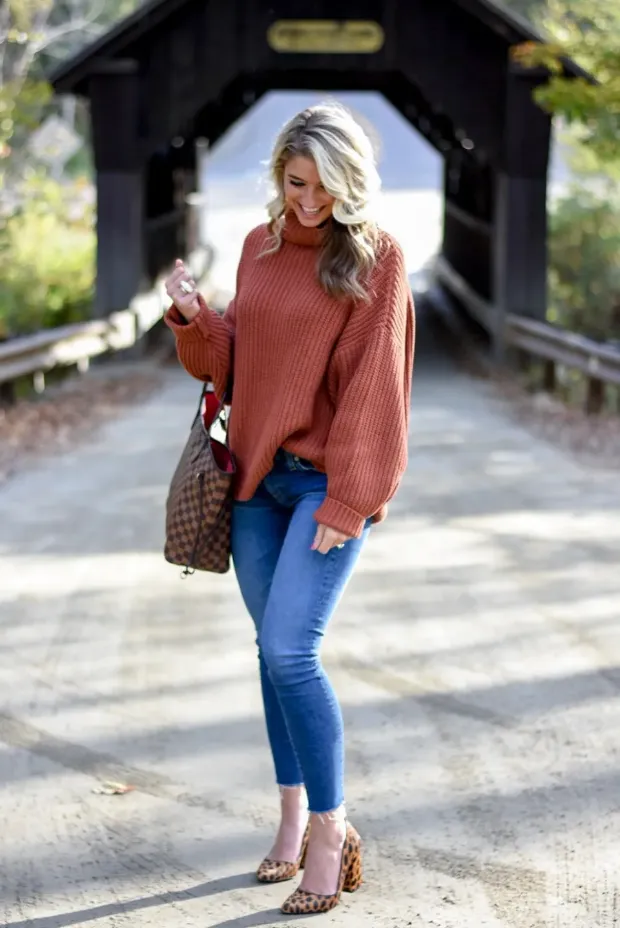 Simply add a pump or heeled bootie to elevate the look if you're concerned about appearing too casual. It doesn't need to be fancy—my everyday outfit is usually very casual—but adding a small heel lengthens your legs and gives your outfit more edge.
You can also choose flats with a pointy toe if you really detest heels because they will make your legs appear longer.
The Bottom Line: How To Style Oversized Sweater
One of the season's most popular fashion trends is the oversized sweater. They are simply commonplace, whether they are sweaters in the fisherman or more formal styles.
The perfect accessories bring the oversized sweater outfit together, so careful thought should be given to your accessory selection.
Also Read: How to Style a Flannel?
FAQs About Oversized Sweater Outfit Ideas
Are Oversized Sweaters in Style 2023?
The best thing about oversized sweaters is that they are always fashionable.
How to Wear Oversized Sweaters With Jeans?
Try wearing an oversized turtleneck sweater loose over mid-rise skinny jeans, and finish the look with ankle boots or wedges.
How to Style Oversized Sweater for Work?
Wear formal business bottoms. To balance out your oversized sweater for a polished, business casual look, add a long skirt or a pair of traditional black, khaki, or gray business pants.