The artisan skills of the renowned brand are embodied in the loafers from Prada. Wondering how to style Prada loafers? Then this post is right for you!
Take style cues from Paris' leading fashionistas, regardless of how simple, chunky, or eccentric you like your loafers to be.
What is the Prada Loafer?
Unlike the typical Weejun pair (a slang of Norwegian; this is term is used to describe the classic leather slip that features a leather strip on top, top stitching, and a low-heel), Prada's take on loafers has a boxy, chunky sole while the classic silhouette has a distinct leather finish.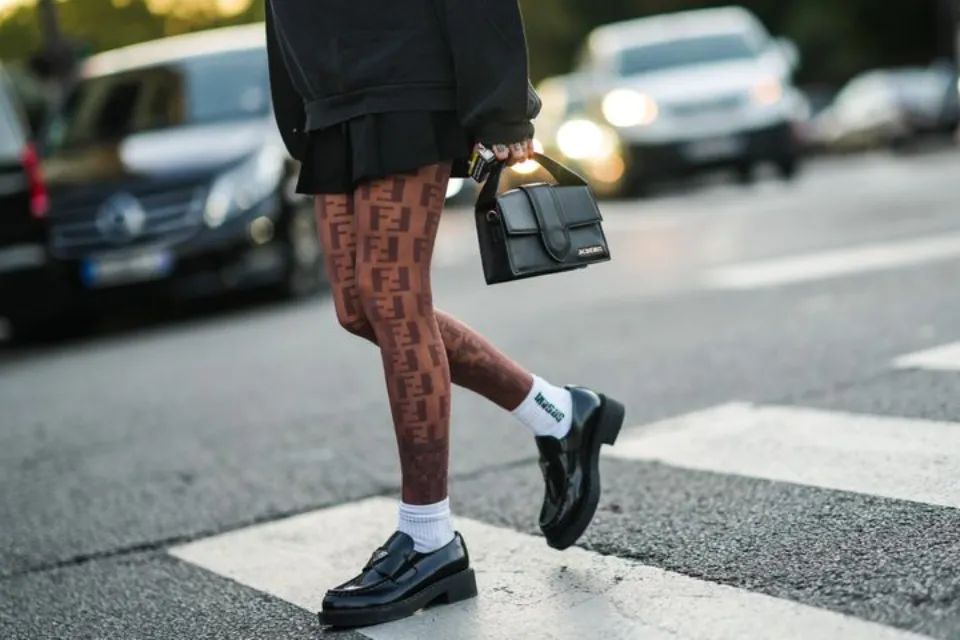 Each wears the triangular brand logo on top. These iterations feature a stylish androgynous silhouette that is simple to dress up or down.
You Might Also Like: Are Gucci Loafers Worth It?
How to Style Prada Loafers?
Here are some Prada loafers outfit ideas. Let's see how celebrities wear Prada loafers.
Knitwear Co-ords + Baguette Bag + Prada Chocolate Loafers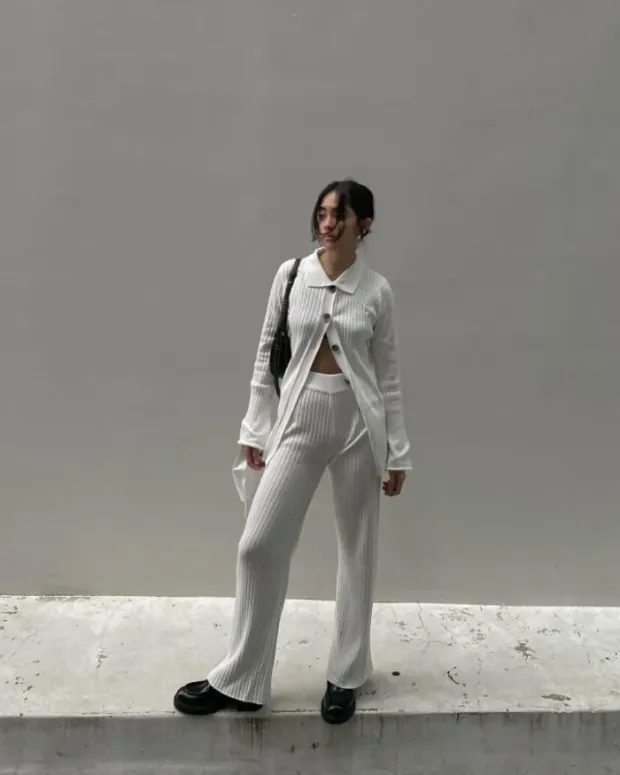 Trust Ida Anduyan to come up with a comfy but sexy loungewear 'fit you'd love to wear from your living room to a café.
Follow the content creator's lead and leave buttons open to discretely reveal some skin to maintain a semi-casual vibe.
Button-down + Trousers + White Socks + Prada Chocolate Loafers + Tote Bag
Picking a harmonious palette of colors that let each piece stand out is a chic way to maintain interest in the palette when going completely neutral.
In this instance, David's pants' exposed white socks serve as a great accent to both your striking slip-on shoes and the cut of the pants!
Coat + Black Tee + Leather Pants + Prada Chocolate Loafers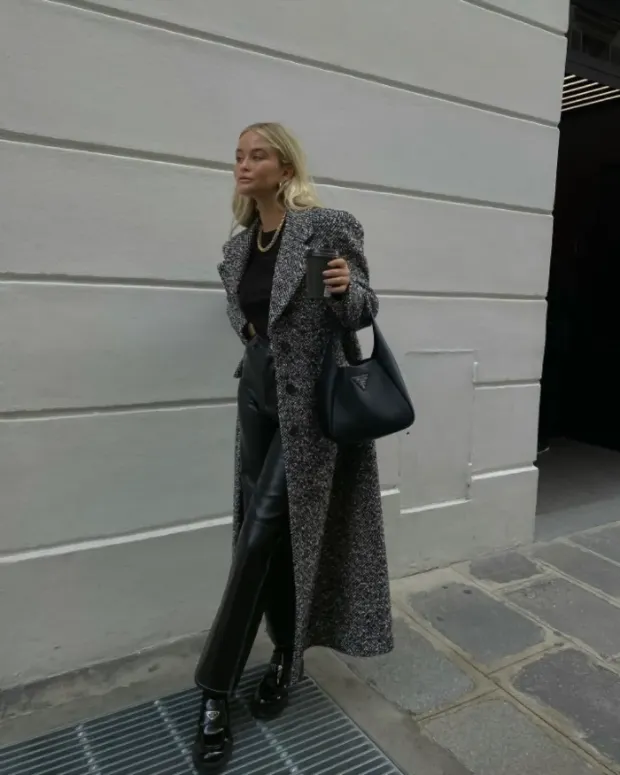 For your next trip to someplace chilly, don this cozy outfit as seen on Danish model Josefine Hanning Jensen.
But fear not, you can still pull this look off in our warm climates by switching out the coat for a thin blazer or a dark denim jacket!
Baby Doll Dress + Bandana + Socks + Prada Chocolate Loafers + Prada Nylon Baguette Bag
Fashion designer and influencer Renee de Guzman is undeniably a I'm such a big Prada fan that this cute OOTD includes two of the brand's most in-demand items lately!
To break up the femininity of an eyelet baby doll dress, however, and to update an ensemble, use the monolith.
Read More:
Black T-shirt + Coat Or Blazer + Shorts + Prada Chocolate Loafers + Sling Bag
A "fit that shows a lot of leg" will make you monochromatic like your Monoliths! Again, change out the coat for a thin trench or a roomy blazer to match the temperature!
Oversized Sweater + Distressed Denim Shorts + Socks + Prada Chocolate Loafers
White socks are a necessity when styling these slip-ons, according to the model group!
They do add a youthful touch to any look, so we can't really blame them.
Cropped Top + Statement Shorts + Socks + Prada Chocolate Loafers
Take a cue from your preschool "fits" and wear something short from head to hip! You're wearing this outfit because your socks and shoes will be the center of attention, right?
T-shirt + Vest + Blazer + Straight-cut Denims + Socks + Prada Chocolate Loafers
Talk about college! You don't have to show up to class or achieve perfect grades to pull off this look, which is all about channeling your inner straight-A student.
Although we appreciate Bella Hadid's skillful layering in this 'fit, you can remove the vest if the weather gets too warm and the outfit will still look great.
Read More: How to Wear Gucci Loafers?
What Are the Different Kinds of Prada Loafers?
What distinguishes Prada's loafers from the slip-ons of other brands like like Its only brands are Tod's, Chanel, and Gucci.
Prada's has a comparatively oversized shape and size, as well as recognizable grooves. Overall, there are three types of Prada loafers: the classic, the Chocolate line, and the Monolith.
Prada Classic Leather Loafers
The sleeker and more feminine designs in the classic series. The toe cap is rounded and shaped somewhat like a pointe shoe, while the heel is sleek (it may be flat or elevated).
If you feel that these are too simple, there are many other styles you can choose from, including patent leather and one with crystals if you want something a little more glitzy.
Prada Chocolate Loafers
Chocolate is just the name of the loafer line, not everyone's preferred Valentine's Day gift item or the color. This iteration has more height and "chonk" that gives the shoes a boxier silhouette.
It's also safe to say that the Chocolate has been the most popular among Prada's loafers yet, having been worn by the likes of Hailey Bieber and Bella Hadid to name a few.
Prada Monolith Pointy Brushed Leather Loafers
Two basic colors—all-black and all-white—are available for the recently established cult classic. One of the primary features of the fashion is its monochromatic appearance.
The women's pair has a distinctive pointed toe and a svelte upper shape that contrasts with the bulky sole.
Final Words: How to Style Prada Loafers
Ever since Gucci reissued their signature loafers and Prada their platform version, loafers have been having a moment in many parts of the world.
Particularly, Parisian fashionistas recently seem to have a special fondness for the classic style, displaying a variety of ways to wear them.
Loafers are truly adaptable shoe that is simple to style and endures the test of time, from the standard preppy style to a vibrant refresh.
That's all about how to style Prada loafers. And once you find the right pair, they can quickly become your go-to pair of shoes!
Read More: How Should Loafers Fit?
FAQs About Prada Loafers Styling
What Are Prada Loafers Called?
The Monolith loafers made of Prada's iconic and elegant brushed leather reinterpret the classic penny loafer in an original and contemporary way.
Do Prada Loafers Run Large Or Small?
Prada's chunky loafers run a half size to full size big if you have narrow or slimmer feet.
Should Loafers Be Worn With Socks?