Look for simple ways to give your eyes a distinctive, voluminous, and bright appearance.
If you tend to ink on the same black or brown liquid formula, consider this your formal invitation to foray into different hues—including our favorite at the moment: white. You may be familiar with the proverbial rule that states that light colors enlarge spaces while dark colors tend to make them appear smaller.
The same logic applies to your cosmetics, which is why white eyeliner is more popular than ever for enlarging, brightening, and waking up the eyes (as well as updating traditional eyeliner looks). Below, we explain how to use white eyeliner precisely and provide our favorite formulas to recreate each look.
What is the Purpose of White Eyeliner?
White eyeliner is a makeup artist trick for brightening up the face and making your eyes look bigger and more awake, particularly when used on the bottom waterline. Dark eyeshadow can make eyes appear smaller and drawn down, but white has the opposite effect.
How to Use White Eyeliner?
Below we will show 11 ways to make your eyes charming with white eyeliner.
Winged Waterline
Under the lash line, a strong white eyeliner swipe? It's a brilliant move because it gives you more room to play with your makeup because so many people believe that eyeliner should only be worn on the top of the eye. Since the white must really stand out in this design, the bolder the line, the better.
All over Your Lids
You can easily create a cream shadow look (with incredible staying power) by using a white liquid eyeliner, gel pencil, or eyeliner crayon.
As an alternative, you can draw a thick, wingless line along your top lash line to make it appear as though you've covered your entire lid when your eyes are open, but when you close them, you'll see a surprising eyeliner look.
Above the Crease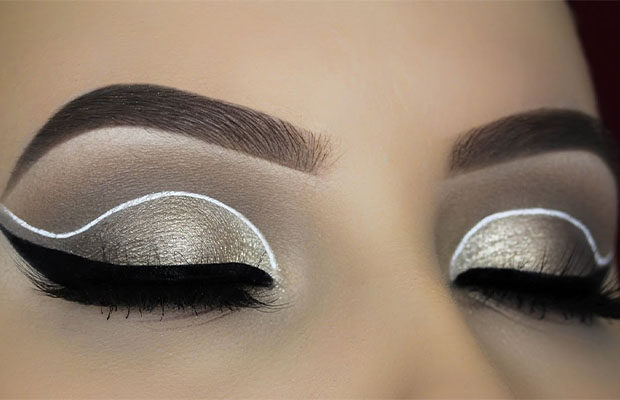 Some of our favorite eyeliner looks involve application away from your lash lines (top or bottom). If you're looking for a more dimensional feel, experiment with different shapes and lines on your eyes.
The sharpness of the white line placed above the crease of Gigi Hadid's eyelid shows that thinking outside the box can still look tasteful. Make sure the liner stays thin in shape as you carefully draw the line above the crease in a single motion.
Awaken Your Waterline
You've probably heard the sage advice that bright colors open up space and dark colors make them smaller. Your makeup should follow the same general principle.
By appearing to extend the whites and concealing any redness, white eye makeup applied to the waterline instantly gives the appearance of wider, brighter, and more awake eyes. After a strenuous week at work or an extended night out, consider this white eyeliner trick your best friend.
Subtle Cross
Who said eyeliner had to be easy to apply? Makeup artist Kirin Bhatty subtly referenced the catholicism theme for Tessa Thompson's 2018 Met Gala look by incorporating a subtle cross into the actress' lower liner.
Whether or not you have a particular theme in mind, this look creates a sharp aesthetic and is sure to spark your imagination for the various ways you can wear white eyeliner.
All Around
We love that despite the simplicity of this design seen on Ariana Grande in the "Rain On Me" music video, it still makes a huge impact with its pigment, angles, and use of negative space.
Inner Corners
One of the most useful ways to wear white eyeliner is on your inner corners, helping to effectively brighten the look of your eyes. The great thing about white liner is you can use it with any eyeshadow combination you choose—it's as versatile as can be and looks great with anything. After applying eyeshadow, line the inner corners of each eye with liner, and then add a few coats of your favorite mascara to complete the look.
Oversized Cat-Eye
While we've spoken about the traditional winged eyeliner look, expanding on the shape of the wing is a great idea when wanting to create drama. If you want to make a statement, apply as much white eyeliner to the wing as you like. Start by drawing a normal-sized wing, then continue to draw the lines. Alternatively, start with a large outline and fill it in with a shimmery shadow, as seen here on Janelle Monae.
Just the Corners
When you need white eyeliner to be subtle, a tiny wing on each outer corner of the eye works great. A flick on each corner adds just enough drama without being too much, and if you want definition, you can line the rest of the eye with black or your color of choice.
Eyeshadow Po
Use the white eyeliner to fill in the entire eyelid region. To evenly distribute the product, use a stiff eyeshadow brush or your ring finger to gently blend it out. Use your preferred eyeshadow now to add a quick splash of color. Your eyeshadow will last longer and not crease thanks to the white base.
Touch of Pearl
Add decadent accents, like the pearls seen here along Kristen Stewart's lash line, to liven up a simple white winged liner look for an occasion. When people get a closer look, they'll suddenly notice the subtle complexity, making this a surefire way to grab everyone's attention.
Related Reading: How Long Does Eyebrow Tinting Last?
FAQs
Why Do People Wear White Eyeliner?
When used along the lower lash line, white eyeliner helps people look more awake and awakened than black eyeliner does. Additionally, it makes them look happier.
Is White Eyeliner Popular?
Yes, Dior's Spring 2022 couture show featured a lot of white eyeliner recently.
Where Does White Eyeliner Go on Waterline?
To apply, simply gently pull your lower lash line down with your ring finger. Just enough to see your lower waterline, or the pink area between your eyeball and lower eyelid, without pulling too hard. Once you've done that, quickly sweep the white eyeliner across your lower waterline.
Does White Eyeliner Make You Look Younger?
White liner on the lower lash line will create the illusion of being more awake as it emphasizes the whites of your eyes, consequently allowing you to look younger and more vibrant.
Why You Should Really Start Using White Eyeliner Instead of Black?
White eyeliner is a makeup artist trick for brightening up the face and making your eyes look bigger and more awake, particularly when used on the bottom waterline. When using a dark color on the bottom lash line, it can make eyes look smaller and drawn-down, but white has the reverse effect.
How to Use White Eyeliner to Make Eyes Bigger?
Apply White or Flesh-toned Eyeliner on Your Waterline.
Your eye is significantly constricted and appears smaller as a result. However, if you use black eyeliner under the lower lash line and use a white or flesh-toned eyeliner on the waterline, it will open up the eye and create the illusion of bigger eyes.
Final Words on White Eyeliners
White eyeliners are not everybody's cup of tea—or so it may seem till you take the plunge and try out these different ways to wear white eyeliner.
It can be used to line your eyes or highlight your cupid brow for fuller lips, depending on how striking or impactful you want your makeup to be.
Additionally, white eyeliners, especially when used along the waterline, can make your eyes appear bigger and brighter. You can wear a white liner with a black liner or kohl if you are hesitant but still want to give it a try.