Read Time:
6 Minute, 31 Second
The world of cold-weather headgear is a notoriously difficult one to navigate. The only option that comes close to being acceptable for men is a beanie, and let's face it, fashionistas don't exactly hold them in high regard. Or you'll freeze to death, put on a hat. So how to wear a beanie?
There are many different styles of beanies to fit even the oddest and lumpiest face shapes, and they go well with the current trend in menswear for utilitarian workwear.
This article introduces different ways to wear beanies. Read on if you're interested!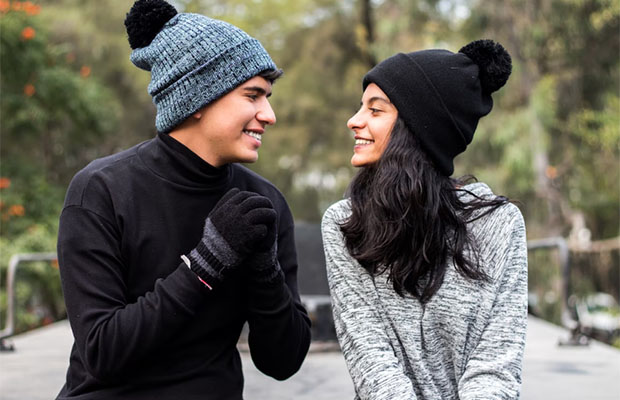 How To Wear A Beanie?
1. The Standard
For keeping you warm, this approach works best. To cover your ears, simply put the beanie on without cuffing it. Your eyebrows should be just above the front.
2. The Single Cuff
This one works well in informal office settings and bad hair days. Wear the beanie on top of your head, cuffed once so that it rests halfway down your ears.
3. Super Slouchy
If your hat is cuffed, you can unroll it to give yourself more material to work with. This works best with very long styles. It should go without saying, but simply place it over your head in the desired location, then fold the fabric over at the back so that it hangs nicely. There's that, plus David Beckham likes to wear them in this manner.
4. The Steve Zissou
The traditional fisherman's appearance has become a hipster staple. Wear the beanie at the top of your head by rolling or cuffing it twice. If you want your hair to show from underneath, you can wear it forward or back.
5. The High-Top
I'm not cold, I'm cool, this look declares. Wear the beanie as high on your head as you can. Keep it vertical and evenly rounded throughout, and let it rest above your ears.
6. The Robin Hood
Leave the front of the beanie uncuffed and only cuff it once in the back if you're feeling creative. The cuff should be angled so that it begins and ends at either ear.
7. The David Beckham
Wear the beanie as far back as you can, letting the extra fabric slouch in the rear, for that unaffected, too-cool-for-school appearance. Allow tufts of hair to emerge in front while covering your ears.
8. Pushed Back
This is another way you can choose to wear your beanie if you have bangs or simply prefer not to cover all of your hair. The opening should be placed a few inches behind your hairline, but not too far back that it will slide off. It's difficult, I'm aware of that. And there you have it! You can tighten it up even more by pulling it over your ears.
9. Semi-slouchy
With shorter or longer styles, you can pull this off. Just enough so that the material in the back folds over a bit when you fit it over your head. You can adjust the fabric to fit exactly how you want it to.
Features & Construction Of Beanie
The terms "chunky knit" and "ribbed cuffs" are often used in relation to beanies. Since you're buying a beanie hat for yourself or as a gift online, it's a good idea to understand the fundamental components and design so that you know what you're looking at.
Cuff & Brim – There is a lot of overlap in the meanings of these terms. A beanie's lower portion, known as the cuff or brim, can be folded or turned up to achieve the desired shape. A fisherman's beanie has a clear cuff, while most slouchy beanies don't. For the fit and appearance you desire, the cuff of many men's beanies can be unrolled or adjusted. Brim can also refer to a visor (like the brim on a
baseball cap). Indeed, some men's beanies feature that. They belong on history's Myspace pages because they were popular in the early 2000s.
Reversible – Reversible beanies can be worn inside out and have a different color or pattern on each side.
Ribbed – Beanies with ribs have knitted-in vertical stripes that are clearly visible.
Chunky Knit – Consider the watch caps your grandmother would make. Because of the thick yarn, pronounced knit patterns, and bulky size, these are typically referred to as chunky knits.
Double Knit – By fusing two different knitted fabrics together, double-knit beanies are created. They are two times as thick and warm as "normal" knit hats.
Cable Knit – By crossing the vertical stripes over one another to form a braided pattern, cable knit beanies are made. Usually, a beanie with cable patterns is thick and cozy.
Ear Flaps – Knitted hats with ear flaps are known as beanies. The Sherpa hat and the Russian ushanka are two of the most well-known designs. Both have flaps that tie under the chin to keep your ears warm or on top of the head to let your ears breathe.
Lining – Lined beanies provide a layer of warmth and softness inside the cap. The most popular lining is fleece (a synthetic fiber), which is very warm and excellent for shielding your head from an irritating wool beanie.
Best Material For A Beanie
Choosing the right material is the first step in selecting your hat, which can range from toboggan hats and skull caps to the winter hats that hipsters (and fishermen) frequently wear. An organic cotton toboggan hat or beanie is a great option if you're looking for a lightweight beanie for spring, summer, or autumn. This breathable, light material won't trap heat underneath it.
When the temperature drops, choose Merino wool for a warm, cozy, water-resistant material that won't ruin your day (or your hair) from icy winds and winter drizzle. Get an ear-covering beanie for true cold-weather protection. Your poor ears will be left begging for cover while that fisherman beanie you have your eye on is trending on Instagram.
Advantages of Wool Beanies
Naturally water-resistant
Naturally moisture-wicking
Highly insulating (keeps you super warm)
Durable and high-functioning
Breathable
Merino wool is impressively soft and itch-free
Advantages of Acrylic & Synthetic Beanies
Made from synthetic fibers
Resistant to abrasion and wrinkles
Less likely to wrinkle
Lightweight and quick-drying
Advantages of Cotton Beanies
Highly breathable
Keeps you cooler by wicking moisture
Doesn't retain odor like oil-based fabrics (Synthetics like acrylic, polyester, nylon, and spandex)
Requires less washing
Durable
Less likely (compared to wool beanies) to become saggy or stretch out
Soft and itch-free
Read More: How To Tie A Scarf?
FAQs
What Is A Skull Cap Beanie?
We'd like to introduce you to the skull cap beanie if you're looking for a cap that combines the snug fit of a skull cap with the comfort of a beanie. Wow, what a creative name.
Skull cap beanies typically have no brim or cuff and hug your dome tightly. Motorcycle enthusiasts like some of them because they can fit beneath a bike helmet.
Are Beanies Conditional When Wearing Glasses?
100% yes, wear your glasses and beanie if the choice is between seeing and not seeing. Yes, you should wear transparent sunglasses or glasses with your beanie.
Choose a beanie in a darker hue, such as black, navy, or grey, for fashion purposes. These hues won't attract as much attention and will allow your glasses to do their job of showcasing your attractive face.
What Is A Monmouth Cap?
Today's men's beanies can be traced back to the Monmouth cap. The first time these caps were made and worn was by soldiers and sailors in the English town of Monmouth in the fourteenth century, hence the name. Elizabeth I decreed that anyone older than 6 years old had to wear the cap in an effort to safeguard domestically produced goods. That's certainly one way to start a trend.