Belts are one of the most essential accessories and they're one that people either dismiss or are clueless about styling. I'm here to provide you with some ideas about how to wear a belt.
Most people don't think twice about wearing belts because they are purely practical. However, belts are a crucial piece of jewelry that can complete an outfit and change the way it looks.
If you're interested in learning more about belts, keep reading.
What Is A Belt?
Before television and undoubtedly before people had much creativity in the fashion industry, life was simpler and belts were only used for their intended purpose. Their role was to hold up your pants so that you didn't trip over them.
Thankfully, as a society, we've developed and, along with improvements in subsidized housing and accessible healthcare, we've realized that belts are more than merely utilitarian devices.
Drawstrings, adjustable waistlines, and other useful features are now commonplace on pants, allowing them to stand up by themselves.
That does not imply that belts are outmoded. Contrary to popular belief, Belts can be as loud or quiet as you'd like because they have more freedom.
They can do much more than just hold up your trousers, such as adding necessary wrinkles to your outfit, pairing with other accessories, or being statement pieces themselves.
History Of Belts
Since humans first began to wear clothing, belts have been a common accessory. Anthropologists have evidence that people were figuring out how to wear a belt as far back as the Bronze Age.
We're going to skip ahead a few centuries to the 19th century because not much changed in terms of the development of the belt between then and today.
During that time, Eastern European soldiers frequently wore belts to support their pants as a way to hold their weapons.
The average man's wardrobe did not actually include belts until the Roaring 20s. In fact, the majority of pants lacked belt loops before that.
Part of the reason for this is that since pants were created to rest below the hips, they needed more support.
As waistlines continued to change over the decades, belts took on a more prominent role in traditional fashion. High-waisted trousers for women required belts just as much as low-hanging work pants for men.
Speaking of low-hanging, as the 20th century came to a close, fashion trends veered sharply into more laid-back waters, making belts all but necessary.
People started wearing baggy pants so low that they even reached their pelvises, which made it necessary for them to find a way to keep their pants above their knees unless they wanted to waddle around like a duck.
Given the rich history of the belts, today's designers have plenty of space to express themselves. If they want to make a belt that is edgier, they can take inspiration from the leather and spikes fashion of the 1980s heavy metal explosion.
If someone wants to know how to wear a Gucci belt, for instance, they can, on the other hand, take inspiration from runway trends.
All of this is to say that belts today are more versatile than they have ever been in terms of appearance and use.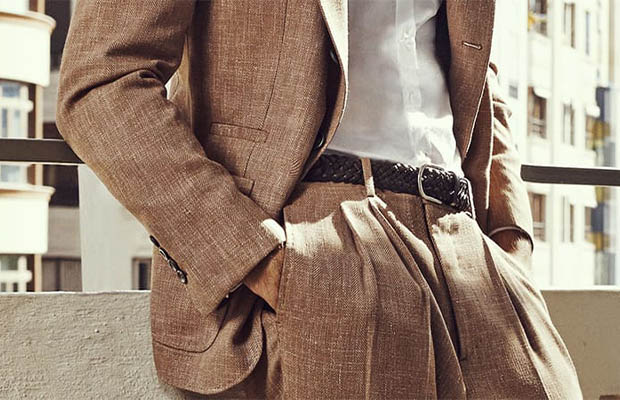 Different Types Of Belts
Dress Belts
Dress belts are typically made of leather and have a sleek appearance. This usually involves a thinner strap made of smooth, fine-grain leather that is 2.5 cm wide. Dress belts feature a sleek, square-shaped buckle with a shiny finish to keep things simple, and the stitching is typically the same color as the leather. They are the go-to belt when wearing suits, business, or dress pants because they are appropriate for almost any formal occasion. Although they can be found in a variety of colors, we always advise choosing a straightforward neutral color, such as black, brown, or tan.
Casual Belts
There are more belt options available for more informal occasions, with fewer restrictions on color and style. Casual belts typically come in a range of materials, such as full-grain leather, suede, rope, canvas, or cotton, and feature a larger buckle and wider straps. The leather is much more durable, unpolished, and tough, and is frequently finished with contrasting white stitching. Casual belts' buckles are thicker and made of brushed metal rather than polished metal like dress belts. They are far more versatile than dress belts and can be worn on numerous occasions and paired with jeans, shorts, or chinos
How To Match A Belt?
It can be challenging to put an outfit together when deciding which separates to pair together and which belt is necessary to complete the look. We advise matching the metals and leathers on your accessories to the belt as a general rule. This means that the belt buckle should be made of the same metal as your watch, cufflinks, or other jewelry, and the color of the belt strap should complement your shoes.
For instance, a black belt with a gold buckle matches with black shoes and gold cufflinks, while a brown belt with a silver buckle matches with brown shoes and a silver watch.
With casual attire, there is usually a lot more room for creativity, so feel free to experiment with different combinations that suit your personal style. Avoiding contrasting colors in favor of a sleek, simple belt with muted textures and finishes is advised when wearing a belt with a formal ensemble. A black or brown leather belt, which is frequently combined to create reversible belts, is a safe bet if all you're after are the essentials. Dark brown is the most adaptable color and goes best with tan chinos and blue denim jeans, as well as grey, navy, or blue suits.
How To Wear A Belt?
If You Are High-waisted With Long Legs
Your goal is to visually lengthen your torso, so narrow belts and/or those that sit below your waist are frequently the best option. You can also:
A. Wear a narrow belt in the same color and a single color above and below the waist.
B. Wear a belt in the same hue as your top to extend the appearance of your torso's length.
C. Wear a single color above and below the waist and fasten a narrow belt there.
A hipster belt is appropriate.
If You Have Little Waist Definition
To give the appearance of a waist will be the objective here. This can be achieved by:
A belt that is medium to narrow in width and a color that contrasts with the clothing you are wearing is appropriate.
B. Putting on a belt that matches the color of your dress or top.
C. Drawing attention to your waist by having a belt protruding from an uncovered jacket or sweater.
D. Wearing the belt with voluminous tops and bottoms to give the appearance of a waist.
If You Are Low-waisted With Short Legs
You have a large enough torso to experiment with various belt styles, with medium to wide styles working best for you. Lessen your long torso's prominence by not wearing belts too low.
A: To lengthen your legs, put on belts that go with your pants.
B. Wide belts.
C. Contrasting belts.
Corset belts and D. Obi.
If You Have A Large Bust
Your bust tends to sit lower, giving the impression that you have little to no waist definition and are short-waisted. You can counter this with:
A. Belts with a medium to narrow width that is placed properly and are the same color as or darker than the clothing you are wearing.
B. Belts that hang down from the hips.
C. Belts that are visible through open jackets.
If You Are Full Hipped
Belts are a great accessory to accentuate your figure and enhance the fit of many garments because you are blessed with a waist. They can, however, also draw attention to how large your hips and buttocks are. Your best belts include:
A. The ones that sit just above your natural waist.
B. Outfits with the same hue as your skirt or pants.
C. Belts tucked inside open jackets and vests.
When To Wear A Belt?
Despite the fact that it might seem obvious, there are always some circumstances in which you wonder whether you really need to wear a belt.
Do Wear A Belt:
your belt loops are on your pants. Instead of shorts, where it is acceptable to forgo the use of a belt, this rule primarily applies to pants with belt loops.
your shirt is tucked in when. When your shirt or top is tucked in, you should always wear a belt, regardless of the pair of bottoms you are wearing.
wearing blazers and jackets. When wearing jackets, you should wear a belt because you'll likely have your shirt tucked in.
if you're dressed entirely in a single color. This can add contrast and aid in breaking up the monochromatic appearance.
Don't Wear A Belt:
when wearing a slim-fitting shirt. Belts sometimes cause slim-fit shirts to bunch up at the back and can ruin the tailored appearance.
Feel free to omit the belt when wearing an untucked shirt or t-shirt, unless you still want to wear one for practical reasons.
How To Choose The Best Belt Outfit?
Nearly everyone already has one belt, and it's usually either black or brown. Congratulations, as almost every outfit you choose, will be a hit if that describes you. Either color belt is a good choice.
Beyond that, there are some other considerations to account for when it comes to choosing the best belt:
How much do you want to spend on a belt
What material is the belt made out of
Which company is making the belt
Is the belt more functional or fashionable
What style of belt do you want
How large is the belt
What color is the belt
All of these elements can change how a belt works with the rest of your outfit.
Things To Avoid With A Belt
It's crucial to match your shoes and belt in formal settings. You'll stand out like a sore thumb if you don't coordinate them.
That piece of advice actually brings up another thing to avoid, one that's potentially more important; stay away from bright-colored belts.
While neon belts rarely look good, we all miss the times when Metro Station ruled the charts. Most of them appear cheap and offensive. In general, we suggest that you stay away from belts that aren't black, white, or brown.
How To Take Care Of A Belt?
One of the simplest elements of fashion may be belt care. Apart from not treating it like dirt, your belt requires little in the way of maintenance.
Don't put it in the washing machine (especially if it's leather), hang it in your closet, and keep an eye on it for damages or stretches.
Your belt should have a few additional holes added to it, as we suggested earlier, to ensure the durability of the accessory. When a belt fits you perfectly, it typically lasts the longest.
There is less of a chance of tears if there are a few more holes added to the area where it must stretch around you.
If you do damage your belt then you should take it to a tailor. You could attempt a do-it-yourself repair, but since tailors are less expensive and leather can be notoriously difficult to work with, we advise leaving this to the experts.
Belt Alternatives
Suspenders are a fun, cozy alternative if your pants don't have belt loops or you want something a little different. Despite the fact that they are frequently worn with formal suits, they are also perfect for smart-casual ensembles like chinos and a blazer.
Side tabs, which are typically found on formal suits or tuxedo pants, are yet another belt substitute. Side tabs are two buckles on the side of pants that let you tighten the waistband for the ideal fit. This presents a sleeker and more polished appearance.
In addition to being a practical wardrobe essential, belts can add depth and style to any outfit, keeping you fashionable all year long.
Read More: How To Wear A Beanie?