The fedora hat is here to stay, love it or hate it. It used to be difficult to find a man of style leaving the house without a hat, when more formal dress codes and hat wearing were expected. How to wear a fedora?
Wearing a fedora (or any hat) with a small brim is not advised if you have a large head because it will only accentuate your head size. Top a cashmere sweater and jeans with Stacy Adam's wide brim felt fedora for a serious dose of laid-back luxury.
Learn about the history of the fedora, where it came from, and how to wear one today in this article.
What Is A Fedora Hat?
A fedora is a style of hat distinguished by a bendable brim, typically two to three inches wide, and an indented crown with a center crease pinched on both sides. Most fedoras are now made of wool felt, despite being originally made of fur felt, such as beaver felt.
Straw, cotton twill, synthetic blends, and even leather are now frequently used to make fedoras in addition to traditional materials. The basic characteristics listed here, rather than a particular style or material, serve to distinguish the fedora shape because it is so adaptable.
Why Is It Called A Fedora Hat?
The modern-day use of the term "fedora" is far different than its historical use. Given the general decline in men's hat use that we see today, the term "fedora" is frequently used to describe any type of men's felt hat.
Contrary to popular belief, men were expected to wear hats at the turn of the 20th century, and strict dress codes established the proper headgear for each social setting. In addition to a soft felt hat, a man of stature would have an assortment of hats that would likely include styles like a top hat, bowler hat, Homburg, Lord's hat, and flat caps.
Fedora Hat Materials
Although a variety of materials can be used to create fedora hats, felt is the most common. Felt is a natural material made of matted, compressed fibers that can come from a variety of animals, including rabbit, cashmere, and wool.
Remember that not all felt will be of the same quality, similar to the fabrics used in suits. But generally speaking, beaver or rabbit felt is thought to be the best kind of felt for fedora hats. This is because they have qualities that make them supple yet strong, along with a built-in water resistance that will make your fedora very useful.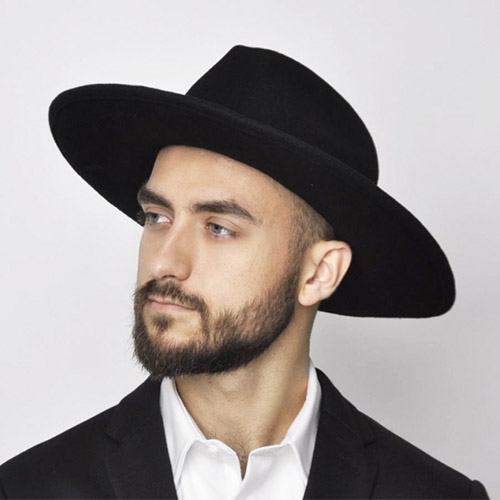 Various Types Of Fedoras
Different fedora designs come in a variety of fabrics, brim sizes, edge treatments, and crown heights. The most common types of fedoras include:
Classic fedora: The traditional fedora is a felt or wool hat with an angular, soft brim. This well-known fedora style has a hatband—a ribbon that lines the brim's outline—as a distinguishing characteristic.
Fedora with a diamond crown: This style has a pointed crown with a kite-like appearance. The diamond crown fedora is a stylish hat suitable for dressy occasions, with one main fold at the front and three points at the back.
Safari fedora: The safari fedora is a hat style with a long brim that was initially more functional than fashionable. It was made popular by Harrison Ford's character Indiana Jones. These sun-blocking adventure hats typically have a plain leather headband. In order to resemble the natural world, safari fedoras have few decorations, are made of straw, and are colored with earthy tones (such as beige, green, or tan).
Short-brim fedora: The short-brim fedora does not offer sun protection; it is more for appearance than for practicality. Instead, this soft felt hat has a snap brim that can be folded up or down for style and is less than two inches long.
Straw fedora: Straw fedoras go well with outfits for warm weather because of their light weight and breathability. A straw hat can add style to formal attire as well as a T-shirt and jeans. One elegant straw fedora you can wear with a blazer or suit is the Panama hat.
Teardrop crown fedora: As opposed to the diamond crown, the teardrop crown fedora has softer edges. It has a pinched front and a back crown that is rounded. This fedora style works with casual clothing thanks to the soft edges.
Trilby hat: The trilby hat, a stylish take on the traditional fedora, has a short, flared brim. Trilbies do not offer shade from the sun because they have a narrower brim that curls upward. The trilby fedora's pointed crowns, which are more pronounced than those of most soft-felt hats, are another distinguishing feature.
8. Wide-brim fedora: The wide-brim fedora, in contrast to the short-brim fedora, has an extended brim that measures more than four inches. The wearer's face is protected from the sun by this hat style, making it perfect for outdoor activities. By lining the brim of the hat with ribbon, some formal variations of the wide-brim fedora add a splash of color or pattern to the ensemble.
How To Style A Fedora?
Having outfit ideas is nice, but if you're considering wearing a hat, you're probably wondering how to style a fedora hat in the first place.
What you wear largely determines this. Do you have business-casual attire on? If so, picture yourself entering a meeting wearing a suit, a chignon, red lipstick, and a fedora. In a moment, you'll take control of the room.
Or perhaps you're looking for clothing for a girls' night out. You can put together a straightforward outfit and increase the elegance level with the addition of a fedora hat depending on the restaurant or bar you're going to. How cute!
If you're looking for other suggestions on how to wear your fedora in a casual way that isn't intended for a night out or a business meeting at the office, you could braid your hair and wear something floral with sandals and a loose-fitting cardigan.
The outfit would be perfect for a brunch date if worn with sunglasses and a basic pair of hoops.
Fedora Tips
Fit is everything here. A comfortable fit on your head means that the fedora is neither too tight nor too big. Placing one finger between your head and the hat is a foolproof way to determine the correct size; if there is room for your finger, the hat is the proper fit.
Keep in mind that fedoras are more than simple felt hats. Consider where you'll be wearing them and the materials available before adding a few to your collection for various seasons. Panama straw fedoras are a no-brainer for summertime and beachside weddings while the quintessential black fedora ensures you're au courant no matter where you go year round.
If you're unfamiliar with the fedora craze, start out easy. A neutral-colored hat, such as one in beige, ivory, taupe, gray, or navy, will last much longer than one with vivid patterns, pinstripes, or a lot of embellishments.
The best hat for you can be chosen if you are familiar with the terms and fabric options.
Don't be cheap; even though you don't need to spend a lot of money, the saying "you get what you pay for" is true. Do your research and be prepared to spend some money because a decent wool felt fedora typically starts in the $60 range. You are, after all, worth the investment.
It goes without saying that a dirty fedora is never a good idea, so keep it that way. Find out here how simple it is to clean a wool hat.
You should enjoy yourself because wearing a hat is not difficult to do. Try on as many hats as you can while perusing your neighborhood department store or hat shop to get a sense of what works.
Can You Wear A Fedora In The Summer?
You might have wondered, Can you wear a fedora in the summer? while looking at some of the fedora hat material options. A leather or wool hat in the heat seems absurd to consider.
However, straw fedoras are also available, and some felted wool versions are surprisingly light and offer excellent UV protection.
That being said, the quick response is yes!
What Color Of Fedora Should I Wear?
Choose the appropriate color profiles to complement your outfit, as well as your hair color, skin tone, and accessories, when thinking about how to wear a fedora. When asking yourself, Which hue should my fedora be? — it's good to factor in some of these influences.
Consider a brown, navy, or black fedora for definition and boldness if, for instance, your hair is blonde and your skin is fair.
Another option is a beige, white, or printed fedora if you have dark hair and skin and your accessories are eye-catching. Finding a good balance of colors in any outfit is a good rule to follow.
However, keep in mind that there is no wrong way to wear a fedora. Fashion is wonderful because of this. A lot of what you wear is determined by your preferences, confidence, and personality. Here's a list of the most common and accessible color palettes you can find for fedoras:
White
Beige
Brown
Cream
Black
Navy
Floral
Animal print
Striped
Plaid
Are Fedora Hats Still In Fashion?
If you feel putting on a fedora makes you look like you just stepped out of a 40s mobster movie, you might be thinking: Are fedoras still in vogue today? Definitely.
The fedora has experienced ups and downs in popularity over the years, but it has recently made a strong comeback and is now a must-have item in any woman's wardrobe.
At the end of the day, your hat can be as stylish as it's always been — you just need the right outfit, and there'll be no question ifthey're still in style.
When you start receiving compliments on your appearance each time you leave the house wearing a fedora hat, the solution will become clear.
Are Fedoras Casual?
Yes, fedoras can be worn casually. A fedora is the ideal casual accessory to complete your laid-back look if you want to wear your new chapeau to the beach, brunch, or a picnic.
But that's not the only guideline for proper fedora etiquette. Given their versatility, hats can be worn for both formal and informal occasions.
You May Also Like:
Fedora Hat FAQs
What differentiates a fedora from a trilby?
The trilby is like the fedora hat's "little brother." A trilby differs most from a fedora in that it has a shorter crown and brim but many of the same characteristics, such as being a soft hat with a pinch at the front of the crown.
What is a fedora guy?
The "fedora guy" is an unfortunate internet meme that surfaced in the mid-2000s. Effectively, it showcases a stereotypically "uncool" guy attempting to replicate the golden age style by wearing a cheap, mass-manufactured fedora hat. The lesson is that investing fully in the desired outcome will produce better results than taking short cuts or looking for quick fixes.
What's the difference between a Stetson and a fedora?
Simply put, Stetson is a well-known hat manufacturer that became well-known for its styles of fedoras during the height of menswear.
When can I wear a fedora hat?
A traditional fedora is worn everywhere these days. A fedora will always be viewed as more formal because it is no longer regarded as a casual hat, unless you are attending an event that calls for the most formal hats, such as a bowler, Homburg, or top hat, in which case you shouldn't wear a fedora. Aside from that, you can wear your fedora wherever you like!