The shirtdress is a basic piece of clothing because it can be dressed up or down. These styling hints for day and nighttime looks will teach you how to wear a shirtdress.
How to wear a shirt dress? To keep your legs warm without adding too much bulk, layer it over skinny jeans, leggings, or flowy pants. A longer shirt dress will give you the option of layering over tights or leggings and will help to keep your legs warm. For more outfit suggestions, keep reading.
What is a Shirtdress?
A shirtdress is a piece of clothing that has a button-down collar but is long enough to be worn as a dress. Shirtdresses come in a variety of designs, patterns, and lengths, including maxi, mini, and midi hemlines, and have cuffed sleeves, a collar, a breast pocket, and other features. While some shirtdresses are made of the same fabric as button-down shirts, such as denim or plaid, others are made of dressier or more formal fabrics, such as silk, velvet, or chiffon.
How to Wear a Shirt Dress?
1. Wear It as is (And Keep It Simple!)
Wondering how to wear a shirt dress? Simply put, putting it on and leaving couldn't be any simpler. Shirt dresses can be styled in a variety of ways, but they also look great on their own!
Select a shirt dress with fun prints or a neural color. Each style will be able to speak for itself!
In the summer, pair with sandals, slides, traditional sneakers, or ankle boots. Undoubtedly, whether the shirt dress looks more casual or formal will depend heavily on the shoes.
Grab a delicate necklace or layer several chains and charms; jewelry is also an option. Alternately, add some style punch with a statement pair of eye-catching earrings.
Layer with a blazer, cardigan or pullover, scarf, or a denim or leather jacket if it's cold outside. There you have it: three easy ways to wear a casual, timeless, and stylish shirt dress.
Just remember to press or hang your cotton and linen shirt dresses to dry so they come out neat and stylish!
2. Belt Your Shirt Dress
When considering how to wear a shirt dress, keep in mind that it will instantly put you together. A belt or drawstring waist will add definition if boxy shapes are difficult for your silhouette.
Choose a belt with a double ring buckle made of rope or fabric. This stylish outfit is ideal for summer. Alternately, wear with a wide corset belt or a thin tie belt. To keep the length of the dress the same, simply pair the corset belt with a longer shirt dress.
You can also belt your shirt dress at the waist using a long silk scarf or a shirt in a different color. Leave the shirt unbuttoned and tie the ends in a knot at the waist if you plan to wear it over your dress later. Your shirt dress will be tightened as a result.)
The shirt dress style will be enhanced by a metal belt or designer buckle belt! All you need to do is pair it with a purse of a complementary color and finish it off with some delicate jewelry.
3. Roll Up the Sleeves
Roll or scrunch the sleeves to add a sporty, carefree, not-trying-too-hard look to the ensemble. Three-quarter length sleeves can be created by neatly rolling them. Particularly stiffer shirt dresses can benefit from this!
Or you can scrunch the unbuttoned sleeves up above your elbow in one big cuff. Add a baseball cap, a straw hat with a wide brim, or a Panama hat, along with a pair of clean, white tennis shoes.
4. Wear a Shirt Dress as a Beach Cover Up
Talk about adaptability! Making the shirt dress double as a beach coverup is another way to wear it. Tunics are particularly useful for this.
Lightweight cotton or linen are airy fabrics that will keep you comfortable by the pool or at the beach. You can style your shirt dress as a coverup in a variety of ways, including partially buttoned, unbuttoned, and with the sleeves pushed up or down. The only restriction is the bright blue sky!
In hotter weather, choose a lighter color. With your shirt dress or beach coverup, you can wear flip-flops, tennis shoes, sandals, or canvas boat shoes.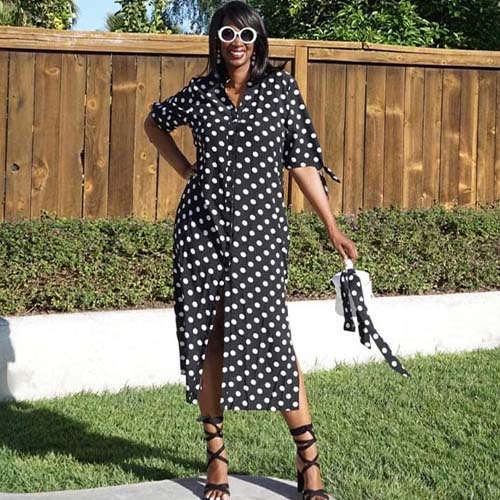 5. Add Tights With a Shirt Dress
In the colder months, make your shirt dress work hard for you. With most shirt dress colors and styles, black tights are a reliable choice. Try a white shirt dress made of cotton, knit, or wool with black tights and loafers for a fall workday.
Wear black mini shirt dress, sheer black glitter tights, and pumps for a sparkly night out on the town. Alternatively, have some fun and pair your striped or floral shirt dress with textured or printed tights.
Undoubtedly, tights and shoes go together. For more information, see the top tights-friendly shoes!
6. Wear It as a Shirt
You can dress as a shirt if your shirt dress is at least mid-thigh length or longer, like a tunic. Make a loose front tuck and leave the back untucked when wearing straight-cut or wide-leg pants.
A longer shirt dress will, however, look great with some outfits. If you can, just leave the bottom buttons undone. You could also put on a straightforward tank top underneath. If you're wearing a shirt dress or tunic, think about wearing shorts, leggings, or even jeans. Put the top in the front or wear a thin belt.
Or, wear a bodysuit underneath and fully unbutton your shirt dress (of any length) to use it as a thin top layer or jacket. A stylish appearance that goes great with pants, jeans, and shorts! Just add flats, slides, or sandals. The choice is yours!
7. Add a Cardigan Or Sweater Vest
More evidence that your shirt dress belongs in your closet all year round, here! Wear your shirt dress over tights, skinny jeans, or leggings during the fall and winter. Try adding a second layer on top as well.
A neutral or vividly colored cardigan goes well with chambray shirt dresses. When worn with a sweater vest, your shirt dress will also be the center of attention.
Add suede booties and scrunch up your sleeves. You are now prepared to walk the catwalk.
8. Wear a Jacket over a Shirt Dress
Adding a jacket will help your shirt dress look better. Whatever your preferred fashion sense, it will undoubtedly complement your shirt dress ensemble.
A moto jacket gives any party edge, but for a more harmonious appearance, wear it with a feminine belted shirt dress. Unexpected, too!
For a date night or business casual day, put your oversized black, white, or navy blazer over your shirt dress. Wear a light blue pinstriped loose-fitting shirt dress with an army green utility jacket for a more relaxed appearance.
After that, fasten the jacket with a brown leather belt and wear sneakers or strappy sandals. In a similar manner, you can cover your shirt dress with a trench coat.
To create a layering effect when your trench is unbuttoned, if at all possible, make sure it is longer than your shirt dress. In the event of rain, this will be especially useful!
9. Choose the Right Shoes
You can see that the shirt dress is not particular; versatility is its middle name. So feel free to try different shoe styles. For quick and easy shoe pairings for your shirt dress outfits, here's a guide:
For casual outfits: your shirt dress will look fabulous with flip-flops, strappy sandals and sneakers. In order to add something unexpected to a maxi or mini printed shirt dress (think stripes and even florals), reach for cowboy or combat boots.
Any style or length of shirt dress looks great with a pair of basic flats, including pastel ballerinas, mules in earth tones, and leopard-print slides.
For the office: reach for pumps, loafers or Oxfords, ballet flats, mule shoes, knee-high boots, or ankle boots. Consider heels when dressing up your shirt dress. The winning footwear styles are pumps, strappy heeled sandals, and sock booties. Additionally, as the seasons change, check your closet for shoes that go with shirts and dresses.
For spring and summer: espadrilles and wedges are cute with shirt dresses. As well as Birkenstocks, sneakers, mule shoes, and strappy sandals and slides.
For fall and winter: easy choices are loafers and boots of all types and oxfords. In addition to practically everything else in your closet, cowboy boots go great with a shirt dress all year long.
Read More:
How to Style a Shirtdress for Evening?
These shirtdress outfit ideas can help you elevate a simple dress into four put-together evening looks:
Accessorize with statement jewelry. A simple black shirt dress can be easily transformed into a glam ensemble by adding a distinctive piece of jewelry to your ensemble. Wear a heavy necklace to accentuate your ensemble and leave the top button of your shirtdress undone for a more open neckline. To dress up a plain shirtdress, you can also wear a bracelet or a pair of earrings.
Add heels and a belt. A shirtdress can be dressed up for a formal occasion by adding heels. To add some color to your outfit, think about donning a pair of vibrant heels. Adding a belt to this flowy dress style will help define your waist because it can look boxy otherwise. In the colder months, add a denim jacket to complete the look.
Layer with a shawl. By draping a shawl over your shoulders, you can dress up a sleeveless shirtdress. Shawls are classy accessories that you can drape over your upper body to improve any outfit. Make a statement by wearing a scarf or shawl that is brightly colored or patterned.
Throw on a leather jacket. To dress up your look, add a leather jacket. For a classic evening look, layer a leather jacket over your black maxi dress. You can also style a black leather jacket over a white shirtdress to create contrast.