Ankle boots, which I love to wear with jeans, come in a variety of styles for women. But are you wondering how to wear ankle boots with jeans?
When styling ankle boots, there are several tips and tricks to keep in mind. No matter the season, keep in mind that ankle boots can be worn. So don't worry about spending a little money on a pair; you'll definitely get a lot of use out of it.
I'll give styling advice and outfit suggestions, such as how to pair different-length jeans with ankle boots. Learn more by reading on!
How to Wear Ankle Boots With Jeans?
For your consideration, check out these outfit suggestions.
1. Ankle Boots With Straight Leg Jeans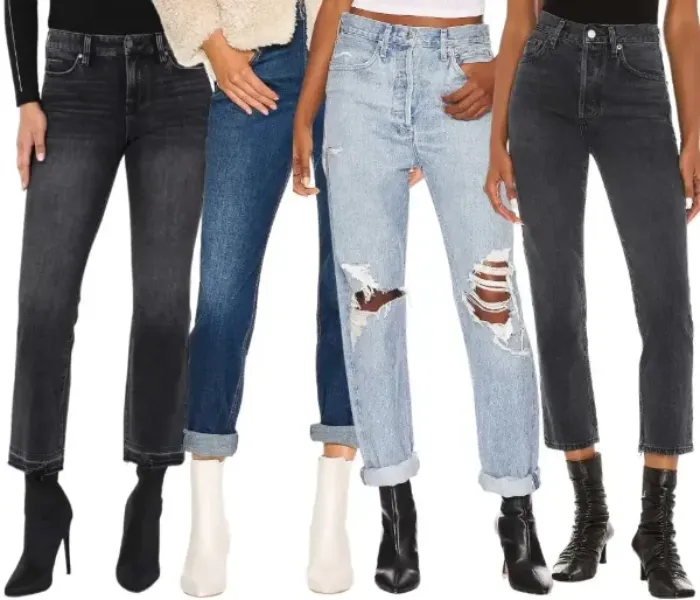 Jeans with straight legs can have wider or narrower legs. However, they will all fall straight down from the thighs to the ankles. These jeans don't taper or flare out at the knee, contrary to their name. They're just, well, straight!
Straight-leg jeans, in contrast to skinny jeans, have enough space at the bottom to fit over some types of ankle boots. Taller/wider shaft ankle boots can fit better in jeans with wider legs and hems.
Cropped versions of straight-leg jeans are also available. Cropped ones look great with a variety of ankle boots.
How to Wear Cropped Straight Leg Jeans With Booties:
Choose taller, narrower boots, such as sock booties, that fall over cropped, straight-leg jeans.
Wear cropped jeans with lower shaft ankle boots so that the middle of the leg is visible. Or, cuff the jeans above the ankle boots to expose a 2-3 inch of leg
A longer pair of straight-leg jeans can also be cropped by rolling up the cuffs so that they cover the boots. Cuffed or uncuffed, cropped jeans are a great way to showcase a block heel or stiletto.
The simplest straight jeans to wear range in length from ankle to floor. This is due to the fact that all types of boots—those that are higher, lower, slimmer, or have a lower shaft—will function. And you can always cuff them to fit your needs!
How to Wear Longer Straight Leg Jeans With Ankle Boots:
Make sure the jeans fit comfortably over the boots and let them fall where they may. You don't want them to bunch up underneath.
Any boot heel shape and height will do. Avoid wearing ultra-fine stilettos with jeans that touch the ground (tripping hazard!).
Any length of straight-leg jeans can be cuffed for a more rugged appearance or to highlight a unique boot detail. Cuff as many times as you feel comfortable.
Not a fan of cuffing your jeans? As many fashionistas have done with their boots, try styling them with a half-tuck in the front. It makes for a laid-back aesthetic, like below:
2. Ankle Boots With Skinny Jeans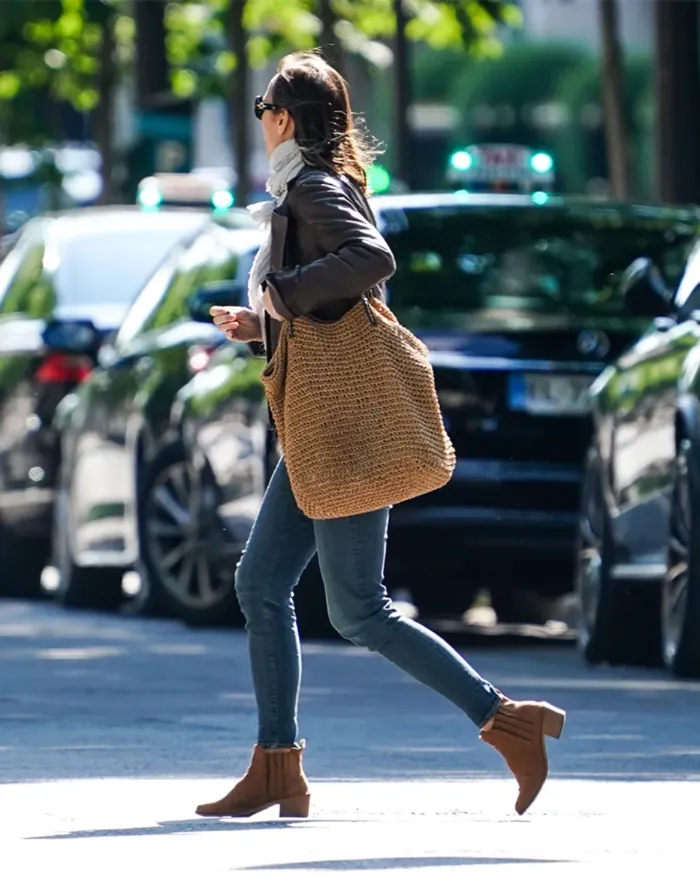 Of all the boots to wear with skinny jeans, ankle boots and skinny jeans are a perfect (and easy!) combination.
There are many wonderful ankle boots that look fantastic with skinny jeans. In actuality, skinnies are the easiest type of jeans to wear with ankle boots!
Ankle boots are easy to pair with skinny jeans. Most people wear them without cuffing because they are so snug on the leg.
Thinner, slimmer toe boots balance out the proportions of skinny jeans' slim cut, making them look their best. That, however, is relative to what else you are wearing.
How to Wear Ankle Boots With Skinny Jeans:
For a sleek look, tuck skinny jeans into slim boots. If the jeans are too long, turn them up at the cuffs and check that they don't bunch up inside any ankle boots that are too narrow.
Skinny jeans will naturally fall into wider shaft booties, like the image below:
Pull the jeans over the boots if they are sock boots or tight-fitting boots. When the boot color matches the jeans, it creates a sleek linear effect.
Try wearing lower shaft booties with cropped skinny jeans to expose the leg by two inches. The same cropped effect can be achieved by adding a single cuff to longer skinny jeans.
With ankle boots that reach the jean base or higher, unevenly hemmed skinny jeans look great. Otherwise, I prefer the hem to either extend a few inches above the boots or completely cover them.
For fall-inspired styling, pull a pair of slouchy or hiking socks over the hem of your jeans. When worn with brown or tan ankle boots, this gives off a more casual vibe.
3. Ankle Boots With Wide Leg Jeans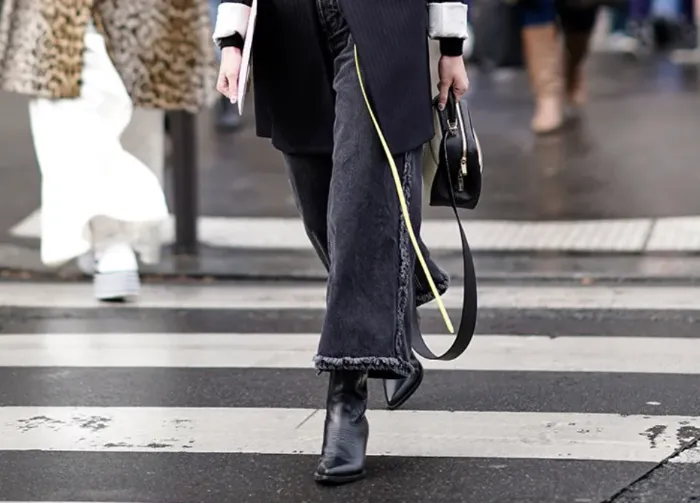 Wide-leg jeans are on-trendy right now and easy jeans to wear with ankle boots! Since these jeans have a lot of volume, you can wear them with just about any type of bootie, as long as the heel and toe don't drag on the ground.
How to Wear Ankle Boots With Wide-Leg Jeans:
Feel free to wear longer wide-leg jeans exactly as they are so that they cover your boots. In the event that the jeans are floor-length, make sure your boots have a substantial heel. Your hem will eventually rip from the pressure of fine heels (been there, done that!).
Wear a taller shaft bootie with cropped wide-leg jeans so that the heel blends into the hem. Alternately, put on a shorter bootie to highlight your ankles.
4. Ankle Boots With Bootcut & Flare Jeans
A classic pairing is jeans and ankle boots. Particularly when it comes to flared or bootcut jeans. As suggested by the name, the jeans actually flare out from the knee to accommodate boots!
As much as you might try, these jeans won't cuff.?) there's nothing to do, but wear the jeans as they are. For the length and flare of the jean leg, you'll need the appropriate ankle boots, which is where boot types come into play.
How to Wear Ankle Boots With Flare Jeans:
Wear ankle boots that are snug around the calf, unless you're wearing huge flares. Especially with bootcut jeans – that are less flared flares – so that the boot doesn't interrupt the pant line from the knees down.
Avoid wearing fine heels with flared jeans that reach the ground because they could cause your jeans to rip and cause you to fall. Also, stay away from bootcut jeans that drag on the ground. To avoid this, go with a platform or a high heel ankle boot.
Additionally crucial is toe shape. Flare or bootcut jeans look great with ankle boots that have square, pointed, or almond-shaped toes.
As your boots protrude from under the hemline, a rounded toe, such as an almond shape, will soften the appearance. There will be more edge with a pointed toe.
5. Ankle Boots With Baggy Jeans
Wider, straight-leg baggy jeans look great with ankle boots. Baggy jeans go well with any style of ankle boot, whether they are higher or looser on the ankle due to their relaxed aesthetic.
How to Wear Ankle Boots With Baggy Jeans:
Regardless of length, let the baggy jeans hang over the boots! Make sure you're wearing a sturdy boot to avoid tripping over the hem.
Additionally, you can fold the jeans once or twice! – if the jeans are thin & long enough to do so. If you want to add volume, do as the woman in the second from left has done and tuck half of the jean hem into the top of the boots.
Also Read:
Tips for Wearing Boots With Jeans
When wearing boots with jeans, keep these style tips in mind:
Tuck your jeans into your boots. Slim jeans are best if you want to tuck your jeans into your boots because they do not bunch at the ankle. Tall boots, rain boots, and snow boots all benefit greatly from tucking. Straight-leg and bootcut jeans can be tucked into boots with a wider opening, like cowboy or winter boots, without much bunching.
Cuff your jeans to show off your boots. Because the cuff will sit directly on top of your boots, wearing jeans cuffed is best when wearing ankle boots. Straight-leg and boot-cut jeans can both be cuffed. Alternately, you can wear cropped or ankle-length jeans with boots that are the same height as your ankles. You won't need to cuff these types of jeans because they will fall at your ankles naturally.
Hide your boots under your hems. Wide-leg, flare, boyfriend, and loose-fitting mom jeans are examples of jeans with a wider leg opening that can be used to conceal the shaft of ankle boots and booties. This results in a sharp silhouette.
Also Read: White Ankle Boots Outfit Ideas
Why Styling Ankle Boots With Jeans is So Confusing
There are many different factors to consider when attempting to figure out how to wear booties with jeans. Because of this, it is difficult to understand and presents a challenging styling challenge.
You have to deal with various styles of ankle boots first. Generally, that includes these three boot styles:
Short booties (these have a short shaft that don't come up high on your leg)
Medium-length booties (medium shaft)
Tall ankle boots (high shaft that comes up higher on your leg)
The shaft of a typical ankle boot, measured from the bottom of the shoe to the top, is anywhere from 3″ to 8 ¾". That's a significant difference, as you can see.
Let's now add another factor to the equation: the fact that there are SO many different kinds of jeans!
There are numerous ways to pair booties with your favorite pair of jeans, including straight-leg jeans, boyfriend jeans, and of course, skinny jeans.
No matter what kind of jean or boot style you prefer, we will break down every variable in this post so you are aware of all your options.
Final Words on How to Wear Ankle Boots With Jeans
As you've seen there are many ways how to wear ankle boots with jeans. Thankfully this post has given you a better idea of how to pick ankle boots with jeans, and jeans with ankle boots!
We sincerely hope that this advice on how to wear jeans and ankle boots was useful.
You Might Also Like: