When you hear the word "leggings," what is the first thing that comes to mind? Grounding the leggings ensemble with the appropriate footwear is a crucial styling tip. We will focus on how to style ankle boots with leggings in this guide.
You can find a pair of leggings to go with your entire outfit because there are so many different types of leggings on the market right now.
Change up your pairings depending on the situation and your mood. Discover more fashion suggestions by reading on!
How to Wear Ankle Boots With Leggings?
To prepare for the upcoming cooler weather, you could purchase a pair of ankle boots to wear with leggings.
1. Show Some Ankle With Low-cut Booties
If the shaft of your boot barely hits your ankle, then its best to let that bare skin show. Your proportions will be unflatteringly thrown off if you wear a low-cut shoe with long leggings or tall socks. In this instance, however, exposing your ankle can help to give the appearance of long, lean legs.
2. Let Your Socks Peek Out above Your Lace-Up Boots
Although we've previously discussed how much we adore the way ankle boots look without socks, there are some situations in which sock visibility can actually be adorable. Take for example, hiking and combat boots (or really any lace-up style) with just an inch or two of cozy knit sticking out from the top. It exudes a supremely autumnal vibe and conjures up images of apple-picking day trips and leaf-peeping car rides when worn with leggings and topped off with a cozy sweater or oversized coat.
You Might Also Like: How to Wear Leggings Under A Dress?
3. Avoid Bunching at the Ankles
Slouchy material on the top of your boots will definitely make you look like an 80s leg warmer, and not in a good way. Furthermore, too much extra weight can make short legs or petite frames appear squat. The solution may be tucking your lengthy leggings into a pair of slightly taller boots, or it might be discreetly rolling the hem, so they fit just right. Consider having your leggings professionally hemmed to the perfect height if you frequently deal with fabric pooling.
4. Add An Oversize Sweater over Your Workout Gear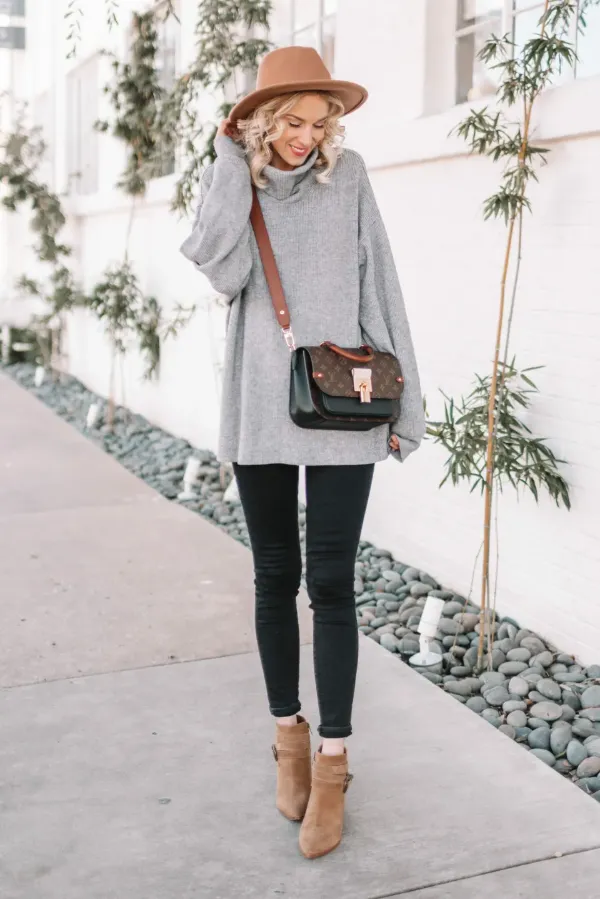 Finding ways to wear your workout outfit the rest of the day can be challenging when you have a busy schedule. Our advice for going to brunch while wearing your adorable new booties and the yoga pants you wore this morning? A thigh-grazing knit should definitely be included. In order to avoid appearing as though you dressed in the dark and unintentionally pulled out the wrong legwear, the sweater will help to fill the space between your structured ankle boots and your technical leggings.
5. When in Doubt, Stick With the Classics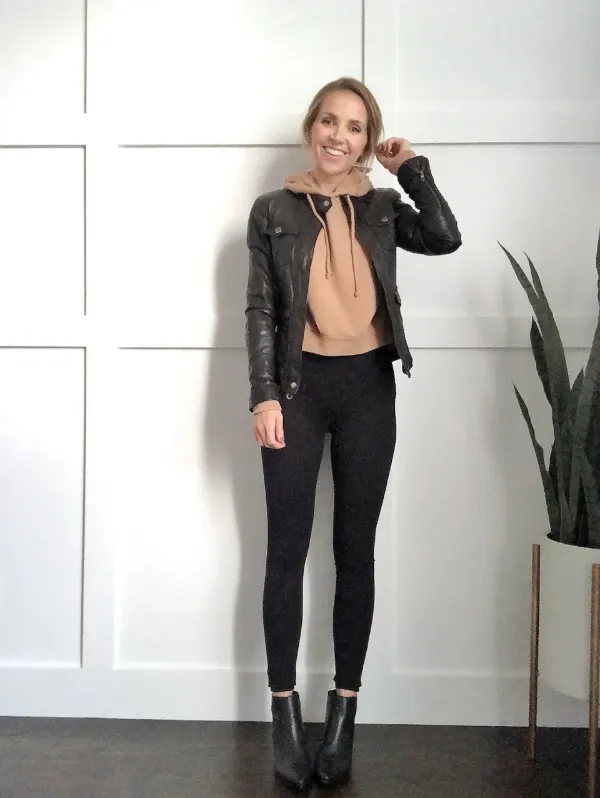 Black leggings and simple black booties are a timeless fashion combo, especially when paired with an oversized button-down shirt, a chunky knit, or both. If you are short on more original ideas, don't be afraid to fall back on the tried-and-true. These outfits are classics for a reason.
6. Pair Detailed Booties With Simple Leggings…and Vice Versa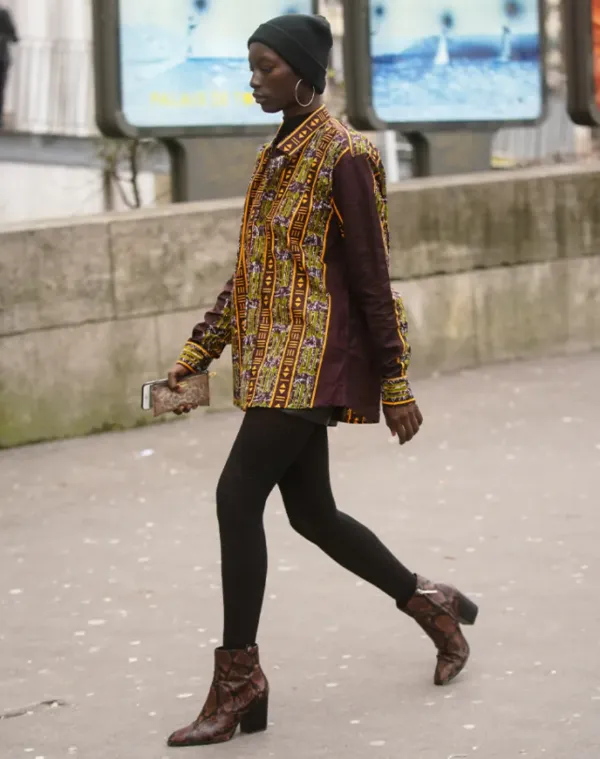 You probably want your ankle boots to be the center of attention if you're wearing zebra print, floral embroidered, or even bright red ones. How can you give them the most room to shine? Consider wearing classic black cotton leggings instead. On the flip side, if you recently picked up leggings with moto stitching or with an interesting print, keep your footwear sleek and simple.
7. Embrace Colors and Textures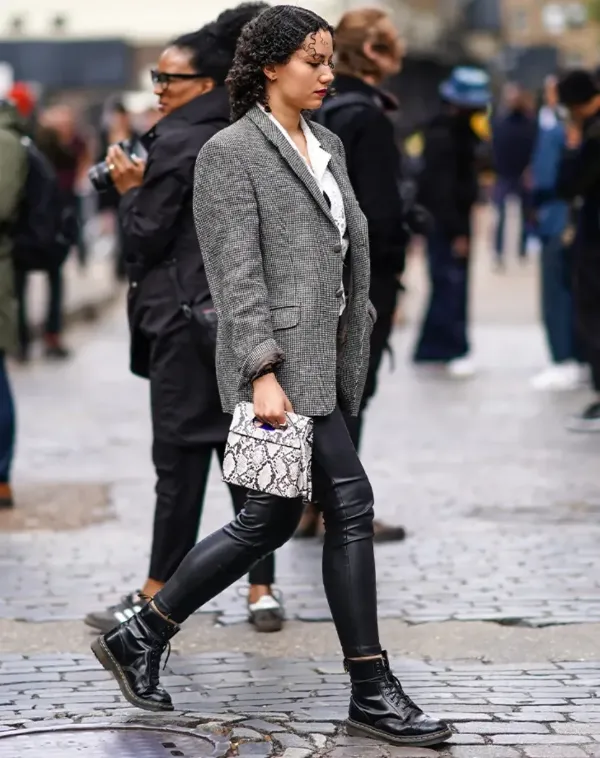 Although it can be challenging, wearing printed leggings with ankle boots is definitely possible. Try to stick to classic black or dark brown footwear, to give your funky leggings a solid base. Add a knit top with texture in a coordinating color after that. It doesn't have to match exactly (the gray sweater in the photo above looks good with that black-and-white pattern), as long as it has a distinct texture to counteract the busy pattern of your pants.
8. the Shorter the Heel, the Shorter Your Top Can Be
When choosing the appropriate top to pair with ankle boots and leggings, there is an easy rule to remember: high heels (3 inches and up) look better with a long shirt, while low-heeled booties look best with shorter blouses. It all comes down to proportions, which is why wearing a torso-lengthening top or jacket balances out a pair of heels that lengthen your legs, as opposed to a long sweater paired with flat booties, which could make your legs appear shorter.
9. Don't Go Too Cropped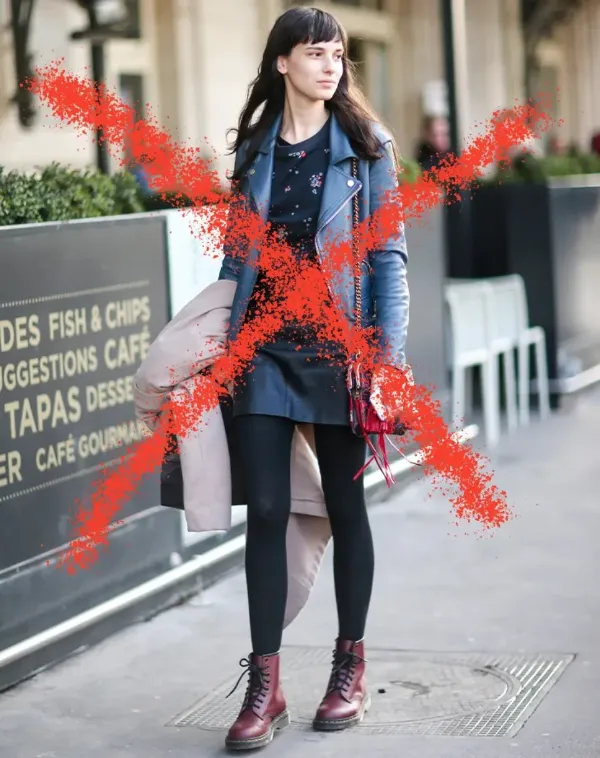 Look, we've all had weeks where the laundry probably should have been handled ages ago and we're forced to get a little creative with the items still in our drawers, but trust us when we say capris and ankle boots do not mix. You would be much better off wearing knee-high or over-the-knee boots to cover up your calf. (Or perhaps you could finally do the laundry.)
10. Don't Treat Your Leggings Like Tights
It can be mighty tempting to slip on those fleece-lined leggings between a skirt or dress and cute booties mid-winter, but we're not particularly big fans of this combination. Realistically, wearing your leggings as tights all too often ends up looking bulky, especially at your middle where the waistbands layer atop one another to create a protruding bump. Not to mention, they can add extra heft to your legs when paired with boots. Fortunately for dress lovers, there are plenty of fleece-lined tights available for a look that is just as warm but even more streamlined and flattering.
Related Post: How to Wear Ankle Boots With Jeans?
Final Words on How to Wear Ankle Boots With Leggings
So here is all about how to wear ankle boots with leggings.
You can find a pair of leggings to go with your entire outfit because there are so many different types of leggings on the market right now. Adjust your combinations based on the situation and your mood.
Leggings come in a wide variety of styles, from different lengths and colors to different fabrics, adding a fun contrast to your outfit.
Read More:
FAQs
Can You Wear Pants over Ankle Boots?
Straight leg pants work great with ankle boots! But there are a few key components that must be present for it to work: Aim for a shorter hem so that the pants only partially cover the boot's shaft.
What Should You Not Wear With Leggings?
A shimmering top, a fancy blouse, or a baby doll dress simply don't go well with a stretchy, tight pair of leggings.
How Should Leggings Fit at the Ankle?
It is designed to sit just above the ankle (and therefore will show some skin between your legging cuff and your footwear).