Read Time:
7 Minute, 23 Second
Dolls Kill is a US-based store renowned for its outspoken, merry atmosphere. It is an online store that sells footwear, apparel, and a variety of accessories. The doll-like models holding the products on the website represent each type of product in a particular way. Is Dolls Kill fast fashion?
Since its inception, Dolls Kill has attracted many cults and is renowned for its edgy fashion. Misfits and goths make up the majority of Dolls Kill's customer base.
The brand describes itself on the website as "we are at the back of a class and in front of a club." Since they are much cooler than the others, this serves to distinguish them from all other fast-fashion retailers.
Related Reading: Dolls Kill Return Policy
What Is Fast Fashion?
Fast fashion is a very productive and effective business model that relies on mass-producing fashionable clothing based on the newest trends for low prices. Fast fashion seeks to sell the newest trends as quickly as possible to encourage consumers to buy the items.
By creating hundreds of thousands of new designs in a short period of time, the fast-fashion industry both creates and maintains rapidly evolving consumer tastes. Shoppers will undoubtedly be interested in the designs, which are inspired by catwalk fashion shows or famous people.
Few Examples Of Fast Fashion
Everywhere you look, fast fashion has taken off. Some of the fast-fashion retailers you might come across while browsing a mall include Forever 21, Urban Outfitters, H&M, and Hot Topic. Online retailers like SHEIN, Nasty Gal, Fashion Nova, ROMWE, and Dolls Kill—just to name a few—are increasingly supporting the industry.
Be wary of retailers that constantly feature a ton of new, trendy designs, have extremely low prices, and stock items made of flimsy, cheap materials that won't last: They could be signs of fast fashion.
What Do You Notice About The Website?
To provide customers with a unique shopping experience, Dolls Kill works hard. This brand transforms popular trends into something original that is not available on the market.
Despite having a reputation for being trendy, Dolls Kill doesn't lose sight of its edgy and cool elements.
The items on display, especially their holiday collection, are categorized and striking. Halloween attire is the epitome of being both spooky and fashionable at the same time.
The CEO and Founder of the cool, edgy brand, Bobby Farahi, is the owner of this online retail store.
While on the website, you'll notice that the presentation is almost magazine-style, which is positive and provides detailed imagery. Scrolling through the feed would lead you to believe that this brand's social media presence is on another level.
The personas that you find among the clothing categories are;
Koko – you've seen All the pastels and really cutesy items can be found here, including Hello Kitty. The colors look great when worn with a stylish piece of clothing or a cute white tee. For instance, the colors of Hello Kitty would look great with a pleated skirt.
Kandi – your rave self would love to shop from here. Anything that has a belt, bodycon dresses, ripped jeans, and many other options are acceptable for a party. You can look stylish without exerting much effort thanks to the spunky quality of these clothes.
Mercy – this category is all about being cool gothic and grunge but overall has a cool vibe for 365 days. Many dresses and velvet items are available in the collection, making it simple to style them for both daytime and evening events.
Willow – this is where you find your chic, boho, and festive look. This is the ideal persona for you, whether it's Coachella or another festive event. This summery festive look can be worn all year long.
Darby – now this is your ultimate punk and rock n roll fantasy. With spikes and studs, this features a lot of monochrome and plaid. Don't be afraid to let your inner punk rock 'n' roll princess loose by shopping at Dolls Kill.
Currently, Dolls Kill is worth around 60 million dollars. The brand is well-liked by e-girls and numerous goth fans, which results in this kind of value being created.
Is Dolls Kill Fast Fashion?
Since its inception, Dolls Kill has attracted many cults and is renowned for its edgy fashion. Misfits and goths make up the majority of Dolls Kill's customer base.
The founders want to show off their personalities by selling unconventional clothing. Their fan base is even more aggressive as a result of the fact that they are one of the biggest consumer retailers of rave and festival apparel.
Dolls Kill has wronged a large number of artists and designers whose designs and ideas they have plagiarized without giving any credit or appreciation under the guise of fast fashion.
Dolls Kill also doesn't give enough details about how it affects people, animals, or the environment.
The brand has received a minimum rating of 1 out of 5 in the sustainability report published by the Good On You journal due to this significant gap in its transparency. Due to the company's ambiguous sustainability efforts or practices, the website advises against purchasing products from the company.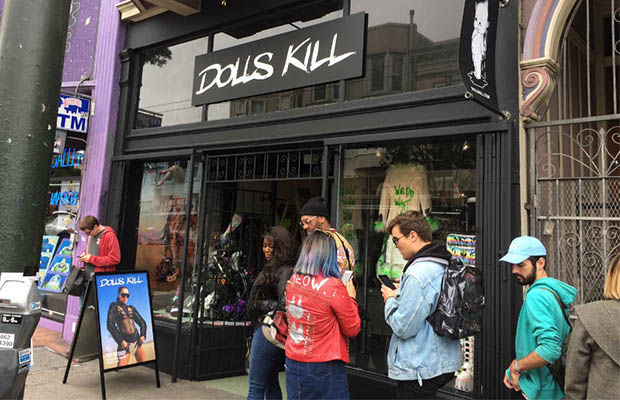 Is Dolls Kill Fast Fashion?
This question is crucial if you value sustainable living while also enjoying a punk and goth vibe. When it comes to sourcing raw materials, eco-friendly plans, or anything else for that matter, Dolls Kill has unavoidably not defined anything.
We don't make statements that are overly generalized, which is the only thing you can see on the website. This harms a brand's long-term sustainability and creates issues with transparency.
Why Is Dolls Kill Canceled?
Two businessmen, Bobby Farahi and Shoddy Lynn, founded Dolls Kill. Due to their egregious misconduct, one of these owners, Shoddy Lynn, was at the center of a scandal that caused the public to boycott the brand.
Social media usage on Dolls Kill is moderately active. Shoddy Lynn posted a video in response to her company's actions over the past few years on an unfortunate occasion.
A picture of a row of Los Angeles police officers standing in front of a Dolls Kill store was part of Lynn's tone-deaf social media post.
In addition to the hashtag "Black Lives Matter," she added the caption "Direct Action in its Glory."
Around that time, there were widespread Black Lives Matter demonstrations all over the world.
By uniting against the police and the government, the common people demanded that they grant rights to the oppressed African Americans living in the United States, who deal with systemic racism and prejudice in every aspect of their lives.
In the midst of these sociopolitical discussions and uprisings, Lynn posted on Instagram in support of the police. These were the same police who had killed George Floyd and were at the time flagrantly detaining, assaulting, and dismissing protesters all over Los Angeles.
Doll Kills started receiving a ton of hate and criticism on their social media following this infamous and divisive Instagram post.
This was in retaliation for Shoddy Lynn's support of police brutality rather than his participation in the Black Lives Matter movement, which had taken on a rapidly escalating trajectory.
Ironically, the majority of the company's customer base is active in the movement and was speaking out against police brutality and the complicity of wealthy, white people.
Do Dolls Kill Steal?
Dolls Kill was recently accused of stealing designs from unaffiliated designers all over the world. Dolls Kill responded by stating that the company has very strong roots in fashion and that it takes these accusations very seriously.
The brand also made sure that no clothing was produced using any plagiarized designs and that local product monitoring was completely legitimate.
When it comes to fashion, Dolls Kill has long been making statements. You will find exactly what you're looking for if your favorite categories are listed on the website. In terms of clothing, shoes, and accessories, there are many different sizes available.
This company supports inclusivity when it comes to body image in all of its products, from extra-small to small. This brand quickly gained popularity as a result of the wide variety it offered.
We can therefore conclude that you should order some goth clothing from Dolls Kill rather than going out the next time you need some new clothes for the club.
Is Dolls Kill Reputable?
Let's go back to our original question while the discussion about Dolls Kill's dubious decisions can go on for hours.
The number of horror tales we've gathered from designers around the world raises the question of whether Dolls Kill is legit, but the brand isn't exactly painted in a favorable light.
Because of their repeated attempts to swindle designers and steal their laborious creations, Dolls Kill is not a reliable band.