A website selling footwear, apparel, and various accessories is called Dolls Kill. However, is Dolls Kill fast fashion?
Dolls Kill is, in fact, regarded as a fast fashion brand. The brand produces hundreds of styles from unsustainable materials
Since its inception, Dolls Kill has attracted many cults and is renowned for its edgy fashion. Misfits and goths make up the majority of Dolls Kill's customer base.
Keep reading and you will learn more about Dolls Kill.
Related Reading: Dolls Kill Return Policy
What Is Fast Fashion?
Fast fashion is a business model that relies on mass-producing fashionable clothing based on the newest trends for low prices. Fast fashion seeks to sell the newest trends as quickly as possible to encourage consumers to buy the items.
By creating hundreds of thousands of new designs in a short period of time, the fast-fashion industry both creates and maintains rapidly evolving consumer tastes.
Shoppers will undoubtedly be interested in the designs, which are inspired by catwalk fashion shows or famous people.
Read More: Is Urban Outfitters Fast Fashion?
Is Dolls Kill Fast Fashion?
Since its inception, Dolls Kill has attracted many cults and is renowned for its edgy fashion. Misfits and goths make up the majority of Dolls Kill's customer base.
The founders want to show off their personalities by selling unconventional clothing. Their fan base is even more aggressive as a result of the fact that they are one of the biggest consumer retailers of rave and festival apparel.
Dolls Kill has wronged a large number of artists and designers whose designs and ideas they have plagiarized without giving any credit or appreciation under the guise of fast fashion.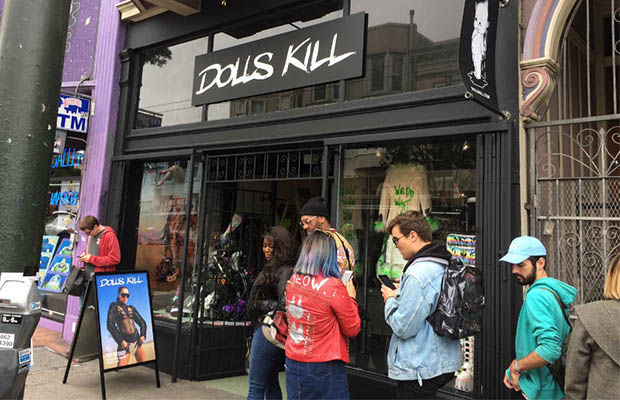 Dolls Kill also doesn't give enough details about how it affects people, animals, or the environment.
The brand has received a minimum rating of 1 out of 5 in the sustainability report published by the Good On You journal due to this significant gap in its transparency.
Due to the company's ambiguous sustainability efforts or practices, the website advises against purchasing products from the company.
Also Read: Alternatives to Dolls Kill
Is Dolls Kill Ethical?
Dolls Kill withholds information about the locations of its factories, the working conditions there, the protection of its employees, and whether or not workers are paid fairly. Dolls Kill isn't something we'd classify as ethical, for that reason.
Along with the company's lack of transparency, Dolls Kill has come under fire recently for using racist slogans on its clothing, responding angrily to an Instagram post from the founder, and stealing designs from upcoming designers and artists.
The company has attempted to portray its mistakes in a positive light by listing them here, but in our opinion, the mistakes themselves demonstrate the lack of ethics the company strives to uphold.
What Materials Does Dolls Kill Use?
We would classify Dolls Kill's use of a variety of those materials as being harmful to the environment. PU, cotton, and polyester blends are the main materials used in the brand's collections.
There is no mention of any recycled or environmentally friendly materials.
Because it is produced using crude oil, virgin polyester is bad for the environment. Since the substance is not biodegradable, it will remain on the planet for a very long time after you are done using it.
The company makes its products with toxic chemicals that are harmful to human health in addition to the environment.
Do Dolls Kill Steal?
Dolls Kill was recently accused of stealing designs from unaffiliated designers all over the world. Dolls Kill responded by stating that the company has very strong roots in fashion and that it takes these accusations very seriously.
The brand also made sure that no clothing was produced using any plagiarized designs and that local product monitoring was completely legitimate.
When it comes to fashion, Dolls Kill has long been making statements. You will find exactly what you're looking for if your favorite categories are listed on the website. In terms of clothing, shoes, and accessories, there are many different sizes available.
This company supports inclusivity when it comes to body image in all of its products, from extra-small to small. This brand quickly gained popularity as a result of the wide variety it offered.
We can therefore conclude that you should order some goth clothing from Dolls Kill rather than going out the next time you need some new clothes for the club.
Is Dolls Kill Reputable?
Let's go back to our original question while the discussion about Dolls Kill's dubious decisions can go on for hours.
The number of horror tales we've gathered from designers around the world raises the question of whether Dolls Kill is legit, but the brand isn't exactly painted in a favorable light.
Because of their repeated attempts to swindle designers and steal their laborious creations, Dolls Kill is not a reliable band.
Raad More: Beginning Boutique Review
Final Words: Is Dolls Kill Fast Fashion
Dolls Kill is a fast fashion company that has transformed the fast fashion industry overall. It's all about having fun with fashion and not being afraid to express yourself.
It's about embracing the moment and making the newest trends your own without holding back. After all, fashion ought to be about showcasing your true self to the world.
Read More:
FAQs about Is Dolls Kill Fast Fashion
Where Are Dolls Kill Clothes Made?
The Ecothes team could find no information on the Dolls Kill website that adequately explains where Dolls Kill clothing is made.
Is Dolls Kill Vegan and Cruelty-Free?
Once more, Dolls Kill doesn't disclose any information regarding its attitude toward animal welfare or whether the company is cruelty-free. Although the brand offers some vegan options, we are unable to declare it to be cruelty-free.
They have very poor ratings when it comes to ethical selling and the buyers of the brand are advised "not to buy" from Dolls Kill.