If you don't know how to take care of your hair, or you are in a hurry to go out, a low bun can be made into shape in a few minutes. Wondering how to do a low bun hairstyle, this post is right for you.
No matter how you are today, it can suit your shape. The low bun is suitable for all kinds of occasions and personalities! And a low bun is not difficult to take care of! In addition, they are suitable for any clothing while keeping your hair away from your face and neck.
Read on to learn why these hairstyles are the best, regardless of time, place, or event, and how to easily create them do a low bun hairstyle.
What You Need for Low Bun Hairstyle?
Here are some tools we need to make a perfect low bun hairstyle.
Comb
You have to use a comb to get rid of the knots and tangles in your hair.
U-shaped Hairpin
A U-shaped hairpin is most suitable for this kind of bun because a U-shaped hairpin does not need to push the hairpin separately like a hairpin.
All you need to do is slide the U-pin in and it will stay in place.
Hair Elastic
Try using elastic without a metal buckle, because it will damage your hair. Also, don't use those rubber bands for office stationery, because the rubber bands will tear your hair from the middle and damage your hair.
Light Styling Gel
Just spray one or two light styling gels to help you fix your bun.
How to Do a Low Bun Hairstyle?
Follow these steps carefully to make a low hair bun:
Creating a Simple Low Bun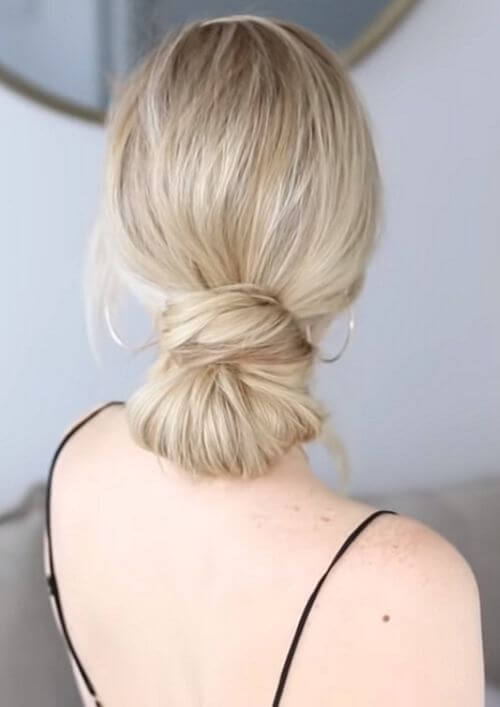 1. Start with dry hair. Wash and dry your hair as usual. If your hair is long, or you feel it knotted, comb it quickly. The effect of the mixed brush is very good. The nylon bristles will be raised, while the pig bristles will have a smooth surface and your hair will be shinier.
If you have short hair and need some extra amount or texture, add a small amount of dry cleaning shampoo.
If you have curly hair, do not brush your curly hair, otherwise, you may have curly hair.
2. Tie your hair into a loose ponytail. Tie your hair into a neat ponytail at the base of your neck and fix it loosely with a headband. It's a good idea to tie one or two hair bands around your wrists.
3. Divide the horsetail into two parts. Wind these parts together until they form a long twisted strand
Whether you rotate clockwise or counterclockwise, as long as you feel comfortable.
4. Put the coiled hair in a bun. Put the hair coiled on the braid into a bun and tuck it into the bottom of the ponytail. If necessary, secure the bun with a hairpin. Align the opening of the hairpin with the scalp, insert the hairpin, and push the hairpin down to tie the knot
You can also add ribbons, color clips, or flower decorations.
5. Finally, use hair gel for shaping. Whether your low bun is messy or fashionable, you must spray some hair gel to prevent your hair from flowing
For a softer look, you can leave some flowing hair hanging in a bun or around your face.
Use a hand-held mirror to check whether your bun is balanced. You have achieved the desired effect.
Read More:
Create a Low Clutter Bun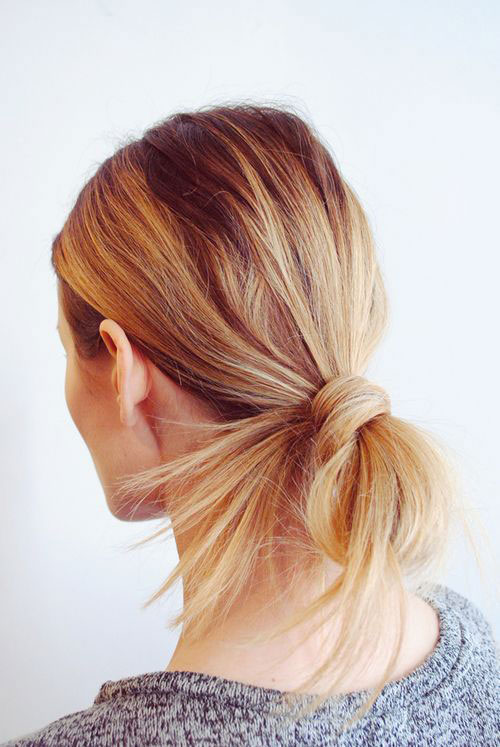 1. Tie your hair into a loose ponytail. A low, messy ball head looks fun and casual, and it can make you look more fluffy – especially if your hair is short. First, loosen the hair and tie it into a low ponytail, and then pull the root of the hair to make it look messy
If necessary, you can spray some texture spray or comb back a little to increase the fluffy degree of your hair
Don't use a comb, and don't worry that your hair will be combed smoothly; In fact, they increase the appearance of clutter
2. Wrap your hair around. Put your hair close to the ends and wrap it around the bottom of the ponytail. If you like, you can divide the horsetail into two parts, and then wrap the two parts together.
3. Put your coiled hair in a bun. Wrap your ponytail around your braid, at the bottom of your neck, making sure your tail is at the end. Secure the bun with a second headband and hairpin
4. Don't let your hair get messy. To make your hair look messier, you can cut a few strands from your ponytail, comb them to the back, and fix them with hairpins Remember to leave a few loose hairs and set them around your face, so you're done!
One of the benefits of a messy bun is that it is effective for dirty hair, but you can also comb your hair clean – just use a little dry cleaning shampoo to add texture and strength to your hair
Create Weaving Low Bun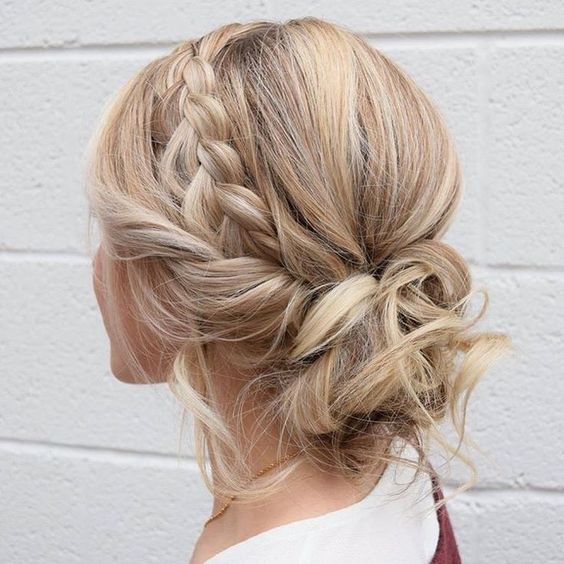 1. Tie your hair into a ponytail. Unless you have curly hair, comb it very smoothly and tie it into a ponytail at the bottom of your neck. You can tie the ponytail tightly with a headband, or hold it in your hand when you are ready to braid.
2. Weave your ponytail. Divide the horsetail into three strands. Put the right line through the middle line. Move the middle line, now it is the correct line. Cross the left strand in the center strand and move the center strand, so it becomes the left strand. Repeat this pattern until you place the ponytail from the braid to the tip. Finally, secure the bottom with another Headband
If you like adventure, try French braids.
3. Tie the braid into a bun. Wrap the braid around the bottom of the ponytail to form a low bun. Hold the bun with one hand and pull another hair band on the bun with the other hand until the bun becomes firm.
4. Finish your bun. Roll up the hair under the bun and fix it with a hairpin
Try to divide your hair into different styles, or move the low bun to one side Apply a little hair spray and you're ready. Here is a video on how to do different low buns:
Final Thoughts on How to Do a Low Bun
That's all about how to put hair in low bun.
When our hair doesn't fit or we don't have time, a bun always works.
There are many kinds of buns to choose from – from a tight top bun to a disheveled bun This simple, elegant, and neck brushing hairstyle can be completed in a few minutes.
With a little skill and accessories, a low bun can also be transformed into a fashionable and exquisite night style.
Read More:
FAQs about How to Do Low Bun Hairstyle
How Do You Do a Neat Low Bun With Short Hair?
In a ponytail just above the nape of your neck, brush your hair back. Pin the hair ends under the bun to keep them in place.
How Do You Do a Low Bun With a Middle Part?
Make a middle part in your hair rather than brushing it back straight. After that, brush the sides of the parting back and create a low bun with them.
How to Do a High Bun With Short Hair?
At the nape of your neck, pull your hair back in a loose, unkempt ponytail.
Don't tie it with an elastic right now; just hold it.
Place pins in the bun after using your other hand to twist the ponytail around itself.
For a simple bedhead appearance, tousle the top section of hair and leave out a few short pieces in the front.