You might want to know if Nulastin products actually work if you're thinking about using them. In this Nulastin review, we'll closely examine the science behind the products and see what actual users have to say about their experience.
All of Nulastin's products feature science-based technology that penetrates the skin's deepest layers to cleanse and hydrate it. This nutritional therapy aids in bringing our skin back to full glam by jolting it out of its monotonous routine!
Keep reading to learn more about Nulastin. By the end, you should will know if Nulastin is a good fit for you.
What is Nulastin?
Nulastin is the premier skincare line and only solution featuring Elastaplex® Technology is a purported revitalizer of your beauty routine.
Unanimous praise for Nulastin skincare products can be found online. These products turn your skin into a moisture haven, giving you supple lips, gorgeous hair, and a flawless complexion.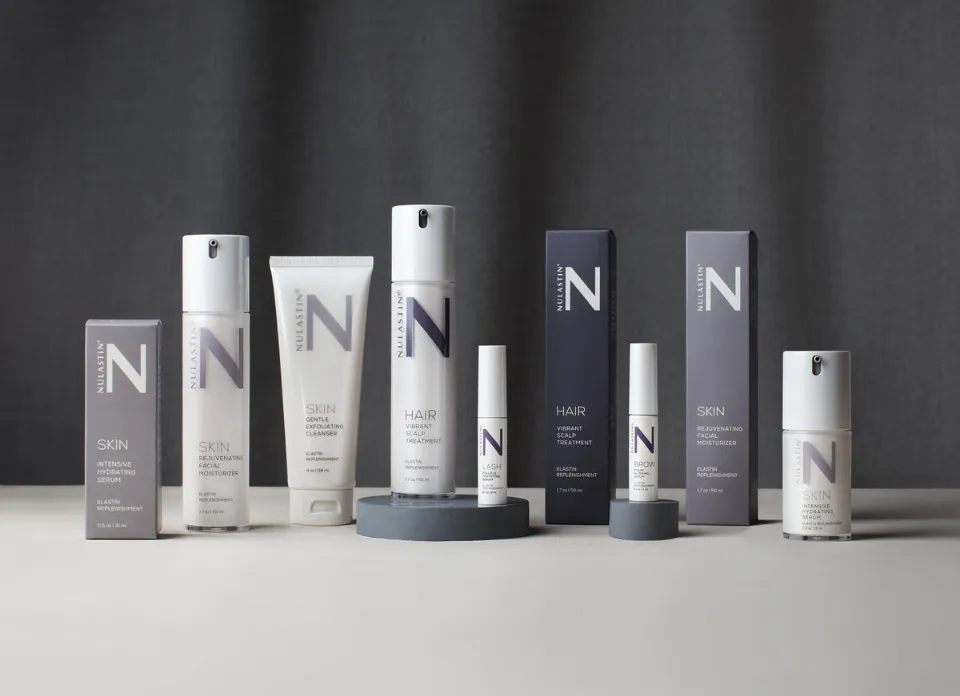 From lashes to lips, brows to skincare, this strong foundation of research-backed treatments is highlighted in top publications like Allure and Vogue for its transformative effects on users' appearances, with age spots blossoming into a smooth complexion and wrinkles disappearing as if by magic.
According to the manufacturer, the elastin therapy in Nulastin products has been clinically proven to lengthen lashes.
These are the company's claims, but do they actually work? Is Elastaplex supported by scientific research? Keep reading this Nulastin Review to learn more.
Nulastin Pros & Cons
Is Nulastin FDA Approved?
Nulastin isn't FDA approved. On the market, only Latisse eyelash serum has received FDA approval. FDA approval would entail extensive clinical testing for the product, as well as meeting criteria for the formula's ingredients.
Additionally, it would need to be demonstrated that the formula has some sort of positive impact on the user that outweighs any negative effects.
The formula would need to be prescribed in order to receive FDA approval, which could have a significant impact on sales.
Who Can Use Nulastin?
All skin types are welcome to use Nulastin products and take advantage of their advantages. There are some limitations, though, that people need to be aware of.
All those below the age of 18 and pregnant and breastfeeding women should steer clear from using Nulalstin products because there hasn't been a thorough investigation in this area yet.
Additionally, prior to using Nulastin, patients with medical conditions should speak with their doctors.
How to Use Nulastin?
Here are some tips on how to use Nulastin products:
Applying Lash Conditioning Serum gently at the base of your top eyelashes will nourish the follicles of your eyelashes every day. Make sure the wand is above your eyelashes and by your eyelid rather than below and in the direction of your eye. The entire procedure only needs to be done twice daily and takes less than 10 seconds.
Brow Shape Altering Serum: Use the applicator wand to gently brush each brow in short, upward strokes for luscious, filled-in brows. A little serum goes a long way, so be careful not to oversaturate the applicator. For best results, repeat this quick procedure twice daily.
4 Popular Nulastin Products Reviews
Below are four best-selling Nulastin products, let's see their pros & cons and whether they are worth buying.
HAIR Vibrant Scalp Treatment with Elastaplex
BROW Shape Altering Serum with Elastaplex
LASH Follicle Fortifying Serum with Elastaplex
SKIN Intensive Hydrating Serum with Elastaplex
HAIR Vibrant Scalp Treatment With Elastaplex
We are aware that not everyone prefers having thick, bushy hair, but if your priceless locks have been thinning, it's time to pay attention!
For all those who are experiencing hair loss, Nulastin's high-performance hair growth treatment offers some hope.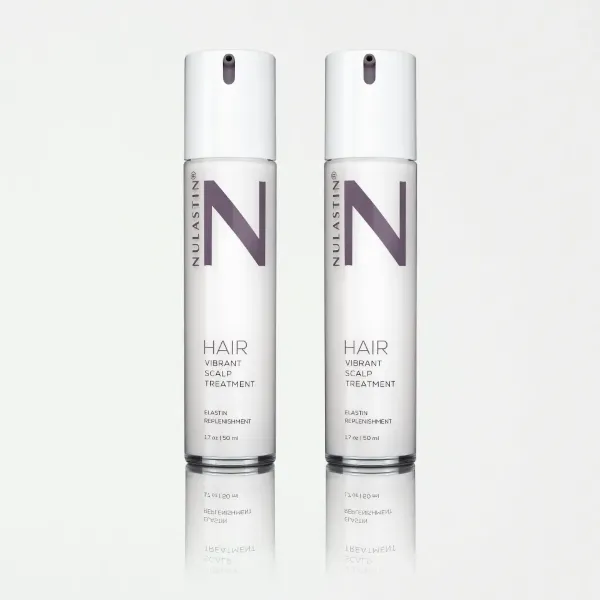 A 16-week clinical trial of the Vibrant Scalp Treatment revealed that 80% of participants experienced significant hair thinning and bald spot improvement.
The treatment boosts resilience and fortifies shafts from the base. It contains numerous naturally occurring vitamins and keratin proteins like keracyte and provitamin B5.
BROW Shape Altering Serum With Elastaplex
Don't we all have a soft spot for wild, dense brows that grow? It's no secret that many people find having sparse eyebrows to be a horrible nightmare, especially when they realize there is nothing they can do about it.
But that is no longer accurate.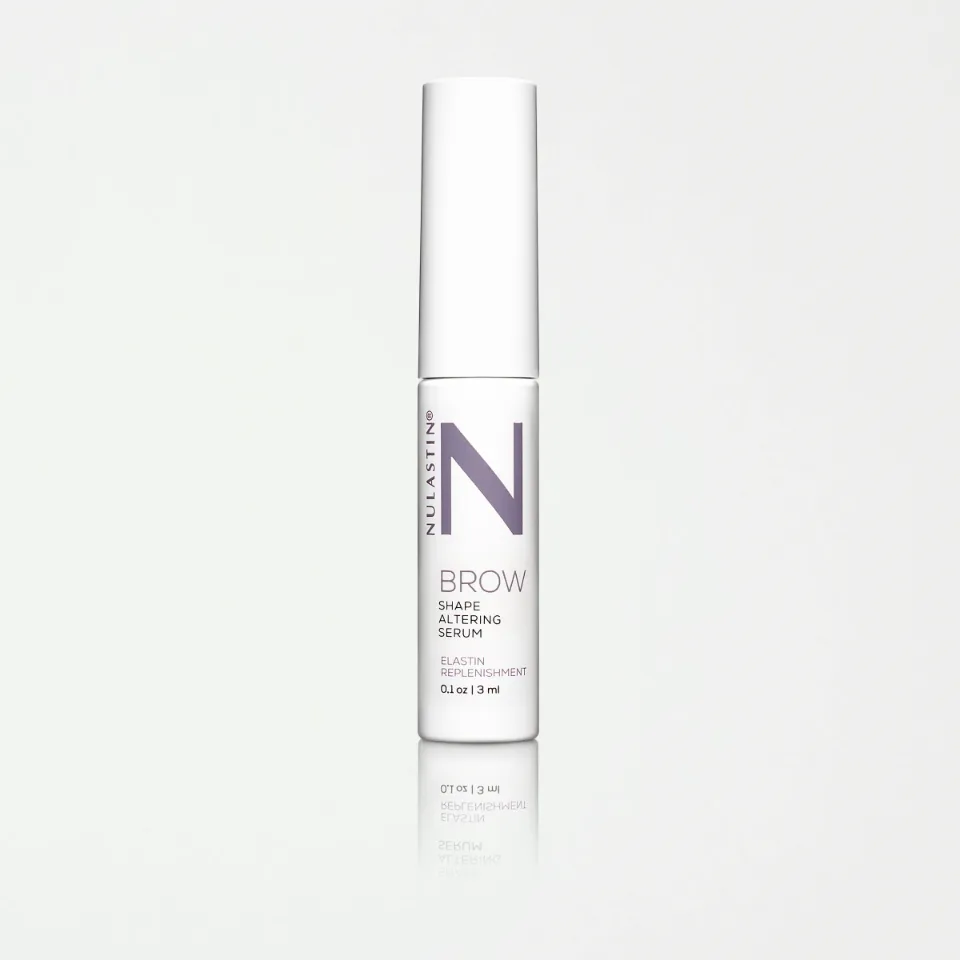 Beauty professionals have been gushing on Instagram about Nulastin Brow Shape Altering Serum with Elataplex ever since it hit the market.
A chain of 600 amino acids is actively involved in this formula and stimulates the production of elastin. This improves the look of your brows and gives your eyebrows a luscious finish.
Our bodies lose elastin as we age, so this formula adds a lot of this magical ingredient to give our brows that flushed appearance.
The procedure reshapes your brow growth and gives you back your lost confidence by aiding in the repair of damaged hair follicles!
LASH Follicle Fortifying Serum With Elastaplex
Are your luscious, seductive lashes giving you FOMO? We are here to bring you good news, so end this misery now!
With its cutting-edge Elastaplex technology, Nulastin's Lash Follicle Fortifying Serum has cemented its place in the world of beauty.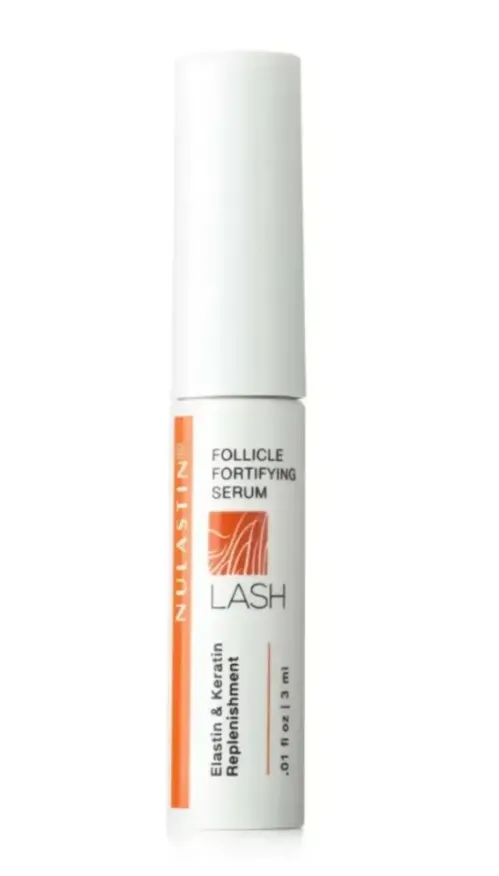 The serum gives your unattractive lashes a glamorous luster while promising to lengthen them no matter what age you are.
Users of Manu who had the chance to include this beauty in their routine reported seeing a noticeable difference in their lashes, with a nearly 96% increase in density.
The serum works to increase elastin levels in your body to make up for their lack and produce healthy, voluminous, and alluring lashes.
For the protection of your delicate skin, they are free of parabens and gluten. To give your lashes a plump appearance, the product also adds a hydrating effect!
SKIN Intensive Hydrating Serum With Elastaplex
You may be a true wanderer, but adjusting to new climates can often leave your skin dry and lifeless, draining the beauty from your lovely face.
This potent moisturizer, which is directly from their Pearl Collection, increases the hydration of your skin and helps you regain your radiant skin.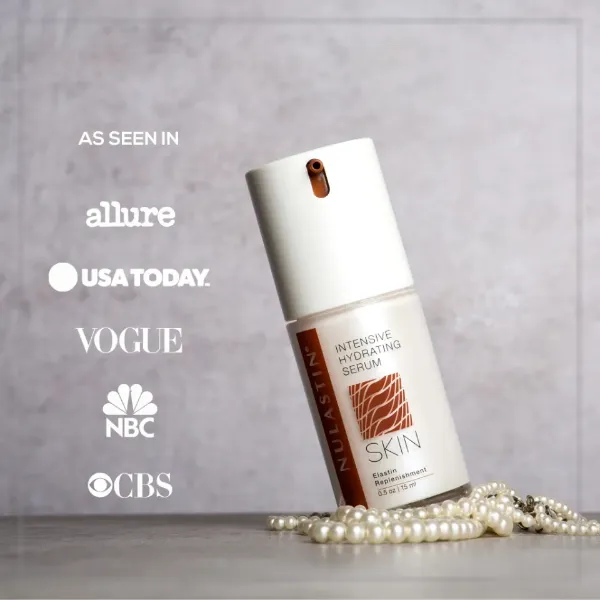 The serum works to restore moisture to skin cells that have been damaged by moisture loss because it was specifically formulated for dry skin. The serum works as a therapy session to get rid of wrinkles, fine lines, and troublesome spots. In comparison to before, almost 44% of customers noticed an improvement in their facial appearance.
Because of the packaging's neat design and self-sealing nozzle, you won't have to worry about spilling any extra product.
Additionally, there are no topical antibiotics, lanolin, or other allergen-inducing preservatives that could upset the pH balance of your skin.
How Does Nulastin Different from Competitors?
Due to its direct impact on the hair follicle without the use of painful or drawn-out procedures, Nulastin stands out among beauty products.
Other lash and brow enhancement techniques that go beyond a daily application product, like microblading, tattoos, or eyelash extensions, are their direct rivals.

The sometimes painful and pricey semi-permanent procedure known as microblading. A technician applies tiny tattoo pigments to the brow to simulate hair for camouflage.

A completely permanent option for replacing eyebrows with customized ink forms is to tattoo them. Despite the fact that having your brows tattooed may seem like a long-term solution, this means that even as your face ages naturally, the shape of your brow will not change.
These eyebrows may start to look a little odd with time. Not to mention that while your body hair changes over time, the color choice remains constant.

While eyelash extensions are a quick fix for major events, they are temporary and necessitate sitting still for at least 40 minutes while each eyelash is individually attached. Additionally, hypoallergenic adhesives are not always used.

For features of full, lovely facial hair that last a lifetime, Nulastin is non-invasive and surprisingly simple to use.
Nulastin Customer Reviews
We can see most Nulastin reviews from customers are positive:
"Really lucky to have stumbled upon this product. It enhances my brows and makes my small eyes look bigger. It's been two months now, and I can tell this has hidden all my empty areas well. Repurchasing this."
"What I love most about this brand is that they use unique technology and formula to develop their products, so it's almost impossible to find their alternatives. These are very effective in bringing back your lost hair, boosting their health, and improving your hair's overall appearance."
But there are some customers complaining about its side effects and bad results:
"I used the serum diligently but wasn't sure if it would even work or not. I had read many positive reviews about the product, which made me buy it. At the end of a month, not only did I see zero results, but I felt an itchy sensation too. I wouldn't recommend anyone to buy this for themselves."
"I don't remember who told me to buy this, but I can tell they have terrible taste. The scalp treatment was way too expensive, and I only bought it because I thought it would do my hair some good. In contrast, I can see no changes in my hair texture; better go for other brands."
Where to Buy Nulastin Products?
When looking for the best place to buy Nulastin products, many consumers turn to the brand's official website. Customers can find the complete selection of Nulastin's top products here, including brow serums, hair care, and lip care.
Nulastin offers customers an unrivaled shopping experience with a user-friendly website and a wide range of available products.
To ensure that no one misses out on the unbeatable deals offered by the renowned cosmetics company, customers who regularly shop on the secure site are even given loyalty points. In addition to Walmart and Amazon, some of these items are offered there.
Final Words on Nulastin Reviews
We adore selecting skincare products that would calm our skin and show us results right away. So does Nulastin really work?
Nulastin reviews have shown that the brand puts its best skincare foot forward to help you achieve the most accurate form of divine radiance.
There are some disadvantages to using Nulastin products, even though they may aid in the growth of your eyelashes, skin tone, and thick, healthy hair. There have been complaints that the serum in each tube is insufficient and that it can dry out your lashes.
You May Also Like:
FAQs about Nulastin Reviews
What is Nulastin Made Of?
Organic orange, fruit extract, shea butter, jojoba pearls that have been hydrogenated, sorbic acid, witch hazel, tea, hyaluronic acid, and water (aqua) are some of the ingredients. In addition, the Nulastin formula contains glycerin, keratin, provitamin B5, sodium benzoate, and a natural lemon fragrance.
Are There Any Nulastin Side Effects?
Nulastin can cause skin reactions, such as redness or permanent darkening of the skin around the eye.
Does Nulastin Change Eye Color?
Although the company assures its customers that each of its products is secure, this does not necessarily imply that each individual will experience the same benefits. In some circumstances, using Nulastin products can even have negative side effects. It's important to keep in mind, though, that their serum won't change the color of your eyes in any way.
Nulastin does indeed function. Natural ingredients that complement your skin and revitalize it from the inside are used in the formulation of the products. Your skin's radiance, lashes, brows, and other features improve as a result. All of the ingredients have been given the thumbs up and are marked as GRAS (Generally regarded as safe). Aside from this, Nulastin does not require FDA approval because it is only a cosmetic product and not a medication. Nevertheless, they have many productive clinical trials.
Is Nulastin Prostaglandin Free?
This product is pretty pricey, but I chose this over other cheaper options because it does not contain prostaglandin analogues that may have the potential to change the eye color.
Does Nulastin Have Prostaglandins?
Does Nulastin contain prostaglandin? It doesn't contain prostaglandins, lanolin, or parabens.
Yes, Nulastin uses ingredients that are ethically sourced and naturally derived. All formulas are cruelty-free, paraben-free, gluten-free, vegan friendly, clinically evaluated, and proven safe.
Yes, Nulastin is a legit company.