If you are wondering Depop Vs Poshmark and trying to decide which platform to sell on, this is the post for you!
Like eBay, Mercari, and Thredup, Poshmark and Depop are a community of individuals who sell new and secondhand pieces that cater to different types of shoppers but most commonly to those who love thrift shopping.
Depending on whether you are using Depop or Poshmark, the mail seller and shipping method will vary. Knowing about Depop Vs Poshmark will help you understand each site.
Learn the key similarities and differences between Depop and Poshmark in our guide to help you shop better.
Read More: How To Delete A Depop Listing?
What Is Poshmark?
Poshmark is a marketplace that sells modern clothing and accessories, often second-hand. With over 60 million users in North America and about 100 million items for sale, this is a great place to clean out your closet or update it by selling some items.
This platform is a great option for anyone looking to sell mid-to-high-end products.
Also, as mentioned earlier, the app also has a social aspect. You can virtually host a "party", socialize with other community members, welcome new sellers, interact with items, and customize your profile aesthetically—all in the name of a beloved e-commerce store.
What Is Depop?
Headquartered in London, UK, Depop is a fashion-forward resale marketplace. A 2019 Atlantic article described it as "a little eBay and a little Instagram" because of its straightforward marketplace model and a strong focus on trends and aesthetics.(You can chck our guide on Depop Reviews for more information.)
The youth-focused app, aimed at millennials and Gen Z, had more than 13 million users in June 2019, TechCrunch reported. They achieved this goal.
As of 2019, 90% of the app's users are under the age of 26. According to TechCrunch, in the UK, where the app was created, one-third of 16- to 24-year-olds in the country use the app.
Depop sellers can make a fortune selling limited-edition designer items, handcrafted accessories, or even just cleaning out their wardrobes.
Like Poshmark, it is also a social platform. Since the sale is peer-to-peer, it brings the users of the app together because there is a messaging feature.
Related Reading:
Depop vs. Poshmark
Below are difference between Depop and Poshmark.
For Buyers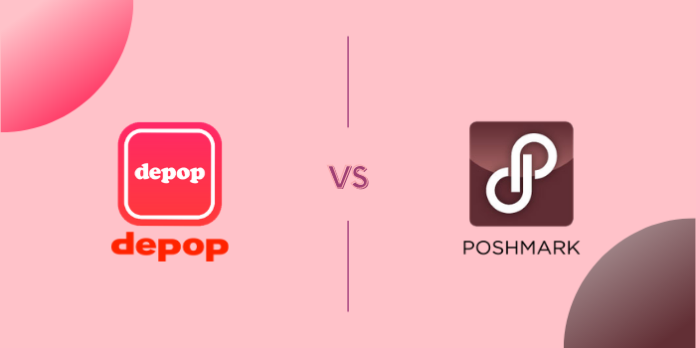 It's easy to say that it's more fun to buy clothes and accessories, regardless of Depop vs Poshmark. But there are still some benefits to choosing one platform over the other.
Types of Fashion Listed
Just like listing items, it pays to know what you'll get on each platform. Poshmark sells contemporary designer clothing at affordable prices. Depop has unique, vintage, rare clothes as you'd find in a cool thrift store.
You can buy clothes for men, women, and kids on Poshmark. Most of the clothes are new and gentle to use, although some are vintage. You can even find bags, wallets, makeup, and other accessories on Poshmark.
Items such as health products, household items, or collectibles are not listed on Poshmark, just for fashion. If you're looking for these types of things, you're better off shopping on eBay, which is more of a regular online thrift store.
When it comes to buying, Poshmark wins one such variety. If you're looking specifically for vintage, you might have better luck on Depop. But you also have a chance to find these items on Poshmark, so this is an ideal first stop.
Shopping Ease
Both platforms have search bars so you can type in terms and find exactly what you're looking for. I also like to use filters so I only see items that work for me. You can set filters to specific sizes, categories, conditions, colors, brands, and of course, price.
If you plan to do a lot of shopping on both apps, it's worth saving some filters so you can only see what's right for you. There's nothing worse than seeing the perfect outfit on the home page, only to find out it's too small for you. When saving size, the algorithm only shows that size.
When you open Poshmark for the first time, you probably don't like browsing. The page looks cluttered because the company divides items into "party" and "showroom" which is a great feature for sellers who have an extra focus on items. But if you want to browse, you might be overwhelmed by the visuals.
You can follow sellers on Poshmark to make sure they show up in your feed, but I find it easier to pick a category and browse that way. Luxury parties revolve around themes, such as certain styles or accessories, and you can see new sellers and items this way.
Shopping on Depop is like scrolling on Instagram. You have a home feed that shows items similar to items you've liked or purchased in the past. You can like items, comment on items, and follow certain sellers so you can see more.
When you use Depop, the app learns what you like and manages your "My DNA" and browsing pages. I love these features because they often show me things that would make me a killer outfit in a previous purchase!
When it comes to shopping convenience, Depop is the clear winner. Browsing this app is fun, and chances are you'll find at least one thing you can't live without.
Prices and Shipping
You may feel like you've struck a deal on clothing, but don't forget about shipping. Flat shipping at Poshmark is $7.45. Some sellers offer discounted shipping if you order multiple items from their store. This discount can save you a lot of shipping if you find a lot of good stuff from the same seller.
Sellers have shipping set to Depop, which means you may find some sellers offer free shipping. But they may incorporate shipping into the item itself. They have to pay Depop for shipping labels, so you might end up paying for it.
Both sites have higher shipping rates internationally, but shipping rates for domestic purchases are usually flat. Search for items or similar on both apps before finalizing your purchase.
For Sellers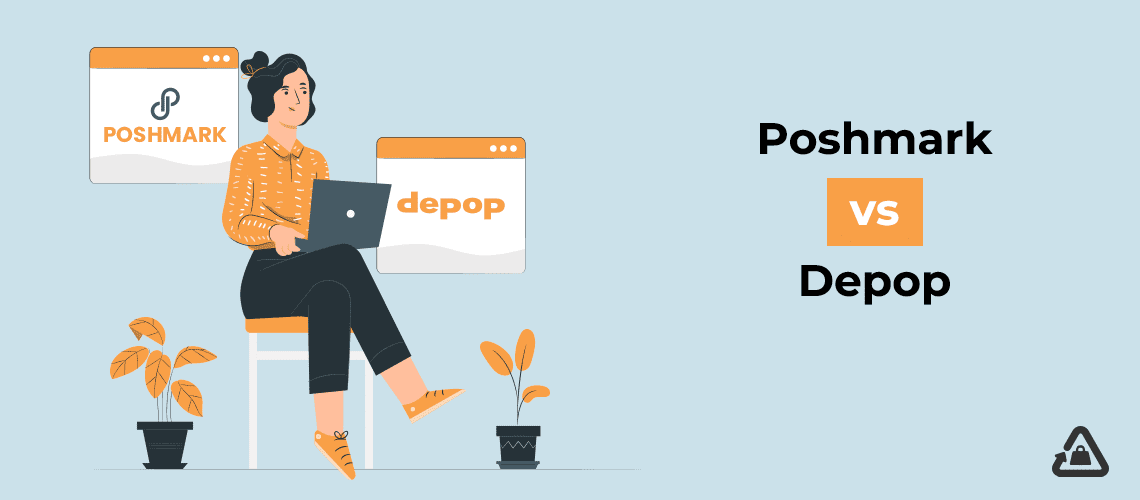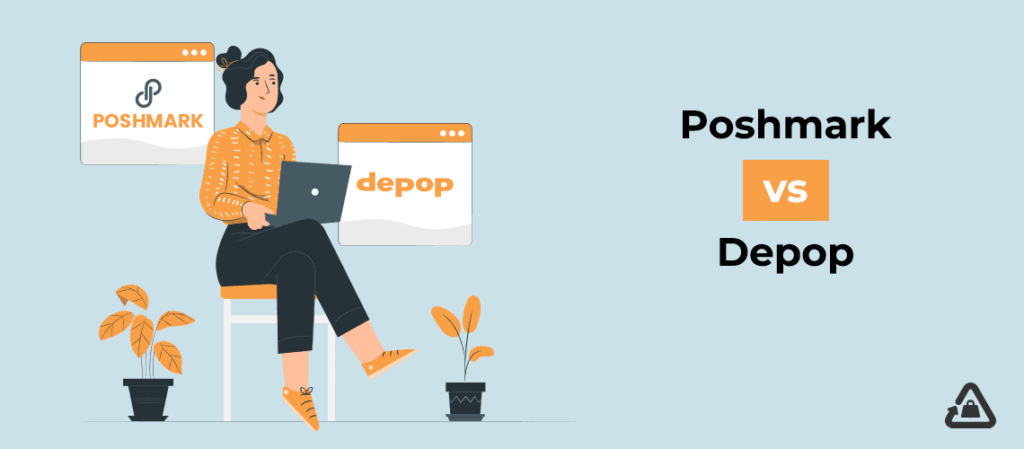 Many sellers register on both Poshmark and Depop. You can cross-list some of your items, but each platform has a specific audience. It's better to curate your collections to ensure you're delivering what each group will want to buy. You also want to consider each site's selling fees.
Types of Fashion Listed
When you consider Depop and Poshmark, look at your items critically. You want to choose a platform that has the best built-in audience so you can increase your sales.
Depop is like a hip thrift store in your city. Sellers list unique clothes, often vintage, but still stylish. Poshmark is a thrift store where people sell designer goods they can buy.
There's no harm in listing the same item on both sites. Make sure you stay on top of your inventory and take sold items from other platforms.
When it comes to the types of fashion listed, there is no clear winner between Depop and Poshmark. Both offer different things, so it's up to your personal preference.
Ease of Setting Up Shop
Listing projects on Poshmark and Depop is easy. You'll benefit from taking better photos, having a title that shares a lot of information, and a competitive listing price.
Poshmark provides seller tools to help your listings reach the right audience. You can submit items to posh parties, but it's also nice when people like or comment on your items. This pushes the algorithm to share your listing with more people on the app.
Depop does not promote items like Poshmark. It's more of a social media platform where buyers see things because they like them, or if they follow you.
Commission Taken
Any online platform that allows individuals to sell items will charge a commission; there is no way around that. But you can do some math on the front end and decide which site will help you make more money in the Depop vs Poshmark battle.
Brick-and-mortar stores make money when people buy products. But online platforms like Poshmark and Depop don't sell merchandise themselves. They just provide a channel for individuals to use. So, taking a commission is how these companies make money.
Commissions usually include a percentage of shipping and transaction fees. A percentage of the selling price can drop, and some stores even charge a listing fee before the item goes live and has a chance to sell.
Poshmark fees are set. Anything under $15 is $2.95. It might seem like a huge fee if you're selling something for $5, but understanding this flat fee can help you in the long run. You can guarantee Poshmark a $2.95 profit before pricing the item. Now you know to keep your items above $5 so you can make more money. If you sell items on Poshmark for more than $15, the company charges a 20% commission. Again, this may seem high, but you can do the math before listing an item to get a rough idea of your profit.
Most sellers get excited when they see Depop's 10% sales fee, no matter what the item sells for. Whether it's a 20% commission or a flat fee of $2.95, this price cut is much smaller than the Boshmark.
However, you have to know more about what you're going to get from Depop. For US sellers, they charge an additional 2.9% fee plus $0.30. For UK sellers, the fee increases to 3.4%, an additional £0.30.
When it comes to commissions, Boshmark is the winner. You know what they're buying, so you can price your items accordingly. They are transparent about fees and do not cover part of the shipping cost.
You have a general idea about how much you can actually make per sale, based on the Poshmark vs Depop commissions. But what about getting your hands on the money you've earned?
Read More: How to Refund on Depop?
Special Features
Poshmark offers an option where people can bid on your items, similar to bidding on eBay. However, these deals aren't always what you want. Many customers may make a cheap offer just to see what they can get. It can be frustrating to look at your information and get excited about an offer on an item, only to find out that customers want to buy that item at an incredibly low price!
However, the site maximizes this option by enabling you to offer your items in return. If people "like" your item as much as the picture on Instagram, you can offer it to them. This strategy maximizes sales by engaging with potential customers.
Depop doesn't allow people to make offers on your items. Instead, they must DM you directly. This is a good way because you won't be notified about offers; potential customers have to interact with you. But not many people make the effort to DM; they just want to browse and buy, with little to no interaction, that's what a platform is all about!
Overall, I can't say there are pros and cons to this feature on Poshmark. In my experience, I get more sales with Depop, just because people buy what they want, and that's it. On Poshmark, I got more negotiations. I still do sales, but rarely at the price I set. It seems buyers prefer to haggle on Poshmark.
Platform's Customer Base
It is crucial to evaluate and confirm the platform's user base before submitting products to a marketplace. It is useful to know whether you have a chance of selling your item on a specific app, and it also gives you an idea of what kinds of items are popular and more likely to be purchased.
Poshmark's Customer Base
Poshmark's customer base has expanded significantly since the company's inception in 2011, when it first began to operate. According to the most recent Poshmark Social Commerce Report, the platform has already connected with more than 60 million people in the US and Canada. Men and women who enjoy shopping in boutiques and closets as well as selling their collections make up the Poshmark user base. According to reports, millennials who favor mid- to high-end goods make up the majority of this platform's users.
Poshmark is a popular destination for online shoppers looking for unique clothing items (including vintage clothing) and other products from categories like those for bags, accessories, make-up, and pets. There are reportedly more than 100 million listings on the website for both new and used goods, with clothing making up the majority of the inventory. Poshmark, however, might not be for you if you're looking for other listings, such as those for home necessities, health and wellness items, or collector's items that are not related to fashion, as these things are not permitted to be listed on here.
Depop's Customer Base
Depop has amassed 26 million users from various nations since it was first developed in 2011 as a social media platform in the style of a magazine where users could purchase goods from featured people. This applies to Australia, the United States, the United Kingdom, and other nations. The millennial and Gen Z generations, who love used clothing, accessories, and shoes, are its target market. According to reports, 90% of the users of this London-based platform are under 26 and prefer vintage and rare finds to high-end brands.
Commission Fees
Most online marketplaces, if not all of them, charge fees to sellers. They run and maintain the platform with the money they earn. These fees are also used to give both sellers and buyers excellent customer service. Similar to companies with physical locations, the online market also requires funding from someone (i.e., the sellers).
The sellers who use the app and list their products are typically charged a certain percentage by selling platforms. Common charges include commission fees, shipping costs, processing or transaction costs, and occasionally listing costs.
Poshmark Commission Fee
Poshmark has very straightforward commission fees, and it's just basically divided into two kinds:
For all items sold for less than $15, there is a $2.95 fee. To make it simple for sellers to account for the fees and be able to charge a fair price for their goods after deducting the commission fee and the shipping cost, Poshmark has designed their commission for low-cost items to be standard. This makes it simpler to estimate the profit a seller will receive from a sold listing. Poshmark's fees model is simpler and doesn't require extensive calculation, in contrast to other resale apps.
The 20% charge: A 20% commission fee might seem a little excessive to some people. But it's important to keep in mind that Poshmark doesn't charge other fees like transaction fees for payments, listing fees, or fees for cash-out payments like Paypal. Only goods and items priced and sold above $15 qualify for this 20% Poshmark commission. So the platform's cut will always be 20%, regardless of how expensive your item is.
Remember that Poshmark only charges these two types of commissions and does not receive any additional payment from sellers who wish to deposit their earnings into their linked bank account or Posh account. Sellers can choose to use their earnings on the platform by purchasing goods from other sellers or to withdraw the money as cash and deposit it in their bank.
Depop Commission Fee
Comparatively speaking to Poshmark, Depop's commission fee of 10% is quite reasonable. When you want to receive your earnings, though, additional fees will be due.
Depop charges a 10% commission on each item sold by a seller. No matter how much you list an item for, the platform will deduct that percentage once it has been sold. Comparing Depop's commission fee to Poshmark's, which levies a 20% surcharge on items costing more than $15, is notable.
The 2.9% + $0.30 (USA) and 3.4% + £0.30 (UK and EU) payment fees are now different on Depop. Sellers must pay these fees in order to receive their earnings because the platform only pays sellers via PayPal or Depop Payment, which is Stripe.
Read More: How To Delete Depop Account?
Shipping Fees
Online shopping always includes shipping costs. Many customers are mindful of their shipping costs because sometimes they can be excessive for an item. Here, let's contrast the shipping costs between Poshmark and Depop.
Poshmark Shipping Fee
The shipping cost varies on Poshmark. Buyers may bear the cost of shipping, sellers may offer a partial discount, or buyers may choose free shipping, in which case the seller will deduct the full cost of shipping from the price of the item they are selling.
The cost of expedited shipping from Poshmark's shipping partner, the USPS, is $7.45. Take into account the weight of the flat rate covers before concluding that it is quite expensive. Any orders weighing 5 lbs or less—roughly more than two kilograms of items—will be charged a flat rate, which is a lot!
As previously mentioned, sellers can now send offers to buyers with reduced shipping costs. Therefore, it's possible that if you only purchase one or two items, depending on the seller's discount offer, you won't be required to cover the full cost of the shipping fee. The benefit of Poshmark's flat rate is that, when buyers are receiving a bundle offer, $7.45 can go a long way. Sellers' offers may vary.
Depop Shipping Fees
On Depop, sellers have the option of using in-app shipping, which for the USA's mainland is provided by USPS, or other shipping services, like a nearby post office or a third party.
The 'Ship with Depop' flat rate starts at $3.75 for an item weighing less than 4oz or 0.25 lbs, which is cheaper than Poshmark's shipping cost. Technically speaking, this costs more than Poshmark's 5 lb weight restriction. Sellers should always be certain of their item's weight to prevent incorrectly estimating shipping costs due to their variable shipping labels.

Sellers will need to manually enter the cost of the shipping label in the "Arrange my Own shipping" option, indicating the rates of the third-party shipping services.
Sellers must exercise caution and make sure the correct price has been entered as this primarily applies to orders placed outside of the continental USA and international orders.

Be aware that sellers on Depop only have one choice when it comes to offering a shipping fee. Offer free shipping with bundle purchases, or don't offer shipping discounts, in which case the buyer will be responsible for paying the full cost of shipping.
Related Posts:
Audience Reach
It is crucial for sellers to increase their audience reach if they want to succeed in any market. Use of the platform's features will enable you to accomplish this. This is why it's critical to understand the size of the audience that can view and possibly purchase your listings before you list them in a marketplace.
Poshmark Audience Reach
There are many seller tools and features on Poshmark that can assist you in expanding your audience. The ability of sellers to do self-shares, community shares, follow other poshers, and like other sellers' items makes it simple. By doing these, the seller frequently wins the same favor from other platform users, increasing the exposure of her listing.
Additionally, since this Poshmark is a peer-to-peer marketplace, achieving the status of ambassador in the app aids sellers in gaining followers and likes. Poshers who have achieved Posh ambassador status are able to host gatherings called Posh Parties where they can support one another's listings and gain followers. Last but not least, because Poshmark functions similarly to social media sites like Instagram and Facebook, users can like and comment on each other's listings.
Depop Audience Reach
By sharing their own listing, sharing other people's listing, and gaining followers, Depop sellers can also increase the audience reach of their product. However, unlike Poshmark, this marketplace does not provide opportunities like virtual parties where its community can interact with one another.
Is Depop Or Poshmark Better?
So which is better Depop or Poshmark?
Poshmark and Depop are social platforms with a focus on communities in the clothing market. Poshmark users tend to be a little older (including many millennial buyers), whereas Depop customers tend to be younger (25 and under).
Depop Pros:
enables direct messaging for questions and negotiations between buyers and sellers.
10% of the listing price less in seller fees.
offered in 150 nations around the world.
No listing fees.
Depop Cons:
Transaction fees are paid by the sellers.
only four images are allowed per listing.
fewer opportunities to promote your listings.
Poshmark Pros:
per listing, up to 16 images are permitted.
More chances for promotion (Posh Parties, send out special offers to anyone who enjoys your products.
More payment options (PayPal, Venmo, credit card, or debit card) for your customers.
No listing fees.
Poshmark Cons:
only accessible in four nations.
No direct messaging between sellers and buyers
Increased fees: A 20% fee is added to any purchase that costs more than $15.
Pro tip: If you're still unsure about which platform will help you sell your clothing, take some time to browse listings to see where your style might fit in best and get an idea of the listing price range.
Final Words on Depop Vs Poshmark
If you enjoy shopping at thrift stores, you'll love browsing Poshmark and Depop online.
You'll also enjoy making money by selling items you no longer want, rather than having them end up in landfills.
FAQs about Depop Vs Poshmark
Is Depop or Poshmark Better for Selling Clothes?
When it comes to buying, Poshmark wins for having such a variety available. On Depop, you might have more success if you're specifically looking for vintage.
Is Selling on Depop Worthwhile?
Important advantages of selling clothes on Depop. Selling clothing on Depop can earn you extra cash. Selling your unwanted clothes is a great way to put a little extra cash in your pocket, and scaling up your business can turn that into a regular source of income.
Who Pays for Depop Shipping?
Buyer Pays for Shipping: Your Paypal account will be credited with the item price and any additional shipping costs when a buyer purchases your item. The item price will be deposited on your PayPal account when you make a sale. The seller is responsible for paying for shipping.
What Sells Well on Depop?
Top-selling categories on Depop include vintage (at least 20 years old), streetwear, y2k, and one-of-a-kind pieces. Vibrant colors, unusual patterns, artistic poses, and a ton of handcrafted, upcycled, and reworked items can be found if you browse the Depop Explore Page. Depop tip: Depop prefers modeled or styled images.
How Much Money Does Depop Take?
Once an item sells, Depop will automatically charge a 10% fee on the sale price (including the shipping costs). The fee will be deducted from either the card you are using on your Depop account or the connected PayPal account. Additionally, a transaction fee for PayPal transactions is charged at 2.9% + $0.30 in the USA and 2.9% + £0.30 in the UK.
How Much Commission Does Depop Take?
Once an item sells, Depop will automatically charge a 10% fee on the sale price (including the shipping costs).