Manicures are a fun way to treat yourself to some extra pampering and self-care. Do you know what is a gel manicure exactly?
A gel manicure is a manicure that uses a soft gel in the form of polish. For at least two weeks (but frequently up to four weeks), the gel polish serves as an overlay on the nail.
Before receiving your first gel manicure, it's important to be fully informed about what to expect, just like with any other beauty procedure. Learn everything you need to know about gel manicures in this post, from pros & cons to its costs.
What is a Gel Manicure?
A gel manicure is a service that uses a gel-based polish and requires a UV or LED light to cure the polish and lock it onto your nails.
Gel polish is more resilient than traditional polish. And while a gel manicure typically lasts for weeks without chipping, regular polish can chip in as little as two to three days.
While gel manicures look just like your regular old mani, the added benefits are that they last longer, are super shiny, and give your nails a sturdier feel.
Here are some gel manicure health-related problems: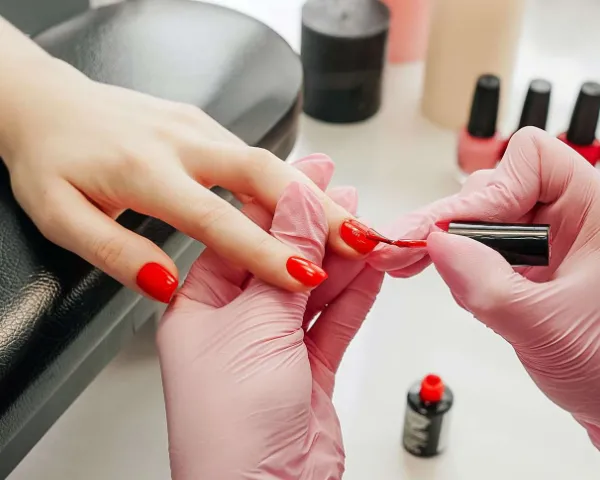 Pros and Cons of a Gel Polish Manicure
Are Gel Manicures Safe?
In moderation, they are safe, yes. You have learned more about the pros and cons of a gel manicure ahead, but there are some side effects to consider when using gel nail polish long term.
How Long Do Gel Manicures Last?
It's true: gel manicures last a lot longer than manicures using traditional polish. And if you've heard tales of them lasting as long as a month, well, that can happen, but you do need to stay away from particular circumstances to achieve that.
Your gel manicure's lifespan may be shortened by specific substances, such as hot water. Therefore, routine tasks like doing the dishes can cause your polish to chip (more on that later).
The same problems that plague traditional manicures can also affect gel manicures: chips, nicks, and scratches do happen, but the stronger polish's design prevents the damage from spreading as quickly.
If you are interested in gel manicure, please check below posts:
How Do You Remove a Gel Manicure?
Taking off gel polish requires time, patience, and no picking. Here's how to remove a gel manicure, whether you go to a salon to have it removed or do it yourself at home.
Then, wrap a piece of aluminum foil around each finger to keep the cotton in place while it sits for 10 to 15 minutes. First, cover each nail with an acetone-soaked cotton ball.
No filing or scraping is necessary to remove the polish from the nails.
A wooden stick can be used to gently ease any tough spots off.
For more nail care information, read our post on How to Repair Nails After Gel Manicure.
How Much Do Gel Manicures Cost?
A gel manicure costs more than a traditional manicure. Additionally, expect to pay more if you choose gel nail art. Depending on where you go to have it done, a simple one-color gel manicure can cost anywhere from $30 to $60.
If you choose the best gel nail polishes available, it's simple to spend more than $100 on nail art.
Remember that the manicure will last longer and hold up better to everyday wear and tear, making it a great choice if you have an upcoming special occasion.
Are Gel Manicures Worth It?
Gel polish is definitely worth the splurge if you regularly get traditional manicures or if you have a significant spring break trip coming up that you want chip-free color for.
They are only $10 to $15 more expensive than a typical manicure.
On the other hand, if it's just for one night or you're on a tight budget, you might want to choose press-on nails or a regular manicure.
You Might Also Like:
Final Words on What is a Gel Manicure
Gel manicures are a popular form of cosmetic nail treatment. They use a special light-sensitive gel to achieve their effects.
There is no proof that the procedure increases the risk of skin cancer, even though it does expose people to some UV radiation.
Gel manicures could also cause pain or a burning sensation while being applied, to name a few additional side effects. Individuals' nails may become damaged during the removal process.
Read More: What is a Basic Manicure?
FAQs About What is Gel Manicure
Are Gel Nails Better Than Acrylics?
Because gel nails are more flexible and less brittle than acrylic nails, they are typically more durable.
What is the Difference Between a Gel Manicure and a Regular Manicure?
Regular nail polish dries naturally, whereas gel polish must be cured under a UV or LED lamp. This is the main distinction between the two types of nail polish.
Should I Get a Gel Manicure With Short Nails?
In fact, gel manicures can be just as eye-catching, artistic, and inventive on shorter nails.