Wondering what is permanent jewelry? The simplest definition of permanent jewelry is jewelry that you cannot remove. We're here to help you understand why this recently gained notoriety.
A jeweler will weld the two ends of a bracelet or necklace together rather than closing it with a conventional clasp.
We've got you covered if you want to learn more about permanent jewelry or are not familiar with the brand-new, hot trend. To learn everything there is to know about the jewelry, get any last-minute queries answered, and see a list of other companies that provide the service, keep scrolling.
What is Permanent Jewelry?
So what is Permanent Jewelry? Simply put, permanent jewelry is jewelry that you cannot take off. It mostly comes in the form of a metal bracelet.
You don't have any easy ways to take it off because the ends are welded together rather than having a clasp.
The chains that jewelers typically sell are delicate. Although there are many designs to choose from, 14k gold is the material used in the majority of chains because it doesn't tarnish easily. If you like, you can add gemstones to some of these chains.
As previously mentioned, the ends are securely welded together around your wrist to create a seamless design. But don't worry, the procedure is safe and painless because it uses lasers.
Related Post: Is Jewelry a Good Investment?
Types of Permanent Jewelry
Right now, bracelets are the most sought-after items available, and Catbird only sells bracelets.
However, other jewelers might also offer the option to have necklaces, anklets, or rings welded on.
How to Get Permanent Jewelry?
Do you want a bracelet that you can wear all the time? Here's how to obtain one.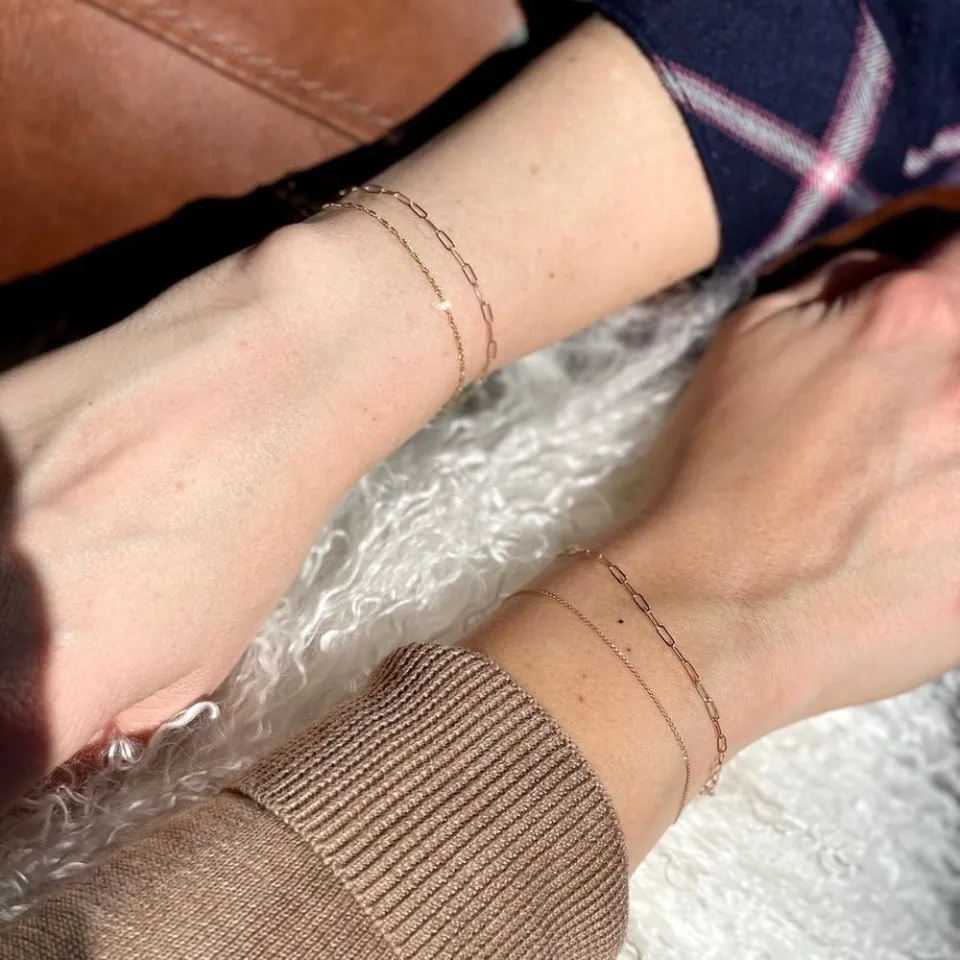 1. Book An Appointment
For the most part, jewelers who sell permanent bracelets only do so on set dates. In order for them to know when to expect you, if you're interested in getting one, schedule an appointment slot on their website.
Walk-in appointments are available at some locations, but the availability is not guaranteed.
2. Go to Your Appointment and Choose a Chain
Go to the jeweler's location at the scheduled time now that you have an appointment. The chains they can use to create your permanent bracelet will be displayed in a portfolio for your review.
The chain's style and any additional features are entirely up to you. Gemstones and metal charms are a few examples of such accessories.
3. Fitting and Welding
The jewelers will measure your chain once you've made your selection in order to ensure a snug fit around your wrist.
In any case, taking off isn't simple! Ten to fifteen minutes may be needed for this procedure.
They will weld the two ends together once they have the ideal fit. This step involves zapping and linking the ends while covering a small area with a laser.
By doing this, the skin is shielded from any potential laser damage.
Why Should I Get Permanent Jewelry?
Apart from the social media hype, there are several reasons why you may want to get permanent jewelry.
1. Convenience
You don't have to worry about removing and re-putting it on because it is permanently connected. It is practical to wear because it is durable and requires little maintenance.
2. Celebrate a Momentous Occasion
Did you achieve a life milestone? Has a goal you've been pursuing for a while been fulfilled? Do you want to keep a memory of a significant event in your life for as long as you can remember?
There are numerous ways to keep these memories in mind, and a lasting bracelet would be fantastic. You will always be brought back to the enjoyable experiences associated with receiving this jewelry.
3. Commemorate a Relationship
You may want to think about getting a permanent bracelet if you want to match jewelry with your loved ones or if you want to wear a promise bracelet with your significant other.
Since it is welded together, it can represent how strongly you are connected to the people you have matching chains with or how devoted you are to your relationship.
It's a fantastic item to purchase with your spouse, family, or even your closest friends!
How Much Does It Cost?
Prior to purchasing your jewelry, you should call the store to confirm the price. Prices at Catbird range from $98 for the Sweet Nothing chain to $348 for the Lover's Chain. For an additional $118 and $48 respectively, you can add a diamond and a star charm.
Other Permanent Jewelry Brands
Link x Lou: Custom-sized permanent welded necklaces, bracelets, anklets, or rings are available from Link x Lou. Additionally, the company contributes a portion of each month's sales to regional charities.
Astrid & Miyu: Four solid gold bracelets that are seamless and welded have just been released by the well-known brand Astrid & Miyu in 9ct white and yellow gold.
Marisa Mason: Marisa Mason offers an anklet or a bracelet that is always on. You can embellish your custom piece with a whimsical addition by adding a vintage or modern charm. Prices for chains range from $22 to $50 per inch, while those for charms start at about $30.
Love Weld: Love Weld describes its concept as a "sophisticated 14k gold friendship bracelet." Visit one of their numerous locations in Texas, New York, New Mexico, or Colorado.
The Alkemistry: There are three gold shades available at Alkemistry London: yellow, white, and rose. Every purchase of permanent jewelry also generates a donation of £5 to the nonprofit organization Women for Women.
Can You Make Permanent Jewelry?
You won't want to attempt to DIY the process of welding jewelry to your body. The best option is to collaborate with a jeweler to design a unique piece.
Remember that between early March and mid-May, when jewelry stores are quiet, is the best time to purchase fine jewelry. You can get assistance in choosing the best style and fit for your budget from your jeweler or a retailer that specializes in permanently welded jewelry.
Final Words on What is Permanent Jewelry
In summary, permanent jewelry is exactly that—a piece of jewelry that cannot be removed (without help).
Permanent bracelets can be worn for a variety of reasons throughout one's life. While it might be a matter of convenience, it's usually a matter of sentiment or personal significance.
This is a well-liked method of doing so if you're looking for a special and stylish way to remember important events in your life or if you want to convey a close bond with significant people in your life.
You should now have a better understanding of the appeal of this stylish, durable accessory thanks to this article.
Fashionable permanent jewelry will help you to flaunt the lovely things in your life.
Read More:
FAQs
Do Permanent Bracelets Hurt?
No, welding is a painless and secure process. In addition, jewelers who provide this service take extra care of their clients, making sure you won't experience any discomfort or harm as the chain is fastened around your wrist.
How Much Do Permanent Bracelets Usually Cost?
Current chain prices are between $22 and $50 per inch.
Does Permanent Jewelry Set Off Metal Detectors?
Your new jewelry is delicate enough that it will not set off the metal detectors at the airport.