Jumpsuits are very in right now, and we know why: they're very simple to dress up or down. What shoes to wear with jumpsuits? We have you covered whether you're wearing a statement wedge or a classic black pump.
Jumpsuits are available in flared, skinny, cropped, and long lengths. Therefore, the type of shoes to pair with a jumpsuit depends largely on the look of the individual jumpsuit and the style preferences of the wearer.
In today's post, I'm going to show you which heels, flats, and shoes work well with a jumpsuit.
Read More: Can You Wear Boots In The Summer?
What is a Jumpsuit?
Before I start, maybe you're wondering what a jumpsuit actually is. Or what does the jumpsuit do?
A jumpsuit is a one-piece garment with sleeves and pant legs with openings for the feet and hands, often even full arms, if the jumpsuit is sleeveless.
So, what's the difference between a romper and a jumpsuit? Unlike rompers, which are more like tops and shorts, jumpsuits have legs that are full-length, cropped, or just below the knee. As mentioned in the post. So if your jumpsuit has short legs, check out my post on the best shoes to pair with a jumpsuit!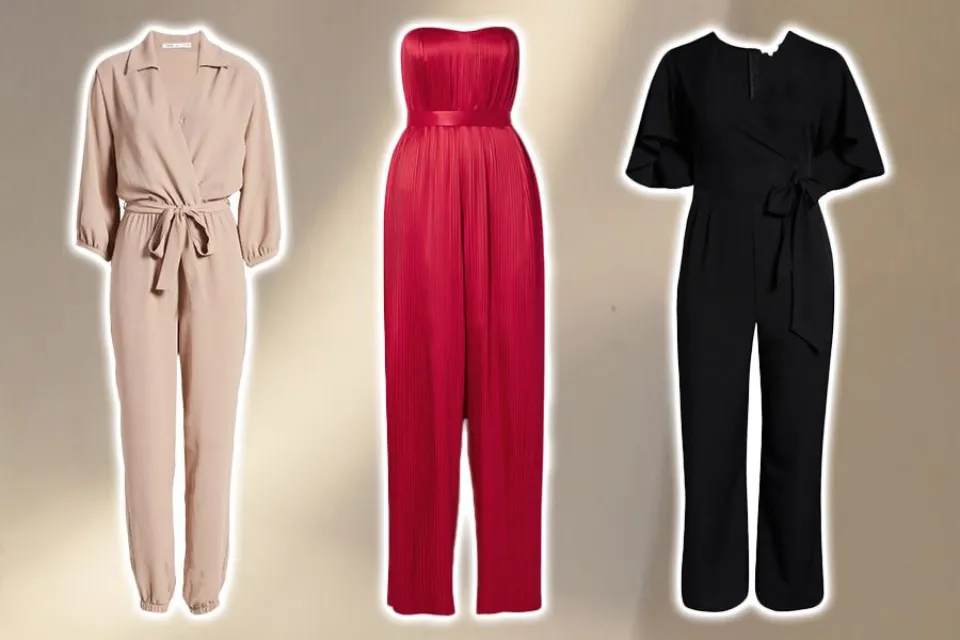 If you're wondering – yes – you have to take the whole thing off to go to the bathroom. So whether the inconvenience is worth the stylish look is up to you!
Arguably the best thing about these full-length jumpsuits is that they can be worn beautifully for fancy occasions. But you can also easily wear them off.
Read More: Are Jumpsuits Business Casual?
What Shoes to Wear with Jumpsuits?
Here are some ideas on what shoes to wear with a jumpsuit.
Shoes to Wear with Casual Jumpsuits
Sandals, sneakers, and booties are the three best styles of casual jumpsuits. They match the casual vibe without overpowering the look. Here's how to choose them according to the season.
In summer, flat sandals are the best choice for a casual jumpsuit. Needless to say, they are very comfortable, especially if you need to walk a lot.
Whether you're wearing a denim jumpsuit or an open-back one, flat sandals are the perfect match.
In the fall and winter, combat boots are a good choice.
Many slouchy jumpsuits are cropped, which can make your legs look a little like they've been cut off. If you're tall, you probably don't care. However, if you're petite like me, then you always want your legs to look longer, not shorter.
Booties provide a great solution to cropped jumpsuits because they extend above the ankle, reducing or completely covering the gaps left by cropped legs.
Normally, I recommend wearing booties in cooler weather as they can feel a little heavy in warm weather.
Sneakers work well with jumpsuits all year round. They bring you comfort and convenience. Plus, sneakers will give your jumpsuits an athleisure feel.
Shoes to Wear with Wide-Leg Jumpsuits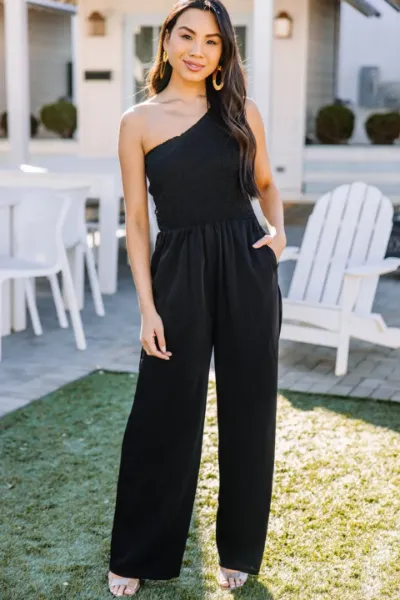 Wide-legged jumpsuits are comfortable to wear and quite stylish, but this is a jumpsuit style that many women have a hard time pairing with shoes.
The best shoes to pair with wide-leg jumpsuits are hard-heeled or pointed-toe pumps.
To keep things simple, stick to neutral sandals in the summer. Nudes go in every color, so you can't go wrong.
Choose the height of your shoes based on how you dress in the onesie. The higher the heel, the more sophisticated your onesie will look.
High heels help stretch your legs. If you're petite like me, and if your goal is to make your legs look longer in a jumpsuit, you may find that heels are a better option.
Even though high heels can make you look taller and thinner in a jumpsuit, you don't need to wear them all the time. Apartments are also available.
Just make sure you're wearing flats and the length of the pants doesn't drag behind you.
The trick to making flats look better with wide-leg jumpsuits is to wear pointed-toe flats, as they balance out the bulk of the wide-leg shape.
Read More: What to Wear With a Black Jumpsuit?
Shoes to Wear with Cropped Jumpsuits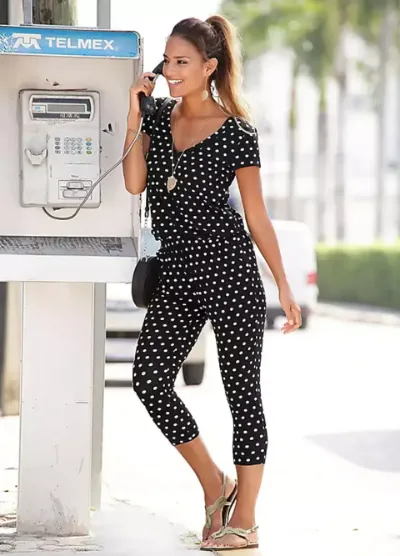 A cropped fit adds a fashion-forward edge to a jumpsuit, however, a cropped leg requires a bit more thought to choose the right shoes.
For a casual look, mules, sneakers, and flat sandals are the best way to wear a cropped jumpsuit. For a more polished look, opt for high heels, lace-up sandals, and high-heeled boots.
They all have different stylistic personalities, so you can choose the option that resonates best with you and your style.
Mules are a great choice for summer and fall. They are easy to pair with irregularly cut jumpsuits and add a stylish touch too.
Pair sneakers with a jumpsuit for the perfect casual look.
One thing to keep in mind here is to make sure the shoes are not too chunky. While the bulky sneaker look is a major trend right now, it may be too much for an irregularly cut jumpsuit. Since the cropped pants are so long, adding a pair of bulky shoes can take over the look and really affect the overall look.
In summer or on vacation, these clothes are perfect for pairing with an off-cut jumpsuit for a casual and casual look.
Shoes to Wear with Denim Jumpsuits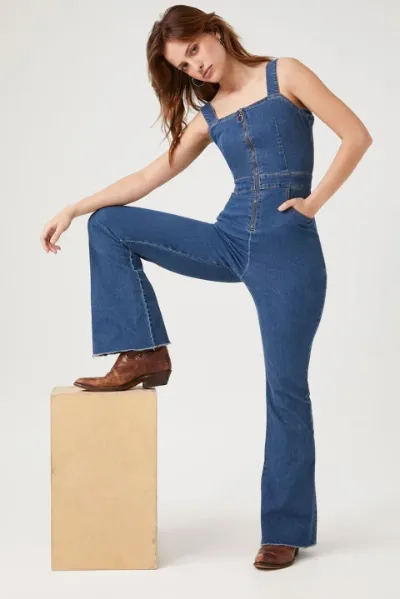 The best shoes to pair with a denim jumpsuit are white sneakers, animal print booties, or red heels.
While denim jumpsuits are made from denim, like classic jeans, as with any new trend, there can be some doubts about the best pair of shoes.
The good news about this trend is that when it comes to designing denim jumpsuits, you actually have quite a few shoe styles to choose from. I'll break it down into a few stylish, modern shoe options to keep you inspired.
It probably goes without saying, but sneakers paired with denim jumpsuits are a major style win. Like your typical jeans and shorts, sneakers are an easy (and super stylish) option. You can also opt for sneakers, as denim jumpsuits are fairly unisex. White sneakers especially add a sporty touch to your look.
While denim jumpsuits feel more casual due to the denim fabric, they can easily be paired with the right shoes. Similar to sneakers, if you want a statement pair of heels, you can really go all out.
Add a pop of color with red sneakers, as they pair especially well with head-to-toe dark denim.
Many of us wear denim jumpsuits in the fall, and animal print combat boots are a great way to go with them.
The loot has been pretty much everywhere in the last few years, and they probably won't be showing up anywhere anytime soon.
Booties add an edgy style to a denim jumpsuit. This is a great option during the cooler months. Likewise, you can express yourself and your personal style by choosing booties.
Keep it neutral in black or white, or mix it up with snakeskin boots for some fun personality. Or pair it with leopard-print lace-up heels to add some pattern to the outfit. The options are endless.
Final Thoughts: What Shoes to Wear with Jumpsuits
Now that you've read this jumpsuit styling post, you'll realize that there are so many things to consider when you're wearing a jumpsuit! You need to consider the type of shoe you want to wear, the right color, and the accessories to go with it.
You'll also want to consider the style of the jumpsuit to make sure the shoes fit properly, where they're worn, and the expected dress code.
You May Also Like:
FAQs
What Kind of Heels to Wear With a Jumpsuit?
Regardless of the color of your jumpsuit, you can't ever go wrong with a great pair of neutral heels!
Can I Wear a Flat Shoes on a Jumpsuit?
Flat shoes are a must if you're deciding to wear one of those breezy, flowy jumpsuits that we all adore and are ideal for hot weather, quick trips to the store, or even a laid-back weekend.
What Goes Well With a Jumpsuit?
Leather jackets and denim jackets pair nicely with jumpsuits of complementary colors.