What to wear in Italy is one of the first things to consider once you plan the basics of your first trip to the country. Keep in mind that, while Italy enjoys a Mediterranean climate, its diverse landscape of valleys, mountains and coastlines, mean that you will experience seasons differently depending on where you are visiting.
With good reason, Italy is among the most popular travel destinations in the world. Few locations on Earth offer such extraordinary opportunities to experience food, art, architecture, history, and, yes, fashion.
Even though it's beneficial to look good, you don't have to go out and buy a brand-new wardrobe of Versace or Fendi. You'll find a helpful packing list and a thorough overview of Italian fashion below.
What Do People Wear in Italy?
Italy follows the same global trends as other nations. To reflect the preferences of various personalities, Italian clothing style preferences are diverse.
Italian clothing typically caters to a more fitted, tailored appearance, which is the primary distinction between Italian fashion and the styles reflected in other nations. The real key to the visitors' observed Italian everyday style is a tailored appearance.
To blend in with the locals, lots of tourists choose to forgo wearing typical tourist attire while abroad. While it's not uncommon to wonder what do Italians wear, it's also important to remember that the best clothing to pack is what makes you feel most comfortable.
Also Read: How To Dress In Egypt?
What Should I Wear in Italy?
The weather as well as the activities you'll be participating in while visiting Italy are the two most crucial considerations when deciding what to wear and what not to wear.
Prior to your trip, always, always check the weather forecast. Being unprepared and wearing inappropriate clothing will quickly ruin your trip.
Once you've done your research on the weather, you can concentrate on assembling a compact travel wardrobe that can be packed into a carry-on bag with the help of packing cubes.
Read More: What to Wear in the Snow?
8 Must-Pack Items to Wear in Italy
This article is a style guide for traveling to Italy, so that you can more closely follow Italian fashion than the average tourist. This is not a comprehensive packing list.
Here are my top eight fashion recommendations for packing for Italy so you can look just as stylish as any local.
Wear Clothes That Fit Well
Italians don't dress all that differently from people in other European nations. Italians, however, are the definition of chic for many people. Why? Because Italians care about how well their clothing fits. Yes, some Italians wear tailored wool suits that cost $2,000, but when they fit well, even cheap clothing looks great.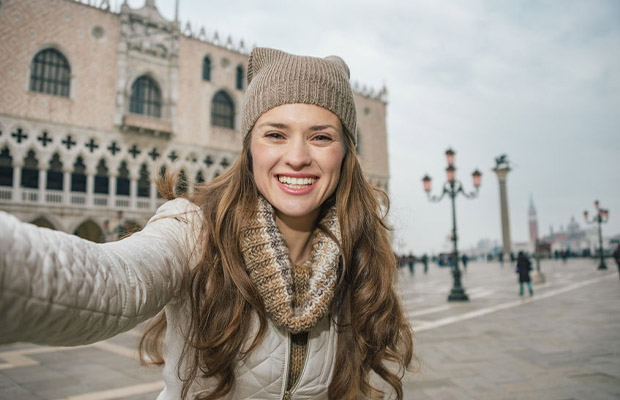 Italian style is distinguished by fitted shirts, constricting pants, and sleek blouses. Even when women's clothing embraces some drape, as in linen culottes, the waistline is cinched or perfectly tailored.
You don't have to spend hundreds of dollars on the newest "stylish" clothing to look quintessentially Just buy clothes that fit well, preferably Italian.
A well-fitting t-shirt and jeans are all you need to complete your look, and you'll still feel and look stylish.
Embrace Wool and Linen
Italians have an almost legendary ability to always look put together. A great fit and a few straightforward, seasonal fabrics help them achieve this effortless brilliance.
Merino wool is a fantastic travel fabric because it can easily withstand sweat and heat in the summer and cold and wet in the winter. You'll be equipped to explore the ruins of Rome or the cafes of Florence like a local if you purchase a few basic merino wool t-shirts and add one or two merino button-downs to your stylish packing list.
Prints should be kept simple. Better yet, choose solid neutral colors that you can mix and match to create a variety of looks that are appropriate for a late-night club in Campo di Fiori or a happy hour at sunset.
In the same way, linen. Because linen can wrinkle while being transported, I've never been a huge fan. But because of how hot it can get in Italy in the summer, linen is the coolest material to wear. Find a pair of linen shorts or pants that you can wear while exploring the town, and pack a lovely linen top that you can pair with jeans or shorts for aperitivos by the river during happy hour.
Pack Button Downs and Collared Shirts
Italy is the place for a simple, classic button-up. Even if you're not a fan of button-up shirts, you should have at least one stylish shirt for going out. Particularly after you witness how elegant Italians can be.
I advise buying a nice long-sleeve button-up made of breathable material, like linen or cotton, so you can roll the sleeves up during the day. By simply rolling the sleeves down or adding a blazer, you can transform this outfit for the evening.
Both men and women can benefit from wearing a nice button-up shirt, but it shouldn't appear stuffy or formal.
Add some color and a fun print for the summer to go out during the day or to the clubs at night. If you want to blend in in Italy, bring at least one nice shirt with a collar. It is required by Italian fashion.
What to Wear in Italy for Women: Short Shorts Are So Chic
Not just for women, Italians adore a nice pair of short shorts. Everyone wears shorts, including men, women, and grandmothers, and they are probably much smaller than you are accustomed to. Prepare to wear shorts that expose a little thigh if you're visiting Italy in the summer. The fashion in Italy is quite bare-bones.
You can blend in by packing a pair of colorful travel shorts. Opt for a little extra "Italian" touch with a wild pattern if you're looking to make an impression. There are no guidelines for wearing shorts. Go for it.
What to Wear in Italy for Men: Your Blazer
Italy is the ideal destination if you've ever thought that travel blazers look fashionable and useful but you're unsure of when to wear them. A well-made travel blazer can dress up almost any outfit.
Opt for a good fit over a bunch of needless "travel" features like secret pockets and rain-wicking nonsense. Find a travel blazer that you'd actually want to wear somewhere other than a plane, and you're set. A navy blazer is a great choice for almost any occasion as far as color is concerned.
Sunglasses Are Stylish (And Safe)
It's important to shield your eyes, as your mother advised. Fortunately, sunglasses are fashionable there.
"Sports" sunglasses aren't worn much in Leave the Oakleys at your father's fishing cabin because Italy is coming. Choose a classy pair of wayfarers or classic Ray-Bans, ala James Dean in the '50s.
Dust off your retro sunglasses and enjoy the jealous stares of other tourists as you are invited to all the rooftop Aperol spritz parties. Vintage fashions look great in Italy.
You can always buy a pair of inexpensive knockoff shoes from the men on the streets of Rome or an extremely expensive pair in a boutique if you're unsure of what to wear. Your call.
Have Fun With It
Italians don't give a damn about what you do, which is the best thing about visiting there. Italy is the place to go if you've ever wanted to experiment with some avant-garde fashion.
Italians can be incredibly stylish, but style doesn't just mean coloring within the lines. There are a lot of creative people in Italy—artists, designers, heroes—who dress a little differently than the average person.
Explore some fresh looks and see what happens. In Italy, people love people who are true to themselves.
Invest in a Few Nice Pieces
Let yourself be relaxed as you pack for Italy.
You don't have to stuff your bag full of expensive clothes. Keep in mind that you are still on the road. When traveling to Italy, keep your luggage as light as possible. Italy has a lot of hilly, cobblestone streets and six-floor walk-up apartments that are hundreds of years old, making it one of the most historic countries you could possibly visit.
Invest in a few fashionable, high-quality basics that go with almost everything to keep your packing list manageable. You'll be well on your way to looking Italian if you use the above advice to create a streamlined capsule wardrobe. Keep in mind that all you really need is well-made, basic clothing that you can wear to the beach or while sipping an Aperol spritz in the piazza.
Concerned that you are bringing too much? Lay out every item of clothing you intend to bring. Is everything compatible? Most pieces can be combined and contrasted for various looks. Remove accessories that can only be worn with one other item and replace them with a few multipurpose essentials, such as chic travel pants and merino shirts, to handle the majority of your daily outfits.
Italian style is all about not appearing as though you just left the runway. The trick is to dress as nicely as the elderly man making his way to the corner or the impossibly stylish barista making your coffee. You're doing fantastically if you resemble them.
Essentials and Cosmetics
No matter what time of year you visit Italy, there are a few non-negotiable necessities and cosmetics that must always make their way into your luggage.
Documents: passport, Visa, cash, a travel wallet, and travel insurance
Beach essentials: sarong, beach towel, floaty, beach bag, waterproof phone pouch.
Sun protection: sun cream, sun hat and sunglasses. In Italy, you'll spend a lot of time outside, so be sure to apply plenty of SPF 30 every morning before you head out.
Weather protection: A small umbrella.
Electronics: mobile phone, headphones, camera, power bank, and wall plug.
Toiletries: Hairbrush, toothbrush, toothpaste, floss, moisturizing cream, tights, shampoo, conditioner, and face wash.
What Not to Wear in Italy
Even though Italians are known for their laid-back attitudes in some situations, they can be rude if you seem out of place. Additionally, if you make an effort to fit in, Italy is more enjoyable. You might actually soak up a little of il dolce vita if you walk a mile in another man's Italian loafers.
Although they are comfortable, avoid bringing Crocs or any of the other items listed below.
Leave the Socks at Home
A fun fact about Italians is that they rarely wear socks, at least not ones that are visible. Many Italian men and women simply purchase nice loafers or espadrilles and forgo wearing socks altogether. A pair of travel chinos or culottes with cuffed ends complements this stylish look. Socks are one less item to pack, which is the best part.
Many Italian women favor a chic pair of leather strap sandals as their go-to footwear. Leave your stilettos at home, please.
Don't Wear a Snapback Cap
I love my Wallowa trail hat from Tillak, but it's a trail hat and not built for a stylish No matter how cool it may look at home, wearing a baseball cap while visiting Italy is inappropriate.
In Italy (and most of Europe), wearing a cap or a snapback immediately identifies you as a tourist. When wearing a ball cap, sticking out is best. Worst case scenario: Italians rip you off, or you become a target for theft, swindles, harassment, or other crimes.
If you have to wear a hat to protect you from the sun, snag a more stylish travel hat for your Italian excursion or purchase one while you're there.
Tips for Packing for Italy
Appearance and style are significant to Italians, but not all of them have the appearance of the cover of a fashion magazine. Instead, the majority of people in Italy dress in basic items.
Pack light if you plan to travel around On your own in Italy, be prepared for uneven sidewalks, cobblestone streets, and tight staircases!
An amazing outfit is always nice to have in Men should bring a sharp suit, and women should bring that stunning cocktail dress. A good night out in Italy is unbeatable!
Adventure clothes such as hiking footwear and active clothes are great for activities.
A conservative outfit is needed if you plan to visit churches. To enter, both men and women must cover their knees and shoulders.
Linen shirts are common and rarely feel out of place. In the summer, men can live in these shirts every day. Perfect for Sicily or the Amalfi Coast.
Packing cubes help separate damp and dirty clothes from clean ones.
Sun protection is always a good idea, whether that is sunblock, hats, or UPF clothing.
Three pairs of shoes are the max you should pack. For activities or hikes, a stylish shoe, sandal, or athletic shoe.
How to dress in Italy depends on where you are traveling. Keep in mind there are many different styles in Italy is a diverse country, and the clothing you might typically wear in Sicily and Milan are very different. When packing for Italy, keep in mind your destinations in Italy.
Italian summer fashion is much different than winter in Italy, bear in mind the season you will be there.
Summary of What to Wear in Italy
It's crucial to consider your clothing choices when traveling to Italy.
Keep it light and mobile by choosing a great fit over a flashy appearance and investing in a few basic pieces. More quickly than the sun sets over the Forum, you'll be living the good life.
Get travel clothing that fits you well
Invest in a few quality pieces of merino wool for a versatile capsule wardrobe
Linen is the unofficial fabric of summer in Italy
Short shorts are the way to go (for men and women)
Dust off that travel blazer and look like a local
Ditch the socks and embrace slip-on shoes
Pack it all in a stylish travel backpack
You May Also Like:
FAQs
What to Wear in Italy When It Rains?
For men, it's generally advisable to avoid shorts and wear trousers or dark jeans instead. You can more easily blend in with the community by wearing a collared shirt or polo shirt. For women, a summer dress or skirt is a good option, but make sure it isn't too short.
What to Wear in Italy to Not Look Like a Tourist?
Just let it be known that displaying your tourist status by donning shorts is a good idea. Steve suggests dressing "for the occasion" and making sure you present yourself neatly. "Italians take great pride in how they look, and they typically dress nicely for any type of public outing.
Is It OK to Wear Jeans in Italy?
For spring, women can look chic in skinny jeans or capri pants. However, keep in mind that Italians like to dress up, even in their denim, so avoid rips! Men should typically steer clear of anything they might wear to the beach, the gym, or a football game and choose stylish loose linens or fitted chinos instead.