A wine tasting is on the horizon. Learn exactly what to wear wine tasting, tips and outfit ideas to try in warm and cool seasons.
People often ask: what to wear wine tasting? Men can choose slacks and a jacket or sport coat (without a tie), while women are likely to want to wear a dress or dress slacks with heels or nice flats. You'll be fine if you think classy and refined rather than trendy or flashy.
Before you even begin packing, use our tried-and-true advice to make sure you're ready.
What to Wear to a Winery?
A good time is always had by all at a wine tasting! The last thing you want to worry about is your attire when you are surrounded by delectable wine, stunning scenery, entertaining people, and ideal weather. This is the reason I created the best winery attire guide. This style guide will not only address what to wear to a wine tasting, but will also cover many other style advice topics, outfit suggestions, and what to wear in various seasons. It is also jam-packed with outfit photos!
Let's go over some style advice for wineries, in general, to get things started. No matter where you're tasting wine or what time of year it is, these tips still hold true! As you pack for your trip to the wine region, keep in mind these ten style suggestions.
1. Wear Comfortable Shoes: Wear comfortable shoes if you're going to sign up for a wine tour or have a lot of wineries you want to visit. Shoes don't have to be comfortable, though. Avoid wearing sneakers and opt for flat sandals, wedges, loafers, or even some stylish slides. Consider the wineries you will be visiting as well because you might be walking on grass, dirt, gravel, or cobblestones.
2. Go Hands-Free and Small with Your Purse: You will be moving around a lot, holding and reading brochures, tasting cheese or chocolate, and of course, holding various wine glasses when you are wine tasting. Therefore, it's best to carry a bag that is simple to use. Additionally, if you carry a purse with no strap, you run the risk of forgetting it or putting it down without looking after it. A small crossbody bag, such as the chic Mini Marcie from Chloe, the timeless Soho Disco bag from Gucci, or the mini monogram crossbody from Saint Laurent, is the ideal bag to carry to a winery.
3. Layer a Blazer or Cute Denim Jacket: Adding a chic layer will help your winery outfit look less plain. A denim jacket in the summer, a floral blazer in the spring, a long cardigan in the fall, and a coat in the winter could all be worn in accordance with the season. You want to be able to move freely no matter the season, so make sure this layer is not too bulky.
4. Go More Dressy Than Casual: Go without your leggings! Although wineries are essentially farms in the countryside, you shouldn't assume that you can just put on some jeans and a t-shirt and call it a day (unless of course you want to; in that case, you wouldn't be reading this post). Choose a slightly more dressy option than casual. I still consider wine tasting to be a rather posh activity, so I make an effort to always look nice and sophisticated.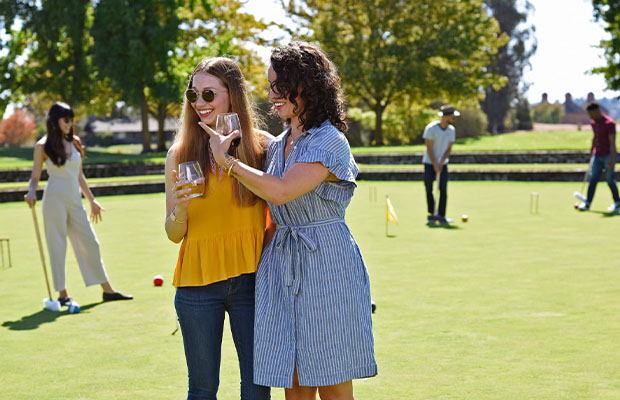 5. Low Maintenance Hair: Wear your hair up or in a style that doesn't require maintenance throughout your wine tasting activities since your wine tasting attire includes your hair. I advise wearing your hair up in a ponytail or bun if you intend to spend the entire day exploring the wine trail. This way, you won't have to fuss with it while on your wine tasting tour or worry about it getting frizzy or going flat. It looks nice down if I blowdry it in the morning if I have some extra time.
6. Wear Chapstick: Wine consumption is the primary activity during a wine tasting, so chapstick should be used in place of lipstick. You shouldn't need to constantly check your lipstick or reapply it when you get to the car. Wear chapstick and keep it straightforward.
7. Skip the Strong Perfume: Avoid wearing perfume because you'll be smelling the wine extensively to determine which notes are most prominent. It's also polite to refrain from wearing perfume around the group you're wine tasting with and the other visitors in the wine tasting room or cave.
8. Wear a Pretty Print: Change a solid for a print if you need to add some interest to your wine tasting attire. Choose a dress with horizontal stripes like the one I'm wearing in the outfit example below rather than a solid blue dress. During the spring, summer, fall, and winter, wear a floral shirt. During the summer, wear stripes.
9. Easy is Better: Avoid wearing anything that requires too much upkeep. It's important to be both comfortable and fashionable when visiting a winery, but keep in mind rule number four: avoid anything too casual.
10. Don't Be Afraid to Wear White: Going to a winery in white attire is perfectly acceptable. You can see my outfit examples below where I've worn white jeans for wine tasting. I would advise omitting the white if you know you spill a lot.
You May Also Like:
Tips To Wear For Wine Tasting
Use below tips can help you avoid mistakes!
Tip 1: Choose Wisely Between Heels Or Flats
Parking lots, trimmed paths, and seated indoor tastings are features of some vineyards. If you prefer this look, heels (or even better, wedges) are a good option. However, for the most part, wineries have stand-up counters or picnic areas on grass for tastings. In this situation, it's important to wear relaxed footwear that can withstand soft grass and grape stains. For wineries that permit visitors to visit the vineyards, closed-toed footwear is also essential. Put a pair of flats in your purse as a backup if you're still unsure. Alternative options are always a good idea because nothing is worse than sore feet when you're trying to have fun.
Tip 2: Ladies, Find a Middle Ground
Strike a balance for the ladies who are concerned about dressing too formally or too casually! Blue jeans and wedges can look chic and put-together with a blouse. A dress can look country chic when worn with cowboy boots and a denim jacket. Since you'll probably spend a day of wine tasting indoors, outdoors, and in a variety of settings, use your personal style to express yourself. Try bringing a different pair of shoes, a scarf, or more elaborate earrings if you're still on the fence. In this manner, you can change your attire based on how you feel when you get to your destination. Of course, you'll want to wear something dressy if you intend to immediately follow your wine tasting experience with a meal at a posh Michelin-starred restaurant.
Tip 3: Wear Layers
If you want to be comfortable, make sure you're dressed for the outdoors because most vineyards have outdoor patios where visitors can take in the stunning views. Your style will depend on the area and season you're visiting, but it's best to dress for warmth and sunshine in case there are no umbrellas. It's a good idea to pack a hat, sunglasses, and sunscreen. You should also wear comfortable, breathable clothing. Though daily temperatures in Wine Country can vary greatly, it's still a good idea to pack layers like a sweater, jacket, and/or scarf. Even if you intend to stay indoors, some tours and tastings are held in cooler locations like barrel rooms and caves, which are notoriously chilly (around 55 degrees) to preserve the wine's quality. Simply put, when tasting wine, layers are important.
Tip 4: Think Twice About Your Beauty Routine
All three senses—smell, taste, and sight—are important to a satisfying wine tasting experience. This means that you need to consider what you put on your body. The subtleties that make wine so divine can be muddled by perfumes, colognes, and scented body lotion. Nothing is more frustrating than trying to appreciate the subtle aromas of a wine only to have them overpowered by the strong cologne of a fellow taster. If wearing lipstick is a signature part of your style, perhaps use less of it while tasting wines to prevent leaving difficult-to-clean lipstick stains all over the glasses.
Tip 5: Guys, Pack Wisely
For men, button-down shirts and golf attire are always safe choices. Even though fashionable, dark wash jeans are acceptable, going the extra mile will guarantee that you blend in wherever you go. As stated in Tip 1, closed-toed footwear is always preferable to flip-flops, but if all the wineries you intend to visit are extremely laid-back locations where children and dogs are welcome, casual footwear is a suitable alternative. Just remember to skip the cologne (more on that later).
Tip 6: Choose Your Colors Wisely
Spills are something you need to account for unless you only drink white wine all day. Any mishaps can be hidden by donning darker hues. Even if you take extra care, the person sitting next to you might overeat and spill a glass, or the wine bottle might leak after the server pours a taste into your glass. Be prepared because these things do happen.
Tip 7: Coordinate With Friends
Although there is nothing wrong with wearing what you want, you might feel a little out of place if you show up in a sundress, high heels, and a hat when your friends are all wearing jeans and sweaters. To make sure everyone is on the same page, it is always a good idea to check in with your group if you ever have any doubts.
Read More:
FAQs
Can I Wear Jeans to a Wine Tasting?
Yes! Jeans are acceptable year-round – we call it wine country casual (for women — sundresses, blouses and skirts, nice jeans, wedges, sandals, etc.; for men – golf shirts, khaki pants, nice jeans, dressier shorts, stylish sneakers, boat shoes, etc.).
Related Reading:
Do You Have to Dress Nice for a Winery?
Better than casual is dressed up. In other words, dress appropriately for the setting. That does not mandate that you put on a dress with heels or a suit and tie. In fact, all you need to look great and blend in at most wineries is a nice floral dress, a pair of sandals, or a pair of dark-wash jeans, a polo, or a dress shirt.
What Shoes Do You Wear to Wine Tasting?
Recommended shoes include wedge sandals, flat dress shoes or stylish boots. (For pictures, view the gallery below.) Leave the stilettos at home and put on flat, close-toed shoes if you're visiting a winery where strolling through the vineyard is an integral part of the experience, which is more and more common, especially in Sonoma County.
Final Words
We hope that these suggestions for what to wear wine tasting will enable you to confidently select the ideal outfit for any day or night in Wine Country!
Please share any additional suggestions you may have in the comments section below.
Read Next: