Today, let's style black leggings to a hilt and see what to wear with black leggings!
Every woman I can think of has at least one pair of leggings in her wardrobe. Leggings are very adaptable and can be worn both indoors and outside.
The chic, fashionable, and adorable outfits are my favorites for pairing with leggings. So, here are 6 stylish ways to wear black leggings.
Ways to Wear Black Leggings
Here are my favorite ways to wear black leggings.
Leggings + Plaid Dress + Boots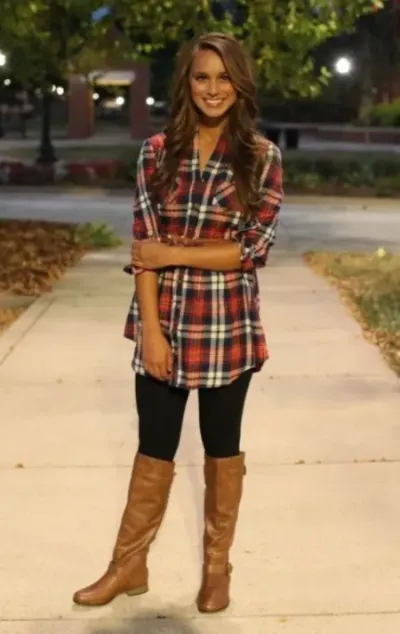 Avoiding shorter tops is one of the first styling tips for black leggings, and wearing a short dress like this one is a great way to achieve this. When fall arrives, this outfit combination is ideal, and there are lots of ways to customize it.
Change to a long chambray shirt instead of the plaid dress, or add a denim jacket. Ballet flats or brown boots both work well with this outfit. Simply alter how you wear this look whenever you want because it is very adaptable.
Read More: How to Wear Leggings Under A Dress?
Leggings + Basic Tee + a Long Cardigan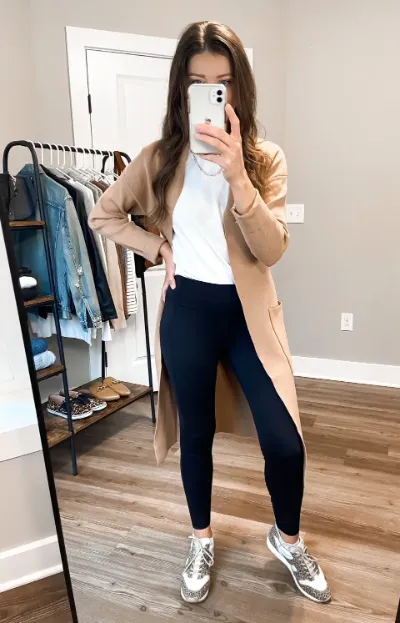 So, whether or not leggings should be classified as pants is a common topic of discussion. Both yes and no, is my response. They can still be worn for everyday wear with a little extra modesty despite being thinner than most pants and not leaving as much to the imagination. Here comes the long cardigan!
If you want to feel relaxed but still put together, try this ultimate casual look. White shirt, long cardigan, and—of course—classic black leggings are all wardrobe essentials that are extra cozy, but elevated accessories like a black tote and loafers add the perfect amount of class. To achieve a more refined look, be sure to choose comfortable, high-quality fabrics, as well as neutral colors.
Leggings + Sweater Dress + Flats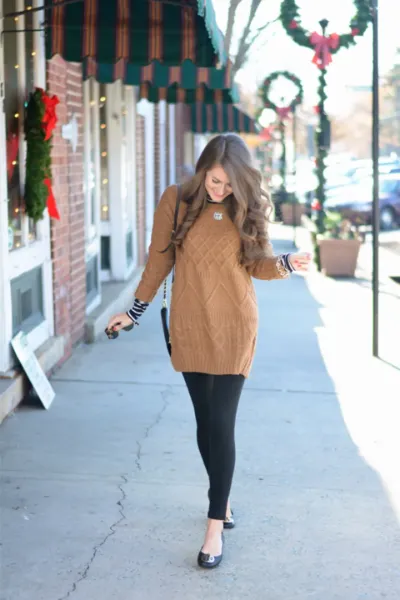 It's an oldie but a goodie, this next outfit. Although this outfit isn't particularly out-of-the-ordinary or unusual, sometimes a great go-to outfit doesn't require any changes! When you want to look put together and polished without sacrificing comfort, you can always rely on this look. Feel free to add some vibrant hues and patterns with your shoes or a sweater dress as well.
This mustard yellow and leopard combination is one of my favorites; it's ideal for the chilly fall days. If you want something that isn't as warm, a long sweater or top works well with this outfit. Just make sure the hem is long enough to cover everything.
Leggings + Basic Tee + Oversized Blazer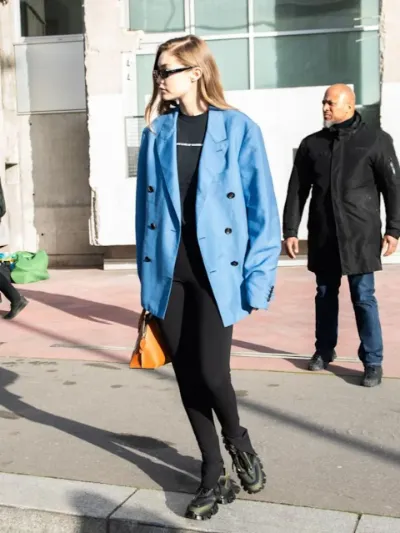 Despite the fact that leggings are typically associated with casual comfort, you can make this look more upscale with lux accents. An oversized blazer is a fantastic way to dress up a pair of black leggings, or any outfit, for that matter.
When worn over a white tee, a plaid version adds a great preppy vibe and creates the ideal cool look. Add in a black headband and a pair of classic black shoes and you having a winning outfit that looks very "New York City".
Leggings + Shorts + Blouse

This outfit is an intriguing choice if you're looking for something more unusual and high-fashion. This unique sheer top, leather shorts, and tall boots make for a cool and modern take on this typical "ankle boots with a sweater" outfit. Additionally, wearing some tall black boots with black leggings will make your legs appear incredibly long!
If the leather shorts and leggings are a little too daring for you, you can always opt for a leather miniskirt for a similar look.
Leggings + Oversized Sweater + Boots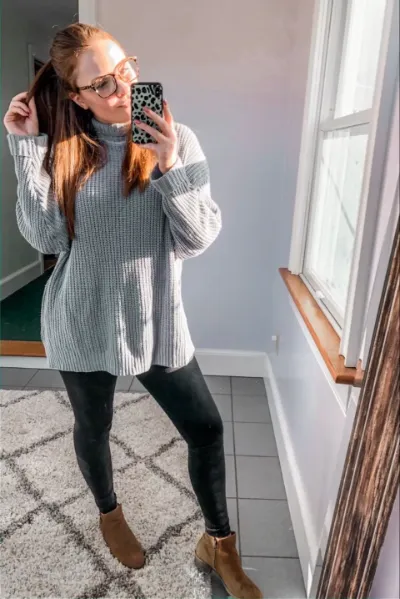 Don't you just want to curl up right now? It's sometimes best to stick with the tried-and-true, and nothing says fall fashion like a chunky, oversized sweater and leggings. But, when heading out, pair this outfit with chunky combat boots for a cool take on this typical "ankle boots with a sweater" outfit.
Depending on where you live, this would be a great option for everyday wear in the fall and winter. Additionally, don't be afraid to combine different patterns, i.e. a leopard scarf and striped sweater.
Can You Wear Black Leggings in Summer?
If you want to dress up, pair dark, closed-toed heels or flats with black leggings that show off your ankles. For a little edge, you can also mix and match metallic or faux leather leggings. If you pair black leggings with a light blouse, light jewelry, and dark heels, you can create a dressy look.
Due to the heat, some styles of leggings might be out of style in the summer. Wear them all year if you choose a breathable material and follow a few basic fashion guidelines. It is a great way to look casual while still feeling at ease. Leggings are a great base for a dressy outfit, but they are typically inappropriate for the workplace. Select loose-fitting, flowy, or boxy tops for a more interesting contrast. Leggings should be tried on before buying to ensure that they fit properly and look good. Fashion stylist, image consultant, and personal shopper Renee Nejla works out of New York, New York.
Read More: Are Leggings Appropriate For Work?
Final Words on What to Wear With Black Leggings
Few things are as adaptable as a pair of black leggings. Wear them to brunch the following morning, wear them to work, wear them to the gym, or even dress them up or down for a date!
How you pair your black leggings with your outfits will be exciting to watch. Describe your preferred attire in the comments section below.
Related Post:
FAQs
What Color Goes Best With Black Leggings?
You can go neutral by pairing your leggings with similar colors, such as black, grey, and white.
What Should You Not Wear With Leggings?
A shimmering top, a fancy blouse, or a baby doll dress simply don't go well with a stretchy, tight pair of leggings.
Is It OK to Wear Leggings With a Short Top?
We advise choosing a more loose-fitting top and keeping it at least hip length to achieve a balanced, symmetrical look. Unless you are under 19, we don't recommend wearing a short top and leggings because that is a very teenage-girl look.