If you are wondering what to wear with olive green pants, you have come to the right place. After reading our guide, you'll be surprised by how many options you have.
A beautiful pair of olive green pants with the right top can take your fashion game to the next level.
Olive green pants can be worn in a variety of stylish ways. We have compiled the top 15 outfit suggestions for you to try out as a help. If you want to learn more, see the infographic below!
What to Wear With Olive Green Pants?
Here are some fashional ideas about olive green pants.
1. Olive Green Jeans and Camel Trench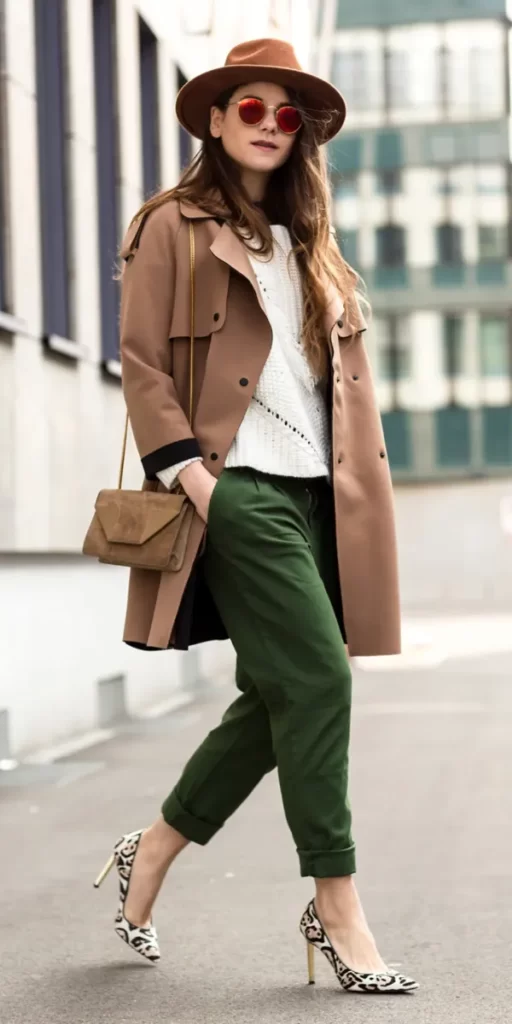 Replace all of your jeans and pants with a pair of olive-green pants this fall. You'll be glad you stuck with the traditional ensemble of big glasses, a tote bag, and ankle boots.
2. Skinny Olive Jeans and a Tank Top
Olive-colored jeans are an interesting welcome change from our usual blue, black, and dark denim and can serve as a great neutral color. For an elegant and relaxed day at the mall, put on a white tank top, converse shoes, and a backpack.
3. Olive Green Jogger Pants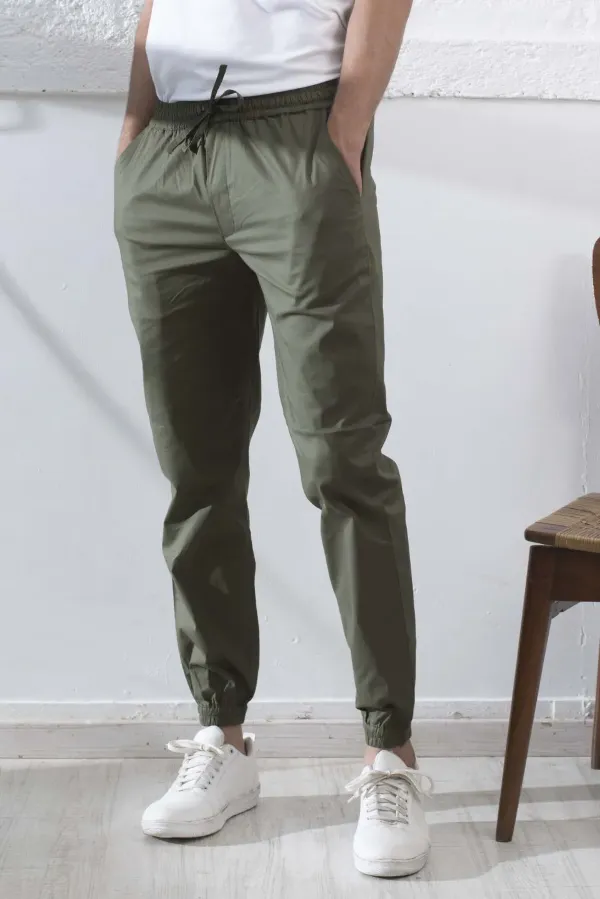 As soon as they entered the market, runners arrived and quickly took control. Camo, olive green, and black are the hottest choice of colors with joggers. Put on some olive joggers, a crop top, combat boots, big glasses, brown lipstick, and a half bun if you want to look grungy.
4. Casual Trousers
In an effort to cover up our unflattering flab, some of us are reluctant to wear light-colored trousers and instead prefer to stick with dark hues. However, ignore all of that because olive green looks great on all body types, including plus-sized and petite people. Don't miss out on these, just pay attention to the fit and follow along.
5. High Waisted Green Pants and Ruffled Top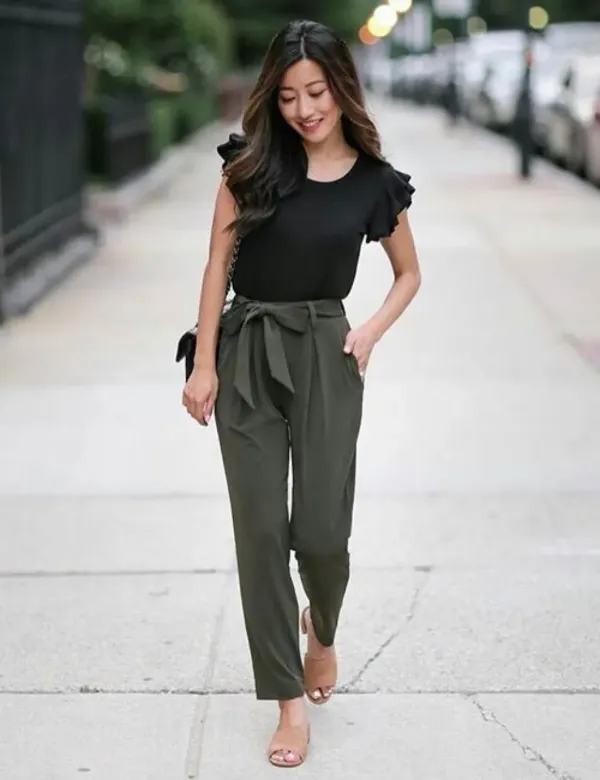 Look oh-so-subtle in these high-waisted green pants, and choose a top in a classic hue like black or white, tuck it in, and show off ankle strap heels. Just look pretty.
6. Olive Green Pants With Denim Jacket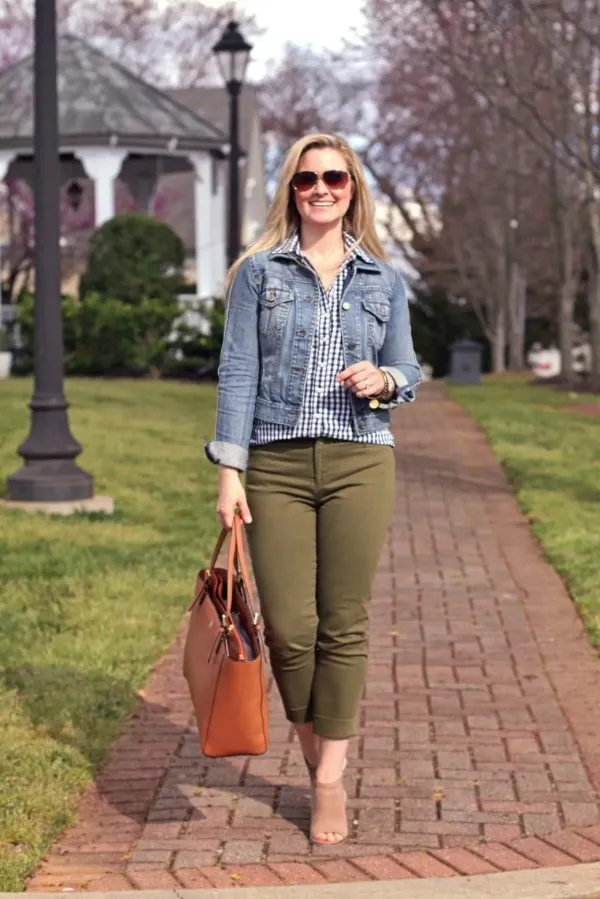 Without a timeless denim jacket, how can a new look be finished? Simply style it as usual while taking advantage of your fashionable attire's benefits.
7. Olive Pants in Fal
Fall is going to be you putting your brain to test as to how creatively you can use scarves, layers, and colors in your outfits. In addition to everything else, the winter months are known for trying your patience. Anyway, style this outfit with an animal print or a strikingly colored scarf and tuck a white T-shirt into a pair of casual olive-colored drawstring pants. Depending on how you're feeling, finish it off with a pair of white Converse or flats.
Read More: How to Wear Green Pants?
8. Linen Joggers and Brown Boots
Do you have a tropical feeling today? Here's a look that goes well with how you're feeling. Put on a loose-fitting front tuck while wearing a pair of olive linen pants and a shirt. Choose ankle-length boots and a cowboy hat to complete the look.
9. With a Blazer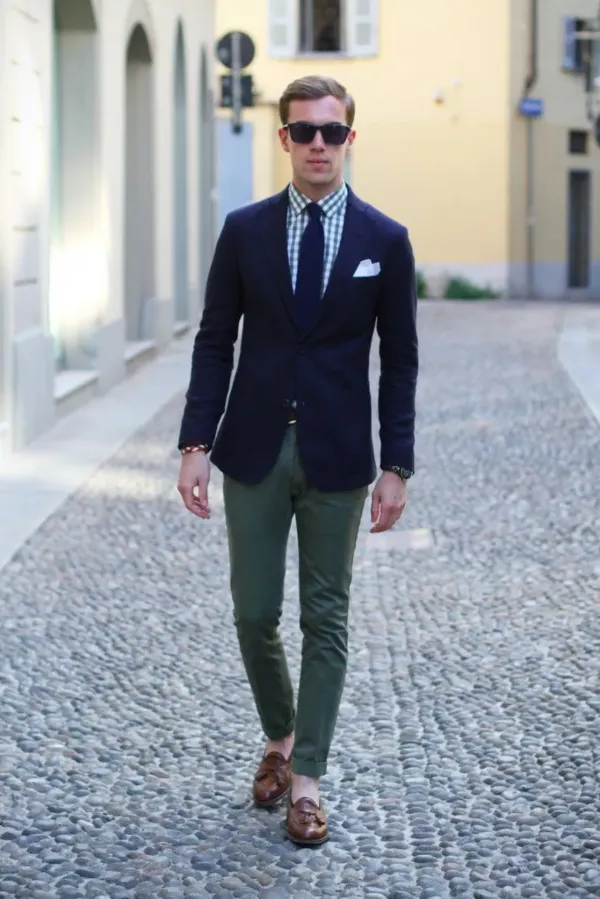 If you want a more sophisticated appearance that will take you from an office meeting to a lunch date and then to an event, pair your olive green pants with a blazer. Whether you're wearing pants, leggings, a dress, or a jumpsuit, a blazer easily and instantly adds a touch of class to an outfit.
The key to wearing a blazer properly is to ensure that it fits properly and that its length complements your olive-green pants. Olive green pants should be loose-fitting, while skinnier blazers can be worn with both longer and shorter ones.
10. Olive Green Pencil Pants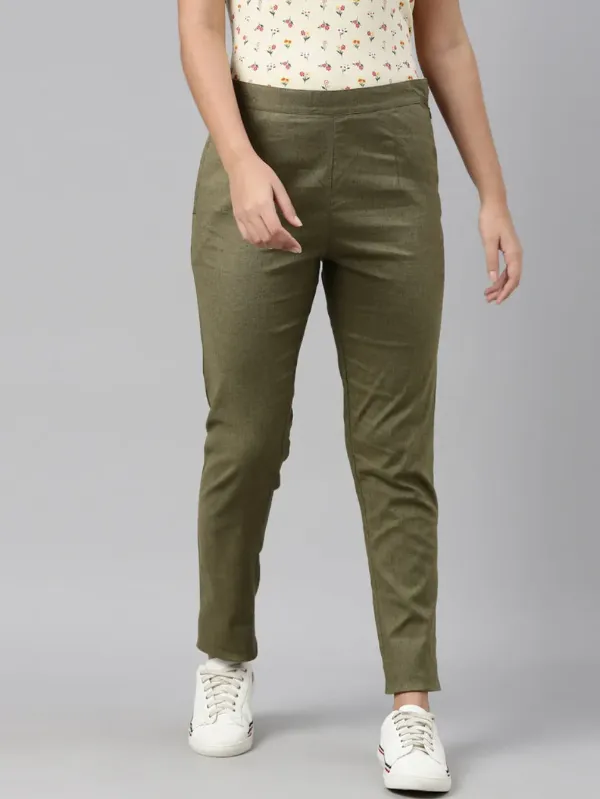 For the office, olive green pencil pants are flawlessly fashionable. You need not worry because they match all of your common muted and pastel tops. However, if you're the type who likes to experiment with slightly bold colors, make sure you thoroughly understand the color wheel and your office work attire.
11. Green Camo Pants and Informal Blazer
First of all, it's a genius way to liven up camouflage pants, and secondly, don't you just adore how various elements and hues have been combined to create this street style look? With white shirt and white camo pants tucked in, brightly colored pumps, and an unstructured oversized blazer to complete the look. Hit the ball out of the park!
12. Olive Green Joggers and a Lace Top
Give the olive green joggers a try if you already agree that everyone practically lives in jogger pants. For a more urbane look, wear it with a black crop top or lace top.
13. Olive Green Denim With Stripes T-Shir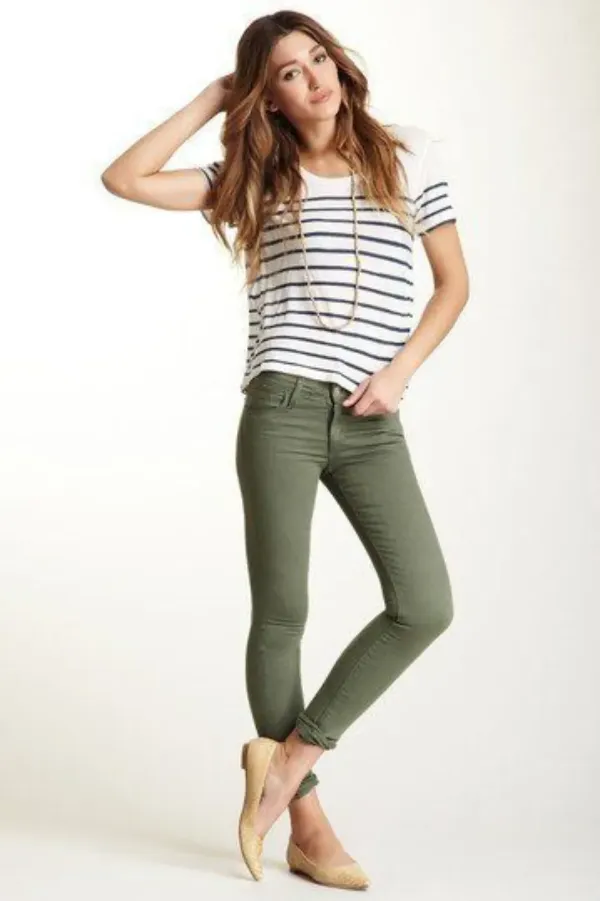 Every girl has a black and white striped T-shirt in her wardrobe. Consequently, take that off, wear it with your olive-green pants, pumps, and strut your stuff like a diva.
14. Red Cold Shoulder Top
Treat your olive-green pants like a regular pair of black or blue jeans by pairing them with vibrant hues like red, yellow, coral, etc. – if that defines your personality. However, let the footwear and accessories completely underplay it if you don't want to go full Lady Gaga.
15. Green Pants and Off-White Shirt
For a minimalist appearance, combine and blend two soft hues. You have two options: wear an open shirt with a tank top inside or tuck a linen shirt in. For added effect, put on a pair of striking pumps.
16. Off Shoulder Top
Pair your olive green pants with a black off-shoulder top. Go for the look of a bare neck, beachy waves, and minimal makeup. To finish, wear flats or open-toed sandals.
Related Post: How to Wear Green Pants?
What Color Goes Well With Olive Green Pants?
For a more natural appearance, combine olive green with neutral colors like white, black, and beige. However, you should combine olive green with various shades of yellow and red if you want to emphasize its personality. Additionally, you can pair olive green with other shades of green if you prefer wearing monochromatic outfits.
Some information about olive green.
On the color wheel, there are undoubtedly a lot of green hues. Green has a variety of hues and shades, just like other colors.
If you wonder, this is the exact color, when we are talking about olive green.
So many colors can be paired with olive green (pants), as I already mentioned above. Let me now list them.
White
Black
Grey
Cream
Yellow
Burgundy
Pink
Navy blue
Purple
Brown
Peach
Light blue
Other greens
Therefore, as you can see, there are a lot of colors that go well with olive green pants. You can select them based on your mood or just your skin tone.
Final Words on What to Wear With Olive Green Pants
Olive green pants can be quite flattering when styled right. You can find an olive green pant outfit that will make you look great no matter your skin tone, age, or body shape, whether you are over 50 or only in your 30s.
All for today, thank you. Hopefully you enjoyed the article. Don't forget to tell your friends about it if you did.
Read More: Are Corduroy Pants Business Casual?