If you're interested in learning what to wear with white boots in a contemporary and chic way, look no further! 16 different outfits to try with your boots are what I'll be sharing today!
The white boot trend is everywhere! You have probably recently seen a lovely outfit complete with white booties on the runways or at Target.
Whether it's a pair of white leather boots, white ankle boots, or white knee-high boots, you can't go wrong with any kind of white boot.
16 White Boot Outfit Ideas
Here are 16 outfit ideas for white boots.
1. Shift Dress + Sweater
Wearing this straightforward ensemble to work is chic! The shift dress's simplicity is given a playful feel by the ruffles on the long sleeves, and the white boots add a playful touch to the ensemble.
Wear this ensemble from fall to spring by adding black tights for really chilly days!
2. Shift Dress + Long Sleeve Shirt
Why not try wearing a sweater over your dress on those chilly winter days when you really need one? The addition of your pair of bright white boots makes this look another excellent choice for the office. You'll stay warm while also looking fashionable.
3. Blue Jeans + Henley + Blue Jacket
This is a look I wear every day! Put on a pair of dark jeans, a white thermal long sleeve, and an oversized blazer or shacket (like mine!). For going on errands or going out for coffee, this is a great way to look amazing and remain at ease.
4. White Henley + Blue Jeans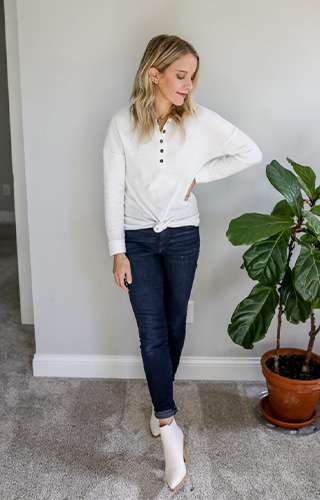 Remove your jacket as the weather gets warmer! A simple but excellent outfit to wear out and about is a white shirt with white boots!
5. Black Jeans + Oversized Sweater
This outfit is ideal if you're looking for something more understated. A great foundation for adding the white detail of a white bootie is a pair of black jeans and an oversized sweater in just about any color.
6. Wide Leg Cropped Jeans + White Cardigan
This outfit combines a few various fashion trends while sticking with the mom jeans craze! Make sure the boot shaft completely covers your pant leg when wearing boots with cropped jeans to avoid having a tiny bit of skin protruding from the bottom of your pants.
Your legs won't appear short when wearing wide-legged clothing if you wear pointed-toed shoes.
7. T-shirt Dress + Long Denim Jacket
For every body type, t-shirt dresses are the perfect choice. If the weather is cooler, layer a long chambray cardigan over the top.
8. Black Jeans + Black Top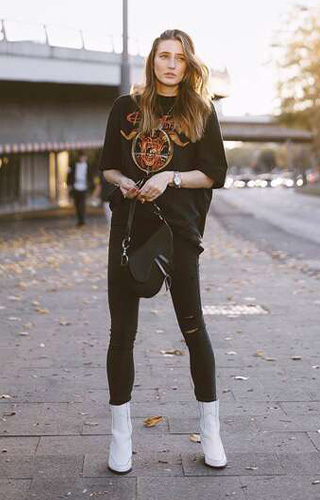 Try black on black if you want to look more monochromatic! One of the best options you have to try out a new trend, in my opinion, is black on black! All black is understated and timeless, and it's a great place to start when adding a white boot, whether it's a tall shaft bootie like mine or a more traditional ankle boot.
9. Wide Leg Cropped Jeans + Black Top
You might adore or detest the wide-leg, cropped jean trend! If you're cool with it, try wearing a neutral pair of jeans and a black top to make your white boots stand out beneath the pant leg. A boot with a stiletto heel would also work!
10. Maxi Skirt + Henley Shirt + Denim Jacket
Try this outfit with a maxi skirt if you want a more relaxed vibe! A flowy maxi and white boots can be easily dressed down by wearing a casual top. Your waist is defined by a front-knotted henley shirt, and the colder months are kept comfortable by a worn-in denim jacket.
11. Maxi Skirt + Black Bodysuit + Denim Jacket
Replace the white tee with a black bodysuit to completely alter the appearance of the previous ensemble! This outfit has a completely new look and feel thanks to the black top, which is ideal for day-to-day wear.
12. Maxi Dress + Black Bodysuit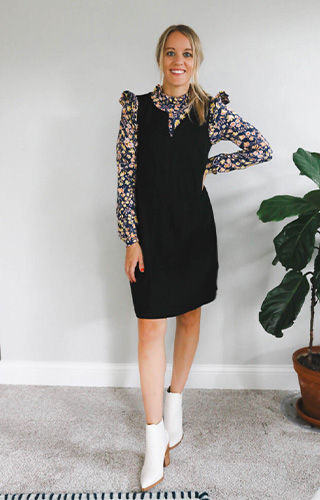 The entire look of this outfit completely changes if the denim jacket from the previous outfit is removed! With its fitted bodysuit and sheer-looking skirt, this has a more seductive appearance.
13. White Boots With a Statement Coat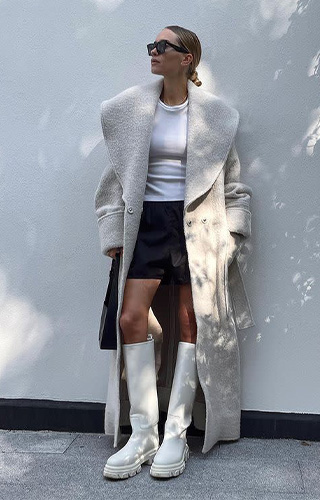 Your favorite winter coat, blazer, or motorcycle jacket can stand out against a background of creamy whites. Using a complementary bag, tie in the colors from your outerwear.
14. Midi Skirt + Black Bodysuit
This is a wonderful option if you're going to a party! An excellent party outfit would include a black bodysuit and a stunning midi skirt that was fitted at the waist. You can now make an entrance after adding your best white boots!
15. Colorful Midi Dress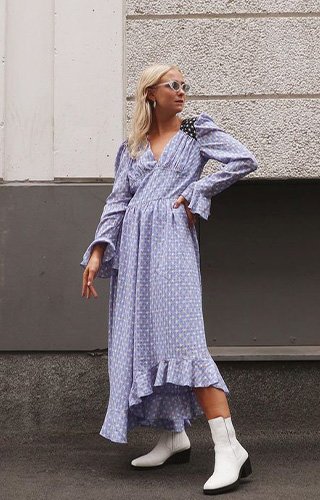 This cute dress is probably one of my favorite ensembles from this collection. One of the ideal things to wear with a vivid and colorful dress is a pair of white boots! Even better, wear a simple white dress and a full white outfit in place of the vibrant colors. That would also appear gorgeous!
16. Midi Dress + Denim Jacket
Last but not least, add a denim jacket to the outfit above! Perfect for the fall when it starts to cool off but is still too warm for winter coats.
You May Also Like: Types of Boots for Women
Are White Boots in Style?
White boots are not only trendy and widely available, but they're also perfect for almost any occasion to style with your favorite pieces.
However, the trend for white boots is more about their shape than just their color. In light of this, off-white and white-hot variations are fashionable.
Although boots in ivory, off-white, or almost beige tones are both versatile, they are typically a little bit simpler to style. Not to mention less demanding in terms of cleaning!
Related Post: Are White Boots In Style?
How to Keep White Boots Clean?
If you're a city dweller like me, you might be hesitant to purchase white shoes in the first place.
Fortunately for us, maintaining clean white shoes is simpler than you might imagine!
Making sure your shoes are ready before wearing them outside is one of the best things you can do.
To add a layer to repel dirt and water, you can use a protective spray (just make sure you read up on them and make sure they're safe for whatever material your boots are made of).
A magic eraser is a fantastic tool to use to clean your shoes yourself if they do get soiled. The soles of her shoes are regularly cleaned with a magic eraser, according to one Amazon reviewer.
You don't want to purchase a brand-new product just to clean your shoes. I've used nail polish remover in the past to get scuff marks off of white leather boots and shoes.
To ensure that it functions as intended, I would highly advise testing it on a small area of the shoe that you don't care about.
Final Thoughts: How to Wear White Boots
As you can see, there are many ways how to wear white boots outfits from winter to spring. There is a white boot design that will complement your outfit, whether you are dressing up or down.
I hope these outfit suggestions will help you rock your white booties! Which one was your favorite? Comment on this to share!
If you want more outfit inspiration, check our post below:
FAQs
Is It Okay to Wear White Boots in Winter?
When are white boots appropriate to wear in the winter? Yes, they give your winter wardrobe a sophisticated and modern touch.
Do White Boots Go With Everything?
Absolutely! In addition to being a fun change from black and brown booties, white boots add a touch of elegance to any ensemble. While they've been labeled an "it" trend in the past, white is a neutral, so it can be worn for years to come.
When Should You Not Wear White Shoes?
For many years, fashion experts insisted that white shoes should only be worn before Labor Day.