Depology Patch is a cutting-edge skincare product that applied to the skin directly. This Depology reviews will answer all questions of Depology and help you decide whether it is worthwhile to buy it.
Depology, as the appeal of Korean beauty has increased globally. But is Depology skincare really superior to the typical drugstore brand? Does it have ingredients that have been scientifically shown to have anti-aging effects?
Keep reading and learn more about Depology skin care items.
What is Depology?
Today, we will be taking a deep dive into Depology skin care, which is an innovative new skincare system unlike many others we have come across.
Depology comes in the form of dermal patches that you place directly on the skin. The skin-beneficial ingredients in the patches are meant to enhance the health and appearance of your skin.
It should be noted that since there aren't any Depology Reviews written by actual customers as of yet, we are unable to comment on how this product has affected those who have used it.
How Does Depology Work?
One of the most unique things about Depology is that the patches are designed to dissolve into the skin.
While it's partially true that Depology is just another skincare mask, the product stands out by absorbing into the skin.
The patches won't need to be removed and thrown away once you're finished, so that's a benefit.

Direct nutrient delivery to the skin is how Depology is supposed to work. The product is said to have been created in South Korea, a center for cutting-edge skincare products.
Depology's primary objective is to moisturize skin while minimizing the appearance of wrinkles and fine lines. Depology is rumored to lessen skin puffiness as well.
Pros and Cons of Depology Skincare
Here are the pros and cons of Depology.
Who is the Manufacturer of Depology?
The company that makes Depology takes its name from the product itself, so the company is also called Depology.
The company's founders assert to have extensive knowledge of the South Korean cosmetics business.
They also claim that their patches have more microneedles than similar products on the market. According to the manufacturer, Depology is very effective, and the formula is supported by academic study.
What Are the Ingredients in Depology?
For being such a unique and purportedly advanced skincare system, the formula for Depology is common. Many of the formula's components have been seen before. Ingredients such as:
Hyaluronic Acid: The benefits of hyaluronic acid on maintaining skin moisture over time have been supported by numerous studies.
Trehalose: Trehalose is a type of plant sugar that has demonstrated the capacity to bind to moisture.
Niacinamide: The antioxidant effects of niacinamide on the skin have been noted in some studies.
Broccoli Extract: It's thought that the vitamin K in broccoli extract can improve skin blood flow.
3 Popular Depology Products Reviews
Here are some common Depology skin care products reviews:
Deepcare+ Serum: Infused Micro Dart Patches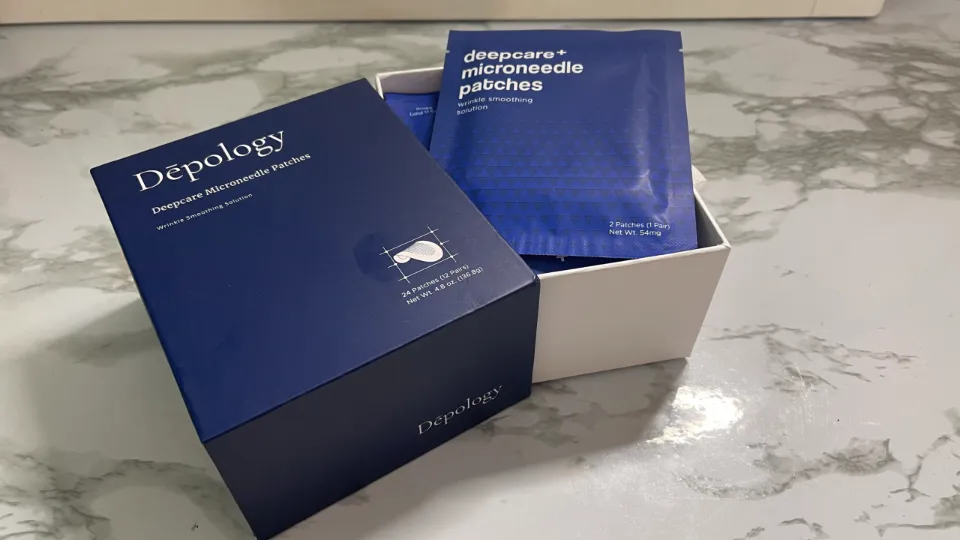 What it is?
Contains 30 mg of the Deepcare+ serum formula to help nourish skin while reducing fine lines and wrinkles. All skin types, but especially dry skin, respond well to this patch.
How to use?
On clean, dry skin, apply the patches. To help with absorption, take the patch out of the film and place it in the center. Leave it overnight or for at least two hours. Useful every two to three nights.
Review:
One box contains four pairs of patches that are packaged in sachets (one pair and two patches per sachet). When I remove it from the plastic case, I must be especially careful because the texture is more like a sticker in gel form. It is quite thick but easily gets folded.
They adhere very well to the smile line and undereye area when I apply them, and they don't budge at all, allowing me to use them while carrying out other tasks. It is completely dry and unscented. When I take it off, a spot is left behind that I assume is the serum.
My eyes' puffiness was reduced by this patch after just one use, despite the fact that I don't have any wrinkles around my smile line.
Here is a video about one customer who shared her experience with using Depology Micro-Dart Patches:
Derma Face Sculpting Mask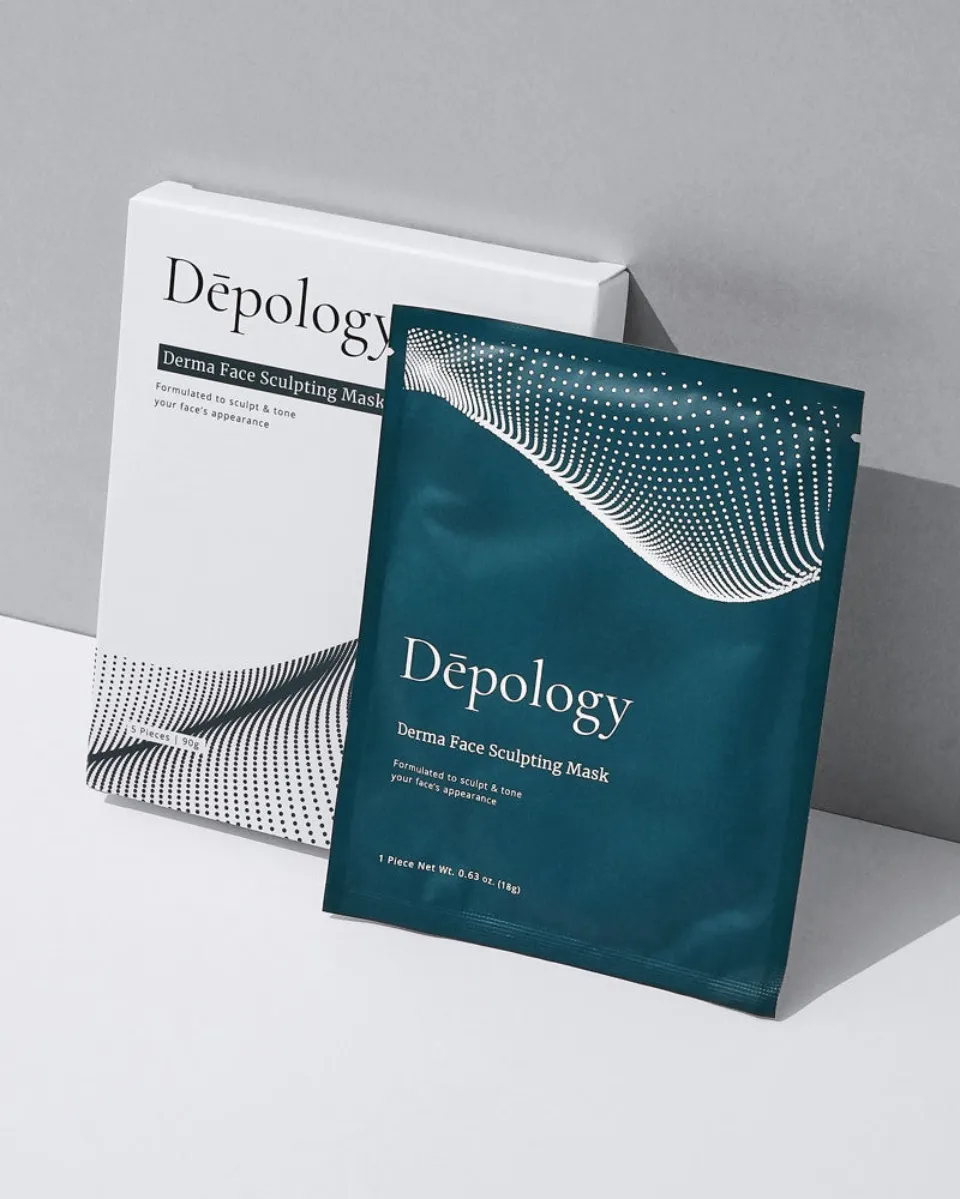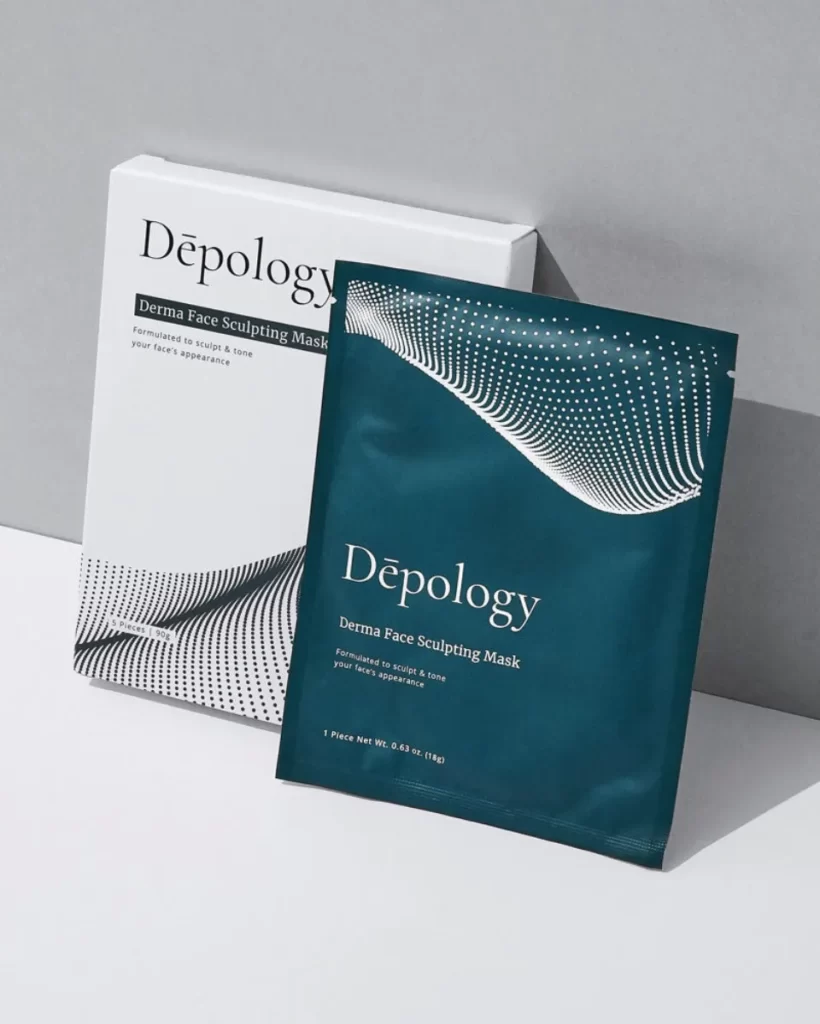 What it is?
A jawline sculpting mask that contains nourishing components like collagen and vitamin E to boost blood flow, restore elasticity, support the jawline area, and give it an immediate lift and firmness.
How to use?
Directly place the mask over the lower portion of the face, pull it up, and fasten the loops behind the ears. The mask should be adjusted so that it is comfortable and stays in place. Take it out after 20 to 30 minutes.
Review:
I just started using a jawline mask, and I think it's awesome! The mask is made of two different materials: hydrogel on the inside and cotton on the outside. Since the form is stretchy, it is simple to alter it to fit the shape of your face.
My jaw area definitely becomes more firm and flexible as a result of the slightly cooling effect and how comfortable it feels.
Without worrying that it will fall off, I can use it while engaging in other activities like reading or working.
Hydrogel Eye Patch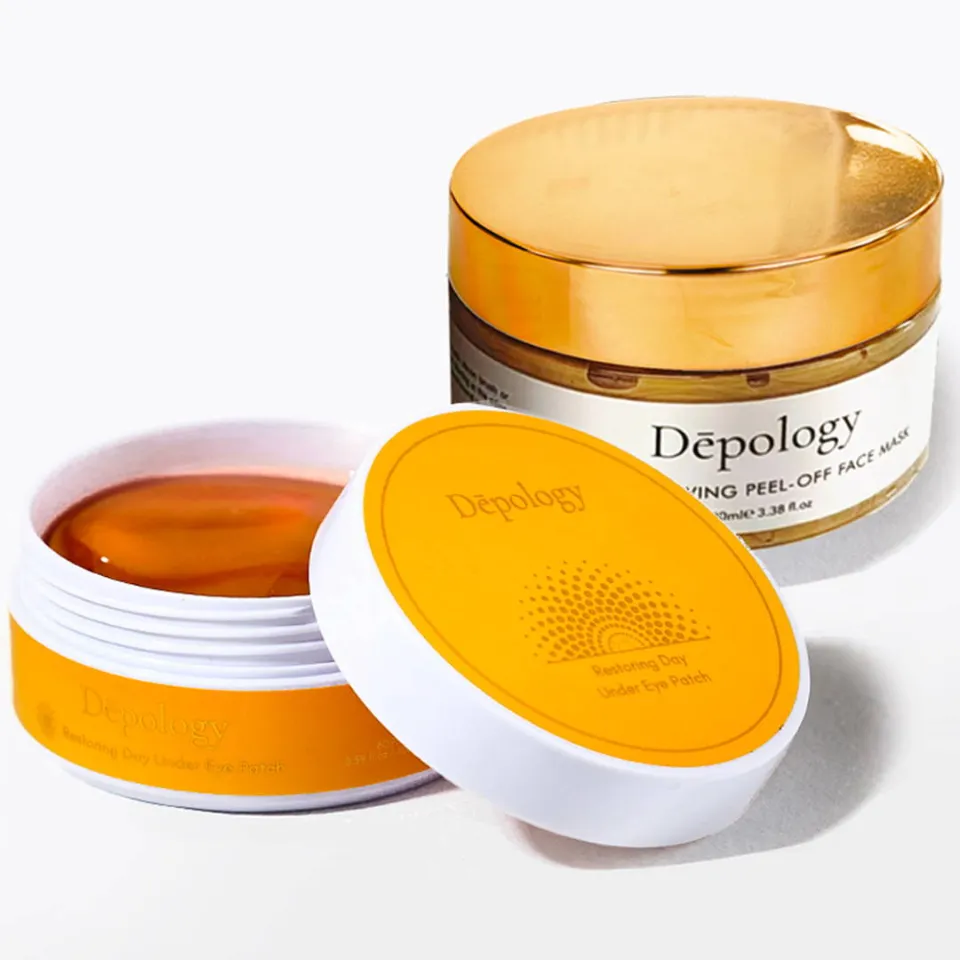 What it is:
The appearance of fine lines and wrinkles is reduced by using a hydrogel eye patch, which is available in three variations based on how well they perform specific functions.
Restoring Day Under Eye Patch (gold): morning skincare routine to brighten up under eye.
Replenishing Night Under Eye Patch (blue): night skincare routine to calm, brighten, and smooth under the eyes.
Black Caviar Collagen Under Eye Patch (black): infused with luxurious anti-aging ingredients to nourish skin, and reduce puffiness and fine lines.
How to use?
One set of hydrogel patches should be applied under each eye, followed by 10-15 minutes of relaxation.
After that, take off the patches and gently pat any leftover serum around the area under your eyes.
Review:
So do Depology patches work?
The product can be removed using the included spatula, and the packaging is securely shut. In contrast to the hydrogel's thickness and width, which are comparable to those of a standard eye patch, the serum in the images above shows how abundant it is.
I need to lay down so it won't drop when I apply it under my eyes. It initially causes quite a bit of itchiness, but it gradually goes away.
Each variety has the same calming, cooling effect and almost no scent—which is something I absolutely adore! The following morning, it gives me energy and makes me feel rejuvenated!
Is Depology Overpriced?
Given how well-made the formulations are, consumers' main gripe with Depology is likely to be the cost. Depology products are formulated like a luxury brand and priced like a luxury brand.
In our opinion, Matrixyl 3000 is very reasonably priced. For one ounce, it costs $40 (plus shipping), but since it's a serum, it should last for some time.
Depending on usage, the lifespan will vary, but typically a skincare serum can last at least two months, costing just $20 per month for a highly effective anti-aging product.
The eye patches cost a great deal more. 16 pairs currently costs $116, which equals a cost of $7.25 per use. This makes Depology eye patches more than 10x more expensive per-use than The anti-aging cream from Depology.
We unquestionably advise the serum over the eye patches for consumers on a budget. There are effective ingredients in both products, and we haven't found any clinical studies that indicate the eye patches are more efficient.
Conclusion on Depology Reviews
So in conclusion, is Depology a good brand?
Depology is arguably the skincare brand with the best formulations of any brand we've reviewed to date on Illuminate Health.
Both of the Depology products we examined (Matrixyl 3000 and Deepcare+ eye patches) contained a substantial amount of useful ingredients, and neither contained any dubious additives.
Given how effective it is, we believe the anti-aging serum from the brand to be very reasonably priced.
We would recommend both of the Depology products reviewed in this article to consumers, and it's not surprising that If Korean skincare is as well-designed as this particular brand, it will likely grow in popularity.
For more skincare product reviews, keep reading:
FAQs About Depology Skin Care Reviews
How Should You Apply Depology?
The patches should be placed directly on the skin, and you should give them at least two hours to dry.
What Are the Side Effects of Depology?
People who have used the Depology patches have not yet reported any side effects.
It is available for purchase on the official Amazon website.
Does Depology really work? Studies found that after 12 weeks of use, this ingredient reduced visible wrinkles by over 30%.
Yes, Depology is a legitimate skincare brand.
How Often Should I Use Depology?
It's better to use it every 2-3 days.
Is Depology Cruelty Free?