Have you heard of the company DRMTLGY before? Well this DRMTLGY reviews will be super helpful then. We will analyze this brand from pros & cons, popular products reviews and more.
It can be confusing and expensive with all the skincare brands and products available. DRMTLGY is a skincare brand that caters to all different types of skin and issues. The company makes skincare with safe, effective active ingredients for great results by using only premium ingredients.
Continue reading if you're interested in learning more about DRMTLGY.
Overview of DRMTLGY
DRMTLGY's anti-aging kit is designed for all skin types and issues, such as fine lines or wrinkles.
Additionally, the item aids in treating dark or dull-looking hyperpigmented patches on the face that may be brought on by exposure to UV rays from the sun, giving you a younger, plumper appearance with a radiant, healthy glow.
Is DRMTLGY Legit?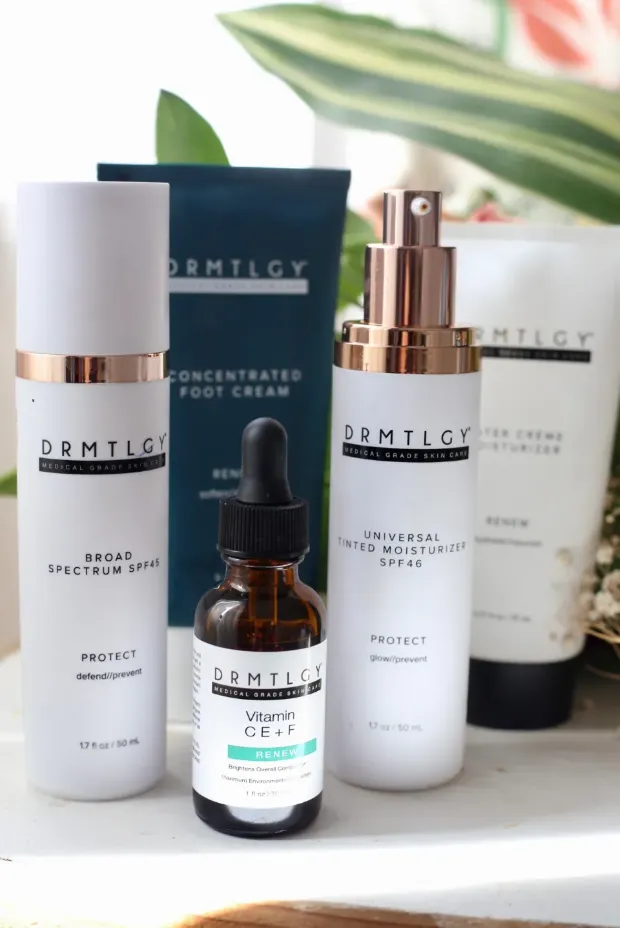 No DRMTLGY review would be complete without hearing from customers, and that means positive and negative feedback.
However, despite our best efforts, we were unable to locate many negative reviews of this brand online.
Not all DRMTLGY reviews are positive, but the majority of them are, and there weren't enough complaints to raise a red flag. The brand is legit and loved by the masses.
Pros & Cons of DRMTLGY
Below are pros and cons of Drmtlgy.
Who is DRMTLGY For?
If you're the type that has a long checklist for what you need from your skincare, Drmtlgy is a fantastic choice.
With this brand, the benefits just go on and on, and stamps like not tested on animals, medical-grade, effective, and safe decorate its product line.
Read More: How to Achieve Dewy Skin?
5 Popular DRMTLGY Product Review
Though the brand has so many effective products in its wheelhouse, if you're interested in best Drmtlgy products, you'll find them up next in this DRMTLGY review.
Vitamin C, E, F renew serum
Needle-less serum
Peptide Night Cream
Physical Universal Tinted Moisturizer SPF 44
Hydration Booster 10X
Drmtlgy Vitamin Ce+f Serum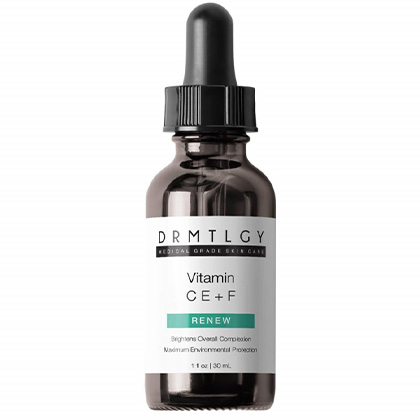 This serum has helped my eyelashes grow significantly and is great for brightening the skin.
In my opinion, the vitamin E is fantastic for making the eyelashes and brows appear fuller and more defined.
Additionally, this serum aids in minimizing the appearance of hyperpigmentation and fine lines.
I adore how effortlessly the serum applies to the skin, how soft it leaves the skin feeling, and how it glides on. I've noticed a change in my skin's texture overall thanks to this serum, and I also think my skin looks more radiant.
Drmtlgy Needle-less Serum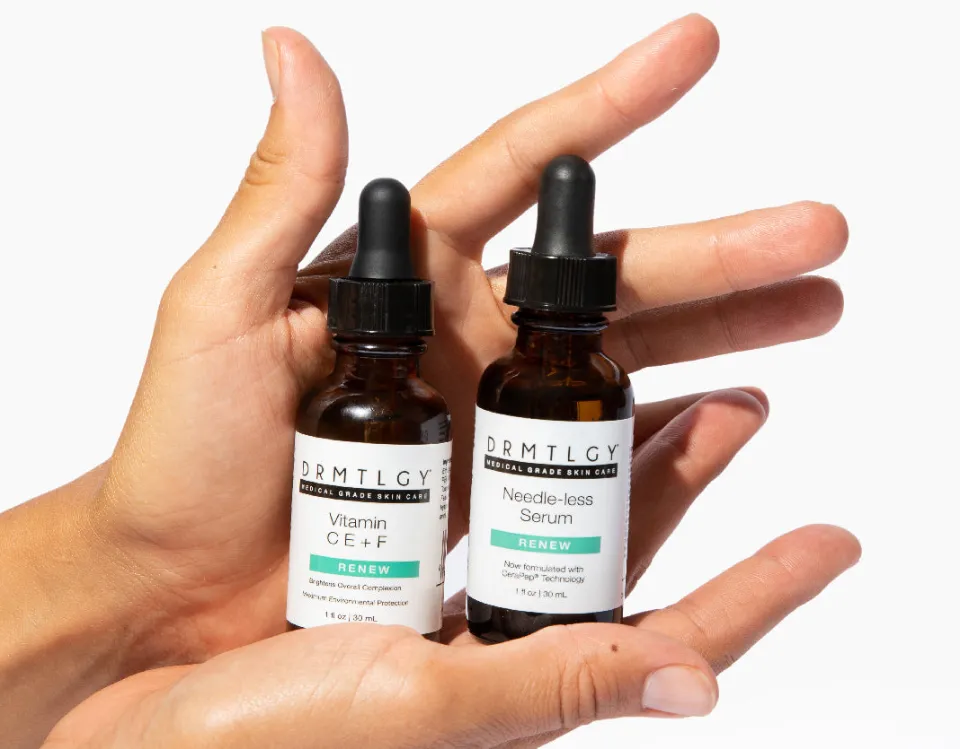 For preventing and reducing wrinkles, this serum works wonders. I apply this both morning and night to lessen the look of wrinkles.
Basically, in my opinion, botox in a bottle. I do notice I have less wrinkles around my eye area, but my forehead I still have deep wrinkles, so I'd say it definitely works for smaller, finer wrinkles, but not so much for deep ones.
Per the website, "Our advanced formula helps with signs of aging by strengthening skin's moisture barrier, while improving the look of skin fullness and pore appearance". I do observe that after using it, my skin appears plumper and that my pores have unquestionably shrunk.
I enjoy the way the serum feels overall, and it has reduced the appearance of the finer wrinkles around my mouth and eyes.
Drmtlgy Peptide Night Cream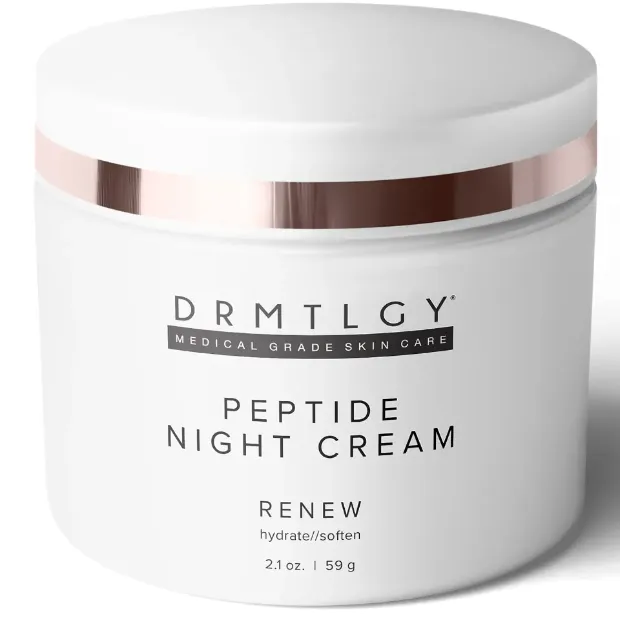 First of all, this Drmtlgy night cream feels wonderful! I adore how hydrating it feels on my skin, especially at night after a thorough skincare routine.
It unquestionably aids in securing all serums in the skin. I also appreciate the fact that it is an anti-aging night cream, which helps to ward off wrinkles and fine lines.
Overall, I adore this night cream and have completely stopped using my other nighttime creams.
Drmtlgy Physical Universal Tinted Moisturizer SPF 44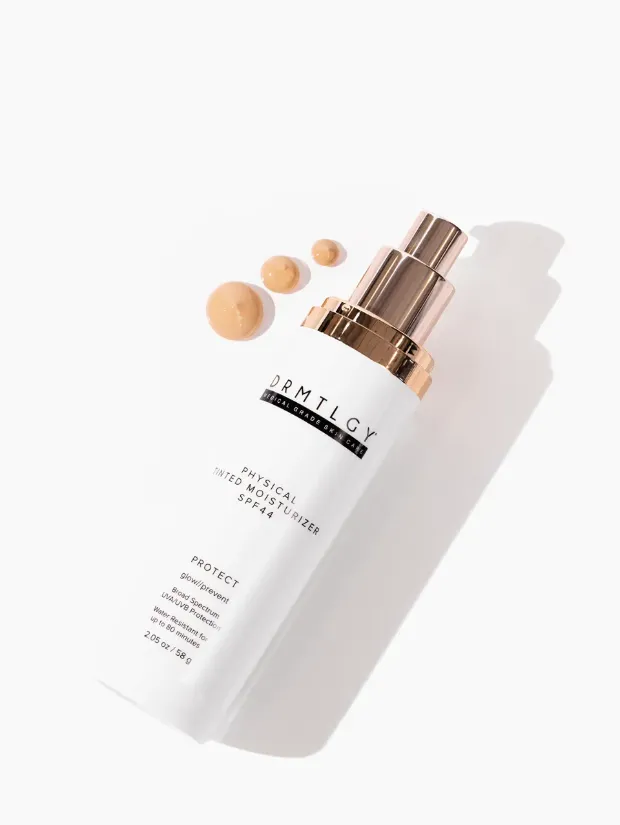 This Drmtlgy sunscreen is made entirely of minerals and offers strong UV protection. I adore how it imparts nourishing hydration as well as a soft, radiant glow on all skin tones.
High concentrations of hyaluronic acid, vitamin E, and iron oxides in this sunscreen's formula, along with its water-resistant, reef-safe construction, offer enhanced blue-light protection.
The blue light protection is wonderful. This is how it differs from all the other sunscreens I've tried. This also helps protect against those rays, especially if you spend the majority of your day working in front of a screen.
This sunscreen applies very smoothly, and I appreciate that it isn't a very thick, chalky sunscreen. It applies easily and smoothly.
I will say, it does go on a bit "light" color-wise, it doesn't exactly match my skin as some other tinted moisturizers do, but once I put on makeup, and it looks great.
This is without a doubt the best sunscreen I've ever used, and I love that it blocks blue light as well as having mineral properties that mean it won't contain any of the nasty, harmful ingredients that some sunscreens are being recalled for having.
Drmtlgy Hydration Booster 10X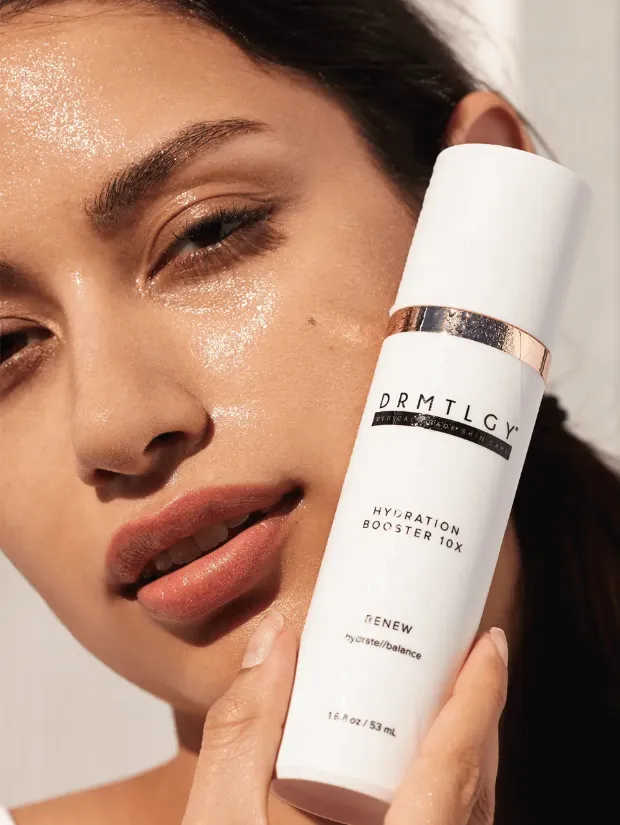 This Drmtlgy hydration booster is fantastic! My skin feels incredibly hydrated, and it also makes the moisturizer even more hydrating, which I love!
My skin feels supple and soft after using this booster serum before applying any other creams or makeup. In addition, I use it both day and night. Because of the Hyaluronic Acid, Soybean Extract, Green Tea Extract, and Aloe to bring out the skin's natural moisture, the serum gives the face a plumper appearance.
This is another product that I firmly believe helps keep my skin looking young and hydrated throughout the day.
What Are Consumers Saying About DRMTLGY?
The majority of reviews are positive. The fact that a significant portion of these reviews come from their website should be noted, though.
Since they primarily sell on their website, it raises concerns about authenticity, but that should be reasonable.
The favorable results clients have noticed are shared in DRMTLGY reviews. Others who have used this product have requested that the manufacturer produce it in larger bottles in the future.
On Trustpilot and Reviews.io, there aren't any unbiased customer reviews, though.
Is DRMTLGY Worth It?
It's one thing to make clean skincare, and another thing entirely to make it medical-grade, have it recommended by dermatologists, be safe, and be effective. DRMTLGY products aren't cheap, but they aren't unaffordable either, and honestly, developing a powerhouse product line doesn't come cheap.
In terms of the feedback we found for this brand, its ethics, and its selection of products and their ingredients, DRMTLGY is worth the buy.
Final Words on Drmtlgy Real Reviews
DRMTLGY is a brand that provides varying skincare products from anti-aging solutions to sunscreens. It asserts that their formulations are made with premium ingredients like peptides, botanicals, and essential oils. DRMTLGY anti-aging kit is a less risky option to pricey treatments.
DRMTLGY reviews highlight positive things about the brand. The only potential drawback of this product is that it may be a little more expensive than other high-quality products in its price range.
Would you like to try it out? Finding out if this will meet your needs is important.
Alternatively, you can choose any of the anti-aging products we've previously reviewed from the brands that are offered. Before buying it, make sure to consult your doctor.
Read More:
FAQs about Drmtlgy Reviews
DRMTLGY was founded by a skincare entrepreneur and a medical doctor. The clean line is results-driven and dermatologist-recommended, and it approaches skincare from a scientific perspective.
Where Are DRMTLGY Products Manufactured?
The brand manufactures many of its products in its FDA-regulated facility in Some of the clothing in the collection was made in Korea as well as Southern California.
DRMTLGY says that all of its products are manufactured and developed by methods that do not implement experimentation on animals. This doesn't imply that all of its products are totally free of animal testing, but it does imply that the company doesn't subject its goods to additional animal testing.
Yes, we would say DRMTLGY is a high-quality skincare brand.
What is DRMTLGY's Shipping Policy?

If you live in the US, you can anticipate your order to arrive there in 3 to 8 business days after it leaves the warehouse. As soon as you place your order, DRMTLGY will start putting it together, and you'll receive a confirmation email once it's shipped out.
You can find select products through Amazon and Desert Cart, but the best place to shop to take advantage of deals is right from DRMTLGY.com.
Is Drmtlgy Medical Grade?
Yes, it is a medical-grade skincare brand.