A vitamin C serum is one of the most suggested products for anyone's routine, regardless of age or skin type. This Vibriance Super C serum reviews will analyze its ingredients, pros & cons to help you decide whether it is worth buying.
One of the most popular ingredients in skincare products is vitamin C, and with good reason.
Vitamin C is also the key ingredient in the Super C Serum. A closer look at Vibriance's serum is provided here. How does it function, and is it suitable for you? Keep reading and find our more!
What is Vibriance Super C Serum?
Super C Serum is a multi-tasking product.
Both a serum and a moisturizer, according to the manufacturer, it can hydrate, even out skin tone, soften skin, and fight wrinkles and age spots.
In addition, the serum can be applied around the eyes to lift and firm the skin.
Vibriance Super C Serum Pros & Cons
How Does Vibriance Super C Serum Work?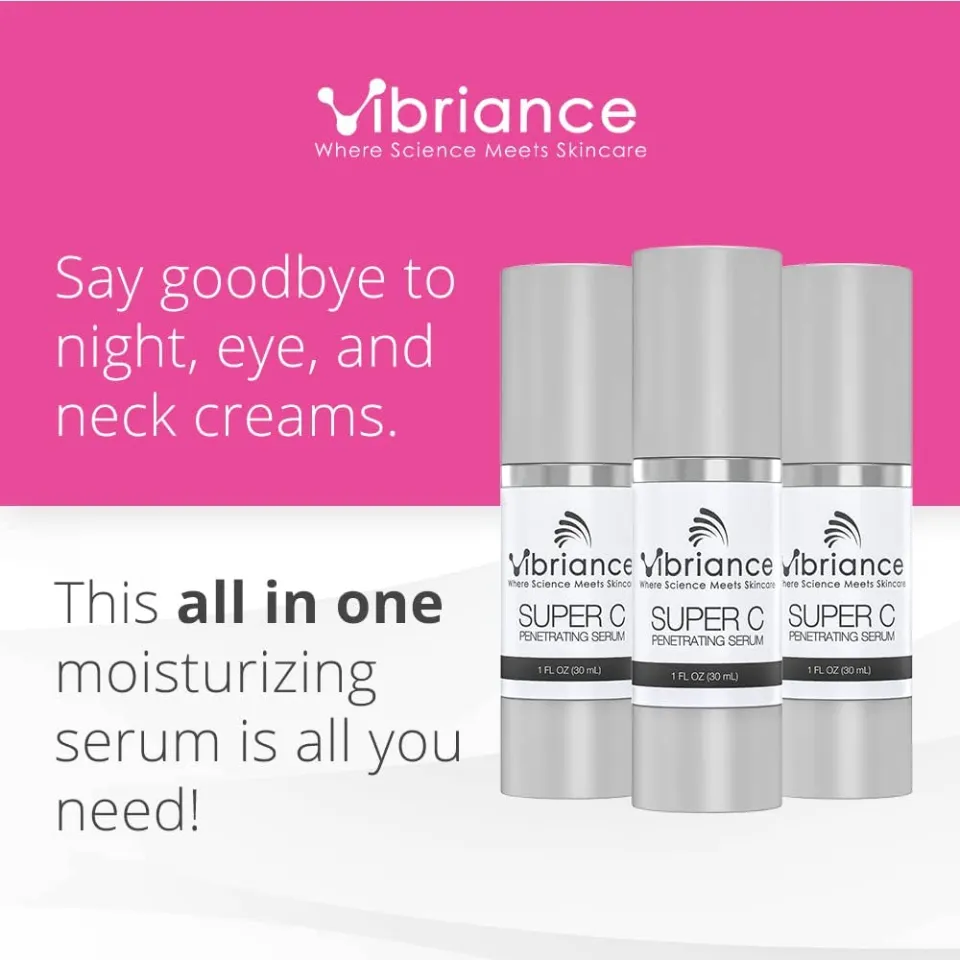 Vibriance Super C penetrating serum is packed with ingredients that have strong anti-antioxidative properties, which the producer highlights are an effective solution when it comes to dealing with age signs.
Studies and reports on the effects of antioxidants like Vitamin C on skin support seem to support the serum's claims that this ingredient can lessen aging-related skin damage.
Another important component of this serum is hyaluronic acid, which actively works to keep the skin hydrated while also assisting in the further reduction of under-eye wrinkles.
Together, the other ingredients in Vibriance cream work to manage inflammation, reduce under-eye puffiness, and help clear up dark spots.
What Are the Ingredients in Vibriance Super C Serum?
Like what is said about other Vibriance skin care products, this serum claims to be fully organic and some of its key ingredients include:
As the name suggests, vitamin C is the star ingredient in Vibriance Super C Serum. You will find out more about Vibriance Super C serum ingredients, as well as a few auxiliary components by reading on.
Vitamin C
The best anti-aging ingredient, according to a lot of people, is vitamin C. Strong anti-oxidants like vitamin C shield the skin from free radicals, which are unstable molecules that cause fine lines and wrinkles on the skin to appear prematurely.
By preventing the synthesis of melanin, vitamin C also promotes a more even skin tone, a lighter complexion, and fewer dark spots.
The standard form of vitamin C, L-ascorbic acid, has been replaced by ethyl ascorbic acid, which Vibriance claims is more potent and stable.
Vitamin E
Vibriance Super C Serum also contains vitamin E, which is great because vitamins C and Eare known as "network antioxidants".
As a publication in the journal Dermatologic Therapyexplains, "because vitamin The combination in a cosmeceutical formulation is synergistic, especially in UV protection because C regenerates oxidized vitamin E."
Panthenol (Pro-Vitamin B5)
The Vibriance Super C Serum contains panthenol, also known as provitamin B5, which is a hydrating component.
Clinical studies demonstrate that panthenol-based formulations increase skin moisture content and significantly improve skin barrier function by reducing transepidermal water loss (TEWL).
The function of the skin's barrier has also been shown to be enhanced by panthenol. It can enter the deeper skin layers, where it is absorbed into the cells and converted to pantothenic acid through metabolism. This capacity for deep penetration is useful for supplying moisture that is necessary for maintaining the skin's normal moisture balance.
Does Vibriance Super C Penetrating Serum Really Work?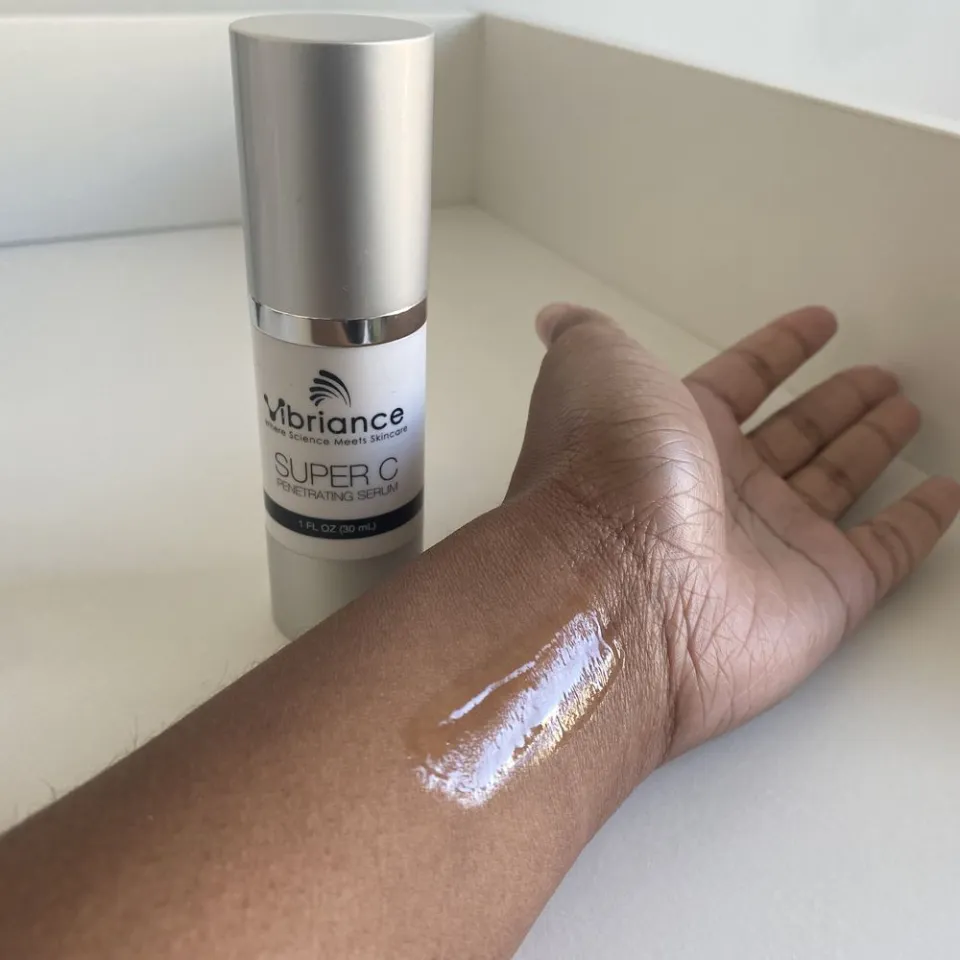 The frontline ingredients that the Vibriance Super C serum at the target uses, like for example vitamin C and hyaluronic acid have shown impressive anti-aging results. This basically means that it might work.
Additionally, the percentage of Vibriance Vitamin C Serum reviews from satisfied customers may be another sign that it might work. The results of skin serums, however, may vary depending on how each individual reacts to the formulation. On some people, noticeable changes may take time to manifest.
Read More: How to Get Smooth Skin on Face?
How to Use Vibriance Super C Serum?
Prior to drying it off with a fresh towel, make sure to prepare your skin by washing your face.
Take a generous amount of Vibriance Super C serum and apply it with the tip of your fingers to the areas of your face and neck that need it.
Where to Buy Vibriance Super C Serum?
Confused about where can I buy Vibriance Super C serum?
The official website of the business offers a Vibriance Super C target.
To entice customers, some retailer sites also advertise discounts on Vibriance Super C, but it's important to make sure the vendor you choose is trustworthy to prevent financial fraud. For added protection, you can check Vibriance Super C Walmart or other popular websites.
Final Thought on Vibriance Super C Serum Reviews
If you're struggling with hyperpigmentation or aging skin, the Vibriance Super C Serum is a great pick that can tackle both concerns.
If you're searching for a single serum that can handle a variety of tasks, the Vibriance Super C serum is a great option.
Among other things, its long list of active ingredients helps to hydrate the skin, lighten dark spots, and lessen the appearance of wrinkles. For more skin products reviews, keep reading:
FAQs about Vibriance Super C Serum
Is It Necessary to Apply Moisturizer After Vitamin C Serum at Night?
In a Vitamin C skincare routine, it's important to apply the moisturizer after the application of the serum.
What is the Best Time to Use Vitamin C Serum?
If you're wondering when to apply a vitamin C serum, the answer is both morning and night, after cleansing and toning.
Can We Sleep After Applying Vitamin C Serum?
Even if you don't have sensitive skin, we recommend that all skin types use their vitamin C serum before bed.
Is Vibriance Super C Serum Legit?
Is vibriance legit? Undoubtedly, this serum is legit and effective.
Does Vibriance Super C Work?
Yes, Vibriance Super C Serum rejuvenates the skin by reducing the appearance of wrinkles.
Does Target Sell Vibriance Super C Serum?
Yes, Target does sell Vibriance Super C.