Wondering are tennis bracelets in style 2023? Tennis bracelets are regarded as the most nostalgic pieces of fine jewelry, and if you are looking to try out something different in 2023, you will be happy to know that tennis bracelets are still in style!
A Tennis bracelet is traditionally a sentimental item of jewelry reserved for holidays and other special occasions.
Continue reading to learn why tennis bracelets have been a favorite for so long.
What Are Tennis Bracelets?
A tennis bracelet, also referred to as a line bracelet, is a fine item of jewelry that has a line of diamonds or gemstones that are connected by a metallic chain made of gold, platinum, or sterling silver.
The diamonds are the most popular gemstones used in tennis bracelets, though these line bracelets also include other kinds of gemstones.
Read More: Why Are Tennis Bracelets So Expensive?
Are Tennis Bracelets in Style in 2023?
Yes.
One of the main reasons why the tennis bracelets remain stylish even in 2023 is that the tennis bracelets are very nostalgic, and this is that one thing that makes them trendy, while also creating that cyclical nature of trends.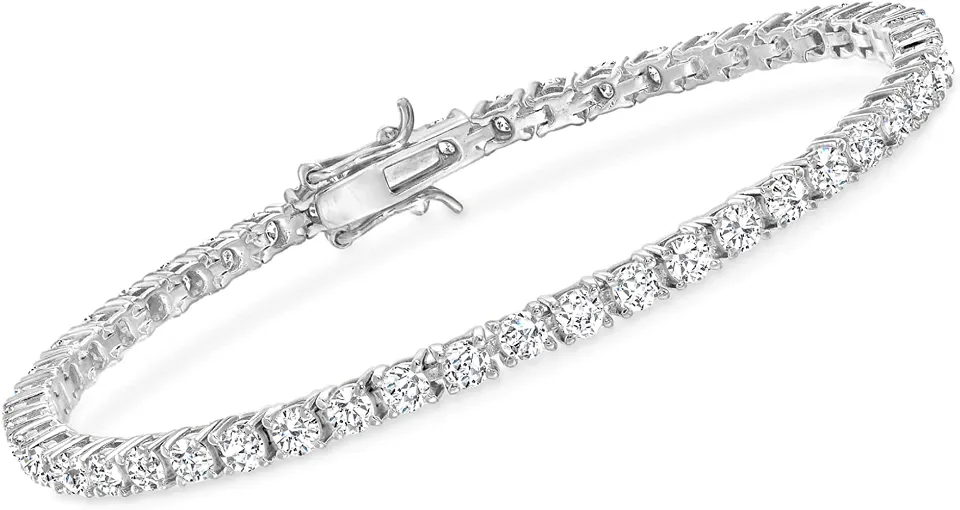 Due to nostalgia and the emotional connection one feels to their past, most people who wore tennis bracelets in the 1980s and 1990s are wearing them again today, especially when they rediscover timelessly beautiful jewelry designs like the traditional tennis bracelet.
Tennis bracelets are a significant part of the 1980s and 1990s, and they strongly evoke nostalgia.
Notably, the tennis bracelet's popularity in the 1980s wasn't just a result of the Tennis Open events in 1978; it was also due to the fact that the bracelet became a common type of status symbol in society.
Related Post: How Much is a Tennis Bracelet?
Why Tennis Bracelets Still in Style?
There are many reasons why the tennis bracelets remain stylish, even today, but the primary reason for the popularity of the tennis bracelets today has everything to do with the timelessness of the designs of the bracelets.
They are effortlessly stylish and timeless. The other reasons for their popularity include:
Every Day Wear
Although the majority of women enjoy having multiple pairs of jewelry, we frequently choose one or two pieces and wear them frequently.
One of these pieces of jewelry is the tennis bracelet, which you can wear every day with ease.
Also Read: How to Wear a Tennis Bracelet With a Watch?
Modern Tennis Bracelet Designs
In addition to the nostalgia associated with tennis bracelets, tennis bracelets are fashionable right now because they are available in a variety of contemporary designs that will make them a mainstay of the 2023 fashion scene.
Tennis bracelets have undergone some subtle changes in recent years, such as the substitution of certain types of settings for others with various stone cuts, as well as the availability of various-sized diamonds.
Additionally, there have been a number of changes made to the diamond's colors.
While the majority of traditional tennis bracelet designs from the past tended to use more stones with a single color, there is now a wider range of colors available, and stones aren't just limited to diamonds with a single color. Tennis bracelets are also available with birthstones, sapphires, etc.
Mastered Casual-Luxe Designs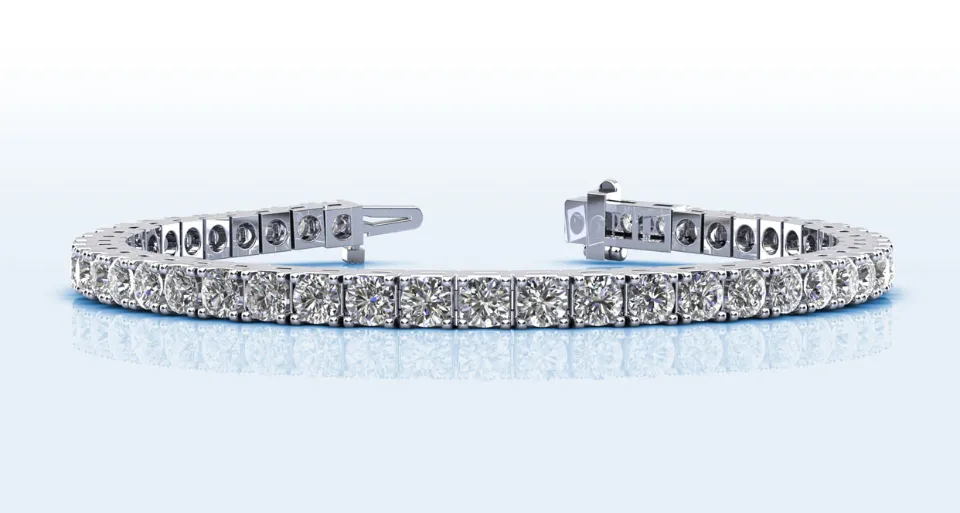 Tennis bracelets' current popularity can also be attributed to their modern designs, which have a modernized casual-luxe vibe.
The new tennis bracelet designs allow for easy mixing of the bracelet with other types of jewelry, with ease, regardless of the carat stone weight, the metal used, or the colors of the stones. Modern tennis bracelets on the market today have been expertly created in a way that they still look classy but with a luxe casual feel to them.
You can stack the bracelet with a gold bracelet or your preferred wristwatch without having to worry that any of the pieces will look out of place.
Long-Lasting
The best of tennis bracelets are timeless pieces of jewelry made with the best quality materials, and they last really long.
Tennis bracelets are typically thought of as fine jewelry because of their durability, and because of this, they frequently become family heirlooms.
Best Tennis Bracelet in 2023
Here are a few of the top tennis bracelets for 2023.
Quanda Tennis Bracelet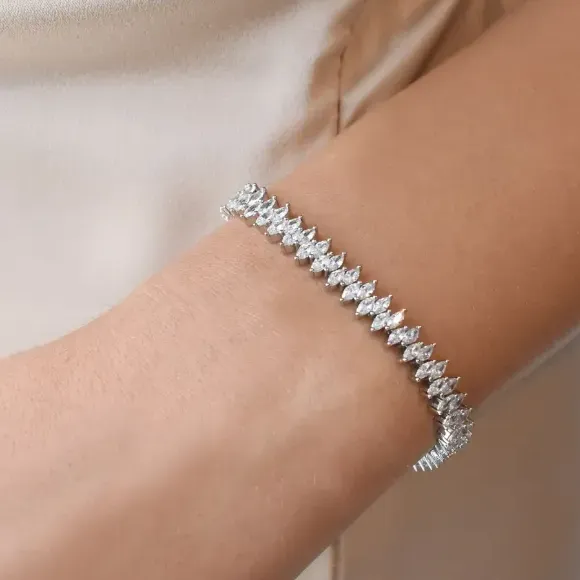 When worn, a Quanda Tennis Bracelet commands attention and inspires amazement and astonishment.
This tennis bracelet is rhodium-plated and will adorn your wrist. This stunning dainty bracelets will add the perfect amount of glam and sparkle to any of your outfits.
Icy Crush Tennis Bracelet
Show off your incredible taste with this timeless Icy crush tennis bracelet. One hundred stones in prong settings are set in this tennis bracelet made of white gold.
This piece of jewelry can be worn to any occasion thanks to the secure box clasp.
Tamara Tennis Bracelet
Show off your radiance with this stunning Tamara tennis bracelet, crafted from sterling silver and studded with glittering round gemstones set in prongs.
Debra Tennis Bracelet
This beautiful Debra tennis bracelet has a single row of four-prong-set lab-made diamonds that sparkle like real diamonds.
Rasha Tennis Bracelet
The Rasha Tennis Bracelet is made from dozens of individual gemstoes that have been aligned in a circular.
This traditional foundation has undergone countless iterations, each featuring bracelets set with a distinctive variety of gemstones.
This rhodium-plated tennis bracelet will add a touch of royal flower power to your outfit.
Conclusion: Are Tennis Bracelets in Style 2023
Tennis bracelets are classy, timeless, and elegant, and you just can't go wrong with a tennis bracelet.
The diamond tennis bracelet is one of the jewelry items that has endured through the ages, regardless of what else is happening in fashion and style.
The best tennis bracelet has a secure latch or clasp that snaps into place easily, a strong link, and is flexible on your wrist. These features are all characteristics of the best tennis bracelet.
Read More: How to Buy a Diamond Tennis Bracelet?
FAQs about Are Tennis Bracelets in Style
When Should You Wear a Tennis Bracelet?
They can be worn during casual day events, elegant evenings out, and everything in between.
Are Tennis Bracelets Classy?
Tennis bracelets are classy and beautiful.
Are Tennis Bracelets Timeless?
The tennis bracelet is a timeless, iconic piece that has become jewelry's answer to the little black dress.