Learning how to style a slip dress will help you expand your wardrobe's options because it is a very versatile piece. I was a millennial when slips were once worn under dresses, so I can actually recall that period. They were worn as a form of insurance so dresses (or skirts) made of clingy materials could hang properly; they weren't intended to be fashionable.
Also used as a cover-up or as shapewear to give a smoother appearance, slips were worn under sheer clothing. Then there were slips that were regarded as lingerie and only the star of the show when no one was looking.
Do you require assistance with slip-dress styling? You are in the proper location. Continue reading for ideas on how to style a slip dress now and in the upcoming weeks.
Other Posts You Might Like: How To Style A Bralette?
Style A Slip Dress On Its Own
The slip dress is the ideal evening dress when worn alone. Whether you're wondering what to wear on a first date or to a wedding, the slip dress is an essential silhouette of any capsule wardrobe. You're ready to go when you put on a killer pair of designer heels, such as strappy sandals or courts.
You can pair it with a sporty sandal or even a pair of trainers for a more casual look. This is one of the big shoe trends for 2022.
A style tip: If you want to let the slip dress speak for itself, Mosope suggests eschewing neutral colors in favor of a little dopamine dressing.
"This season is an explosion of all things bright, so forget about brown, neutrals, or traditional creams. Now is the time for all of us to improve our moods by decorating with vibrant shades like orange, blue, pink, and green – they're great to start with!" she says.
Layer Can Be Helpful
Between the winter and spring seasons, a slip dress can be worn in a variety of ways, according to celebrity stylists Andrew Gelwicks and Tanya Tamburin. The secret, so they claim, is to layer — a lot, frequently, and in a variety of ways.
"In the winter months don't be afraid to pile on the layers – chunky knits, hooded sweatshirts, tailored blazers, and chic overcoats on top, and thin long-sleeved tops and tights layered underneath," Tamburin tells InStyle. "Simply replace those bulkier pieces with lighter knits, flannels, denim, and leather jackets, layered underneath, to start the transition from winter to spring, she continues."
Style A Slip Dress With A Blazer
An oversized blazer, one of the enduring fashion trends of 2022, is perfect for learning how to style a slip-dress. A blazer's androgynous silhouette contrasts nicely with the dress' feminine cut. Although slip dresses are frequently midi length, a shorter slip dress looks great when paired with a blazer of the same length, giving it an almost overcoat-like appearance.
If you're still figuring out how to wear a blazer, keep your look cohesive for a stylish appearance, or toughen it up with a black blazer and boots for a distinct, grunge-inspired look. If you're self-conscious about your arms or bottom, wearing a blazer over a slip dress is a simple way to give the outfit a more formal appearance. However, a cropped jacket is a more contemporary way to wear the look if you want to show off your waist and legs.
A style tip: Mosope suggests putting on a slip dress with some lace to give this a more feminine appearance.
Add Contrast
If you want to create striking contrast in your outfit, add hard, gritty pieces like military boots or an oversized leather blazer to slip dresses, which are soft, feminine pieces. The combination will feel "balanced and interesting," according to celebrity stylist Tiffany Briseno, and can also be achieved with accessories.
"For instance, a pearl choker with a silver punk chain will tie in the entire narrative and complete your look, she explains.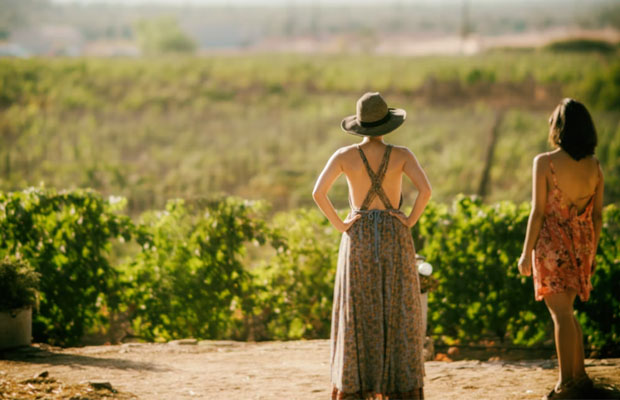 Make It Athleisure
Fans of activewear, take note: According to Tamburin, a slip dress can be worn for your aesthetic as well. Start with a slip dress with lace trim, as Tamburin advises, and finish the look with a puffer coat, your coziest hoodie, and a pair of sneakers or moto boots "for an effortlessly cool, cool-girl look."
Go 90s Grunge
In the 1990s, slip dresses became popular as standalone outfits. To give the piece "just the right amount of edge," Tamburin advises pairing a pastel slip with a thick leather jacket in a nod to its era of origin. For even more grungy contrast, she tells InStyle a super-opaque pair of black tights combined with white heels or moto boots will do the trick. Replacing the leather with flannel is then appropriate once spring arrives.
"When it's cooler outside, button it up; when it's warmer outside, tie it around your waist. "Instead of the moto, wear black leather ankle boots."
Keep It Office-appropriate
Tamburin advises teaming your favorite slip dress with an oversized blazer and motto boots for a stylish look that is also appropriate for the office if you're returning to work this spring. "According to Tamburin, the blazer will keep you looking polished and professional while the boots will give the dress an edgy vibe.
Opt For Sneakers Over Heels
This author wholeheartedly endorses the sneaker and dress combo, as does Caitlin Jaymes, CEO, and co-founder of Caitlin Jaymes Organizing & Styling. To make it work, Jaymes tells InStyle "opt for a dress with a slit [to] allow more movement in the dress, so it doesn't get stuck to your hips and thighs. Additionally, the slit will add a feminine touch to counterbalance the sneaker's masculine design.
Enhance With Accessories
Since slip dresses are frequently made of shiny satin, giving them a dressy feel, Jaymes claims that they are one of the best items to dress up for an occasion. Add accessories to spruce up the look even more. "Add on layered necklaces, bracelets, statement earrings, a fun ring, and a great pair of heels and you're ready," says Jaymes to InStyle."
Add An Oversized Sweater
A mid-length hem and an oversized sweater can be worn with a slip dress to create the illusion that you're wearing a midi skirt while the weather is still cool, advises Ramy Brook Sharp, CEO and creative director of Ramy Brook.
"Take a belt and wrap around the smallest part of your waist and then billow out the sweater over top to create a "tucked in" look," Brook tells InStyle. She continues, "The more the merrier in terms of bracelets and rings, but skip the necklace as the weight of the sweater will be sufficient." Finally, Brook advises wearing short booties, "preferably with a pointed toe," to add some variety to your footwear. Great knee-high boots are a given.
Belt It
Not in the way you might anticipate. Because slip dresses can sometimes feel a little straight line, you could add a belt to emphasize her waist — but "not a typical belt".
Instead, layer belts to produce a distinctive appearance.
The Bottom Line
I hope the aforementioned style advice can help you accessorize a slip dress. Get a slip dress and turn into one of the shiny, mossy girls on the street because summer is coming!