The time has come to add midi dresses to your wardrobe if you're looking for a new look and don't already have any. But what is a midi dress? Here is everything you need to know about midi dress.
Midi dresses come in many different varieties and options, to suit your body type and preferences. Plus, they look super cute no matter the season.
Today we're going to explore this beautiful type of dress, create tons of styles for it, and choose the right type and our top picks.
What is a Midi Dress?
Before you start styling, you need to understand what does midi dress mean. This is a dress with the hem between the knees and the ankles. It is longer than a knee-length dress and shorter than a full-length dress.
So basically, every skirt that goes below the knee but above the ankle counts as a midi skirt, right? True, but now that we're talking about your entire calf, not all clothes are going to look the same.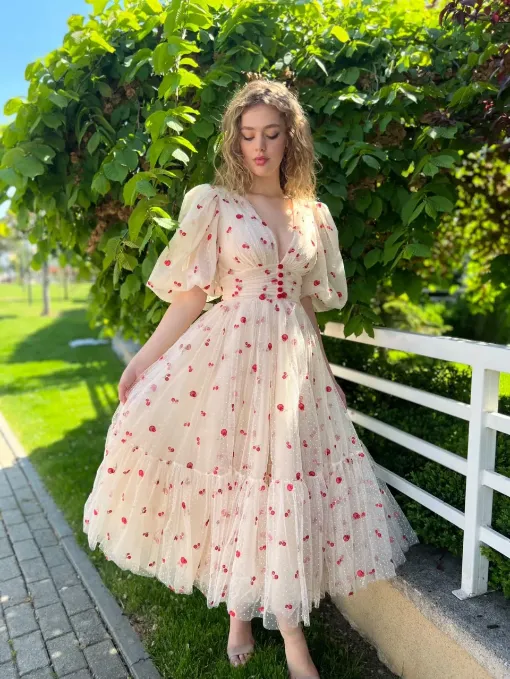 Midi dress are made of a variety of materials, so they can be worn in spring, summer, autumn, and winter. They can easily be worn too little or too much and can be paired with other fashion pieces or worn alone.
Owning a midi dress means you own a precious piece of elegant clothing that you can wear however you want. However, many women are afraid of these skirts because they think they will make them look too short or too fat.
This may be true; only if you didn't choose an appropriate piece of clothing, or your style wasn't wrong. In fact, if you're not careful when choosing items to add to your wardrobe, you could be doing it wrong with any classy outfit you buy.
Read More:
Why Are Midi Dresses So Popular?
Midi dresses are stylish and popular among fashion designers and designers. People wear it when skirts above the knee are not appropriate and long skirts are too formal.
Think family gatherings, formal dinners, or dinner nights. An elegant midi skirt can help you make a fashion statement if you choose the right midi skirt.
Different Types of Midi Dresses
There are different types of midi dresses, and here are some of the most popular ones.
Bodycon midi Dress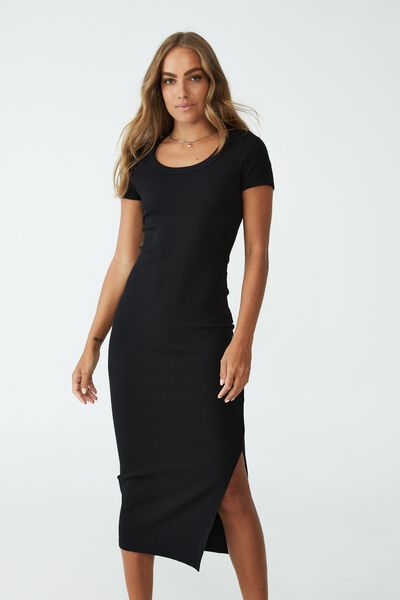 The bodycon midi dress is a tighter midi dress. It hugs your body and accentuates your natural curves, such as your hips, waist, and hips.
Midi Bodysuit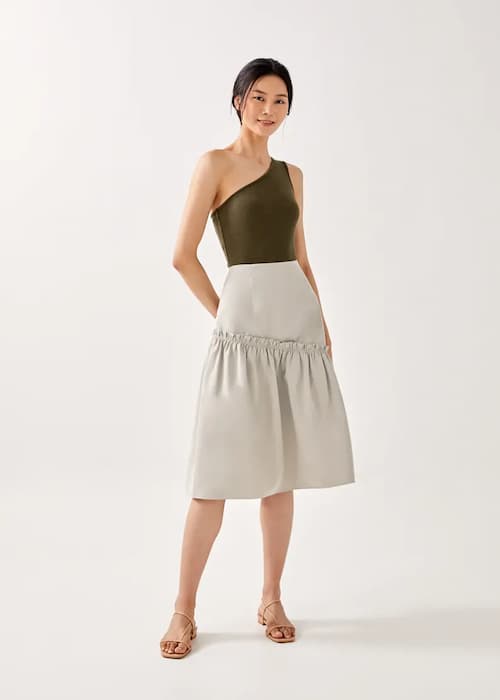 Midi body-hugging dresses have a tie at the waist, usually tied on one side of the hip. Midi wrap dresses allow you to customize how tight the skirt is at the waist. This look is suitable for many body types.
Long Sleeve Midi Dress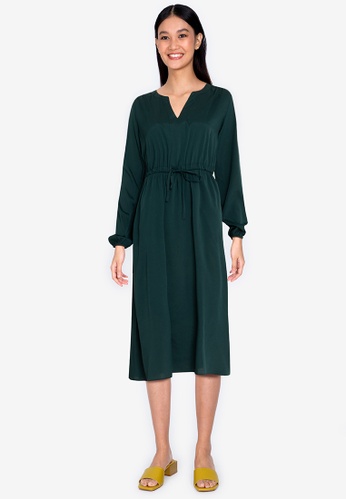 Long sleeve midi dresses provide comfort and coverage during the cooler months of the year. They look classy and show off your curves without the tightness of a skinny dress.
Bardot Midi Dress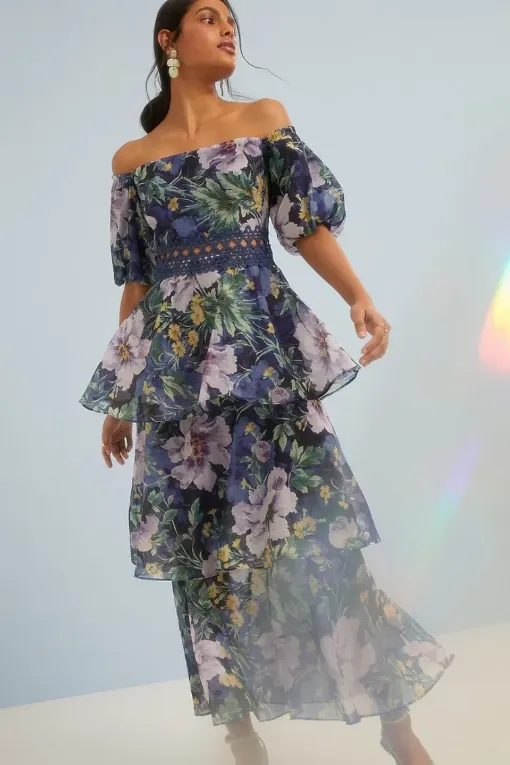 The Bardot midi dress is an off-the-shoulder dress style. Bardot midi dresses are a popular style for weddings and spring and summer.
Lace Midi Dress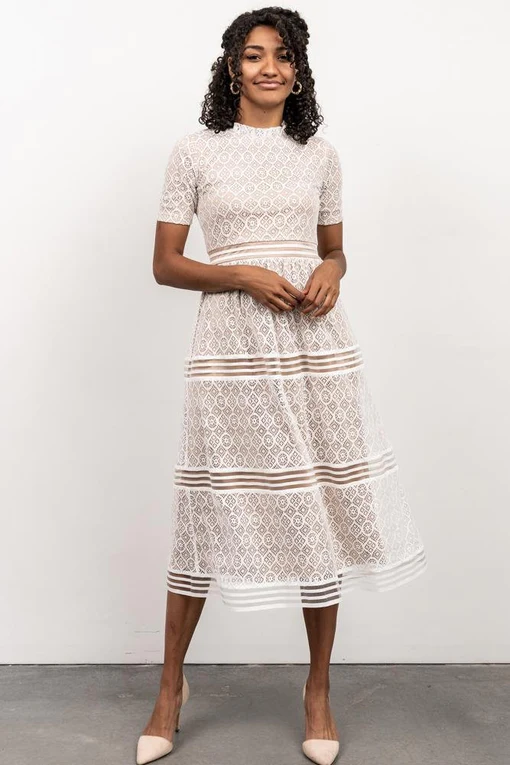 Lace midi dresses are elegant and perfect for formal events. These dresses are designed to a certain extent in lace fabrics, often with added lining, to create functional, well-designed garments.
How to Wear a Midi Dress in 2023?
Now that you've chosen some gorgeous pieces to add to your wardrobe, it's time to learn how to style a Midi dress.
Thankfully, there are so many ways to wear Midi dresses that make your dress a versatile staple in your wardrobe. Check out our top fashion tips below.
Dress up beautifully
If you want to dress casually, try a pair of sneakers. Sneakers look cute with a midi skirt. You can pair it with any shoe from Converse, Adidas, or Nike.
However, any brand of white shoes will look lovely with a midi skirt. This is an easy way to show off the look of a casual, fun midi dress.
Read More: How to Style Black Midi Dress?
Add a jacket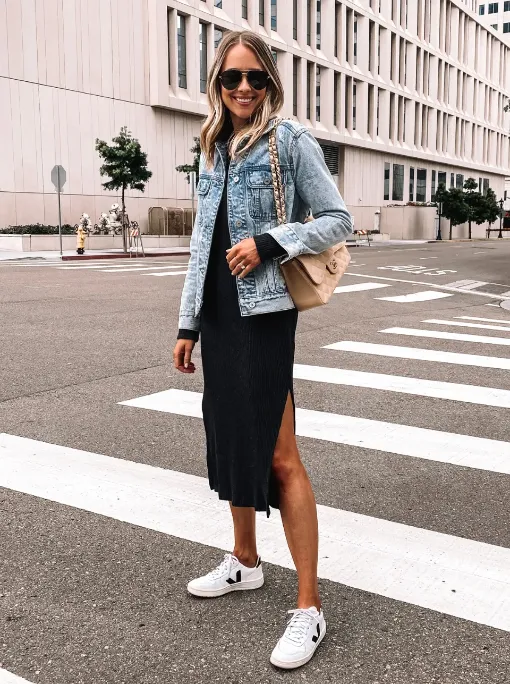 A jacket is a perfect complement to a midi dress. So what jacket to wear with midi dress?
When the weather feels slightly cooler, consider a denim jacket to pair with your skirt.
Denim jackets are available in a variety of colors to help add warmth without compromising the look of your dress.
Sandals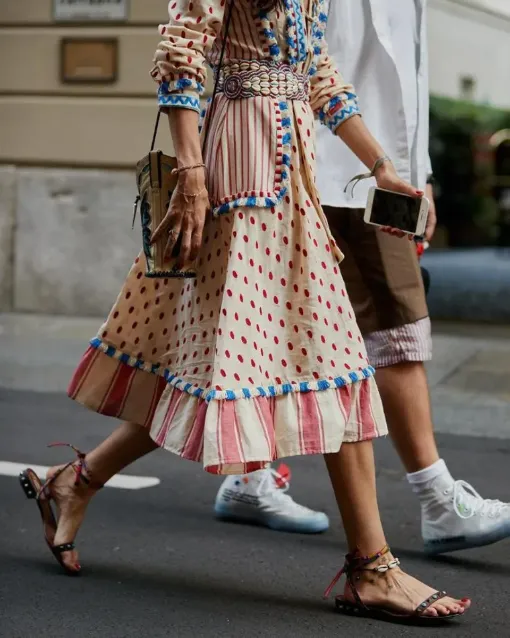 In summer, the best way to wear a midi skirt is to wear a pair of flat sandals. Plain white or black sandals are an easy way to complement a midi dress.
Plus, you'll feel comfortable throughout the day, whether you have to run errands or head to the office.
Related Post: What Shoes to Wear With Midi Dress?
Add jewelry
Most midi dresses will have some type of pattern or style that allows you to wear them without adding accessories. However, if you want a fun way to style your midi dress, consider adding jewelry.
Types of jewelry that will look great with a midi dress include bracelets, necklaces, or earrings. Try to match the style of jewelry with the clothes you are wearing. For example, if you're wearing a bold bodycon midi dress, make sure your jewelry complements this look.
For dress style tips, read post on How To Style A Slip Dress.
How to Choose the Best Midi Dress?
While a midi dress is elegant and stylish, you have to make sure you're choosing the right one and know how to style it. Here are some tips to follow when shopping for a midi dress.
Consider the Appropriate Length
The position of the hem will determine the look of your skirt. Most women look good with skirts that are a few inches below the knee or a few inches above the ankle.
The key is to avoid hitting the skirt right in the middle of the calf, the widest part. This will give the illusion of a long dress without making you look boxy.
Show Some Skin
If you care a little about your hips, then a midi skirt will be your best friend. If you have spider veins, fuller hips, or just don't want to draw attention to your legs, you can still look your best by picking up a sexy midi skirt.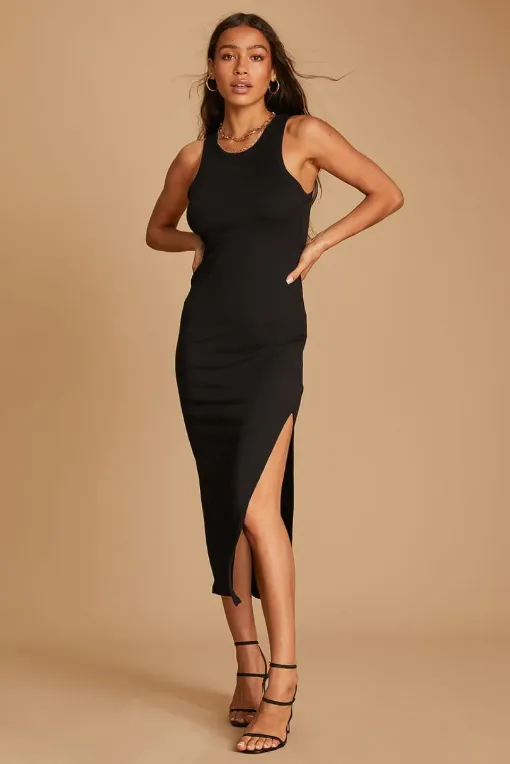 Choose the appropriate neckline, or opt for sleeveless, strapless, or one shoulder. There are many styles you can try to highlight your assets.
Choose a Multifunctional Item
Your goal is to buy an elegant dress that you can style in different ways. Dresses without too much detail can easily be worn under a blazer or jacket for the look of a skirt. The bottom looks like an A-line skirt, pencil skirt, wrap skirt, or pleated skirt.
3. Define your waistline
When worn improperly, midi skirts can make you look boxy, mess up your silhouette, and hide your sexy curves. This is why you should add a proper belt to your skirt to accentuate your waistline and make you look more complete.
It will also look good without a belt if you are wearing a tight dress. However, some women also like to add a thin belt to accentuate their hips and make their curves look more prominent.
Choose Midi with Slit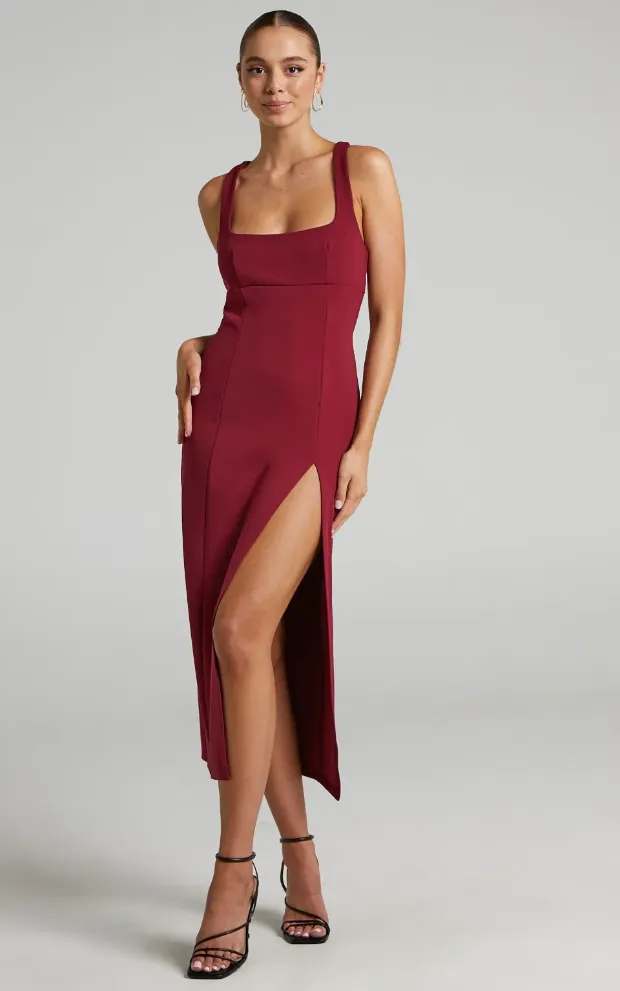 Who said a midi skirt should cover your entire leg? Whether the bottom is flared or skinny, you can opt for a midi dress with an opening. The crack can extend to the knee or higher if you like. Every time you move, this crack will reveal some skin, making you look trendy.
A midi dress can be worn with sneakers for a casual morning or heels for an elegant dinner date. Don't be afraid to try a few styles until you find one that works for you.
Summary: What is a Midi Dress
Now you should know what is a midi dress.
Midi dress is a lovely way to add style and style to your outfits. A variety of styles are available for all body types, adding fun to your wardrobe.
If you haven't already purchased a midi dress, head to your favorite clothing store and follow our tips to stock up on new pieces for your wardrobe.
Read More:
FAQs about Midi Dress
What to Wear under Midi Dress?
A pair of seamless underwear is an excellent choice for wearing under a tight dress.
How Long Should a Midi Dress Be?
Where the hemline stops halfway between the knee and the ankle is known as a midi dress or midi skirt.
Maxi dresses are long dresses that reach your ankles or sometimes the floor.
The hemline of this short dress for women is typically mid-thigh level, well above the knees.
How to Look Good in a Midi Dress?
As a general rule, a midi-length dress works best with a coat of the same hem length or longer, or with a short jacket.