If you're wondering how to style loafers for woman, you're not alone. These can feel difficult to style depending on the type of loafer, particularly lug sole loafers.
Loafers are one of the few pairs of footwear that can be worn all year long and elevate even the most basic of looks.
Contrary to popular belief, most loafers—even those chunky styles—are much simpler to style. Keep reading and find out more loafer outfit ideas.
How to Style Loafers With Jeans?
It makes perfect sense to pair loafers with jeans! Loafers will give your denim a more polished appearance while still looking laid-back.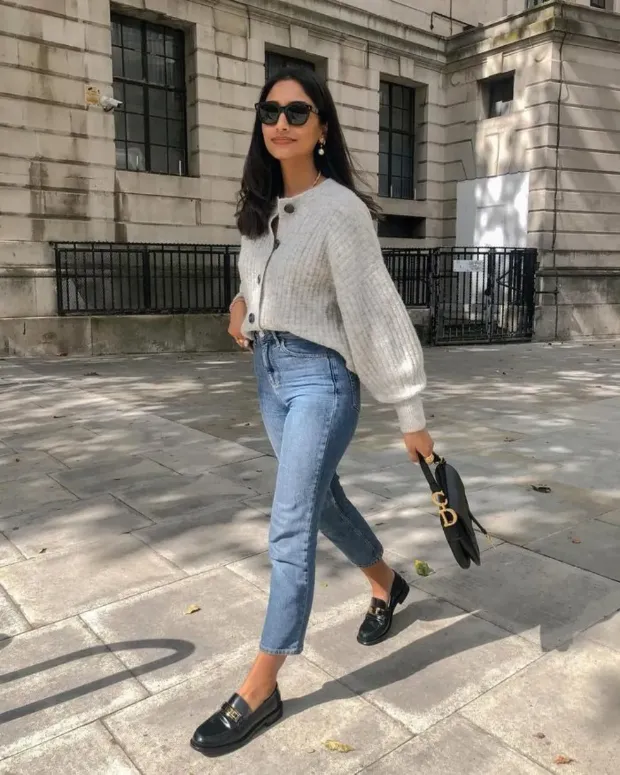 While there are so many ways you can style your jeans with loafers, I love the idea of wearing a sleeveless sweater vest with black patent loafers and straight-leg jeans.
A sweater vest has a retro, preppy vibe that works well with loafers, and this fuzzy plaid button-front sweater vest with a cropped length is right on-trend.
Accessorize the outfit with cute yin-yang stud earrings and a graphic print canvas tote bag, which you can rep your college with.
Also Read: Are Loafers Business Casual?
How to Style Loafers With A Short Dress?
Numerous loafer designs, including the traditional slip-on, penny loafer, and even the chunky lug-soled loafers that are currently popular among fashionistas, go well with mini dresses.
To play into the loafer styling trend, pair your black or dark-colored loafers with a pair of white ankle socks. You have the option of choosing a neutral loafer color or a bright white or pastel shade.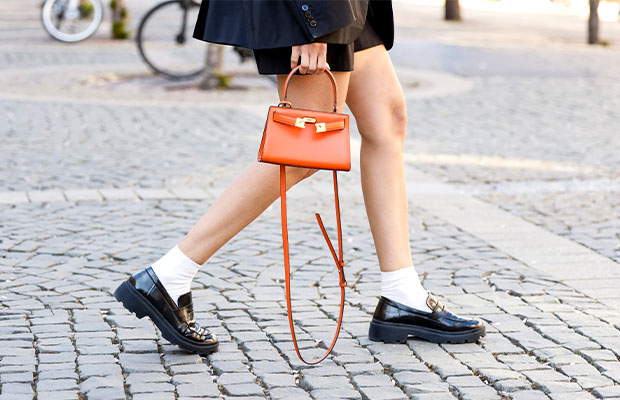 Finish the look by pairing any kind of short dress with loafers and a cropped jacket, trench coat, or blazer that complements the dress style and the time of year.
Use a canvas or leather crossbody to keep your bag casual. Alternately, pick a small handbag or clutch to further accentuate your appearance.
Related Post:
How to Style Loafers With A Midi Or Maxi Dress?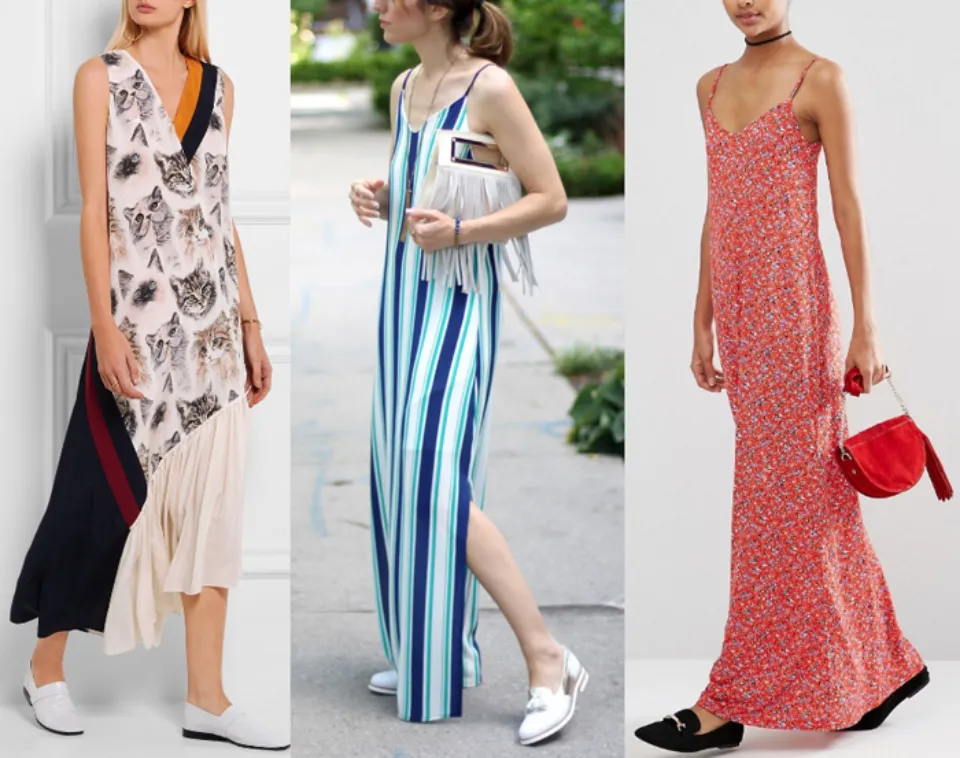 Like with shorter dress lengths, the majority of loafers, including loafer mules, look great with calf length or longer dresses. In fact, loafers are among the best shoes to pair with midi dresses in order to achieve a polished appearance.
On mild fall or spring days, loafers look great with midi or maxi dresses, topped with a cropped jacket or vintage trench. For work, pair a midi shirt dress, a front-button sweater, or a knit dress with black, white, or burgundy loafers.
However, I do love light-colored loafers like Horsebit Gucci loafers or similar styles paired with a feminine floral or flouncy midi to a maxi dress. Make a statement with lace socks or any other trendy socks for loafers when wearing a midi dress. Alternatively, keep the look more understated by wearing no-show socks.
In order to avoid making yourself and your legs appear shorter, if you are a petite woman, avoid wearing a midi that reaches the highest point of your calf with loafers.
How to Style Loafers With A Sweater Dress?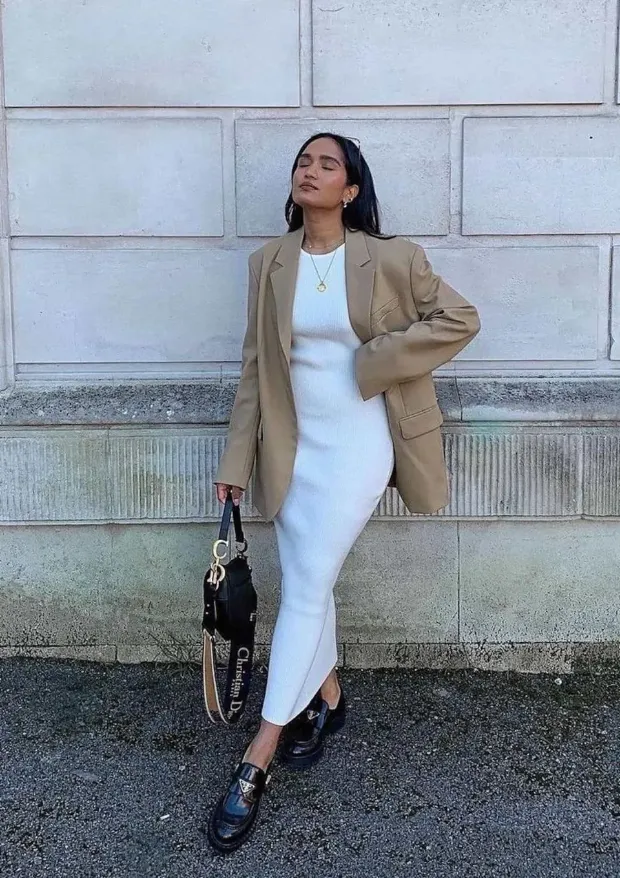 Since a few seasons ago, loafers and loafer mules have become a well-liked footwear option thanks to Gucci. They come in a wide range of designs, hues, and materials, but I prefer black or white.
For the office, this outfit and these loafers look great. To complete your look, simply add a structured handbag.
For a casual or dressy appearance, loafers and loafer mules can be paired with all kinds of sweater dresses. For cooler days, including a pair of opaque tights or ankle socks.
How to Style Loafers With A Blazer?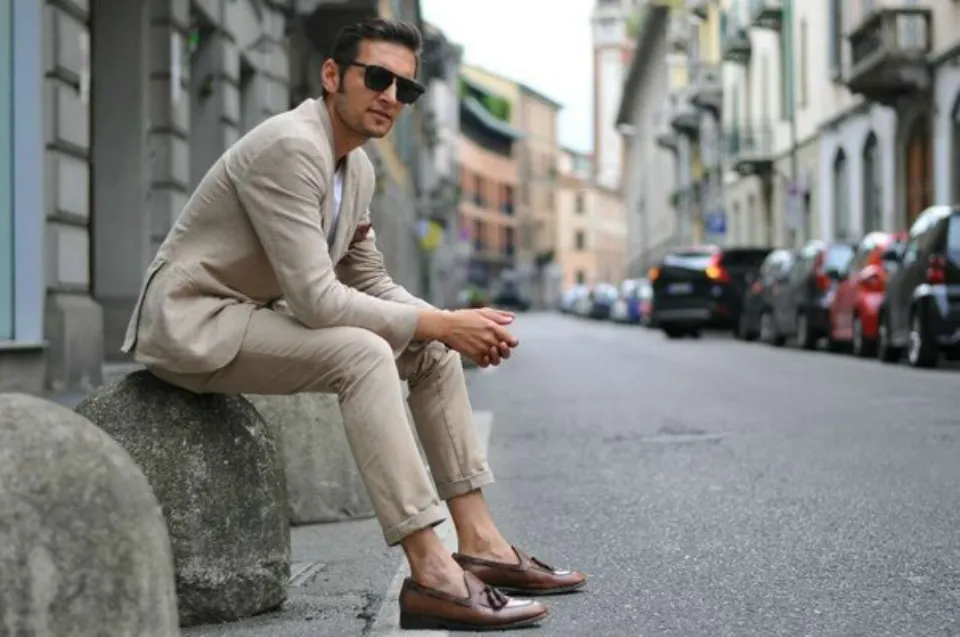 Try a menswear-inspired look by wearing your loafers with a blazer –– both of which are key items to add to your fall shopping list.
Play with proportions by opting for a blazer with an oversized fit like this double-breasted blazer, and wear it with a simple black mini skirt, which is an ultra-versatile piece. Depending on your preference and where you're going, you can wear either a crop top or a full-length top underneath.
Complete the look with some patent loafers with a chunky treaded sole and gold chainlink detail which look adorable when paired with some white crew socks for a retro feel, along with a sleek faux leather baguette shoulder bag.
Also Read:
How to Style Loafers When Going Out?
Believe that the only appropriate footwear for going out is high heels or booties? Think again! These cool loafers come in black with a hint of the famous "Bottega Green" that everyone is loving this year. For a night out, they are ideal.
For this trendy ensemble, wear some menswear-inspired pinstriped trouser pants with a sultry strapless corset top (this one features an eye-catching lace-up back) to create a cool contrast.
Opt for simple yet statement-making accessories like some silver chunky hoop earrings and a metallic silver shoulder bag.
How to Style Loafers With A Sweater?
For a casual, laid-back look with loafers, wear them with a slouchy sweater and jeans this fall.
Since the previous year, half-zip sweaters have become popular. They have a slightly preppy vibe that goes great with loafers. This striped funnel neck sweater has a semi-cropped length which makes it feel youthful, and its color palette compliments these sand-colored loafers which feature a bumped-up platform heel.
Wear them with a pair of high-rise bootcut jeans which are also on-trend, and throw on a dad hat with a cute graphic design (this one says "Self Care Club," which is something I can definitely get behind) for a relaxed look.
Read More: How to Style Prada Loafers?
How to Style Loafers With Trouser Pants?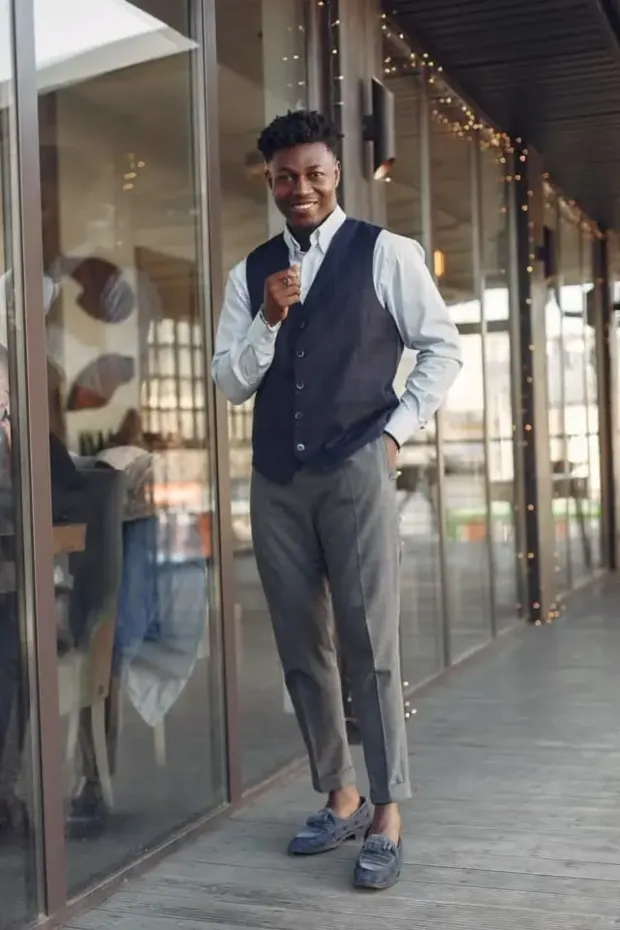 Go for a preppy look by styling your loafers with trouser pants –– preferably, plaid ones! I'm a huge fan of plaid pants (especially in the fall) and these straight-leg plaid trouser pants pair perfectly with a pair of tan-colored platform loafers.
Any top with a collar will add to the preppy vibe of this outfit, and this cardigan with a polo silhouette fits the bill. You can wear it alone or over a tank top or t-shirt because of its lightweight fabric and slightly cropped length.
Since this outfit has an academia aesthetic, don't forget a vintage-style backpack in a neutral hue to round it out.
How to Wear Heeled Loafers?
Channel your inner Blair Waldorf with this outfit featuring heeled loafers and a tweed mini dress that is giving major Gossip Girl vibes.
For this posh, feminine look, opt for loafers with a block heel (plus treaded soles which give this pair nice, grippy traction) and a tweed mini dress with flirty details like a low back and scoop neck.
Play up the glam, girly aesthetic with a bow hair clip, by the way, bow hair clips are expected to be a major accessory trend in the upcoming season.
Finally, get the look of a classic Chanel bag with this quilted faux leather flap-top bag with a chain strap for a luxe touch.
You can totally make this outfit work in colder seasons by wearing a turtleneck underneath the dress and adding tights.
Read More: What Shoes to Wear with Jumpsuits?
Conclusion on How to Style Loafers
A cornerstone of any well-rounded closet, loafers have long been favorites of designers and street stylers
Ultimately, learning how to wear loafers is as easy as slipping into a chic pair. There are many loafer outfit options to think about, regardless of whether you prefer dresses, pantsuits, or joggers.
One thing is for sure: no matter how you wear your outfits with loafers, you'll add a touch of preppy class to your look. Who wouldn't adore that??
If you're unsure of what to wear with loafers, try simply adding your loafers to an outfit consisting of a simple pair of jeans and a t-shirt or a barely there, structured dress. You can pull off a great loafers look by topping with a vintage overcoat.
Read More: Are Gucci Loafers Worth It?
FAQs About How to Wear Loafers
What Do You Wear Loafers With?
Loafers are incredibly versatile and simple to put on and take off, making them a great pair of smart casual shoes to wear with suits, button-downs, or t-shirts.
Do You Wear Loafers With Socks?
Yes, you can wear socks with loafers.
Do Loafers Look Good With Jeans?
You can wear loafers with jeans. In fact, we believe this to be a stunning look for both men and women.