We've all had those days where we've grown tired of going to work in our typical suits and have thought about dressing more casually. However, we have to ask the question, are Converse business casual?
In many modern organizations, Converse shoes are acceptable for business casual attire. Business casual footwear should match the formal attire and be professional and understated.
This article covers various aspects that permit one to wear Converse shoes while maintaining a business casual look.
Are Converse Business Casual?
In many offices today, Converse shoes are acceptable for business casual attire.
You cannot, however, overdo the fashion! Make sure to don Converse shoes in low-key, professional styles that complement your formal attire.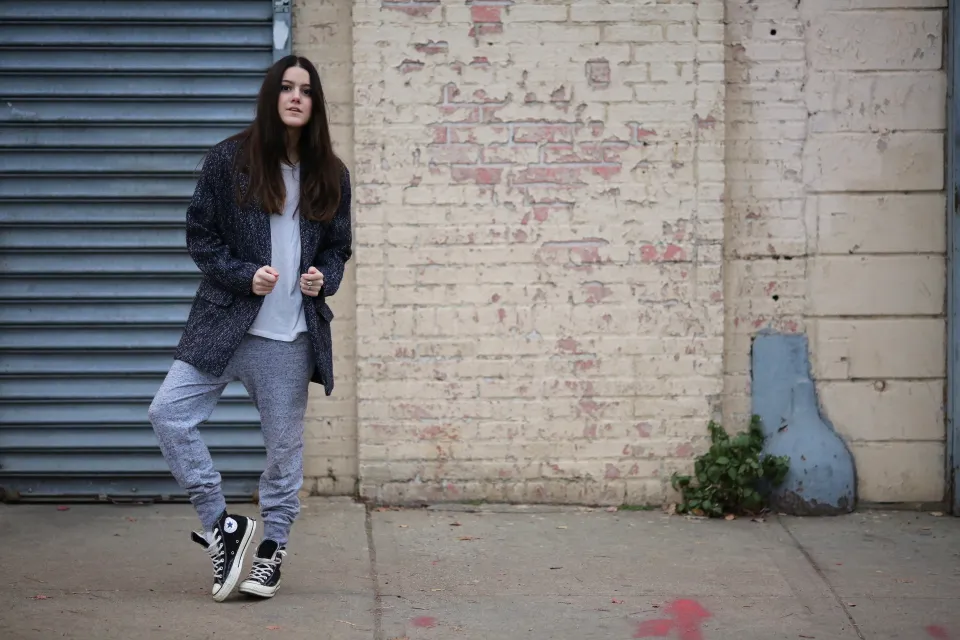 Some individuals work in a laid-back setting. They can experiment wearing Converse formal shoe styles with their regular office attire. Numerous Converse customers have raved about how their cool and polished office look was made possible by their shoes!
However, a lot of other workplaces do not allow Converse shoes or other types of sneakers. Well, that is unfortunate. You can't wear Converse shoes as business casual in your office if they do not allow it.
For more business casual ideas, continue reading:
Can I Wear Converse to the Office?
Yes, you are allowed to wear Converse to your place of employment. The only restriction is that, depending on the situation, you'll likely need to wear white or black Converse shoes. To some, it might seem strange.
Since black and white shoes are frequently associated with professionalism, others might comprehend it.
Black Converse shoes give the impression that the wearer is aware of proper business attire. But it seems like a practical choice to wear black shoes with business casual attire.
Black Converse shoes also make it easier for you to adjust to almost any circumstance. If you want to eat after working with a customer, the shoes will be casual for brunch.
White Converse shoes have a way of making you stand out, as we discovered during tryouts.
Therefore, if your goal is to be some sort of eye candy at a crowd of people, white ones are the way to go.
Related Reading:
Is It Okay to Wear Converse to a Job Interview?
Converse shoes may not be the best of all choices to go for in certain situations. Do not wear Converse shoes, for instance, if you have an interview.
Nobody will be impressed by you. Instead, you might give the wrong impression that you don't know how to dress professionally for business meetings.
However, if you are applying for a creative job, you might end up acing the entire interview. It is commonly believed that shoes like Converse shoes put a great impression on others in terms of being artistic.
Related Post: How to Lace Converse?
How to Style Converse Shoes With Business Casual Clothing?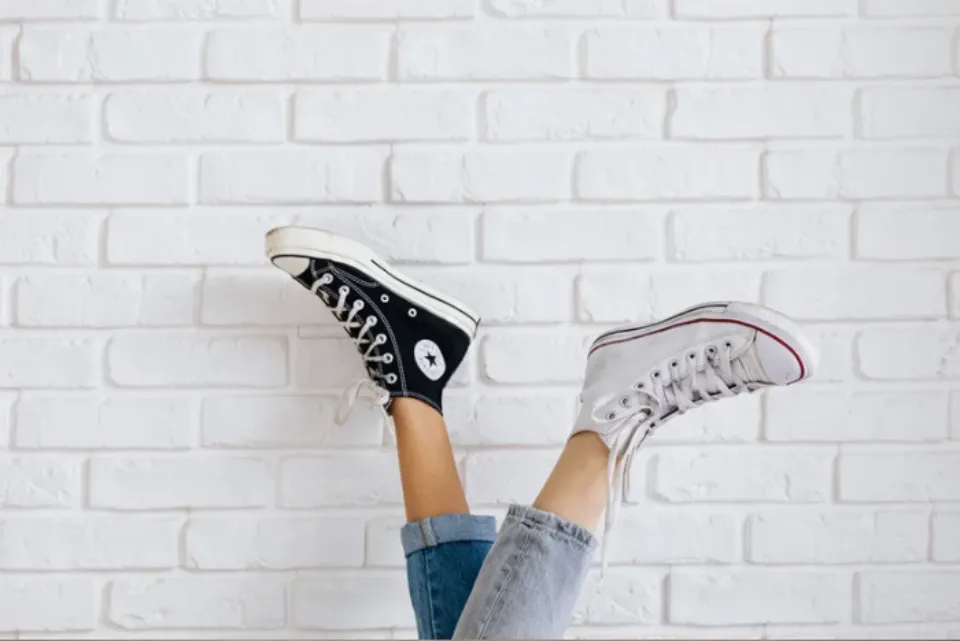 A business-casual outfit can be styled in a number of different ways. You can wear Converse with a collared shirt, a suit, or denim for a cool, laid-back look. Your best casual attire can look great when paired with Converse sneakers as long as you have the right attire.
We've chosen a variety of what would be deemed business casual outfits, and the best Converse shoes to go with each.
1. Business Casual Ensemble With Jeans
If you like denim, white Chuck Taylor All-Stars from Converse are the shoe for you. They will complement a pair of blue jeans and a button-down shirt in either those colors.
2. Suit Attire With Converse
The Converse may seem out of place with your suits, but it's You may wear them if you dare. If you wear a pair of black Converse sneakers with a black or gray suit, you could get away with sporting a business casual appearance.
Your Converse shoes should be black Chuck Taylor All-Stars with tall black socks.
Also Read: How to Wear High Top Converse?
3. Converse Sneakers for Groomsmen
Every wedding has a different aesthetic and theme. As you may have observed, some groomsmen can be seen wearing Converse while wearing a tux or suit at some weddings.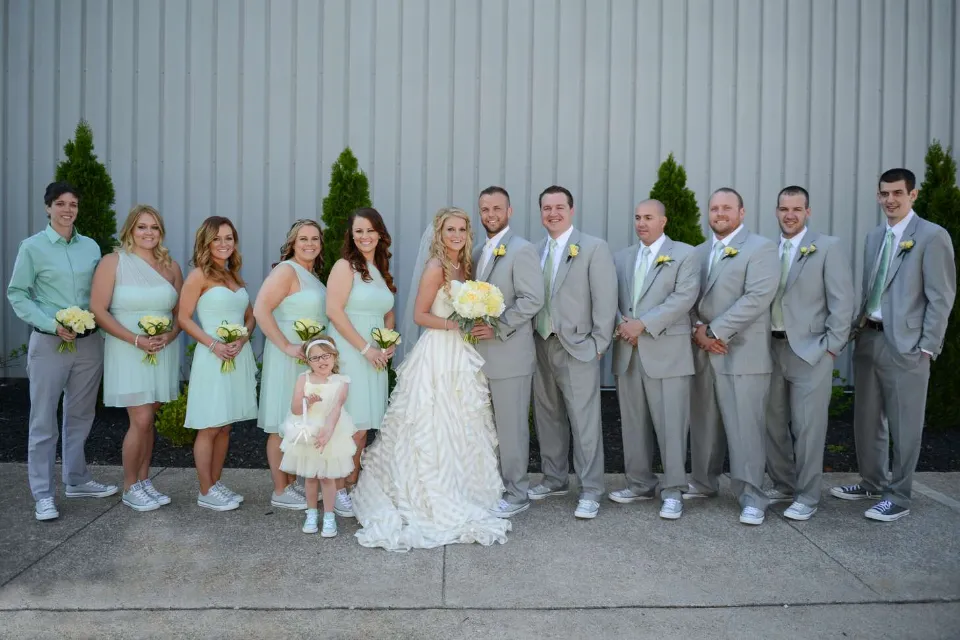 Given the popularity of Converse among groomsmen, you may also see this outfit on If you're one of the people who wants to wear dress shoes to a wedding, you can achieve this look. Whether the wedding theme is pink, red, or black, you can wear the same sneakers. The High top and Low top Chuck Taylor All-Star are your options.
4. Converse and a Collared Shirt
You can also wear collared shirts with black denim jeans to pull off the essential business casual attire and your preferred pair of Converse. You can pick from a variety of shirt designs, such as gingham, white button-downs, dark colors, and colored shirts.
Are Converse Smart Casual?
Definitely no. Converse shoes are not smart casual. Don't be shocked, however, if some publications, such as Topman, which is well known for publishing men's fashion magazines worldwide, claim that Converse shoes are ideal for smart casual.
Converse are generally not associated with the concept of smart casual, so there is little room to question whether they are smart casual in the first place.
Conclusion: Are Converse Business Casual
Converse are appropriate for the workplace, but only if sneakers are permitted, as suggested in the introduction of this article. Converse sneakers can be worn practically everywhere and with almost anything, if you're allowed to.
You can get away with sporting rad Converse sneakers if your workplace is laid back, such as working as a barista.
You can stand out and match your outfit with business casual sneaker materials because they come in a variety of colors!
FAQs
Can I Wear Converse for Formal Wear?
The Converse All Star is a casual shoe, so the answer is no, it should not be worn with formal attire. Consider oxfords or loafers if you're looking for a formal shoe with a similar design.
Are Converse Good for Working Out?
Weightlifting and powerlifting enthusiasts recommend Converse as a good first pair of shoes.
Are Canvas Shoes Business Casual?
Vans and other flat-bottomed, canvas shoes are excellent choices when it comes to sneakers for business casual attire.