Since white boots are so versatile and go with just about everything, styling them is incredibly simple.
Are white boots in style and can you wear them in the fall and winter? Of course yes, they give off a clean, polished look that will still be popular in the winter of 2022–2023. A few more ways to style white boots are to wear them with sweater dresses, work dresses, underneath midi skirts and dresses, over or under jeans, with leggings, or with jeans, a t-shirt, and a blazer.
See my favorite ways to wear white boots by scrolling down.
Other Fashion Post: How To Style A Slip Dress?
How To Style White Boots In Winter?
1 White Boots With White Coat And White Faux Fur Hat
White boots and a white coat make for a sophisticated winter outfit that you can wear to any occasion, except a wedding. Of course, unless you're the bride.
2 White Boots And White Coat With Mini Skirt And Sweater
If you choose to dress as shown above with white boots and a coat, are you wondering what to wear underneath it? This is one way I wear white knee boots with a coat.
3 White Boots With Mini Skirt And Sweater
White Boots With Mini Skirt And Sweater is also a trendy way for many girls.
4 White Boots And Mini Skirt With Sweater And Headband
And this is another way I'd wear white boots with a coat.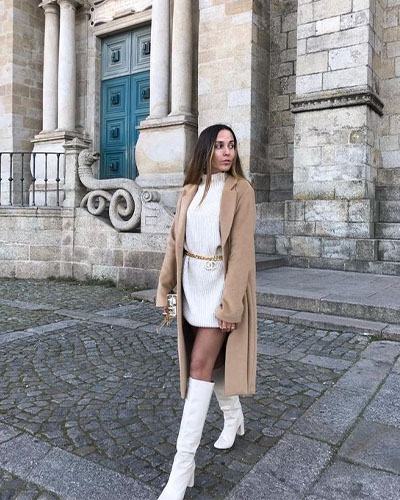 How To Style White Boots In All Seasons?
1. Style White Knee High Boots With A Short Sweater Dress
When I want to be warmer, all I have to do is add a pair of tights to this simple outfit. My Gucci tights get the most use. As of this year, my third wearing season, I have three pairs in rotation. My three best-selling items on this blog are, the pink Gucci slides, and the All Saints slides.
More fun, vibrant, and stylish than a black dress and boots is how to wear white boots with a colorful sweater dress. I also wear a lot of all-black clothing, though. When I just need to run out for pre-dinner drinks with the girls or my husband in the Fall or Winter, this or jeans tend to be my go-to look.
2. Create A Monochromatic Look
I frequently wear monochromatic ensembles to trick the eye into thinking I'm taller if you follow me on Instagram or have been reading this blog for a while. I'm 5'2″, I definitely like to break the rules, and I don't think white should be off-limits after Labor Day.
For a fresh appearance and to brighten gloomy days, I adore white in the fall and winter. Make sure the jeans are straight-cut or skinny when pairing white boots with them. Afterward, tuck them into long socks to keep them in place and prevent the fabric from bunching above the boots.
3. Style Your White Boots Under A Midi Dress
In order to avoid wearing tights or pants and to avoid having cold legs, white boots are styled with midi dresses.
I've just learned about shrug dress matching sets. Probably ballet class was the last time I wore a shrug. In long sleeve sweaters and sweater dresses, I'm constantly too hot inside while it's freezing outside. My solution has been sweater-shrug sets.
A spaghetti strap dress with a matching shrug is included in this set of blue knit ribbed dresses and outfits. For greater wearability, I'll pair the shrug with my white bodysuits and tank tops. 15% off with the TULIP coupon code.
4. Style White Boots With Coord Sets
I love knits and sweater dresses for fall and winter. Can you tell? Black boots would also have complemented this look but would have given it a bulkier appearance. For a lighter, transitional season look, I like to pair white boots with sleeveless clothing.
In the evening when it gets colder, I can simply add a blazer, denim jacket, or light-colored coat.
5. Wear Your White Boots With Neutral Faux Suede Or Faux Leather Leggings
This outfit is both comfortable and useful, and it is very on-trend for FW2122. Style it either with a top that matches it for a monochromatic look or with a top that is a different color to add some contrast.
6. With A Light Colored Coat
For a change from black, pair them with your beige, white, neutral, blue, green, or pink coats. I bought leather white boots so they would be simpler to clean after being in the rain or walking in the dust in Vegas, etc.
7. Under A Work Dress
Compared to your typical office stilettos, this looks more fashionable and up-to-date. Midi dresses and looser clothing pair well with this look. As they can produce an odd outline and bulk when worn with fitted skirts.
8. Under A Pant Suit
a simple way to update the appearance of your pantsuits. If your everyday or professional attire is more tailored, styling white boots still look polished but are less formal and more youthful.
9. With Your Skirt Suits
White knee-high boots will replace your pumps and bring a playful vibe to your business suits. Additionally, you can keep your legs warm and feet dry all year long while donning skirts.
10. With A Canadian Tux
Comfortable, practical, and a little retro. You can truly personalize this look by wearing it in countless different ways. Regardless of whether it's skinny jeans with over-the-knee boots and a denim jacket or flare jeans with white ankle boots and a denim shirt.
Denim over denim and any length or height boots you feel like wearing is all that this looks like.
11. Wear Your White Boots With A Jumpsuit
Wearing white boots with jumpsuits is another fashionable option. We are feeling the fall with this outfit. Depending on the material, cut, and accessories you choose for your jumpsuit, you can dress it up or down. It's casual but edgy. I adore Rachel's styling of this below. It sort of fulfills both requirements for looks 8 and 9.
12. Style White Boots With Jean Shorts
Jean shorts and white ankle boots in a western style give off a cute cowgirl vibe without going overboard. It's a great way to wear your jeans shorts year-round rather than just during the summer.
13. Style White Ankle Boots With Rompers
White ankle boots go well with rompers in the spring and fall, much like white boots do with jumpsuits. As an alternative, you should wear heels when walking rather than flip-flops because they are more practical.
Taking Pieces From Fashion Week For Pairing
Use the runway's inspiration color of bubblegum pink to your advantage and wear something in that shade with a white boot. We adore this white bootie and bubblegum pink t-shirt dress from Moschino.
Sets
Cher from Clueless is the queen of sets. You can surpass her, though, by wearing this adorable (pink) Free People plaid ensemble and, yep, teaming it with a killer pair of white boots. White cowboy boots would be horrifying, in our opinion.
Cutouts
Cutouts are trending in fashion, not in the cookie sense. Bella Hadid wore a bodysuit with cutouts in pastel blue by upcoming designer Marshall Columbia. Get on his waiting list for some hip cutouts to rock and roll in if you want to set the trends for 2021. Oh, and don't forget your power boots.
Statement Vests
Winter will arrive, let's face it, very soon. Buttercup, keep warm by donning a vest that also draws attention as you exit the subway. This quilted denim vest from Nordstrom is gorgeous, especially the light blue swirl detail. So much so that we believe white boots, regardless of shade, would look sharp with this.
Quilted Jackets
To pick pumpkins in, quilted jackets? Oh, yes, cozy quilted coats are a must-have for the upcoming fall season. This hooded quilted coat from Target in a cool deep teal color has us completely smitten. Are you?
It's adorable.
Skirt Sets
Sets of any kind are fashionable, but the ones that feature boho-inspired prints are currently popular. With this Free People Take Me Away set, we're feeling like we want to travel. We're leaving and bringing our boots.
Shiny Things
Who doesn't like shiny things? especially when they come in the form of fashionable items. Shiny clothing and/or accessories are another fashion trend from Fashion Week. The Carrie Bradshaw look would consist of a cute shiny top, white jeans, and white boots.
The Bottom Line
Similar to styling black, styling white boots are similar in that it complements the majority of the colors in your wardrobe. Personally, I like beige faux leather or suede leggings or white, light wash, or navy jeans more than black jeans or leggings.
Except for your gowns, white boots literally go with everything! If you have more fashion ideas, leave your comment below and share them with us!
Read More: Colors That Go With Lime Green