Denim pants come in many different styles, including bootcut jeans. Given that they go well with boots, heels, and chic flats, they can be a versatile addition to your wardrobe.
The following fashion advice will show you how to style bootcut jeans to your wardrobe. Keep reading!
What Are Bootcut Jeans?
Bootcut jeans are a style of denim pant that has a slight ankle flare. The opening at the bottom of bootcut jeans is wider than that of bell bottoms or flared jeans, though not as pronounced. Bootcut jeans are wearable year-round and go with many different shoe styles. Bootcut jeans are designed to cover the tops of shoes as opposed to skinny or straight-leg jeans, which sit on top of or tuck into your shoes.
Bootcut Jeans Outfits Ideas
Never again struggle with how to wear bootcut jeans! Here are our picks for the best outfits to wear with these iconic pants.
1. Ripped Bootcut Jeans
The fabric's extreme durability is a perk of wearing denim. This not only makes jeans a durable item of clothing, but it also enables them to look cool when they are torn. The ideal way to give your look some edge is with ripped bootcut jeans.
2. Classic Look With Bootcut Jeans
Want to wear denim while maintaining a classic, feminine appearance? For a unified look, try investing in a pair of bootcut pants in a dark navy color and wearing them with a black top. To ensure you have a timeless outfit, make sure the top has feminine details like off-the-shoulder details.
3. Knitwear And Bootcut Jeans
If you're going to a party, you can dress up bootcut jeans by wearing a crop top with them, but you can also dress them down by wearing a statement knit piece. The most common knits are those with long sleeves, which you can try to tuck in for more style points.
4. Casual Outfit For Lunch
If you're going to a laid-back lunch with your friends, jeans are a fantastic choice. Your overall appearance will be elegant with a flirty, fun ruffle top in a vibrant color that matches the jeans. For a cohesive look, match the hue of your top and bag.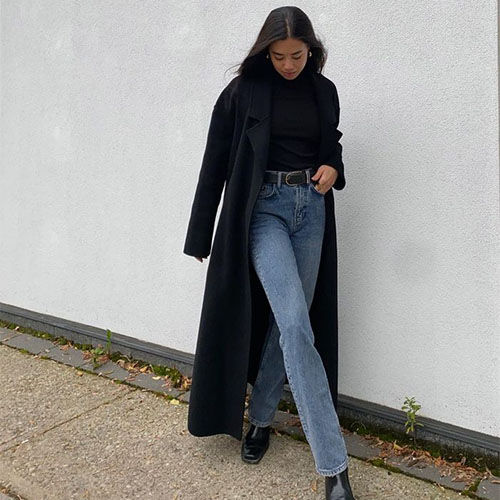 5. Bootcut Jeans With Winter Coats
Nothing goes together better than a well-tailored winter coat and form-fitting denim. While these jeans go well with common winter coats like puffers or trench coats, a blazer-style coat is preferable for an outfit that looks polished.
6. Business Meeting Outfit With Jeans
Want to own a meeting when you walk in? You should be friends with bootcut jeans. Pair the pants with a tailored blazer, then wear it over a pretty blouse. For a sophisticated fashion moment, wear a monochromatic outfit with dark heels and pull your hair up in a high ponytail.
7. Modern Work Attire With Bootcut Jeans
We no longer have to dress professionally for every office. Bootcut jeans are chic and practical for the office, if you're fortunate enough to work for a company that gives you more freedom with your attire. To complete the workwear look, add a blazer and shirt that are both tailored.
8. Business Casual In Bootcut Jeans
Business casual allows for more freedom with color and print than more formal workplace dress codes. If you enjoy bright hues, you can dress up your denim outfit with a vibrant blouse like the one in this image.
9. Bootcut Jeans With High Heels
Given that they make your legs appear even longer, heels go perfectly with these pants! If you enjoy mixing patterns, wear these jeans with a pair of animal print heeled pumps for a flirtatious look. These look best with jeans that are blue or navy in color.
10. How To Wear Bootcut Jeans To Work
Bootcut jeans are appropriate for the office, but you should watch out for overly garish attire.
Try wearing your pants with a neutral color like gray, cream, or beige since most workplaces now permit casual denim. For a subtle effect, layer a colorful shirt under a pullover if you want to add a pop of color.
11. Hippie Style Outfit With Bootcut Jeans
The bootcut jean looks are ideal for hippy and boho fashions. Although you might typically associate these aesthetics with more dramatic flared jeans, a casual bootcut works well. For a fully boho ensemble, add a fringe bag, a loose tee, and some hippy patterns.
12. Casual Sweater With Bootcut Jeans
Invest in a high-quality sweater to go with your denim pants if you want a casual look you can wear to the mall or college. This combination flatters the silhouette best when the pants are cropped and the sweater is oversized.
13. Bootcut Jeans And Boots
Boots were obviously intended to be worn with bootcut jeans!
To create contrast when wearing these pants with boots, consider choosing a brightly colored boot. Make sure these are on your list for the new year because we love square toe boots for 2022.
14. Blue Jeans And A Feminine Cardigan
Why not pair your delicate cardigans with these fashionable trousers? Street style gives us the chance to experiment with our wardrobes. This pair looks great for an outfit suitable for the city, despite the fact that they don't always go together on paper.
15. Embrace Beige
Since last year, beige has been a popular color and isn't likely to disappear any time soon. Keep your top, shoes, and accessories in beige hues for a classic look, and let the blue denim speak for itself.
16. Add Some Flannel
There's a reason why plaid or flannel shirts are on so many of our lists. If you don't already have any, purchase some of these shirts right away since they go well with both jeans and other clothing.
17. Plus Size Bootcut Outfit
Put on a simple black turtleneck and a stylish blazer with these flattering jeans if you want to show off your curves. For 2022, this look is fashionable and appropriate for a variety of occasions.
18. Alternative Denim Colors
Although the light blue shade of denim is the most popular, other hues can also work wonders. 2022 will be a great year for copper and burgundy colors, so make sure you grab some denim in these shades to be ahead of the trend.
19. Swap You Jackets For Long Cardigans
Nothing compares to some additional comfort. Why not replace any structured jackets with long, cozy cardigans in light of this?
Given that they're both casual attire, these go well with bootcut jeans. You can add some structure with sandals, heels, or chunky boots.
20. Layers, Layers, Layers
You can play with the attractive flared silhouette that these jeans give you by adding more layers. Different fabrics, textures, and lengths will add interest to your pants outfit, whether you choose a knitted vest or a shirt.
21. All Black Outfit
An all-black ensemble is a surefire winner. You don't need to put much thought into styling it, and it flatters all body types. Use black and white patterns or various shades of gray if you want to add more detail.
Are Bootcut Jeans Still In Style In 2022?
Jeans with a bootcut are fiercely returning! These pants ought to be on your radar right away, whether or not you're researching trends for 2022. We've noticed a resurgence of vintage styles returning to the forefront of fashion as a result of 2000s trends becoming popular on Tiktok and Instagram.
Bootcut jeans are extremely versatile, which is one of the reasons they are so well-liked. The relaxed bootcut style of these jeans makes them suitable for wearing with virtually any occasion and fashion aesthetic. Denim is already a popular fabric to mix and match with various styles.
Read More: Are Black Jeans Business Casual?
What Type Of Body Suits Bootcut Jeans The Best?
Many stylists suggest bootcut jeans best suit those with "pear" shaped bodies. Any woman with a larger hip area is referred to as being pear-shaped. These jeans typically have a narrow leg opening at the ankle and a wide leg opening at the hip and upper thigh. This harmonizes your silhouette and enhances your physique.
Due to their subtle flare, bootcut pants are a favorite among many women. They look great on a wide range of body types and can even make petite women appear slightly taller.
Although low-rise options are also available for a truly 2000s look, bootcut styles are most popular with high-waisted designs because they also draw attention to your waist.