Grey denim is one of our favorite substitutions for traditional blue jeans. The question then becomes: what to wear with grey jeans?
Grey jeans are thought of as a wardrobe essential because they easily match your existing wardrobe. Since grey is known as a hue that's in between black and white, trendsetters can pair this garment with virtually any color.
In this article, we'll share our favorite pairs of grey jeans with you and offer you some style ideas so you can wear your grey jeans like a pro.
What Are Grey Jeans?
Grey jeans are pants that feature a faded black wash. They are available in many different silhouettes, such as bell bottoms, high-rise, and low-cut.
Considered a casualwear closet staple, trendsetters usually wear grey jeans for running errands, hanging out with friends, and other mundane activities.
As was already mentioned, this particular garment is regarded as the ideal middle ground between black and white.
What to Wear With Grey Jeans?
Low on outfit ideas? Fortunately, grey jeans are one the easiest garments to style. This piece of clothing is typically very forgiving when it comes to OOTD coordination, unlike patchwork bottoms and cow print pants.
Of course, there are a few fashion faux pas to avoid, but for the time being, I'll concentrate on some stylish outfits to take into account.
Up next, this guide will show you what to wear with grey jeans with 10 OOTDs. I'll make sure to include outfits for each occasion, season, and fashion style.
How to Style Grey Jeans?
If you catch my drift, lightning is a common component of rainstorms. Due to their gloomy tone, grey jeans require additional styling in order to brighten up the outfit.
Fortunately, you don't have to be an accomplished trendsetter to accessorize well. As a matter of fact, you can get by with a few of the accessories that are already in your closet.
Would you like any suggestions? If so, this article on "what to wear with grey jeans" will show you how to dress up your desired pair of pants.
Black leather: This applies to bags, shoes, and jackets. The dark hue of grey jeans goes perfectly with this particular fabric.
Red: This particular color pairs well with grey, as you have probably already noticed. You should take styling cues from outfits #1 and #7.
Converses & boots: Since alternative fashion is inextricably linked to grey jeans, I don't suggest wearing strappy heels. As a superior option, let me suggest sneakers and wellingtons.
Oversized clothing: Grey jeans are regarded as a streetwear necessity, as was previously mentioned. An extra-large tee is a requirement if you're serious about adhering to this fashion trend.
Silver jewelry: Cold colors go well with gray. I therefore suggest exchanging your gold necklace for a silver Cuban chain.
Read More: How to Wear Mom Jeans?
6 Ideas for Gray Jeans Outfits
I've been getting a lot of requests lately for outfits with gray jeans, so today Six simple outfit pairings with gray jeans are what I wanted to show you.
1: Gray on Gray
One of my favorite monochromatic outfits for the fall and winter is this one! A fun pair of statement boots keeps the outfit from being too boring because it is so simple.
2: Gray and Pink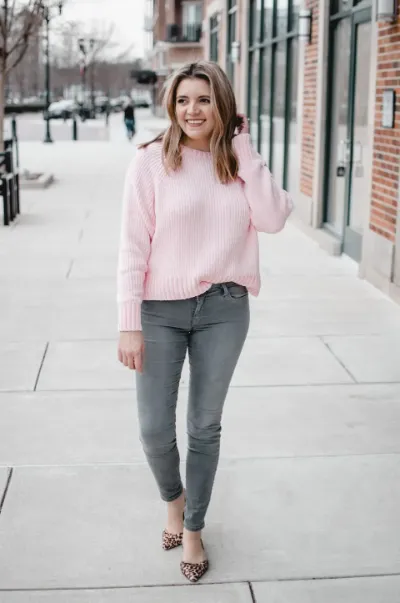 One of my favorite color combinations is gray and pink. I adore pairing blush and gray together in the spring and summer, and that totally works in the fall and winter as well!
However, this time I experimented with some color variations, including a deeper shade of mauve and a lighter shade of lilac, in place of blush and gray.
Try experimenting with various pink hues!
3: Gray With Shades of Brown
You can definitely pair gray and brown together because they are both neutral colors. Try a variety of colors, such as a rich dark brown, a tan, or even cream.
I combined all of them, and I really like the all-neutral appearance.
4: Gray With Blue Denim
Gray jeans are a sure match for denim jackets with anything and everything.
You can wear a regular denim jacket, but I prefer a sherpa-lined version for a little bit more warmth and character.
5: Gray and Black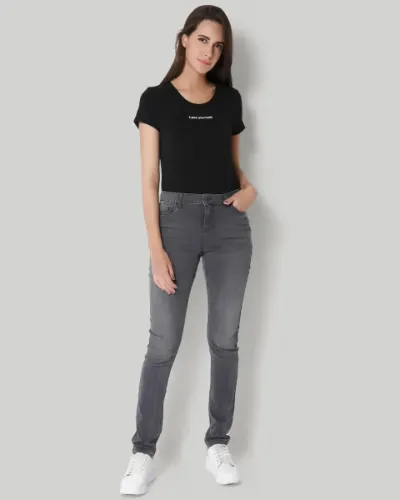 Black always goes well with everything! An edgier monochromatic combination like black and gray works well.
6: Gray and Green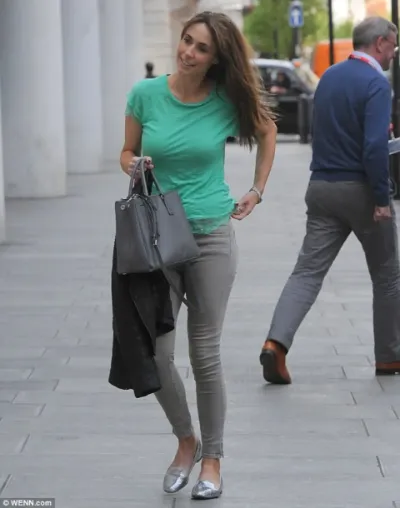 Green and gray go well together! Olive green, hunter green, or even a lovely sage green, like this quilted coat, are all options.
You May Also Like: Cute Outfits With Jeans
What Type of Grey Jeans Can You Get?
The 'what to wear with grey jeans' dilemma can easily be resolved by considering your options. Given the vast array of original designs available, fashion is rarely straightforward.
Being faced with so many options can be overwhelming for many novice dressers, which is why it's important to assess your current aesthetic. Are you a fan of grunge fashion, for example? Alternatively, how about minimalism?
To help simplify the shopping process, this 'what to wear with grey jeans' guide will discuss a few notable trends that are worth considering.
The high-waisted cigarette jean: Perfectly tailored, this particular cut can aid in creating the appearance of a short torso and long legs.
The fit and flare silhouette: Both fitted bell bottoms and baggy jeans fall into this category. If you dislike how stiff skinnies are, it's regarded as a great alternative.
Distressed jeans: looking to establish some credibility? If so, the simplest way to get that urban look is with ripped denim.
The faded wash: If you don't like the color gray, I'd advise choosing something "dimmer."' The majority of trend setters prefer the vintage look that worn-out colors have.
Printed denim: This applies to jeans with color blocking, unique textures, graphics, or other embellishments.
Read More: Are Black Jeans Business Casual?
How to Take Care of Grey Jeans
Contrary to popular belief, jeans aren't meant to be washed regularly. Their material quality and silhouette would be ruined if they did this. I'll give you a few pointers on how to take care of them properly if you need some cleaning advice.
Use the freezer method: I advise putting your jeans in the refrigerator to help get rid of bacteria and bad odors rather than throwing them in the washer.
Implement a twice-a-month laundry routine: To help preserve the structural integrity of your jeans, wash them infrequently.
Wash in cold water with gentle detergent: When washing jeans, never combine hot water and bleach.
Air-dry: Jeans shouldn't be dried in the machine. This will promote shrinking and wrinkling.
When to Wear Grey Jeans
Grey jeans are strictly made for casual use. These are inappropriate for formal occasions like weddings and wakes. This specific clothing item is frequently worn in cooler weather because it is made to provide full coverage.
Winter, autumn, and early spring are the best times to wear grey jeans. In the summer, unless you have a high sweat tolerance, I do not advise donning a pair.
Best Places to Buy Grey Jeans
Consider yourself informed about what to wear with grey jeans. I'll leave you with a few store recommendations before this guide comes to an end. You can rest assured that these featured shops offer only the trendiest designs.
SSENSE
FarFetch
Nordstrom
Levi's
AGOLDE
Final Thoughts on What to Wear With Grey Jeans
It's safe to say that grey jeans will always be in style. There is something about grey jeans that is effortlessly chic, and they are still in style today just like they were in the 1990s.
Grey jeans styling shouldn't be difficult. They go well with many different outfits due to their neutral color.
Available in various washes, silhouettes, and cuts, you should have absolutely zero excuses when it comes to finding the perfect ensemble. I've given you enough OOTD inspo; it's time to use your imagination.
Read More: Can You Wear A Blue Shirt With Blue Jeans?
FAQs
What Color Shirts Go With Grey Jeans?
The simplest option for wearing with grey jeans is a white or black shirt. Try earth tones like olive, khaki, indigo, or brown, though, if you'd like more color.
Do Brown Shoes Go With Grey Jeans?
Brown shoes can pair with grey jeans if the value is the same. Never wear light grey jeans and dark brown shoes together. Choose a lighter shade of brown to go with your light grey jeans.