Had an influx of Christening invitations, but nothing to wear? You're not alone.
You shouldn't feel anxious when picking out clothing for a baptism or christening. Although dressing appropriately for a special occasion is important, it's not as challenging as most people believe.
So what to wear to a christening? Christenings are still a formal occasion, like a wedding, but slightly more relaxed, so you can opt for soft silhouettes, more playful with colours and prints, and styles, although floaty midi and maxi dresses are most popular.
Continue reading to discover more christening outfit suggestions.
Can You Wear White Or Cream to a Christening?
Yes, the Duchess of Cambridge typically chooses a cream dress that is tailored around the top and has either lapels or puff shoulder detail; however, the bottom of the dress is a little shorter because her outfits have typically slid down to her knees and had an A-line or looser cut for comfort and movement.
What to Wear to a Christening?
There's no need to panic about your outfit choice for a christening. When in doubt, err on the side of caution and choose classier, more refined pieces rather than keeping it casual and relaxed.
1. Midi Dress
Christenings are happy events, so don't be afraid to dress accordingly. The print you choose should be as large and vivid as possible. Choose a printed midi dress in a mood-enhancing color because this season has a particular fondness for brightly colored clothing. The best midi dress delivers maximum impact with the least amount of work. Despite the fact that the summer season is mostly about rainbow brights, dramatic monochrome prints will always be in style.
You're set to go for a summer baptism if you just add your best sandals. When choosing a silhouette, go for more flowy rather than more body-con styles; a tea dress or shirt dress are both suitable options.
2. Smart Suit
Two-piece suits can look chic and modern while still being comfortable to wear all day. Choose outfits with colorful blazers and pants or add color by wearing a bold blouse underneath more traditional, subdued hues. Wide-leg pants, also known as culottes, are one of the major fashion trends for 2022. They not only look classy and feminine but also provide comfort. Beyond the christening, you'll be able to wear your two-piece a lot by dressing them down and wearing them separately. In the process, you'll learn how to wear a blazer and what to wear with wide-leg pants. Read More: Best Hats to Wear With Suits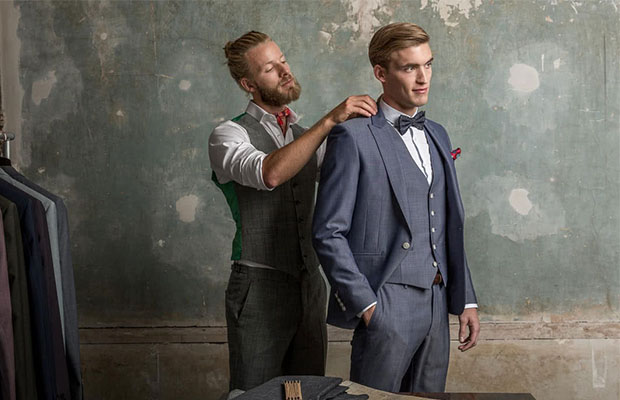 3. Chic Jumpsuit
A flattering jumpsuit is the ideal option for what to wear to a christening if you are concerned about a wardrobe malfunction because christenings frequently involve running around with young children. On especially hot days, wear nothing at all, or if you don't like to show off your arms, a caped or angel sleeve is very attractive. If you're shorter in stature, a cropped jumpsuit is a great substitute for the best petite dresses, and a wide-leg style will flatter hourglass body shapes by flaring out from the waist to give the appearance of a longer, leaner frame.
4. Dress Coat
We're not referring to a stylish camel coat or even your best winter coat. This style heavily draws inspiration from the royal family and royal occasions when it comes to dress-coats for christenings or a wedding guest look. You can either find a dress and coat set, where a shift, knee-length dress has a coordinating coat in the same length, or you can copy the look by wearing a frock-style, tailored coat over a neat shift dress in a complementary color. If you already have a dress in your capsule wardrobe that you like to wear, consider adding a wrap coat or a thin trench coat to update it for the new season.
5. Comfortable Yet Fancy Shoes
Choosing smart, comfortable shoes is important because christenings, like weddings, can last all day and involve a lot of standing. Take inspiration from Kate Middleton and Meghan Markle's footwear choices by picking a dainty court shoe, or think about a wedge or block heel. The narrow heel adds height and elegance, and the pointed toe will give the appearance of longer legs. They're one of the most adaptable shoe types and will more than pay for themselves in your wardrobe by serving you well at weddings, jobs, and interviews. If you can't stand heels, we also have a great article on stylish flats for women that includes a section on casual flats if that's more your style.
6. Hats and Headpieces
A hat or other headpiece is usually necessary for christenings that err on the more formal side. Consider this a chance to go all out in your attire and use some of the newest accessory trends to guide your decisions. The more formal the event, the more opulent fabrics you're looking for when it comes to how to wear headbands. To make sure you stand out (in a good way), look for sculptural styles, tulle, and embellishment detailing when choosing a headband for a christening. To wear it comfortably all day, avoid choosing anything that is too big.
7. Bags
Remember that, like with a wedding, you'll want to pack as lightly as possible when it comes to your christening-related bags. Even if your best tote bag nods to the handbag trends 2022, this is a dressier occasion, so you should leave it at home. Choose a small, delicate clutch bag with a wristlet or one of the best crossbody bags so you can go hands-free and spend the day in comfort and style with friends and family. Choose bags that are just big enough for your necessities; otherwise, you'll be tempted to stuff them full of things you don't really need to be carrying.
Also Read:
Christening Dress Code – Handy Guidelines
Do you need more advice or are you concerned about the type of clothing you chose? Some of the most frequent inquiries about christening attire have been addressed in the following list.
Can You Wear White to a Christening?
When deciding what to wear to a Christening, you don't have to worry about avoiding white, unlike when wearing white to a wedding. Even if you're the parents or godparents, wearing white is occasionally encouraged.
Parents typically only wear white if they so choose.
Consider the Duchess of Cambridge's attire from her children's christenings if you need outfit ideas from someone who always gets it right.
Can You Wear Black to a Christening?
Again, there aren't the same rigid restrictions regarding black attire for christenings as there are for weddings. Although you should still take the settings and theme for the day into account in the aesthetics of your look, you can choose to wear black if that's the outfit that makes you feel the most comfortable.
Is It Ok to Wear Jeans to a Christening?
A tasteful darker denim could pass for jeans, which may seem a little too casual. It really depends on the type of event and the hosts. A smart and well-tailored jacket could be worn with a pair of jeans for a sharper look. We think it's safe to assume you can leave anything with rips in the knees or anything "acid-washed" in the closet for this one.
When it comes to fit, we'd say a white jeans outfit—say, a skinny or tapered pair paired with a tunic or blouse—sits on the right side of appropriate, while baggier denim will be frowned upon. However, on this particular occasion, avoid wearing denim unless it's absolutely necessary.
Can You Wear a Short Dress to a Christening?
Churches and ultra-short dresses typically don't go together. Choose an outfit that is knee-grazing length or longer to ensure that it is respectful whether you are sitting or standing. If you really want to go short, pair it with a pair of opaque tights to lower the possibility of an accident.
You won't have any trouble finding something that works because there are so many reasonably priced midi-length skirts and dresses available.
Should You Wear a Hat to a Christening?
Even at weddings, many guests are choosing not to wear hats due to the trend toward less formal events, and there are no restrictions on headwear at christenings either.
"You are not required to wear a hat, but you should do so if you feel comfortable doing so. Not many people do these days, especially as christenings are regularly held as part of a Sunday service where most attendees are dressed smartly, but not really for a big occasion," explains Lucy.
A jewelled hairband is a more understated alternative to a hat if you do want to add some bling to your barnet because hairbands and hair accessories are currently having a bit of a moment. Don't forget about classic jewelry either when deciding what to wear to a christening. A pair of statement earrings is a great way to add color and will improve both your look and your appearance.
What to Wear to a Christening as the Mother
Being slightly more dressed up than your guests is nice if you're a mother attending a christening or baptism. Of course, it's not necessary, but this is equally your day as it is your child's.
To dress up for a more formal event, choose a more structured dress. Alternatively, choose a floral midi or maxi dress for a more laid-back party. Even a two-piece or a jumpsuit are options. Any adornment, including light hues and delicate prints, is welcome.
What to Wear to a Christening as the Godmother
If you're fortunate enough to be the child's godmother, you probably want to dress more elegantly than if you were just a guest.
Ask the child's parents what they are planning to wear first before proceeding. Not only will this help you get a sense of what kind of attire might be appropriate, it will also guarantee that you don't arrive under or overdressed.
A ready-made outfit without having to worry about matching separates is always available in the form of an all-in-one dress or jumpsuit. It's up to you how you accessorize from there. Consider wearing a hat, a sharp jacket, heels, or a beaded clutch if the event is more formal. Flat pumps and a leather tote (with space for a box of tissues!) are appropriate if the environment is more relaxed.) will be all you need.
You May Also Like:
FAQs
What Do Females Wear to a Christening?
You should really aim for a more relaxed and softer appearance for a christening. However, stay away from casual attire like a loose cardigan. Midi and maxi dresses or even an up-down hem are ideal.
What Do Adults Wear to a Christening?
Adults are typically given more latitude with regard to attire. Other colors are acceptable, though white is still regarded as appropriate. Black and navy are two of the most popular choices for adults attending a christening. Wearing anything too casual or revealing should be avoided.
What Color Should You Not Wear to a Christening?
Generally speaking, unlike a wedding, there is no formal attire required for a christening. There are no colors you must avoid or huge no-no items. Instead, you should make an effort to dress modestly—it's an unwritten rule. Here are some suggestions for appropriate and inappropriate attire for baptisms and christenings.
How Much Money Do You Give for Christening?
Godparents normally spend between $100 to $150 on a gift while close relatives spend about $50. It is customary to spend money on a gift that fits your budget if you are a family friend. Given that baptismal gifts can be expensive, there is no set amount that should be given.
Takeaway
Below are the cloth that you should not wear to a Christening:
Too-short dresses/skirts
Incredibly low-cut blouses
Overly baggy/sloppy pants and shirts
Skintight clothing
Anything with stains
Flip-flops
Casual shorts
Spaghetti strap tops
Allowing undergarments to show
Jeans
Read More: What to Wear to a Music Festival?